Hunting to learn how to make a Fitness Quiz? Your search ends right here! We bring to you the best way possible to create your favorite Fitness Quizlets using the Quiz and Survey Master Plugin!
Before going onto the quiz-making process let's go through the basics and build upon them. If you are a newbie in this quizzical maze, then my friend I would advise you to be well brushed up with the foundation.
A quiz like a physical fitness quiz, wellness quiz, or other fact-oriented quizzes requires a good amount of research and pre-work before hopping onto the actual quiz.
Now if you are wondering where you should go for all that research work; Ahem Ahem, what are we here for? We have done the hard work and skipped your work to the good part. In this blog, we will talk about all the things you have to know before creating fitness/workout quizlets.
Key highlights:
We have curated a short sample fitness quiz for you to take on your own to understand how it actually works and what you are going to be creating.
What is a Fitness quiz?
If you are familiar with the quiz culture online, you might have, by now, understood what a fitness quiz really means. But if you are unable to understand why would someone ever need a fitness or workout quiz, then let us take you through the reasons in the blog further.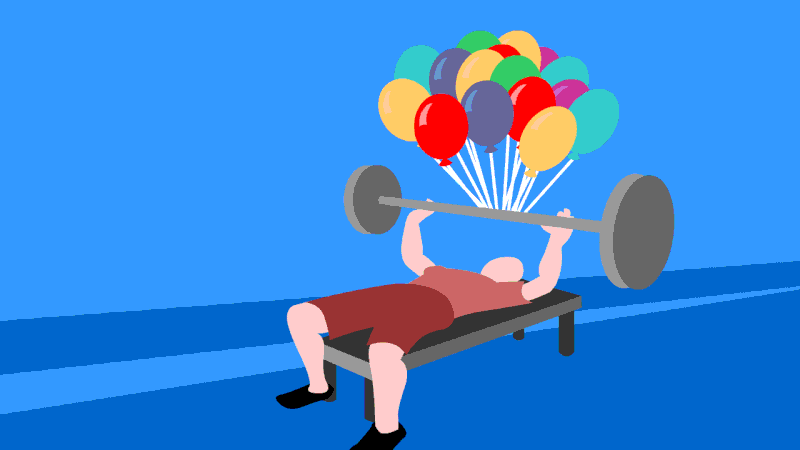 But for now, you can just know that a fitness quiz is a really broad concept through which people can understand different aspects of their fitness levels. For example, you could have a number of fitness quizlets with each of them having a different function.
Different types of fitness quizlets:
Aging and fitness Quiz quizlet
Workout Quiz
How fit am I Quiz?
Physical fitness Quiz?
What is my yoga-type quiz?
In this blog, we will largely cater to how can we create a generic Fitness Quiz. In this quiz, there could be questions that could relate to different fitness typologies, let us see how we can incorporate fitness-related questions.
Why need a Fitness quiz?
This is a really simple question with an even simpler answer, however, to make people understand it is difficult. And if you are a fitness coach, you must understand the latter.
Building your health is way more important than building your muscles, therefore, to understand your fitness type, you shall know what is it in the first place.
Through a fitness or a workout quiz, you can very well get to know how to fit you are or how can you get fit and likewise. It largely depends upon the quiz you are taking. If you have taken a fitness quiz prior, you might have figured out what results it gives according to the title of the quiz. And that is basically how you can start creating a quiz of your own.
How to create a Fitness Quizlet with QSM?
To create a fitness or workout quiz for your WordPress blog or website, you can simply follow the given steps. We are using the Quiz and Survey Master plugin for creating this generic workout quiz, for a sample. Let us see the steps:
Step 1: Installing the QSM Plugin
With the QSM, WordPress Quiz Plugin, creating a fitness or workout quiz takes very little to no effort. To get started, we'll need to download the plugin. The plugin is available on the Quiz and Survey master website, as well as the WordPress official website. As a result, there are two ways to obtain the QSM plugin:
Option 1: Download from your WordPress dashboard
Go to your plugins menu in the WordPress dashboard
Search for "QSM" or "Quiz and Survey Master" in the search bar
Spot the QSM plugin
Click on Install and then activate
Your plugin is ready to use
Option 2: Download from WordPress's official website
On the WordPress website, go to the plugins menu
Search for "QSM" or "Quiz and Survey Master" in the search bar
Download the setup to install the plugin
After downloading, the .zip file, toggle to your WordPress website
Go to the Plugins menu
Click on "upload plugin"
Drop your .zip file into the dialog box
Click install and activate
Your plugin is ready to use.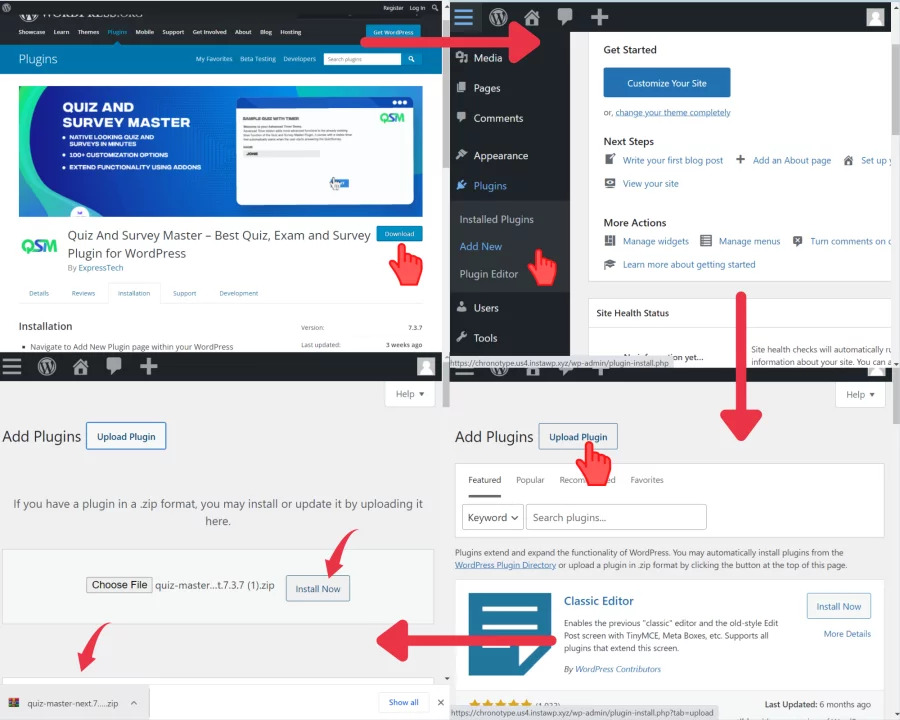 Step 2: Creating the Quiz
Create a new quiz in the QSM dashboard of your WordPress website. When you choose "Create Quizzes/Survey," a dialogue box appears with the beginning steps for creating your quiz.
To make a workout quiz, you must first decide what type of quiz you want to make and how you want to conduct it. You can choose from different options that align with your expertise.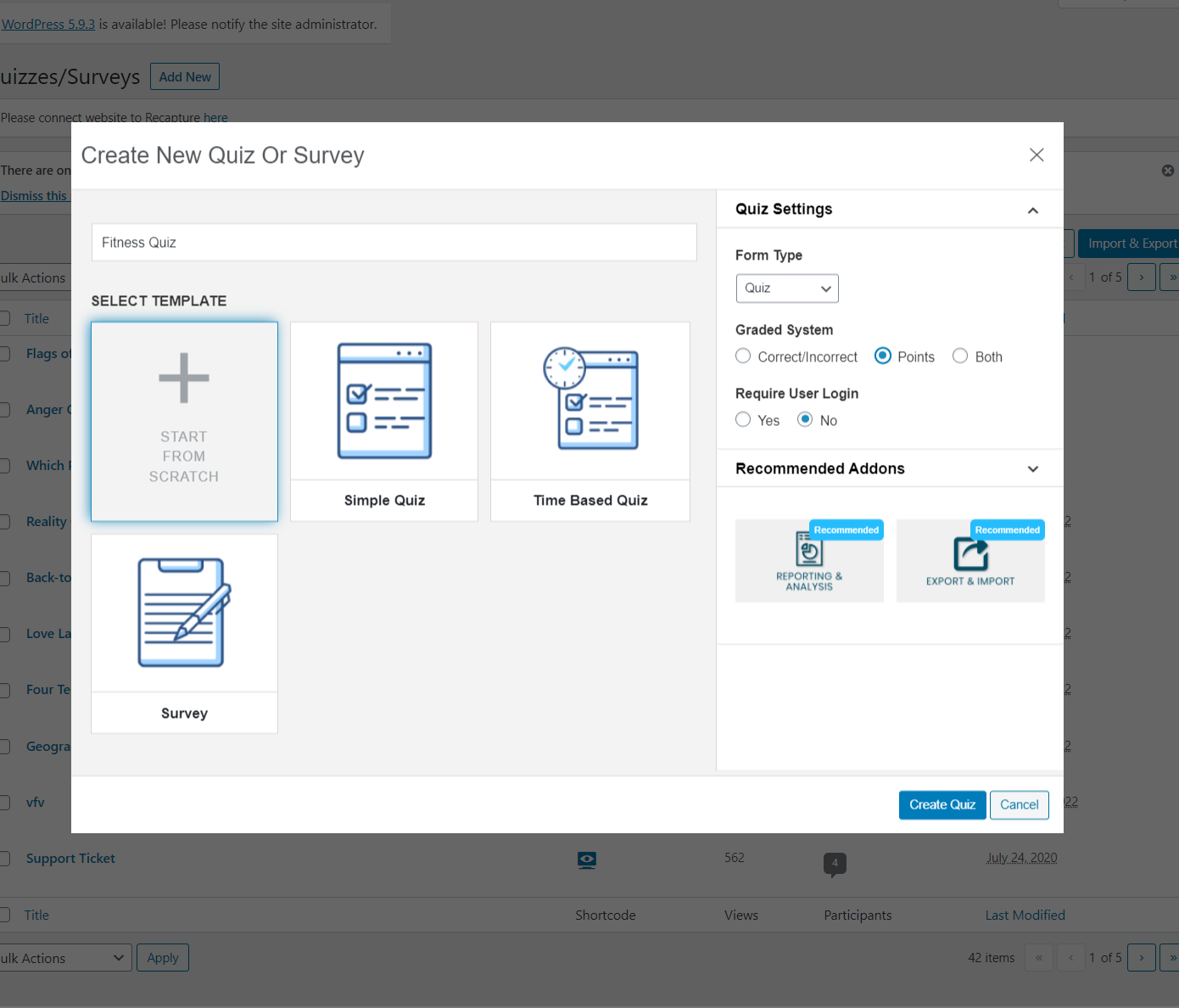 Themes from the QSM Plugin can be used to convey it. There are a lot of alternatives, and they're all beautiful but I would recommend you to try the Ivory theme for this quiz. You can give your quiz a name and set a grading system for it. You can also choose from the purchased addons (or purchase more) as you wish, according to the requirement.
For example, if you are a business just starting up, you can very well use the reporting and analysis addon or a google sheets connector addon to track records of the quiz takers and start an email regime or a newsletter routine.
After you've finished the first level, you will need to customize the quiz's tabs. Step-by-step customization is possible using the QSM's tabs. The Contacts Tab, for example, can be used to create a contact collection form, the Options tab can be used to adjust the look and feel of your quiz, and the Text Tab can be used to add different messages to be presented at different segments during your quiz, as shown in the image below.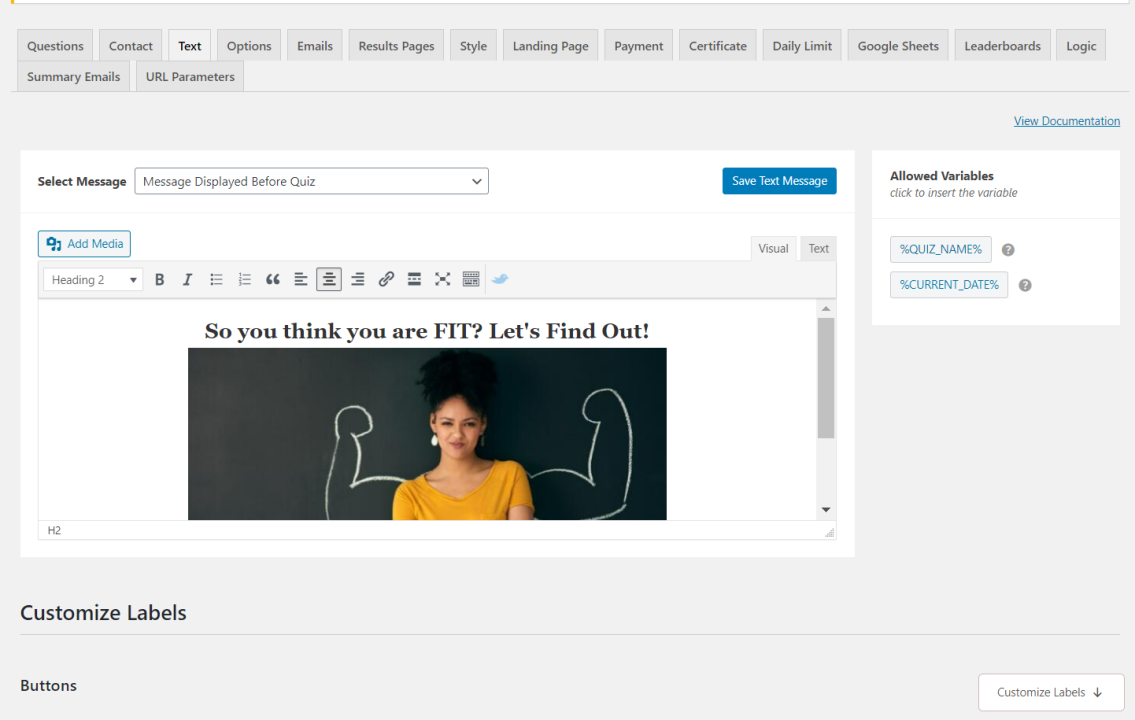 In the same way, some fun fitness questions shall be added to the questions tab. This can be done for every question; for example, you can choose between image and text answers. Not only that but there are a variety of question kinds, such as fill-in-the-blank and polar-type questions that can make your tests more engaging. To make your quiz more engaging, you can use the rich answer types to add gifs.
Learn all about Types of Questions in QSM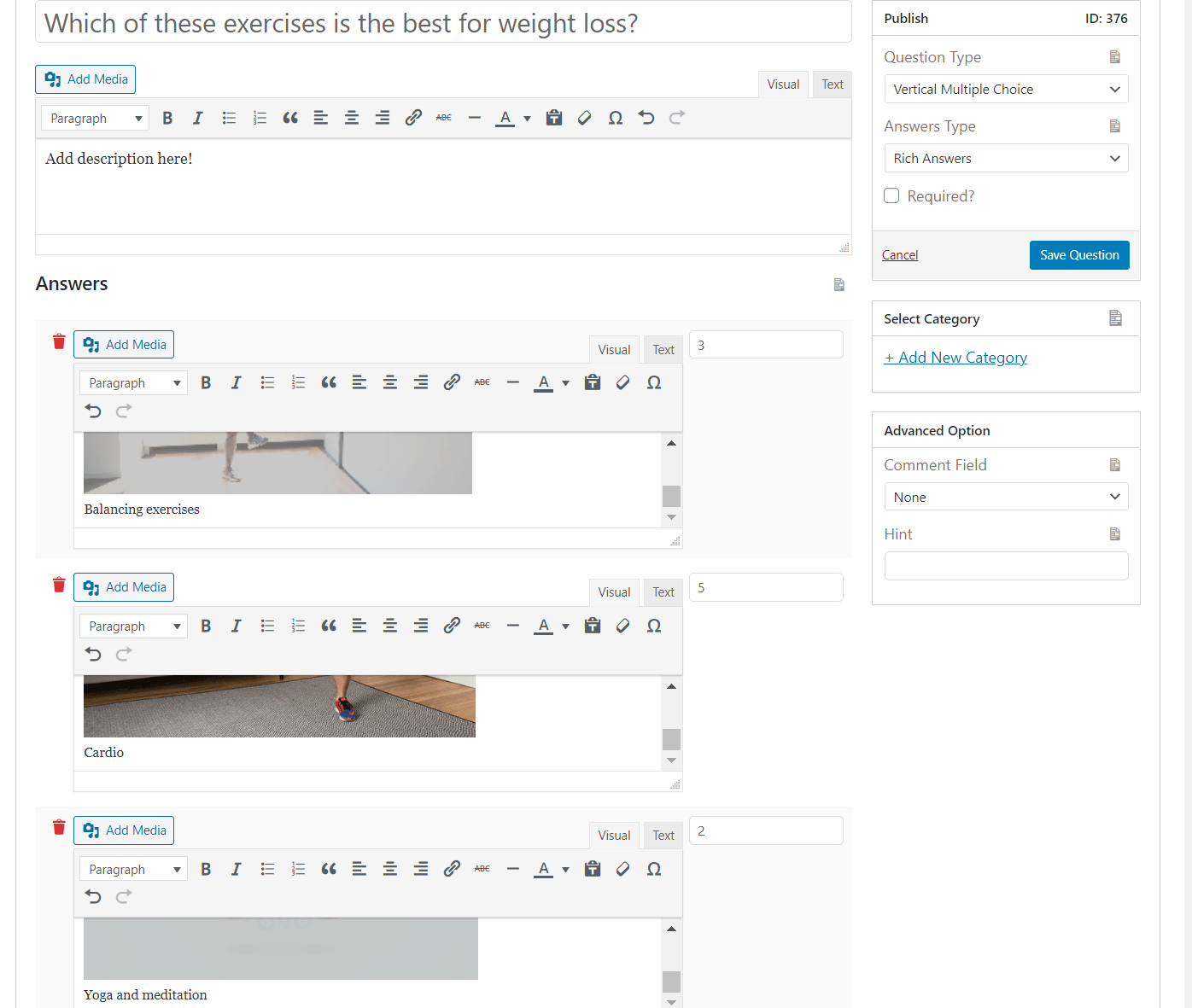 Step 3: Optimizing the Results page
The next step is to create result pages. You may improve your results pages by using template variables and conditional formatting. The most crucial stage in a fitness or workout quiz is to improve the results pages since it will provide consumers a better grasp of how they can start working out and make it their primary goal to become healthier.

Related: How to optimize the results page like a Pro!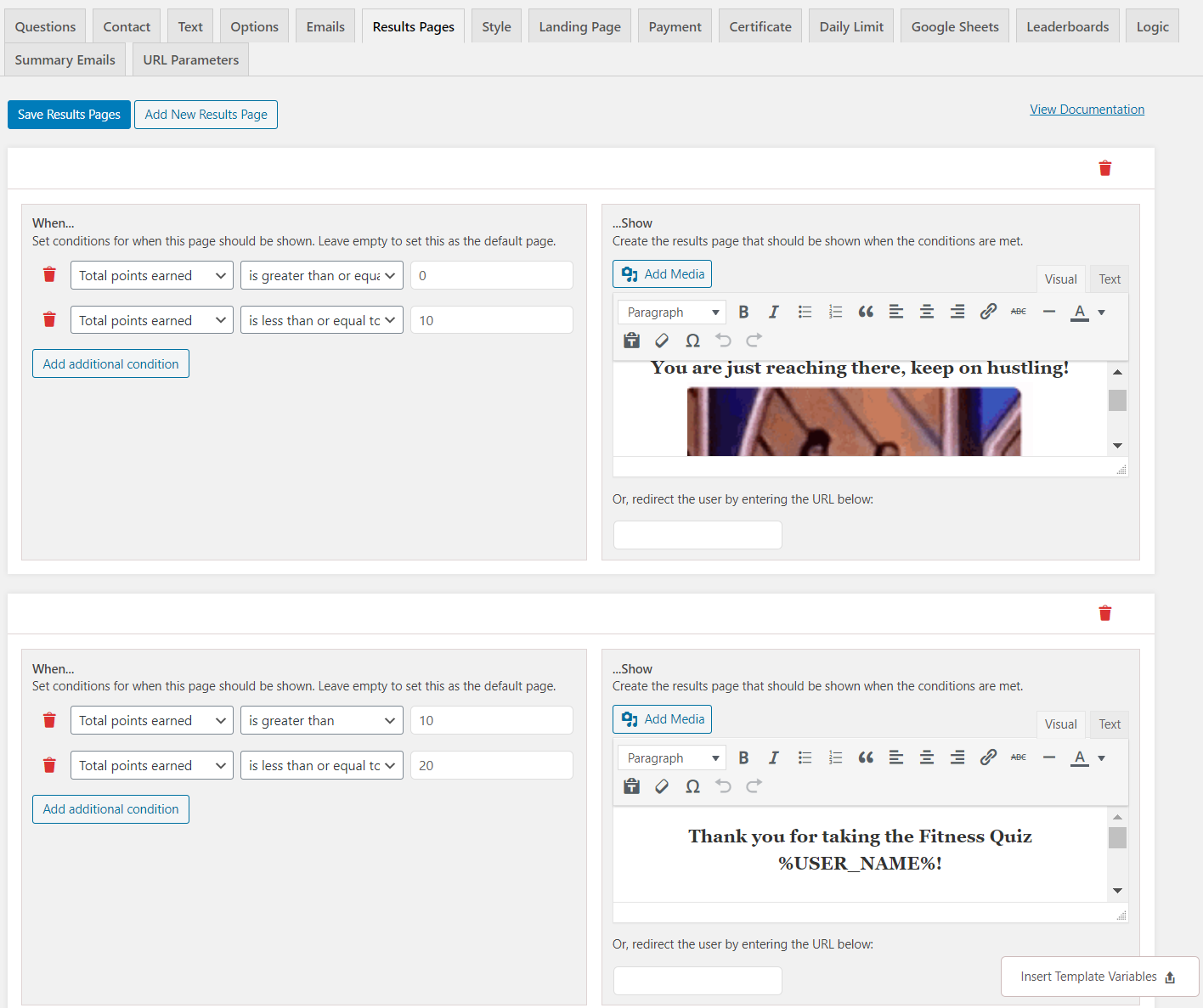 Related: How to embed a quiz or survey in your post
When you have completed setting up the results pages and optimizing your quiz, you can take a look at it by previewing it. Looking at the preview can help you figure out what the problems are and how to fix them. Once you are through with rechecking the quiz for errors, you can publish the quiz on your website or blog.
If you want the quiz to be connected and visible readily, the quiz can also be embedded in any of your articles or blogs. For example, in this post, we have linked our quiz. Let us see how linking to the quiz works. To create a blog like this you will require the popups add-on.

Learn about Simple Popups addon
FAQs
What are some good fitness questions?
1) How frequently should I work out?
2) What time of day is ideal for exercise?
3) How long should I do my exercises?
4) Should I warm up before working out?
5) Should I perform cardio, weight training, or both?
6) Should I use weightlifting to build my strength?
How do I create a quiz in WordPress?
To
create a quiz in WordPress
you can follow the given steps:
1) Install and Activate the QSM plugin
2) Create and configure a quiz
3) Customize QSM tabs
4) Preview and Publish the Quiz
How do you find out what exercise is best for you?
You can find out what exercise is best for you by taking a Fitness Quiz created by using the QSM plugin. Some types of fitness quizzes are:
1) Aging and fitness Quiz quizlet
2) Workout Quiz
3) How fit am I Quiz?
4) Physical fitness Quiz?
5) What is my yoga-type quiz?
Final Thoughts
In this blog, we traced our way through different quizlets that relate to fitness and workout. Even if you are a youngster or an aging person, you always have a need to keep yourself fit and healthy.
Through this, we also aim to show you how easy it is to create quizzes using the Quiz and Survey Master plugin on your blog or website. This WordPress quiz plugin has all you need to build a successful quiz. Some notable features of the plugin could be the QSM themes and QSM addons.
If you found this blog helpful, you might also be interested in reading how can you create a mental health quiz and how to create a wellness quiz.
Upgrade to the Pro Bundle of Add-ons to get the most out of the Quiz and Survey Master plugin! Unlike the others, the Pro bundle contains over 30 add-ons, such as Zapier integration, email marketing optimization, Google Sheets connector, and the list goes on.
You will be able to utilize the following features and more on your WordPress website after purchasing the Pro Bundle of add-ons:
Advanced Timer
Save and Resume Feature
Avail QSM on 10 websites
Export Results
Google sheets connector
Email Marketing Integration
Landing Page
Paypal and Stripe Integration
Summary Emails
Other blogs you may find helpful
Try Quiz and Survey Master
QSM is a free plugin that allows you to create and publish unlimited Quizzes & Surveys with no cap on questions or answers, helping you to take control of your website's interactive elements.
Download Now