Creating a trivia quiz in WordPress, but don't know where to start? Worry no more, because the team Quiz and Survey Master is here for your rescue!
The Quiz and Survey Master plugin, popularly known as QSM, is the most simple WordPress quiz plugin available, and it can be used to create engaging content that will increase user engagement and traffic.
There's something for everyone, from viral quizzes to trivia quizzes to consumer feedback surveys to employee surveys. This plugin is the ideal marketing tool for your website.
In this blog, we will talk about how you can create a trivia quiz in WordPress and accentuate your marketing as well as reach your targetted audience.
---
[qsm_popup id=479156]TAKE A TRIVIA QUIZ BY QSM[/qsm_popup]
---
What is a Trivia Quiz in WordPress?
A trivia quiz is a form of the game in which players (either individually or in groups) are asked questions about various topics and must answer as many of them correctly as possible.
Trivia quizzes are commonly held as part of parties, gatherings, and pub entertainment. Normally, contestants are divided into teams, with the winning team being the one with the highest score. But since the world is practically coming over the internet, it becomes essential to host various kinds of trivia quizzes relevant to your WordPress website to generate more user engagement.
Trivia Quizzes can be of various types. So if you are making a cooking blog, then you can make a "what is your soul food?" or "which food is better?" kind of trivia quiz in WordPress.
Some examples of types of trivia quizzes could be:
General trivia quiz: it could have questions relating to any genre and are most relevant to test the general knowledge of the quiz takers. In this blog, we will be creating a general trivia quiz in WordPress.
Sports Trivia Quiz: This quiz is a generic quiz for everything sports. It includes football, cricket, tennis, and even swimming trends and judges your knowledge based on the answers.
Food Trivia Quiz: As the name suggests, it is a quiz that consists of questions relating to the world of foodies and not to mention that this quiz has got the best fanbase! Create your

Food trivia quiz using QSM.

Science Trivia Quiz: This is one of the quizzes for the brainy bunch and included questions relevant to the scientific field honestly, it is the craziest trivia quiz as it blows your mind with astonishing facts, every time!
Geography Trivia Quiz: This kind of trivia quiz in WordPress is usually used by school professors to make the children learn, graphically, about the world we live in! Create your

Geography quiz using QSM

Entertainment Trivia Quiz: Another one in line is the entertainment trivia quiz in WordPress. As we all know that people love drama and stories from the buzz world, there is no surprise this quiz would do wonders in engaging users!
Animal Trivia Quiz: In an animal trivia quiz you would questions concerning all the fauna around the world and ranging from the cute and chubby pandas to ferocious lions!
Fitness Trivia Quiz: It is the quiz that is gaining more and more popularity by the second we speak. If you are owing a health blog,

creating a fitness trivia quiz

in WordPress is your go-to!
And the list can go on and on depending upon the type of blog you have or are creating.
Why Play a Trivia Quiz?
Trivia quizzes are of different types as we saw in the above examples. Thus, creating trivia quizzes that are of use to your audience helps in increasing reach and making a fun space for the users.
We have listed a few reasons why your users might want to play trivia quizzes on your website. Unfortunately, as we become older, we notice that our minds aren't as sharp and quick as they once were. It becomes more difficult to recall, concentrate, and learn new skills and knowledge if we do not train our brains.
Quiz questions can help slow down this process by providing mental exercise.
Enhance our understanding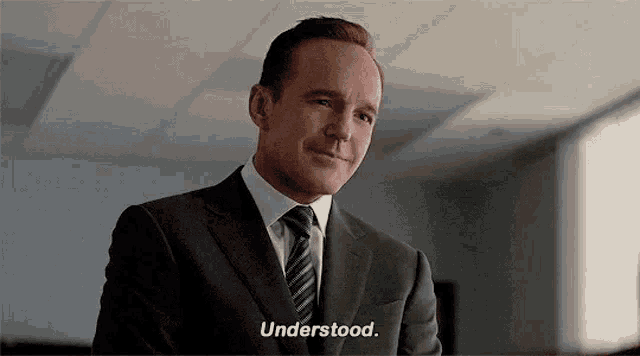 Although our learning abilities degrade with age, we can keep our brains trained and in shape so that we can retain information better. Answering trivia questions unconsciously helps us grow and increase our knowledge.
Intelligence in Motion
It is the ability to reason logically and solve difficulties in unfamiliar conditions. Our brain is a true engineering machine that can adapt to a variety of settings, including learning and forming new neural connections to accept new data. Our brain adjusts to the game as we answer trivia questions; the more questions we answer, the more we desire to play. We train our brains to work in this manner, and we become more intelligent and quick to respond as a result.
Cortisol levels are reduced
Quizzes can also be beneficial in lowering cortisol levels (the stress hormone), which improves our focus, learning, and thinking abilities.
Cross-Training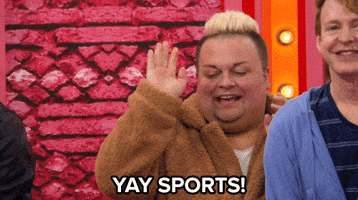 Trivia questions can be on everything from health to history to sports to geography to science. Any subject you can think of is okay. Because we are thinking about multiple issues at once, our minds must work extra hard to have the ability, memory, and reasoning to manage all of them.
This is known as "cross-training," which indicates that when we "study" multiple things at the same time, we retain more information than if we learned them separately. That is how unique our brain is.
Emotions and happiness
Answering trivia questions (and, more importantly, correctly answering them) can make us quite happy. Friendly competition can lift our spirits, boost our egos, and make us feel better in general. When we win, we feel satisfied and our bodies generate hormones that help our brain feel good.
If you have not tried quizzes yet, it would be a good idea to host a quiz night with your friends, and family, or a bar quiz (link to how to host a pub quiz) where you can meet new people and make it even tougher. You will not only have fun and learn new things, but you'll also be strengthening your brain!
Questionnaire for a Trivia Quiz in WordPress
Since there is no number to the types of trivia quizzes you can create, we have noted down some popular types of trivia quizzes and their questionnaire. This could give you a head start for creating a trivia quiz in WordPress!
Food Trivia Quiz Questionnaire
What is the rarest M&M color?
What is the name given to Indian food cooked over charcoal in a clay oven?
What is the most consumed manufactured drink in the world?
Which is the only edible food that never goes bad?
Which country invented ice cream?
From which country does Gouda cheese originate?
Animal Trivia Quiz Questionnaire
What is the loudest animal on Earth?
How many hearts does an octopus have?
What are the folds of skin on a cat's ears called?
How many legs does a spider have?
What mammals lay eggs?
Entertainment Trivia Quiz Questionnaire
What was the first toy to be advertised on television?
What was the first feature-length animated movie ever released? (Hint: It was a Disney Movie)
What TV series showed the first interracial kiss on American network television?
Who created Sherlock Holmes?
When Walt Disney was a child, which character did he play in his school function?
Which is the oldest of all the Kardashian sisters?
Which actor from the Pirates of the Caribbean movie has never got an Oscar?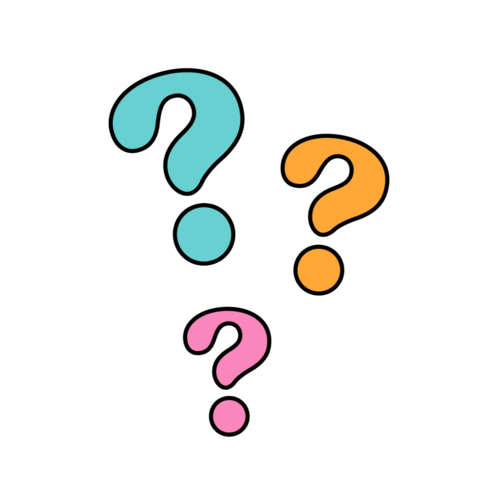 Geography Trivia Quiz Questionnaire
Area 51 is located in which US state?
What's the city with the most diversity in terms of language?
Which country borders 14 nations and crosses 8 time zones?
What's the smallest country in the world?
What is Earth's largest continent?
The ancient Phoenician city of Constantine is located in what modern-day Arab country?
Havana is the capital of what country?
Riyadh is the capital of which Middle-Eastern country?
How to create a Trivia Quiz in WordPress?
Now that you are set with your questionnaire, it is time to get going with the actual quiz-making process. Follow the given steps to create a flawless trivia quiz in WordPress.
Step 1: Installing the QSM Plugin
To make an effective trivia quiz, you'll need to download the QSM WordPress Quiz Plugin. It is the best quiz and survey-making plugin available, and it can help you build amazing quizzes even if you aren't a coding expert.
The plugin is available on the Quiz and Survey master website, as well as the WordPress official website. As a result, there are two ways to obtain the QSM plugin:
Option 1: Use your WordPress dashboard to download.
In the WordPress dashboard, go to the plugins menu.
In the search bar, type "QSM" or "Quiz and Survey Master."
Look for the QSM plugin.
After that, click Install and then Activate.
Your plugin is now installed and ready to use.
Option 2: Download from WordPress's official website
On the WordPress website, go to the plugins menu
Search for "QSM" or "Quiz and Survey Master" in the search bar
Download the setup to install the plugin
After downloading, the .zip file, toggle to your WordPress website
Go to the Plugins menu
Click on "upload plugin"
Drop your .zip file into the dialog box
Click install and activate
Your plugin is ready to use.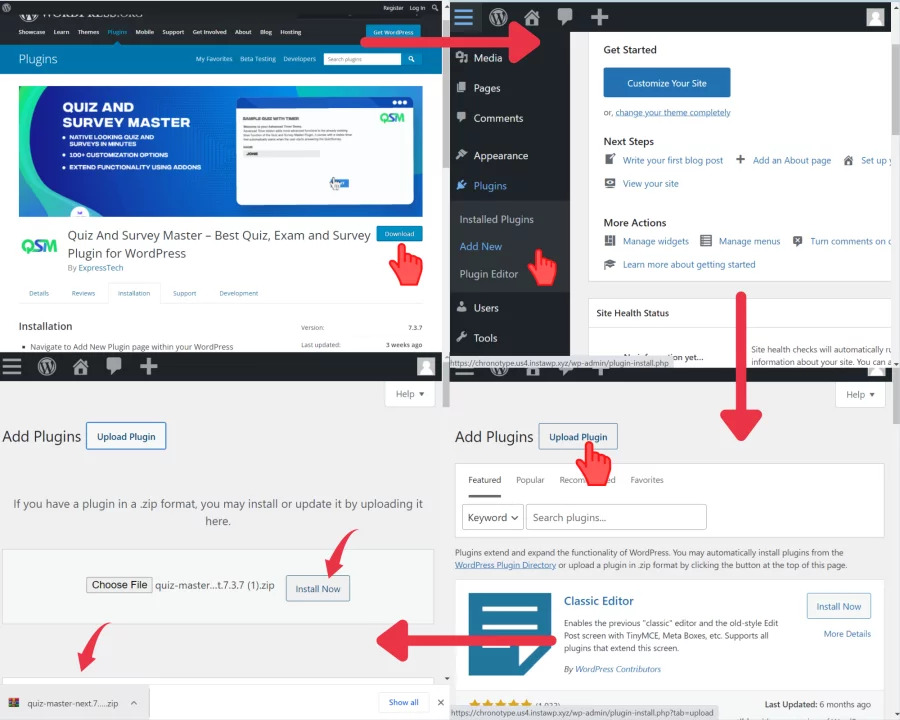 Step 2: Creating the Quiz
Now that we have prepared all of the questions, we will have to add them to our QSM quiz. To begin, select "Create new Quiz/Survey" from the drop-down menu. We are developing a generic trivia quiz, but based on your WordPress website and target audience, you can use any trivia quiz-question type.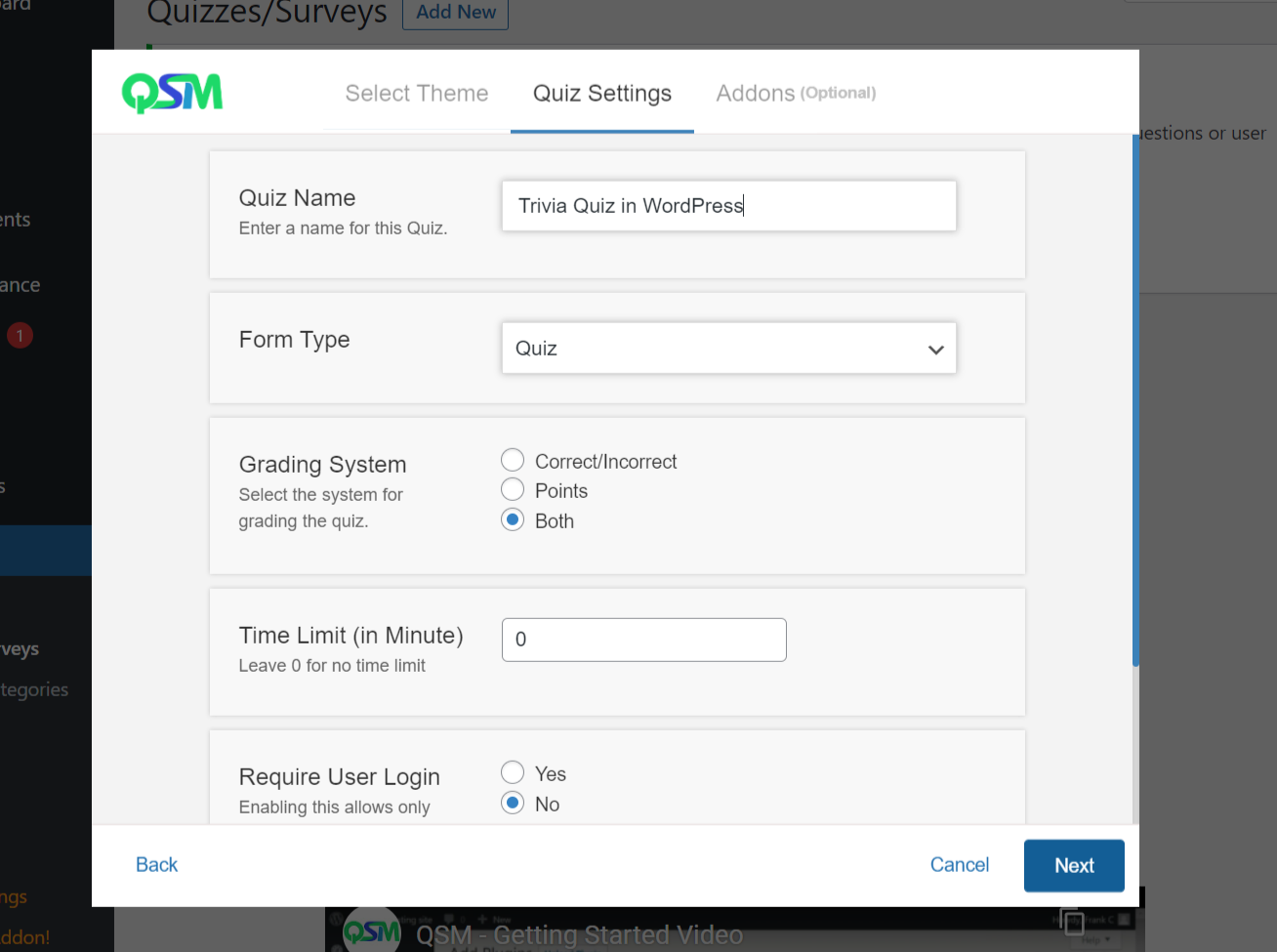 You will see that QSM has a large number of different themes to pick from. After that, you can further customize your quiz by adding the Quiz name and grading system using various QSM add-ons.
In the QSM plugin, there are many different types of questions. To build a correct/incorrect type of quiz, we now use multiple-choice questions, but there are also fill-in-the-blanks and polar-answer choices.
Related: Types of Questions in QSM
You must modify the numerous tabs supplied by QSM after completing the first stage. The QSM tabs let you use most WordPress quiz plugins, allowing you to design user-friendly quizzes that generate amazing sales funnels for your blog or business.
Step-by-step customization is possible with these QSM tabs. The Contacts Tab, for example, can be used to create a contact form, the Options Tab to change the look and feel of your quiz, and the Text Tab to add different messages to be displayed at different points during your quiz.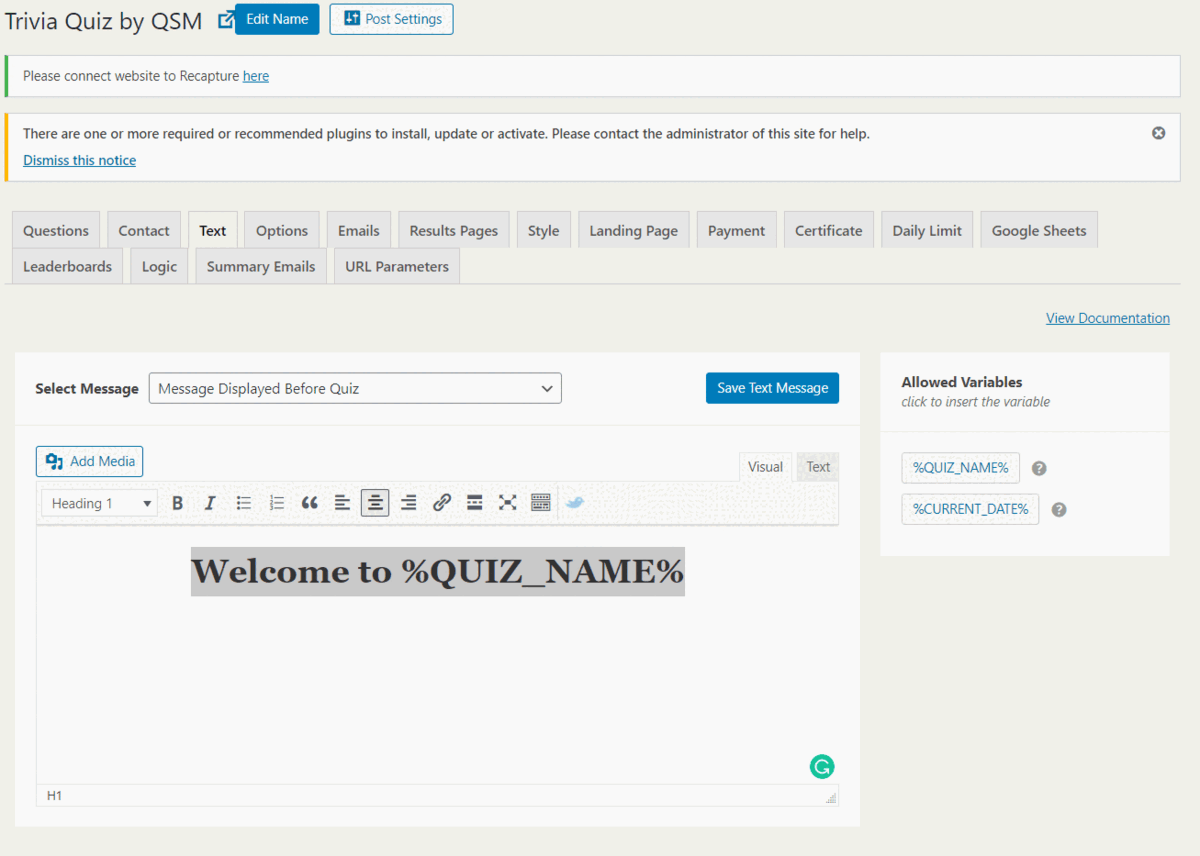 Step 3: Results Pages and Publishing the Quiz
The following step is to make result pages. Using template variables and conditional formatting, you can optimize your results pages. The most important component of an angry quiz is to optimize the results pages, as this will ensure accurate results and, as a result, enhance interaction on the quiz as well as on the blog or website.
Read more about Template Variables
You can preview your quiz using the various tabs once you've finished setting up the results pages and optimizing them. Looking at the preview can assist you in determining what the issues are and how to resolve them. You can also embed the quiz in your articles or blogs.
Conclusion
To conclude this blog, we can say that the Quiz and Survey Master plugin has an upper hand when it comes to creating trivia quizzes for your WordPress website.
With its different QSM themes and QSM addons, you can beautify and make your quiz more user-friendly. And you do not even have to be a pro at coding to use the QSM plugin, which makes it even easier to handle.
If you liked this blog, you might also be interested in reading how to make personality quizzes and how to create an anger quiz.
What's New: QSM Pro Bundle
The Quiz and Survey Master plugin is continually being updated with new features to improve your quiz-making experience. When the renewal period begins in 2022, we will offer you the QSM Pro Bundle of Add-ons.
The Pro collection of add-ons includes all of the features you'll ever need. This deal offers access to 10 sites as well as 30+ plugin add-ons! Yes, you read that correctly: the Pro bundle gives you access to ten sites at the same time, including all add-ons.
The following are some of the key elements to look for in the bundle:
Use QSM in ten different sites.
Add-on for Reporting and Analysis
Add-on for exporting and importing
Integrations with Email Marketing
Advanced Timer Export Results with Zapier Integration
Connector for Google Sheets
Save and resume your work
Other blogs you may find helpful
Try Quiz and Survey Master
QSM is a free plugin that allows you to create and publish unlimited Quizzes & Surveys with no cap on questions or answers, helping you to take control of your website's interactive elements.
Download Now