Ever wondered what if you switch to something super easy instead of using google forms every time for every form you make? Well, you shall now stop wondering and get tuned into this list of best google forms alternatives.
We know that google forms could be a blessing in disguise when you need to get your things going. But what happens when you want to level up your work with not just a simple survey form but something which has a Wow Factor? This is where the google form alternatives and form builders come into play for WordPress.

Read: What to look for in a WordPress Quiz Plugin

In this blog, we are going to talk exactly about that. Let's dive into it and see what you can get as your google forms alternative!
Here is the list of the best Google Forms Alternatives, and form builders:
Why need Google Forms Alternative?
But why do you need any of the google forms alternatives? We all know that google forms are strategically cheaper as compared to other form builders in the market. But is the low-cost alternative a good WordPress form plugin too?
Let's say you are trying to build a quiz page or a survey page for your WordPress website, would you consider a completely different interface from your company's design or would you instead go for designing your own page using a good wordpress quiz plugin?

Learn how to create a Custom Quiz
I guess we both know, we would choose the latter. Therefore, this is one of the big reasons to find alternatives to google form quiz integration or plugins for WordPress.
As you must have observed that there is a list of all the best google forms alternatives that are currently running. We have drawn out this list on the basis of three aspects:
Features of the google forms alternatives. Very basic parameter of distinction but makes a tonne of difference.
Affordability of the google forms alternatives. It is one of the most important aspects that get us going to purchase anything, whether it be a car, a laptop, or even any of the google forms alternatives, plugins, form builders, etc.
Customization Capability of the google forms alternatives. It is easy to say that a plugin is flexible and customizable, but when it comes to using the plugin, it could be a different story altogether.
Well, do not fret by these terms, because we are here to rescue you. The comparison will be done one at a time and strictly along these parameters. Let us go through these google form alternatives and form builders one by one.

Also Read: Best Online Quiz Tools of 2022
#1 Quiz and Survey Master

The top option on our list and one that satisfies the requirements is Quiz and Survey Master. If you are looking for something to follow your plans and slay, this could be a deal-breaker. See by watching how. This google form alternative has excellent customization compatibility. It excels at offering a fantastic user experience and modern customization.
It is cost-free to use. The cost of creating tests, questionnaires, or surveys is zero dollars. Themes and add-ons for the plugin are among its extensions that may be purchased.

Also Read: SurveyMonkey vs Google Forms vs QSM
You can use the QSM plugin without feeling constrained by your lack of programming experience or as a WordPress rookie.
QSM Features:
With thorough documentation provided at every stage of the quiz-making process, designing quizzes is made simple.
It is flexible. The QSM plugin offers a multitude of design and redesign options for your surveys and quizzes.
Since nothing is fixed in stone, you can still make changes in real-time after publishing the quiz.
Easy to use for any purpose. This might be a free, all-inclusive

alternative to Easy Test Maker

.
The QSM plugin can be used to create online tests, employee surveys,

consumer surveys

, domestic quizzes, and quizzes for friends.
Offers themes that may be fully customized and have a nice appearance and it also offers the choice of a random question.
You can also create a

quiz for logged-in users

using the QSM plugin as a google forms alternative.
The Quiz and Survey Master plugin also integrates with Google Sheets, Google Analytics, Slack, etc.
QSM Pricing:
This google forms alternative is free and allows you to make an unlimited number of tests and surveys for your WordPress website. You can upgrade to a Pro account or purchase add-ons whenever you want to.
#2 Woorise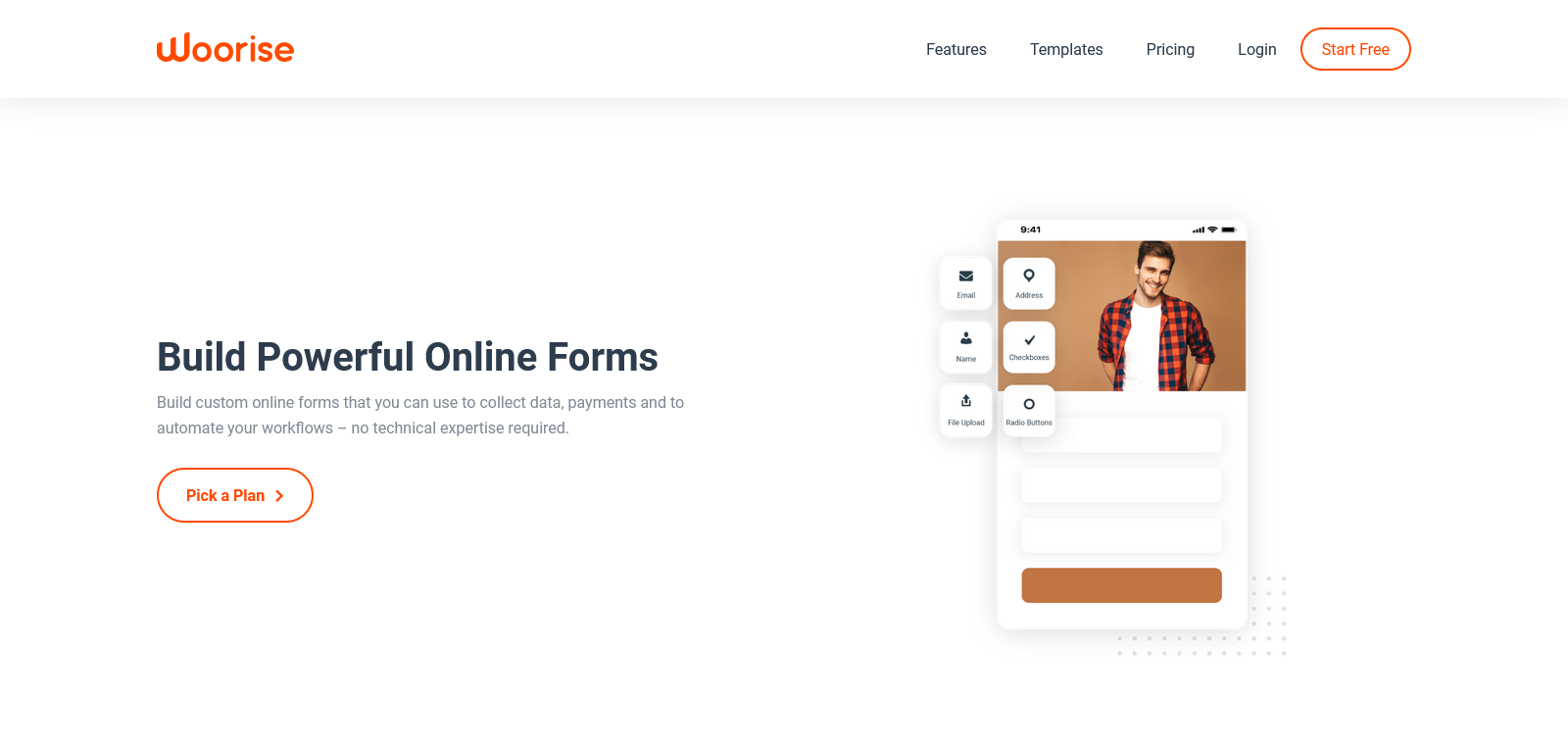 Woorise is an all-in-one lead generation and marketing platform that allows you to create a wide range of interactive campaigns such as landing pages, forms, surveys, quizzes, viral giveaways & contests, accept payments, and more to collect leads and engage your audience.
Features include a modern landing page and form builder, 40+ field types and thousands of social actions, 100+ interactive templates, conditional logic, real-time email notifications, multi-language support, and built-in analytics.
Woorise integrates with popular marketing platforms such as Mailchimp, Hubspot, ActiveCampaign, Facebook, Google Analytics, Bitly, Zapier, PayPal, Stripe, and many more allowing you to automatically send your new leads to the tools you already use.
Woorise Features:
Beautiful and fast design with a powerful drag & drop landing page and form builder
100+ customizable templates for interactive campaigns and landing pages
Conditional Logic
Send personalized Email Notifications
Multi-language support
Create refer-a-friend campaigns
Geo-Targeting to make your campaign available to specific countries
Multi-Page Forms
Personalized thank you pages
Export your data in a CSV file
Embed your campaigns on every website or platform
Workspaces to manage all your brands or clients from a single account
Woorise pricing:
It has a free version and a paid version. The paid version starts at $29 per month. They also provide a 14 days free trial of the Pro plan.
#3 Formidable Forms
The next google forms alternative on our list is Formidable Forms. It is a sophisticated WordPress form builder that provides many strong capabilities to construct forms that are solutions-focused.
Anyone may easily construct a variety of forms using its visual drag-and-drop builder, including polls and surveys, payment forms, tests, contact forms, and more.

Also Read: How to create a quiz that drives sales
Formidable Forms Features:
Users can edit any form using its visual styler, and each form design is responsive to mobile devices.
Even the form's HTML can be modified, and conditional logic can be included to determine which form fields to display based on the user's responses.
Formidable Forms' unique feature is that it enables users to make calculations.
You could design calculators that calculate percentages, mortgage payments, or automobile payments, for example.
Formidable Forms Pricing:
The basic package begins at $39.50 per year.
#4 Jotform
The next google forms alternative on our list is JotForm. You may get started for free and it features an online form builder. The free version gives you access to 100 submissions, 100 MB of storage, and the ability to build up to 5 forms.
Consider subscribing to one of its paid plans, though, if you want more form submissions, storage space, Health Insurance Portability and Accountability Act (HIPAA) compliance, and no JotForm branding.
Jotform Features:
You receive a tonne of templates to design any type of form, whether it's a membership form, file upload form, survey, registration form, or contact form.
Like other form builders, it includes a drag and drop builder and each field in the form template is editable.
By linking your forms with services like PayPal, Square, Stripe, and others, you can even take payments.
Additionally, conditional logic offers a variety of choices, including the ability to show and hide fields, carry out intricate calculations, skip or conceal a page, and more.
Jotform pricing:
Available in free plans but the premium plans bill $174 per year.
#5 Typeform
For creating forms for your website, you can also use Typeform as a google forms alternative. It has a tonne of functionality and enables users to make different kinds of online forms.

Read about Typeform alternatives for WordPress
You can choose from a variety of form templates to get started, including those for polls, giveaways, lead generation, surveys, and questionnaires. After you've chosen a template, Typeform will prompt you for the form's purpose and intended use. Then, predefined questions will appear that you can customize to your needs.
TypeForm features:
The form builder also provides a variety of customizing choices.
Each question's format can be modified, along with the design, topic, and conditional logic.
In addition, Typeform provides further capabilities that elevate it above Google Forms.
It enables you to do things such as establishing a response cap, planning a close date, making closed messages visible to visitors, configuring email notifications, and more.
Typeform pricing: it has a free version and paid version starts at $30 per month.
#6 Hubspot Forms
Next in the google forms alternatives list is Hubspot Forms. It was developed with WordPress website owners and businesses in mind that used it as their main content management system.
One element of a bigger software suite from Hubspot that also includes a live chat feature, sophisticated reporting, marketing automation, integrations, and email marketing is the form builder.
Hubspot forms Features:
Hubspot offers choices for yearly or monthly pricing. If you pick annual billing, you could save up to 10%.
It has a straightforward drag-and-drop user interface and is an all-inclusive marketing tool.
You have access to smart forms in the professional and corporate plans that change based on a visitor's browsing behavior.
The rest of HubSpot's Marketing Hub includes further analytics integration.
Hubspot Forms pricing:
It has a free version and paid version. The paid version starts at $45 per month.
#7 Zoho Forms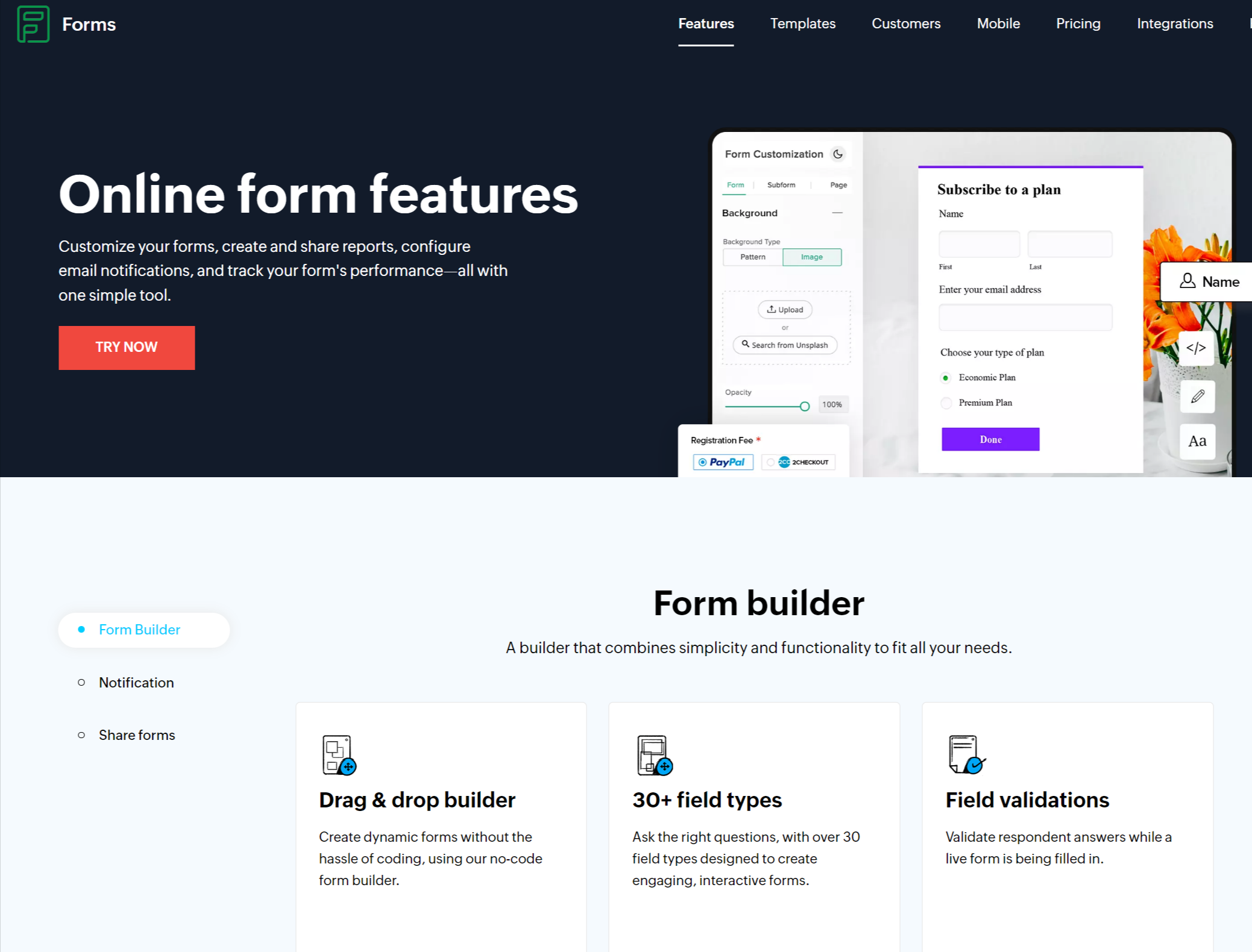 A well-liked form builder on the market, Zoho Forms has a number of capabilities that Google Forms does not.
You receive a variety of form templates for various business divisions and industries. For instance, Zoho provides templates for enterprises, building firms, healthcare facilities, eCommerce sites, HR departments, and more.
Zoho Forms Features:
A template can be customized in a number of ways after selection.
Simply use the drag-and-drop form builder to add or delete fields, conditional logic to specify rules for each field, or multipage forms to construct forms with several pages.
Additionally, Zoho Forms provides built-in security controls to safeguard your information and restrict access to forms.
It displays performance data for your forms' in-depth analytics reports.
Zoho Forms Pricing: Prices are at $8 per month but are billed annually for the basic plan.
FAQS
What can I use instead of Google Forms for free?
You can use the Quiz and Survey Master plugin for quizzes and surveys instead of google forms for free!
Is Google Forms no longer free?
Google forms are free however there is a paid package that retails at $18 per month.
Are Google Forms unprofessional?
For most professional businesses, Google Forms' default appearance might not be appropriate. However, you can make use of the QSM plugin to create professional quizzes and surveys as it has a wide variety of themes and concepts.
Final Thoughts
In this article, we learned about how we can use google forms alternatives for WordPress. As the list goes, our first choice would be the Quiz and Survey Master plugin. It does well on all our parameters of better workability in a google forms alternative.
You can extend your QSM plugin with addons and make the most of its features. Addons are the features that allow you to enhance the QSM plugin with the required features. For example, you want a google sheets connector in your plugin, so instead of paying a greater amount of sum, you can just purchase and integrate it into your QSM plugin!