We are aware of how draining it may be to constantly have your eyes glued to a computer screen in order to find an online quiz generator for your website. All of us have been there and done that, so why keep doing it?

The time has come to halt right here and break the cycle! The Quiz and Survey Master plugin is hands down the best of the free online test makers.
Here, we have provided you with the quickest method for setting up a WordPress quiz with the best quiz tool and the most interactive quiz maker. So without further ado, let's begin this quick and easy process to build a WordPress quiz with QSM, the best quiz maker for WordPress.
How to Create a Quiz using Online Quiz Generator?
These are the steps to make an online quiz using the online test maker:
Step 1: Installation of the QSM Plugin
You must download the QSM WordPress Quiz Plugin in order to create a quiz on the WordPress website. It is the best quiz and survey creation plugin on the market, and even if you are not an expert programmer, you can still create amazing quizzes with its assistance.
Both the Quiz and Survey master website and the official WordPress website provide the plugin. There are two ways to download and install the QSM plugin:
Option 1: Use your WordPress dashboard to download
In the WordPress dashboard, go to the plugins menu.
In the search bar, type "QSM" or "Quiz and Survey Master."
Look for the QSM plugin.
After that, click Install and then Activate.
Your plugin is now installed and ready to use.
Option 2: Download from WordPress's official website
On the WordPress website, go to the plugins menu
Search for "QSM" or "Quiz and Survey Master" in the search bar
Download the setup to install the plugin
After downloading, the .zip file, toggle to your WordPress website
Go to the Plugins menu
Click on "upload plugin"
Drop your .zip file into the dialog box
Click install and activate
Your plugin is ready to use.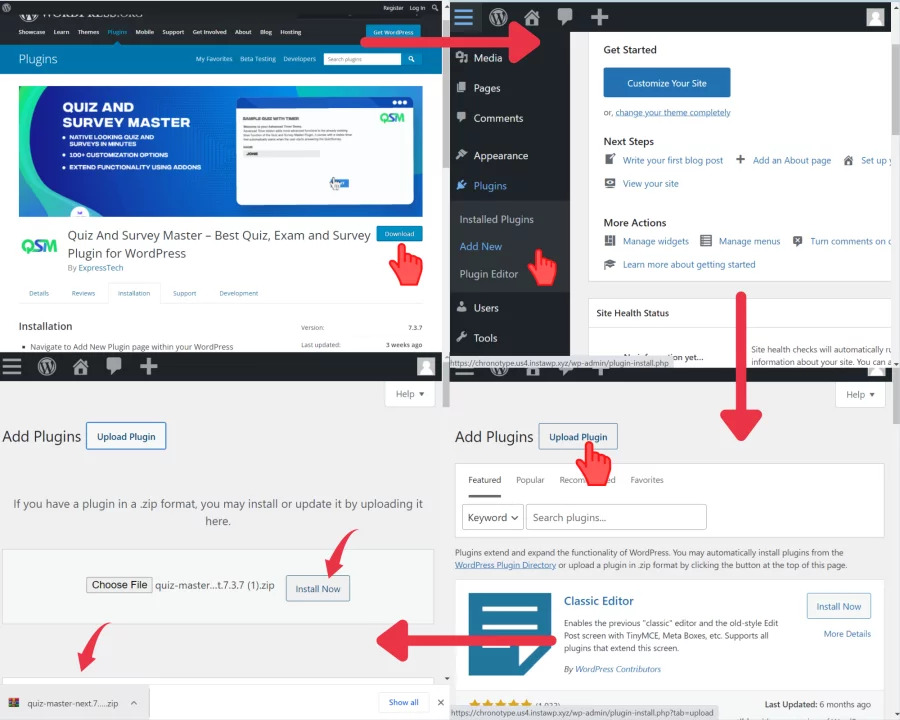 Step 2: Creating a Quiz
When you have downloaded the Quiz and Survey Master, the next step is creating quizzes. It is not rocket science when we are working with the QSM Plugin because you can create quizzes without having knowledge about coding. You can create quizzes, surveys, polls, tests, and likewise with this WordPress quiz generator.

Quick start guide to QSM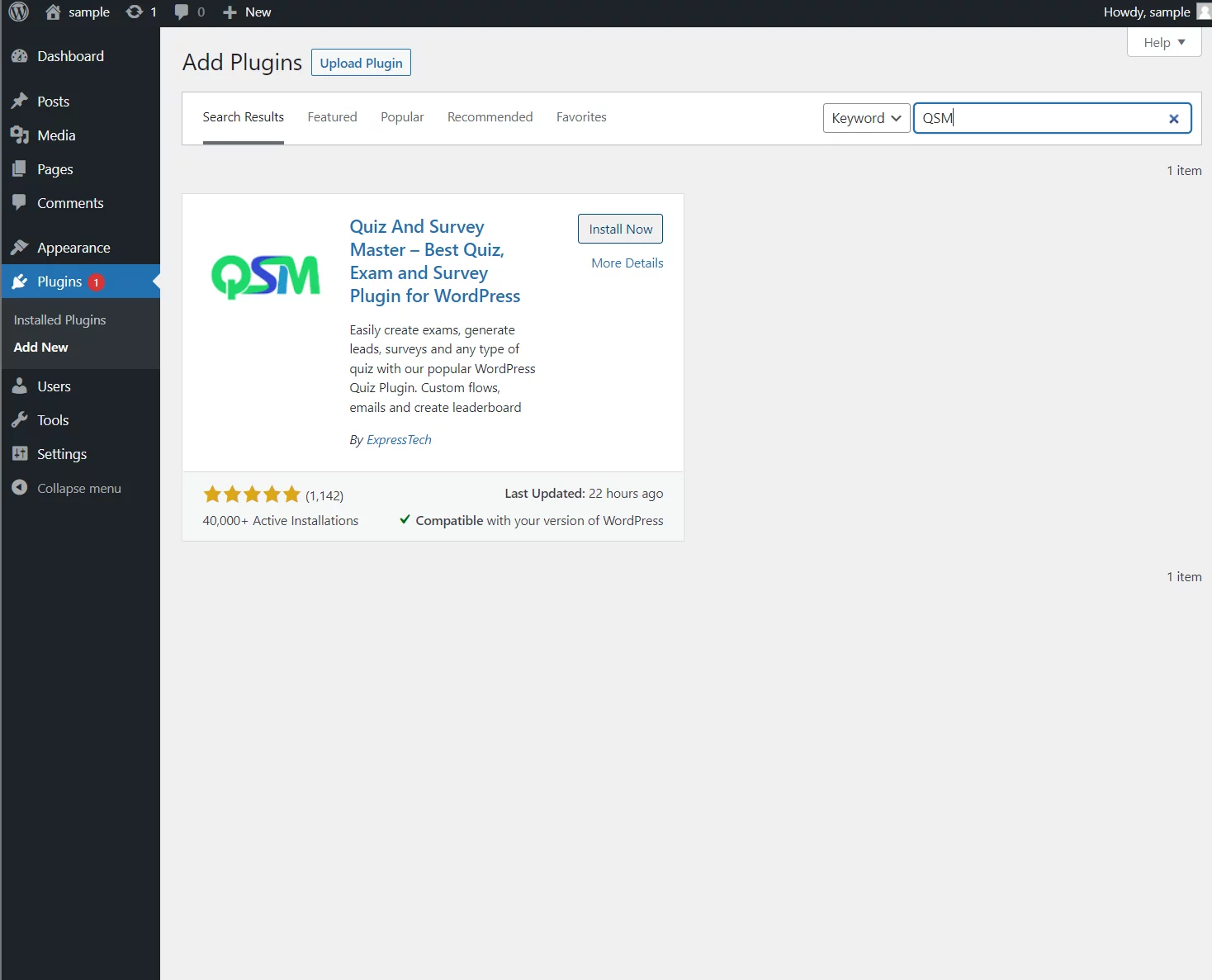 You may create a comprehensive, customizable survey while setting up a WordPress quiz using the Quiz and Survey Master plugin.
Initializing the Quiz
The "Create Quiz/Survey" button will appear once you select the Quizzes/Survey option. When you click the button, a dialogue box similar to the one below displays, allowing you to start the quiz.
The following configurations are part of this step:
The attractive themes provided by the Quiz and Survey Master plugin are yours to select from.
The QSM plugin gives you the ability to create surveys and forms in addition to quizzes; you can enter the name of the Quiz/Survey and the form type you need to publish. (here )
QSM provides users with expandable addons to assist them to make greater use of the capabilities. For instance, when connected to your Google account, a Google Sheets Connector Addon would be able to harvest correctly organized data on your sheets from the Quiz results/input.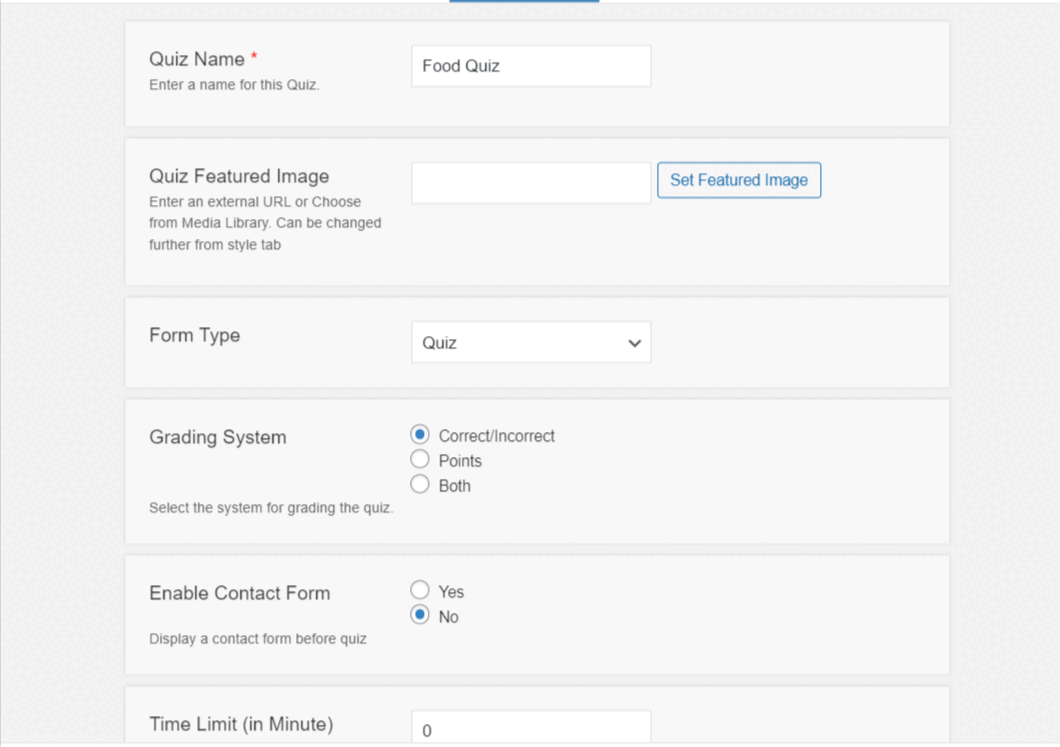 The QSM Tabs are revolutionary. These not only let you view each section of the quiz separately but also let you customize it specifically down to the level of a single question!
Adding questions
When you log into the Quizzes/Survey column of the QSM dashboard, the Questions tab is the first one you see on the screen.
You can add questions, and their answers, as well as other features like adding a featured image, in this tab. By using QSM, you can select from a wide range of question kinds and answer types, including rich, picture, and text answers.
Depending on the type of question, you can additionally include a piece of information about the correct response. Eighty percent of the work is completed when you enter your queries. The Questions Tab handles the questions, which make up the majority of a quiz.
Step 3: Customizing the Tabs
The next step is to customize the other tabs by QSM. Let us go through each one of them in detail.
Contact Tab
We use the contact tab to gather user data that we may use for a range of tasks, such as delivering quiz notifications, results to users, newsletters, and more.
We may gather contact information, such as Name, Email, Business, Phone Number, and so on, by establishing a Contact form under the Contact Tab.
To create a form and add contact fields to your quiz/survey, click the Add New Field button.
When you add a new field, you'll see a brand-new box with a wide range of field selections. For each field, a few options are available.
When you add a new field, a new box with a wide range of field possibilities will appear. For each field, a few options are available.
The type of field is the first option. You have two options:
Small Open Answer – This is a text box where you can type in information like your name or company.
Email – This is a text box that verifies that the information supplied is an email address.
Checkbox – A checkbox can be used to ensure that a user accepts the terms and conditions.
Date – Users can choose a date using this option.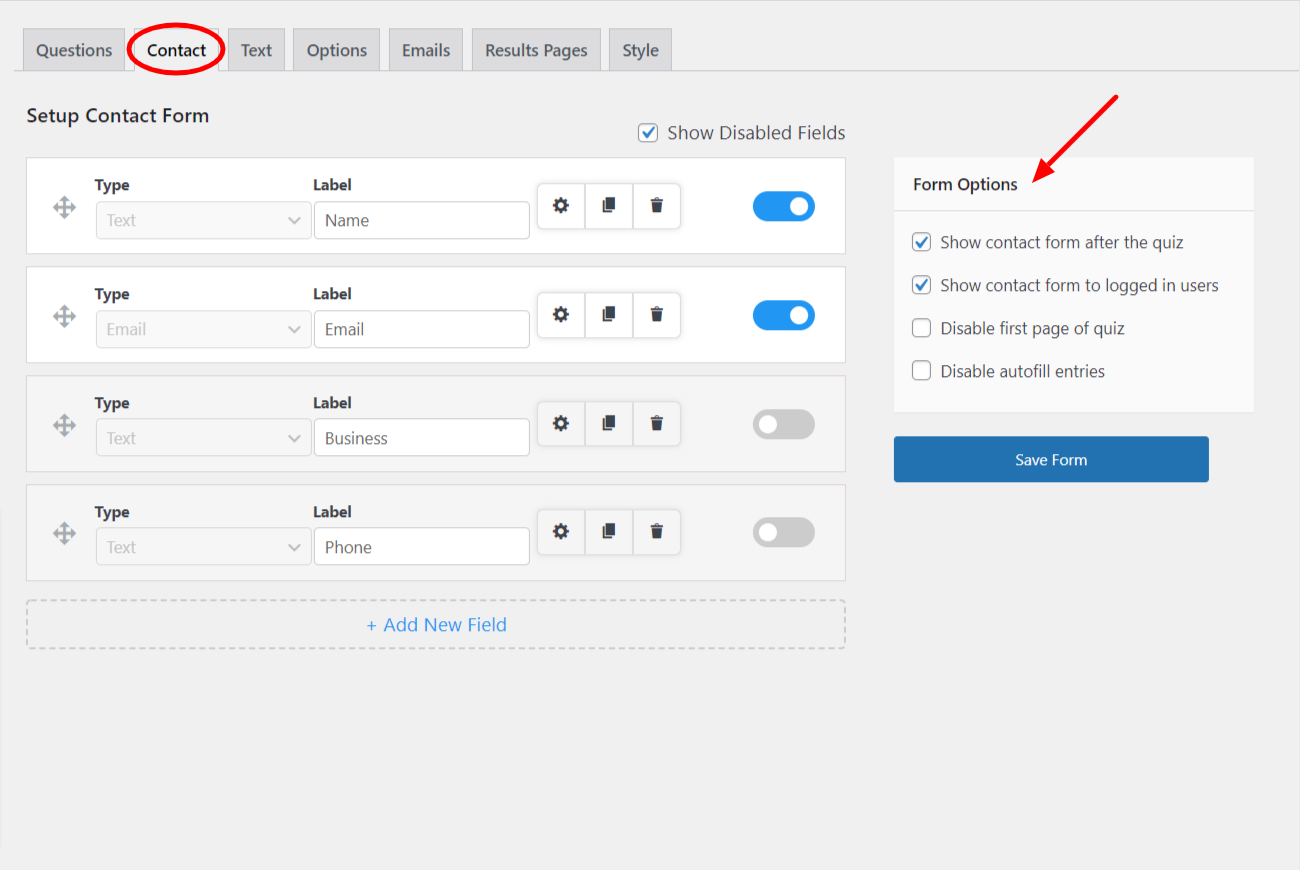 Text tab
There is a Select Message drop-down list with various user display messages on the text tab. Most quizzes allow you to display messages prior to the quiz's start or at its conclusion.
Other options:
Message Displayed At End Of Quiz
Message Displayed If User Has Tried Quiz Too Many Times
Message Displayed Before Comments Box If Enabled
Message Displayed If User Has Tried Quiz Too Many Times
Message Displayed If User Is Not Logged In And Quiz Requires Users To Be Logged In
Message Displayed If Date is Outside Scheduled Timeframe
Message Displayed If The Limit Of Total Entries Has Been Reached
Options Tab
The Options tab on the next line allows you to make a quiz using the quiz generator. It will assist you in editing the quiz's grading criteria and haptics. A progress indicator can be displayed or the number of questions on each page can be fixed. Now with the QSM 8.0, you can have a better hand in customizing this tab as the categories have now been bifurcated.

Related: Create a Quiz for Logged-in Users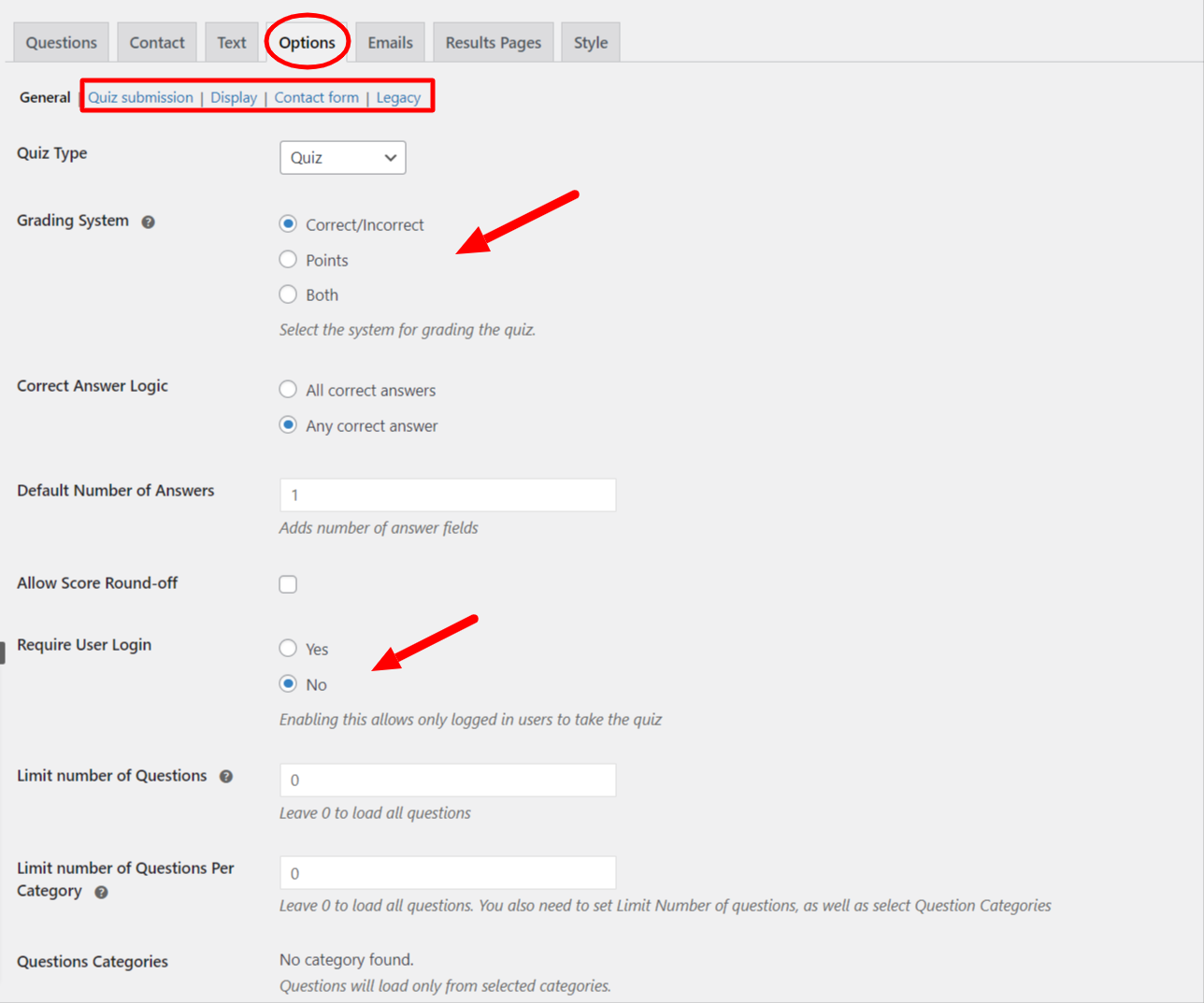 Emails Tab
Once the quiz is over, you might need to contact the users to let them know how they answered the questions, how many points they received, how many of their answers were correct, or just to let them know that they participated in the quiz.
The emails can contain a range of information and can be delivered to the site administrator in addition to the user who just finished the quiz. You can accomplish this using the Quiz and Survey Master plugin's Emails tab.
Style Tab
The style tab allows you to edit the theme of the quiz and change its overall appearance. Further, you can choose different themes, from the ones you purchased or the free themes, Serene and Companion.
Step 4: Setting up results pages
You must customize the Results tab in order to set up the results pages. The ideal quizzes are those that utilize its two preeminent components. These include using template variables and conditional formatting of the pages.
While template variables will assist you in modifying the messages for the results page, conditional formatting will allow you to add a condition for a specific result page.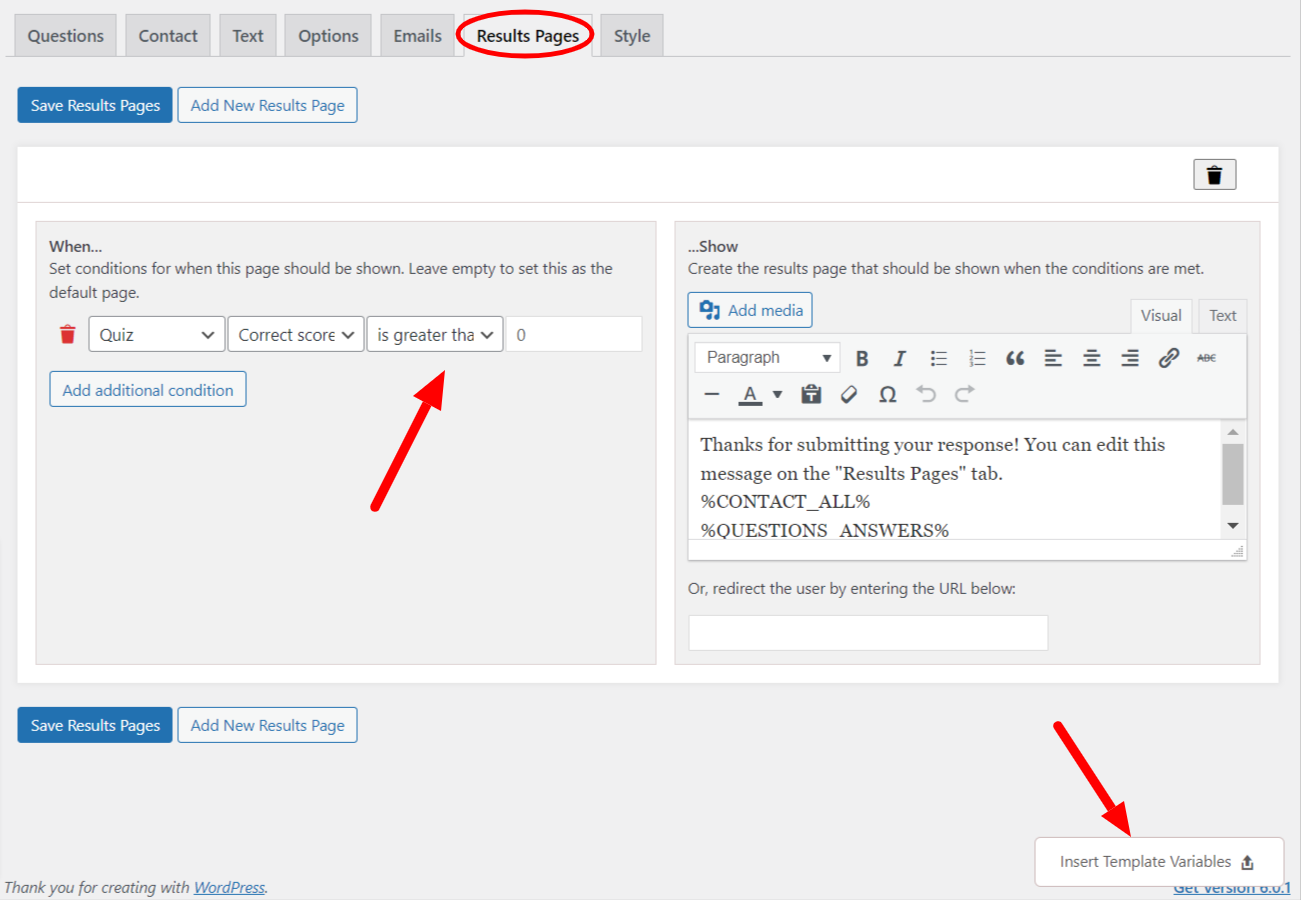 Step 5: Publishing the Quiz
Once you are through with adding questions, customizing the QSM tab, and optimizing your results pages, you can publish your quiz.
FAQS
What is the best free online quiz maker?
The best free online quiz maker is the Quiz and Survey Master Plugin for WordPress. If you are looking for a perfect WordPress plugin that caters to official surveys as well as fun quizzes, then QSM is the best choice for you!
How do I make a free online quiz?
To make a free online quiz all you need is a free online quiz generator. One of the best free online quiz makers is the Quiz and Survey Master plugin. It helps you build a quiz from scratch as well as from a pre-existing template which is also absolutely free!
What are the best free quiz websites?
Final Thoughts
This article explains in detail how to use the best free online quiz generator, QSM Plugin to build a WordPress quiz. Not only a newbie can create a quiz with this plugin but also ace it like a professional. You just have to download the quiz generator and start with your quiz-making journey!
If you liked this tutorial, you might also be interested in learning the Best online quiz tools and how to make an interesting results page.
Super Saver: QSM Pro Bundle
We've arrived with the most talked-about package of QSM plugin add-ons. The Pro addon bundle is now available! This includes all 34 add-ons, as well as email marketing integration and an advanced timer, among other features. You may take advantage of the offer of $199 per year and get the most out of the QSM WordPress plugin. It's yours in a single tap!
Key features of the QSM Pro Bundle:
Email Marketing Integrations
(Mailchimp, convert kit, and more)
Zapier Integration
Advanced Timer
Export Results
Google Sheet Connector
Save and Resume
Other blogs you may find helpful
Try Quiz and Survey Master
QSM is a free plugin that allows you to create and publish unlimited Quizzes & Surveys with no cap on questions or answers, helping you to take control of your website's interactive elements.
Download Now