Do you want to create a BuzzFeed quiz but cannot figure out where to start? Don't worry, you stumbled on the right stone. Here at Quiz and Survey Master, we make the quiz-making process more fun and more manageable.
In this blog, we will go through the process of creating a Buzzfeed style quiz using the QSM plugin for your WordPress website. Beginning by learning about what is the style of a BuzzFeed quiz, we will unveil the step-by-step operation.
But before we dive into the process, let us start from the basics by understanding what is the difference between all other quizzes and a Buzzfeed quiz.
---
---
What is a BuzzFeed Style Quiz?
BuzzFeed quizzes are essentially personality tests that ask you a series of questions about your interests and choices. Based on the user's inputs, the user receives results.
Did you know that 96% of people who begin a BuzzFeed quiz complete it? Yes, it is correct. BuzzFeed quizzes are fun to take and deliver tailored results. Who wants to come to a halt in the middle of a journey so exciting?
A Buzzfeed style quiz can be created using Quiz and Survey Master plugin easily even if you do not know anything about coding.
What makes it different?
Well, we know that Buzzfeed quizzes are quite famous, but now let us understand why are they so famous.
The quizzes are entertaining
Isn't it great when work and pleasure collide? We believe it is ideal. That is why BuzzFeed quizzes are so popular. The focus of these quizzes is on reach and marketing. They also increase engagement since they are so topic-rich.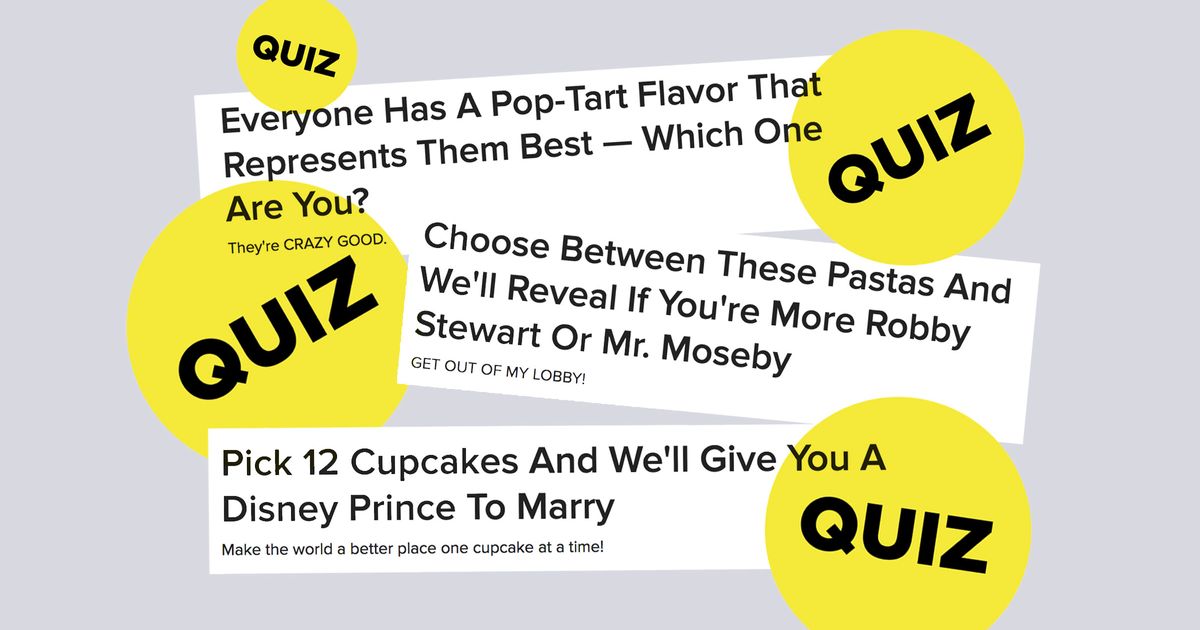 Quizzes are Personal
Okay, would you rather read a general blog about various 2020 disasters, or take a quiz to find out "Which 2020 disaster are you?" We will almost certainly go with the latter option. The reason is straightforward. We'd prefer something that told us about ourselves rather than the entire globe. BuzzFeed quizzes are unique in that they provide customised results based on your responses.
Quizzes are Sharable
When we come across something amusing on the internet, we usually want to share it with our friends. It's human nature to want people to enjoy and appreciate what we adore. And, to be honest, that's just a ten out of ten.
Do we want to deny individuals the opportunity to share their joy? And it's for this reason that we use BuzzFeed quizzes. They can be shared with just a few mouse clicks. This only adds to their success.
Things to Mind while Making a Buzzfeed Quiz
While creating a Buzzfeed style quiz, you might want to pay heed to the following things:
Buzzfeed Design Titles and Themes in Quizzes
The quiz titles on BuzzFeed aren't dull. On the contrary, they're thrilling and make an almost instantaneous connection with you. It's as if your best buddy is sitting across from you, probing you with a series of questions. After that, who wouldn't want to take quiz after quiz?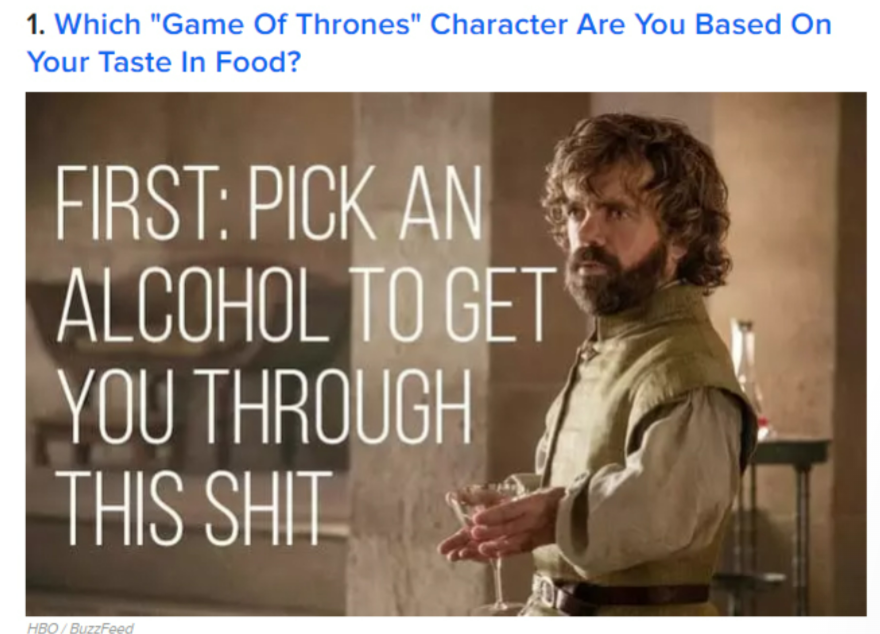 Images and visual cues
Consider how much visual content we are exposed to on a daily basis in the shape of television advertising, body language, and so on. Because the human brain processes image 60,000 times faster than word, it's no wonder that images outperform text. Don't underestimate the importance of visuals in interactive media like a quiz.
Interesting Questions
People enjoy it when you speak directly to them, and most BuzzFeed quizzes are built on this concept. They use the word 'you' a lot in the questions, making it feel like a one-on-one chat, similar to the quiz titles. Whether people are taking a personality-type quiz, a trivia game, or assessment, it becomes a personal experience.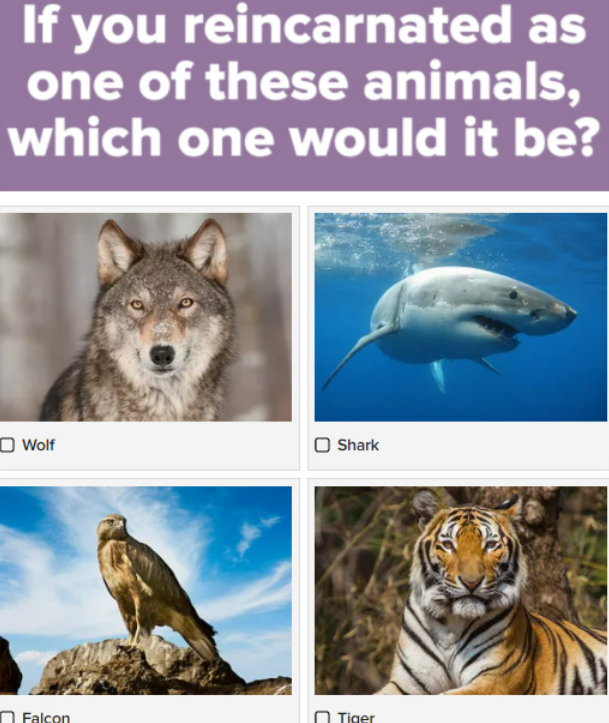 How to make a Buzzfeed Quiz?
There are 5 steps involved in making a Buzzfeed quiz. Let us go through each of them, one by one.
Step 1: Creating Quiz Questions
For creating any quiz in BuzzFeed style, you shall add questions. Since you can create quizzes for any topic, you should be well-versed in your agenda. For this blog, we will create a sample questionnaire for a pop culture trivia quiz!
But these questions could easily vary according to your respective quiz topic or website blogs. For example, a food personality-type quiz question will be different from the ones we use for it.
Some sample questions for this trivia quiz are:
Food Trivia Quiz Questionnaire
What is the rarest M&M color?
What is the name given to Indian food cooked over charcoal in a clay oven?
What is the most consumed manufactured drink in the world?
Which is the only edible food that never goes bad?
Which country invented ice cream?
From which country does Gouda cheese originate?
Animal Trivia Quiz Questionnaire
What is the loudest animal on Earth?
How many hearts does an octopus have?
What are the folds of skin on a cat's ears called?
How many legs does a spider have?
What mammals lay eggs?
Entertainment Trivia Quiz Questionnaire
What was the first toy to be advertised on television?
What was the first feature-length animated movie ever released? (Hint: It was a Disney Movie)
What TV series showed the first interracial kiss on American network television?
Who created Sherlock Holmes?
When Walt Disney was a child, which character did he play in his school function?
Which is the oldest of all the Kardashian sisters?
Which actor from the Pirates of the Caribbean movie has never got an Oscar?
Step 2: Installing the Quiz and Survey Master Plugin
To make a wonderful quiz, we need a wonderful WordPress Quiz plugin as well. To download the Quiz and survey master plugin, you can go for two options.
Option 1: To download from your WordPress dashboard
Go to your plugins menu in the WordPress dashboard
Search for "QSM" or "Quiz and Survey Master" in the search bar
Spot the QSM plugin
Click on Install and then activate
Your plugin is ready to use
Option 2: To download from WordPress's official website
On the WordPress website, go to the plugins menu
Search for "QSM" or "Quiz and Survey Master" in the search bar
Download the setup to install the plugin
After the .zip file has been downloaded, toggle to your WordPress website
Go to the Plugins menu
Click on "upload plugin"
Drop your .zip file into the dialog box
Click install and activate
Your plugin is ready to use.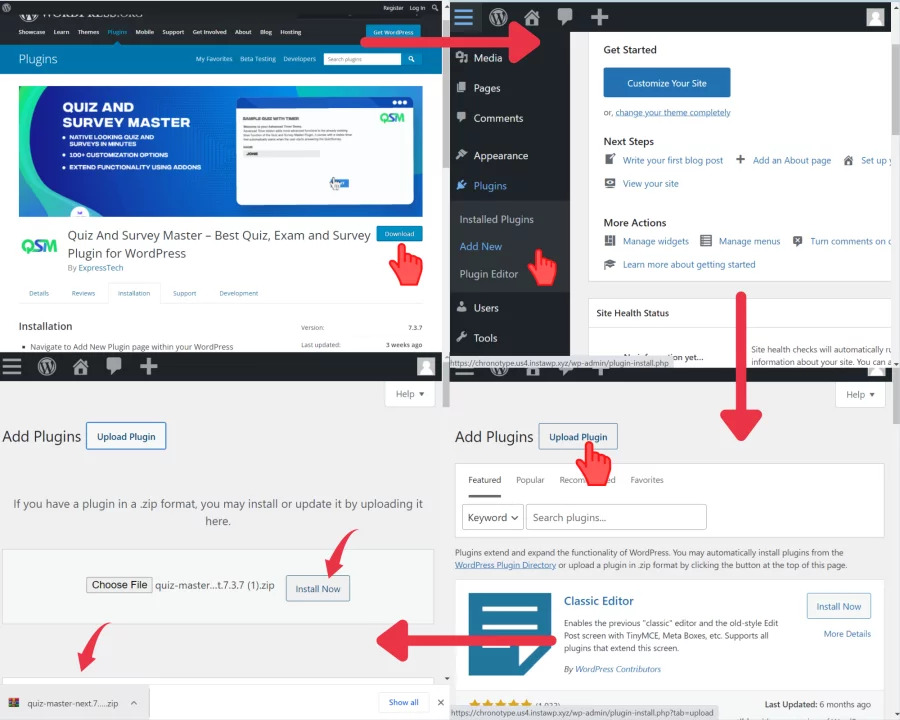 Step 3: Creating the Quiz
Now that we have prepared all of the questions, we will have to add them to our QSM quiz. To begin, select "Create new Quiz/Survey" from the drop-down menu. We are developing a generic trivia quiz, but based on your WordPress website and target audience, you can use any trivia quiz-question type to create a BuzzFeed style quiz.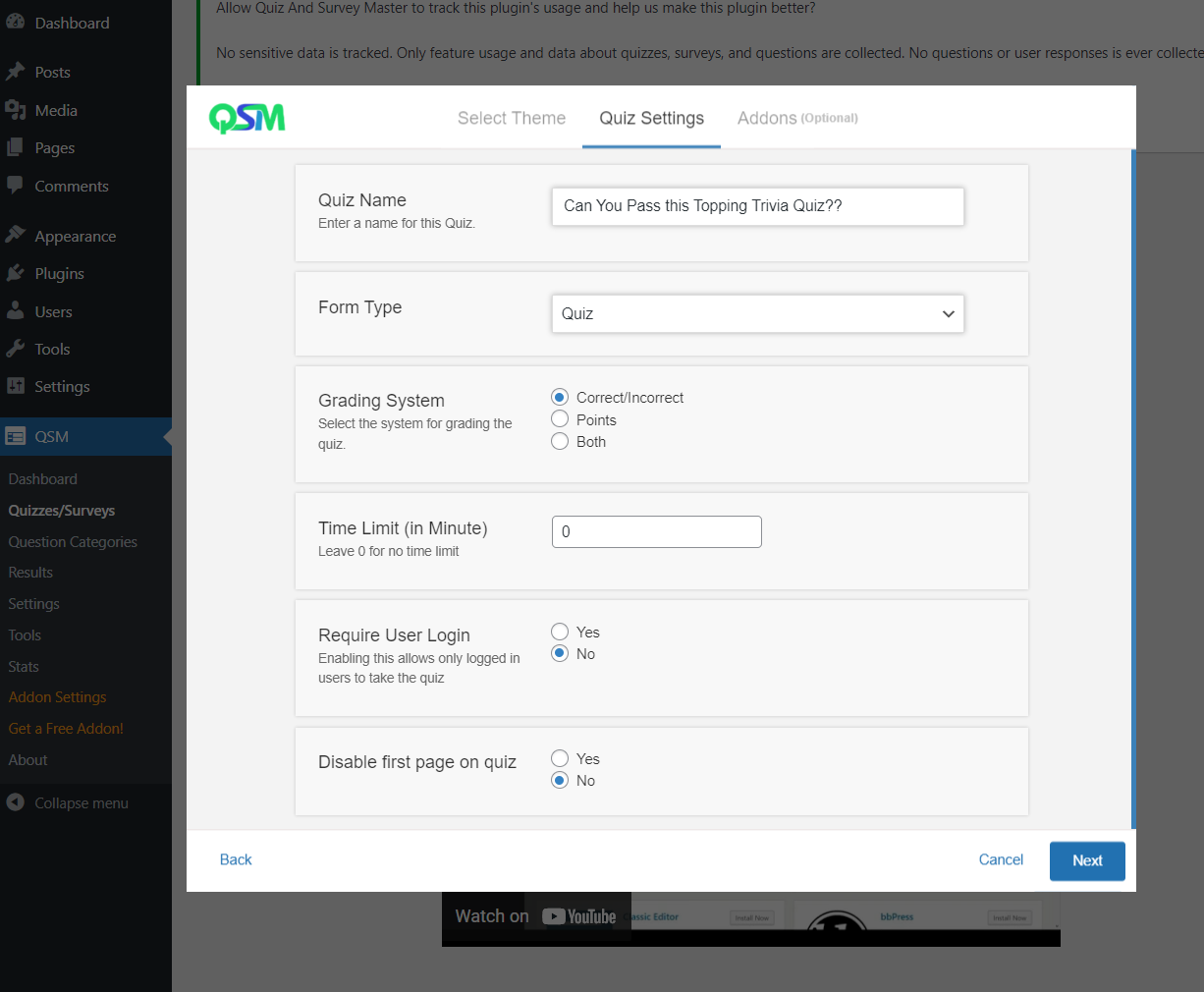 You will see that QSM has a large number of different themes to pick from. After that, you can further customize your quiz by adding the Quiz name and grading system using various QSM add-ons.
In the QSM plugin, there are many different types of questions. To build a correct/incorrect type of quiz, we now use multiple-choice questions, but there are also fill-in-the-blanks and polar-answer choices.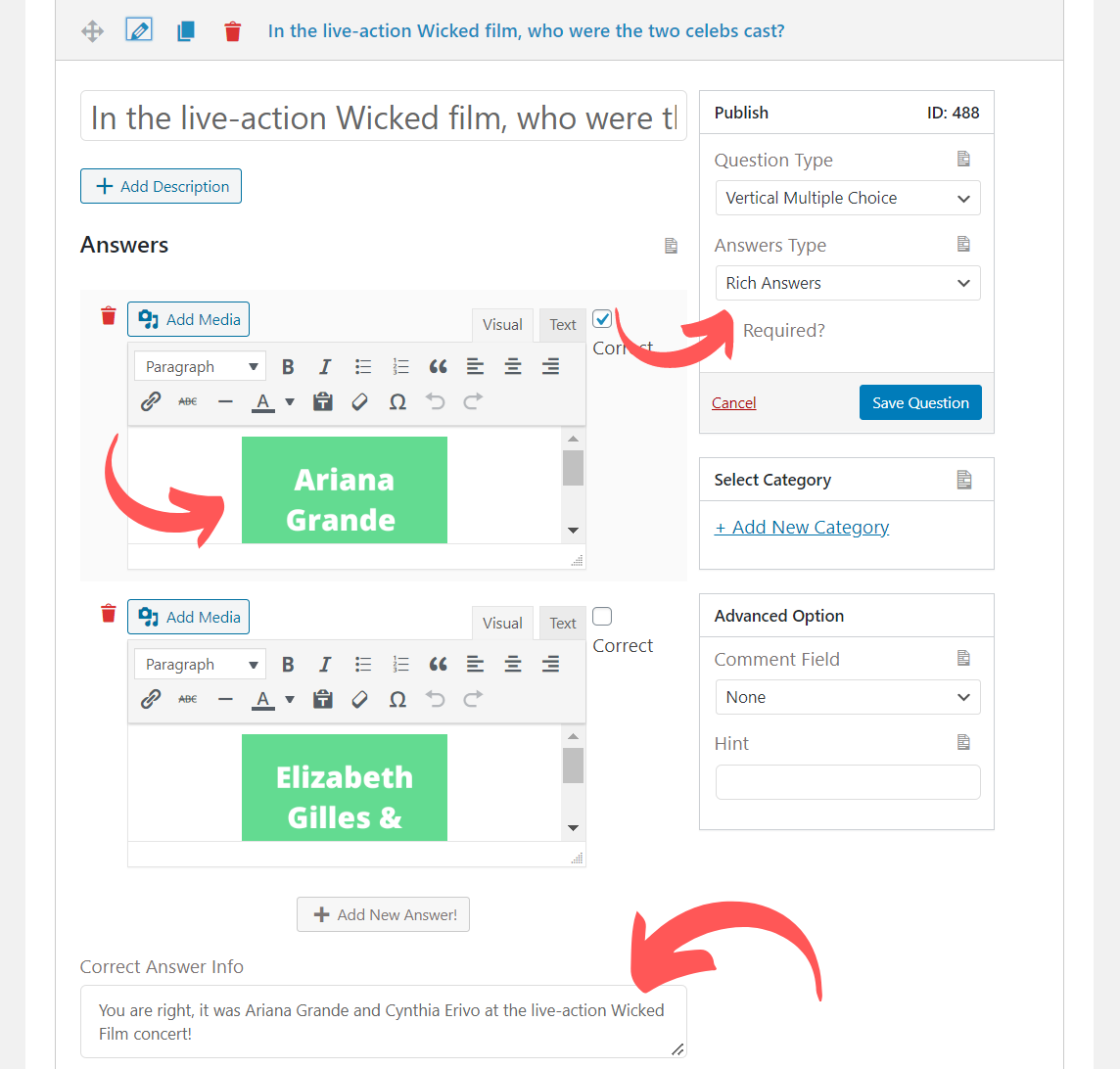 Related: Learn about Question types in QSM
Step-by-step customization is possible with these QSM tabs. The Contacts Tab, for example, can be used to create a contact form. However, if you would like to skip the Contact tab optimization in this quiz, it would increase the chances for people to engage in your quiz, Further, you can use the Options Tab to change the look and feel of your quiz, and the Text Tab to add different messages to be displayed at different points during your quiz.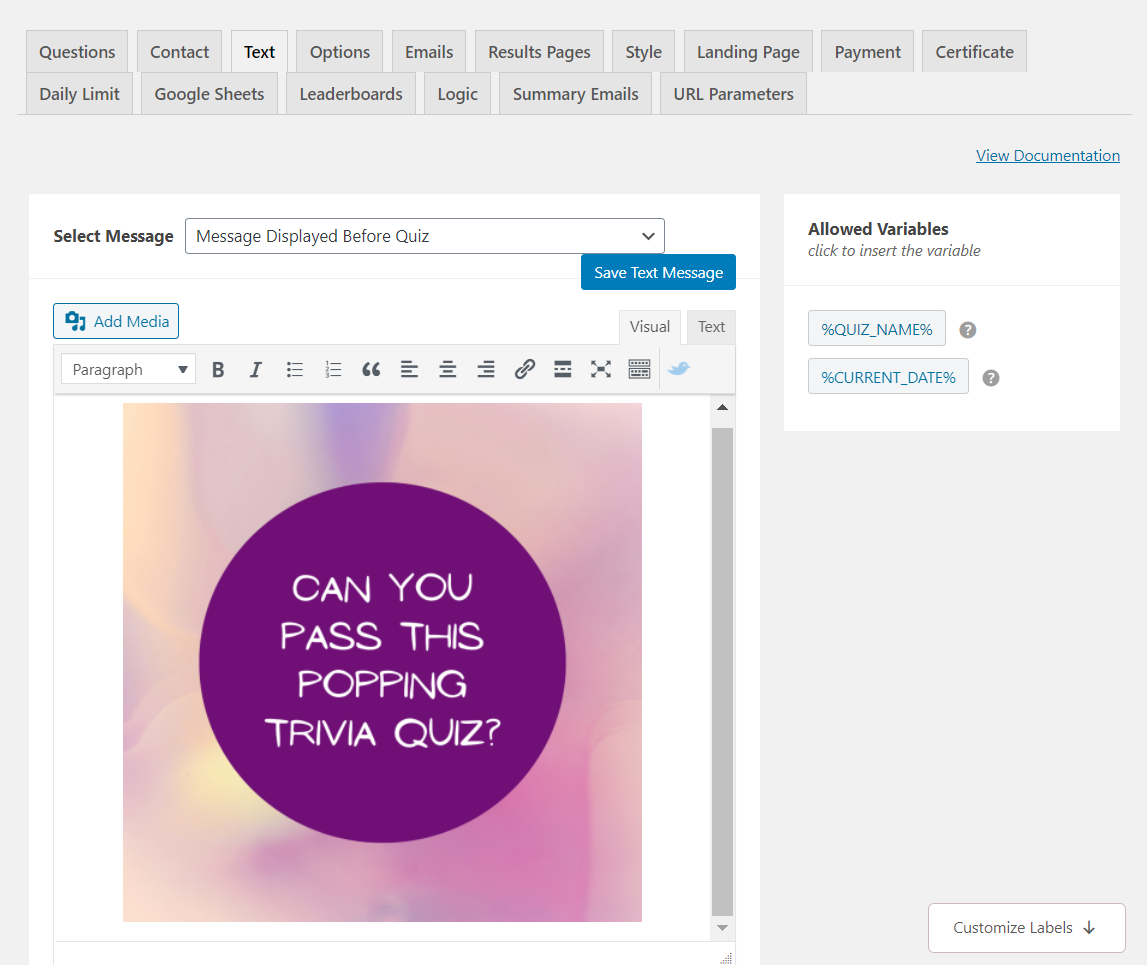 Step 4: Setting up Results Pages
The next step is to create result pages. You may optimise your results pages by using template variables and conditional formatting. The most crucial aspect of a BuzzFeed style quiz is to optimise the results pages, as this will ensure accurate results and therefore it would increase interaction on both the quiz and the blog or website.
Related: How to create Quiz results pages
Step 5: Publishing Quiz
Once you have completed setting up and optimising the results pages, you can preview your quiz using the various tabs. Looking at the preview can help you figure out what the problems are and how to fix them. The quiz can also be embedded in your articles or blogs.
Related: How to embed quiz in your posts
FAQS
How do I create a BuzzFeed quiz?
You can create a BuzzFeed quiz on WordPress using the Quiz and Survey Master plugin. Here are the steps that you need to follow to create a BuzzFeed quiz:
Step 1: Install the QSM plugin to your website
Step 2: Create an interesting quiz questionnaire
Step 3: Create a Quiz on the QSM plugin
Step 4: Add your questions to the quiz
Step 5: Customize the quiz theme and tabs
Step 6: Publish the quiz
Can I make my own quiz on BuzzFeed?
You can make your own BuzzFeed quiz after logging into Buzzfeed. However, if you want to create a publically accessible BuzzFeed quiz you can use a free online quiz maker like the Quiz and Survey Master plugin.
What is the best platform to create a quiz?
The best platform to create a quiz is the Quiz and Survey Master plugin for WordPress.
Final Thoughts
After going through the blog, one thing is clear even if you are not a Buzzfeed publisher, you can create a BuzzFeed style quiz by using the Quiz and Survey Master Plugin for your WordPress website.
The Quiz and Survey Master plugin gives you the opportunity to customize your quizzes to the very detail. From every question to every result page on your quiz can be customized to your requirements. Therefore, you can create a BuzzFeed-style quiz, a Patronus quiz, or even a trivia quiz about almost anything using the QSM plugin.
If you enjoyed reading the article, you may also be interested in reading how to create the office trivia quiz or how to create a pop culture quiz.
What's New: QSM Pro Bundle
To get the most out of the quiz and survey master plugin, upgrade to the Pro Bundle of Add-ons! The Pro bundle, unlike the others, includes over 30 add-ons, including Zapier integration, email marketing optimization, and Google Sheets integration, among others. The Pro Bundle, which costs $179 a year, is worth looking into.
After purchasing the Pro Bundle of add-ons, you will be entitled to use the following features on your WordPress website:
Use QSM in ten different locations.
Add-on for Reporting and Analysis
Add-on for exporting and importing
Integrations with Email Marketing
Integration with Zapier
Timer for Advanced Users
Results to be exported
Connector for Google Sheets
Save and resume your work