Wondering how to create a viral quiz for your website? We can help you with that. Quizzes are the most shared piece of content on social media and yet many people overlook them.
Quiz and Survey Master is a WordPress quiz plugin, that helps you create a viral quiz with various options. Quizzes are a great way to generate traffic and make leads for your business. With a good quiz, you can get a clear idea about your audience.
We all know how addictive are BuzzFeed quizzes and to make one for your website, read this blog. Here we have shown 5 simple steps to make a viral quiz with an example of a FRIENDS quiz.
Step 1: Select Your Quiz Wisely
People take quizzes because it is a great way of time-pass and you need to leverage that. Firstly, you need to choose an attention-grabbing topic, that is compelling, shareable, and leverage. It should be relevant to the users more than your business. For example, "Let's Have a FRIENDS Quiz".
To start, take a trending topic in your niche and give it a humorous or different angle. To make a viral quiz, you will have to be fun and exciting for your users. It is recommended to have a short quiz (around 7- 12 questions) to respect your user's time.
Step 2: Installing the QSM plugin
The QSM Plugin simplifies the quiz design process while yet keeping it efficient. To begin, go to your WordPress website and download and install the Quiz and Survey Master WordPress quiz plugin. The plugin can be found on the Quiz and Survey Master's website as well as the WordPress official site.
Related: QSM quick start guide
Option 1: Download from your WordPress dashboard
Go to your plugins menu in the WordPress dashboard
Search for "QSM" or "Quiz and Survey Master" in the search bar
Spot the QSM plugin
Click on Install and then activate
Your plugin is ready to use
Option 2: Download from WordPress's official website
On the WordPress website, go to the plugins menu
Search for "QSM" or "Quiz and Survey Master" in the search bar
Download the setup to install the plugin
After downloading, the .zip file, toggle to your WordPress website
Go to the Plugins menu
Click on "upload plugin"
Drop your .zip file into the dialog box
Click install and activate
Your plugin is ready to use.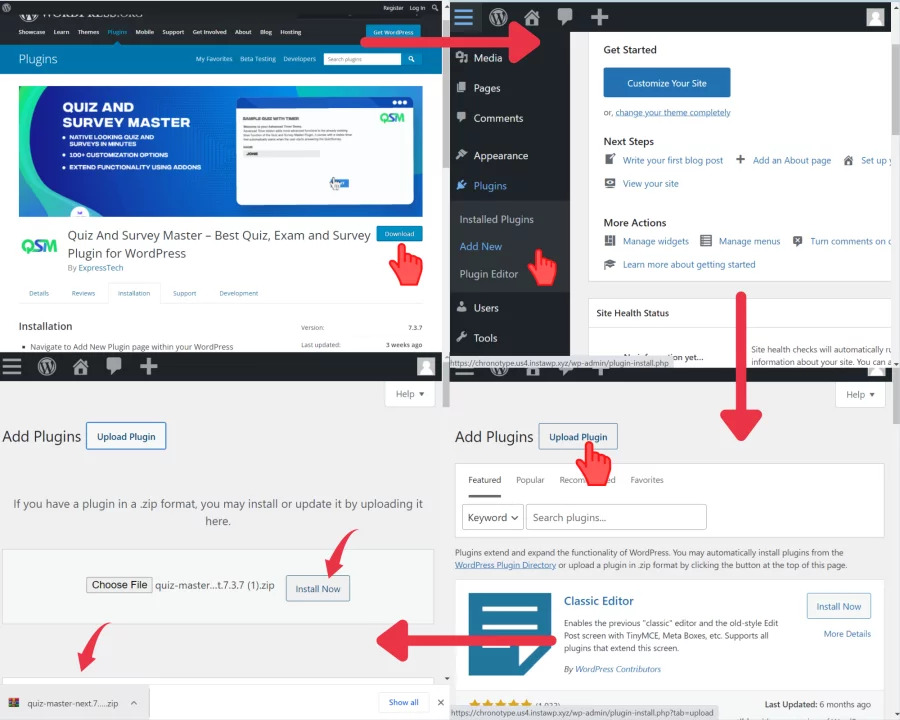 Step 3: Add Questions and Answers
After adding Quiz and Survey Master- WordPress Quiz Plugin, to our WordPress site, create a new quiz and give it an exciting name. Next, add questions to the question field and give its description to make it a little more exciting. To make a viral quiz, choose your questions wisely that relate to your audience and your business.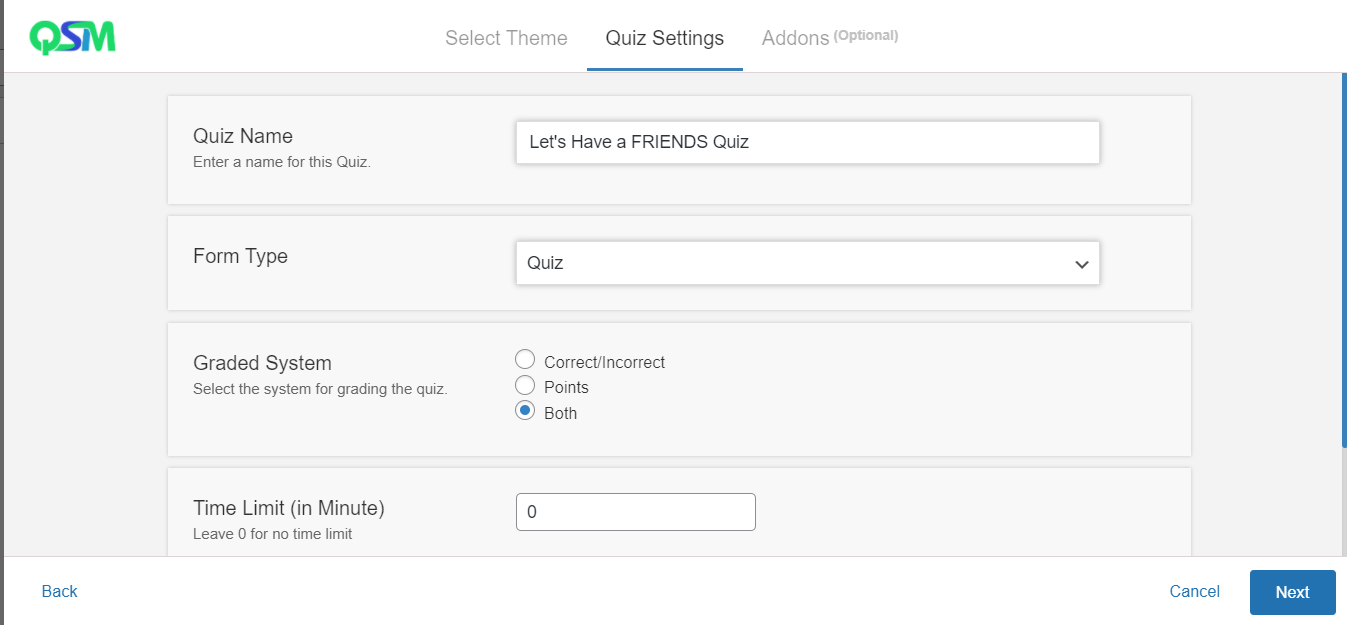 Next, select a proper question type and answer type for your quiz. After adding answers in the answer field, give its description in the "Add Correct Answer Info", to give more context to your answers to your users. Add a featured image, that relates to your question.
Next, after editing your question, save it, by clicking on "Save Question" and add another question by clicking on the "Create New Question". This way, add all the questions to your quiz and save them. Don't create a boring quiz by making it too lengthy.
Step 4: Customize It With Text, Options, Themes
Next, to optimize your quiz, Quiz and Survey Master has various options like presenting text to the users and setting a relevant theme.
You can present to your users with some text. In the "Text Tab," you can find 11 different options of when to present your users with the text. Select one that fits your needs and write the text in the text field. There are some allowed variables that you can find on the right side of the interface and can use that to personalize your quiz.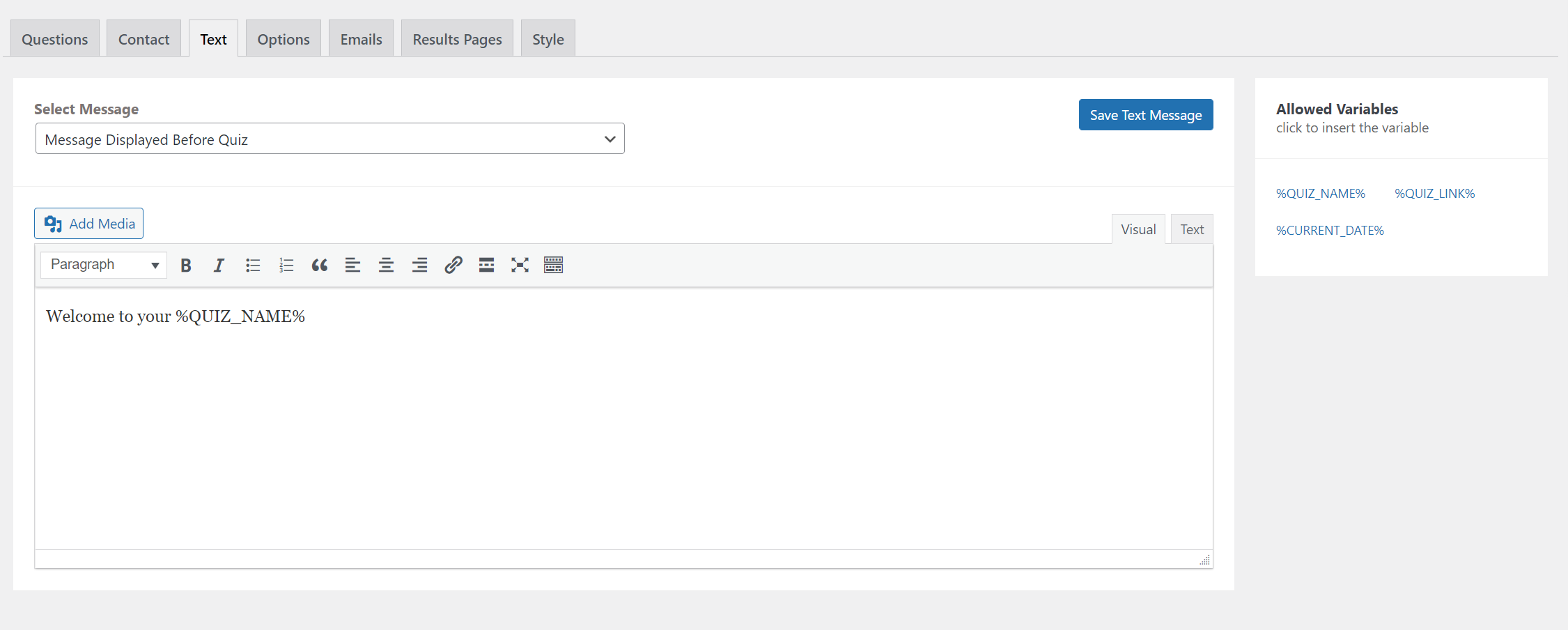 Next, in the "Options" tab, there are various options by which you can control how you want your users to take the quiz. With options like a progress bar, questions per page, and results inline, you can optimize your quiz. Save the changes by clicking on "Save Changes".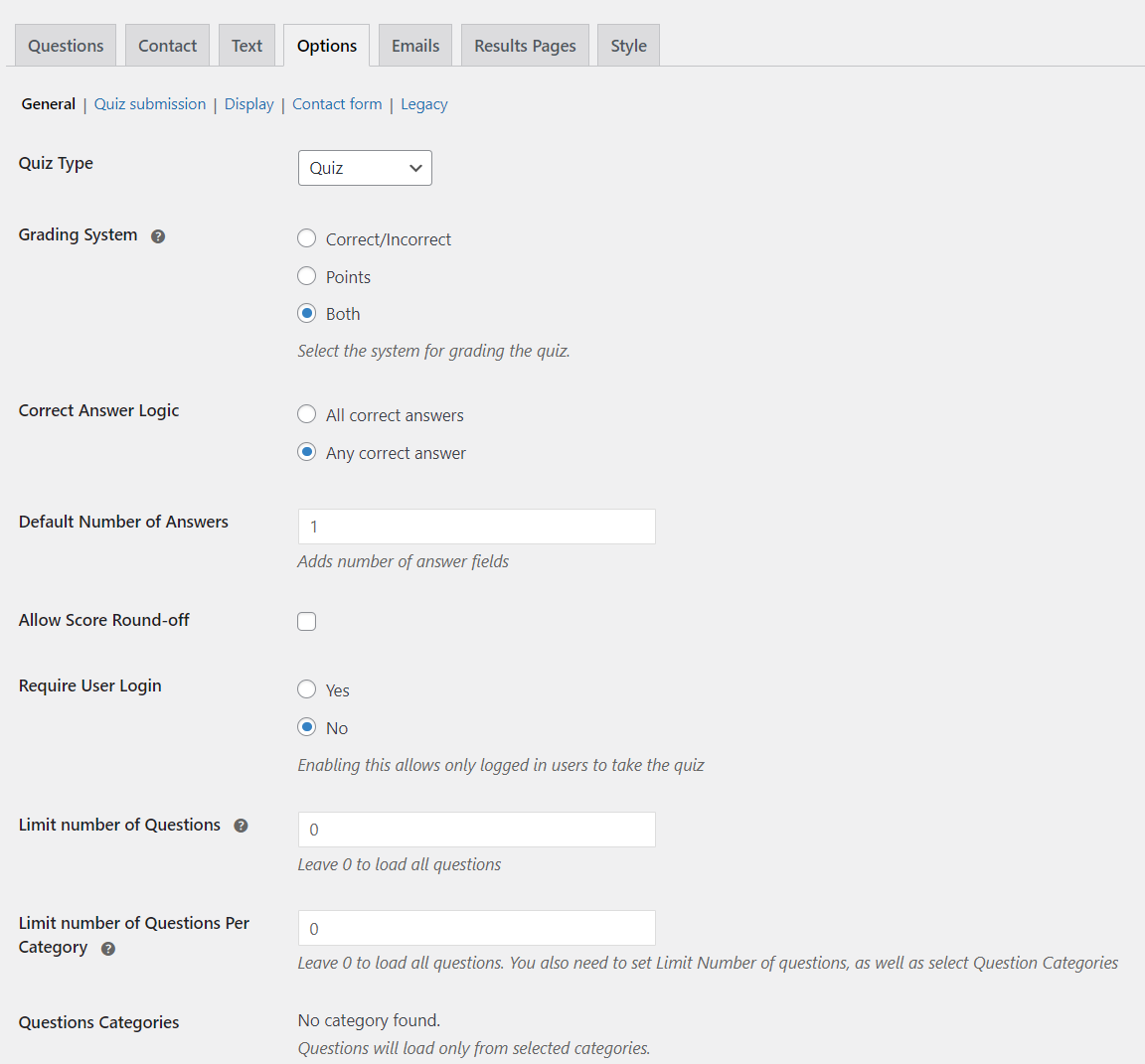 To make a wp viral quiz, it is very important to choose a perfect theme for the quiz. In the "Styles" tab, there are some predefined themes and also you can customize the themes using "Custom CSS". Quiz and Survey Master also have Premium Themes, that can just take your quiz to a whole new level.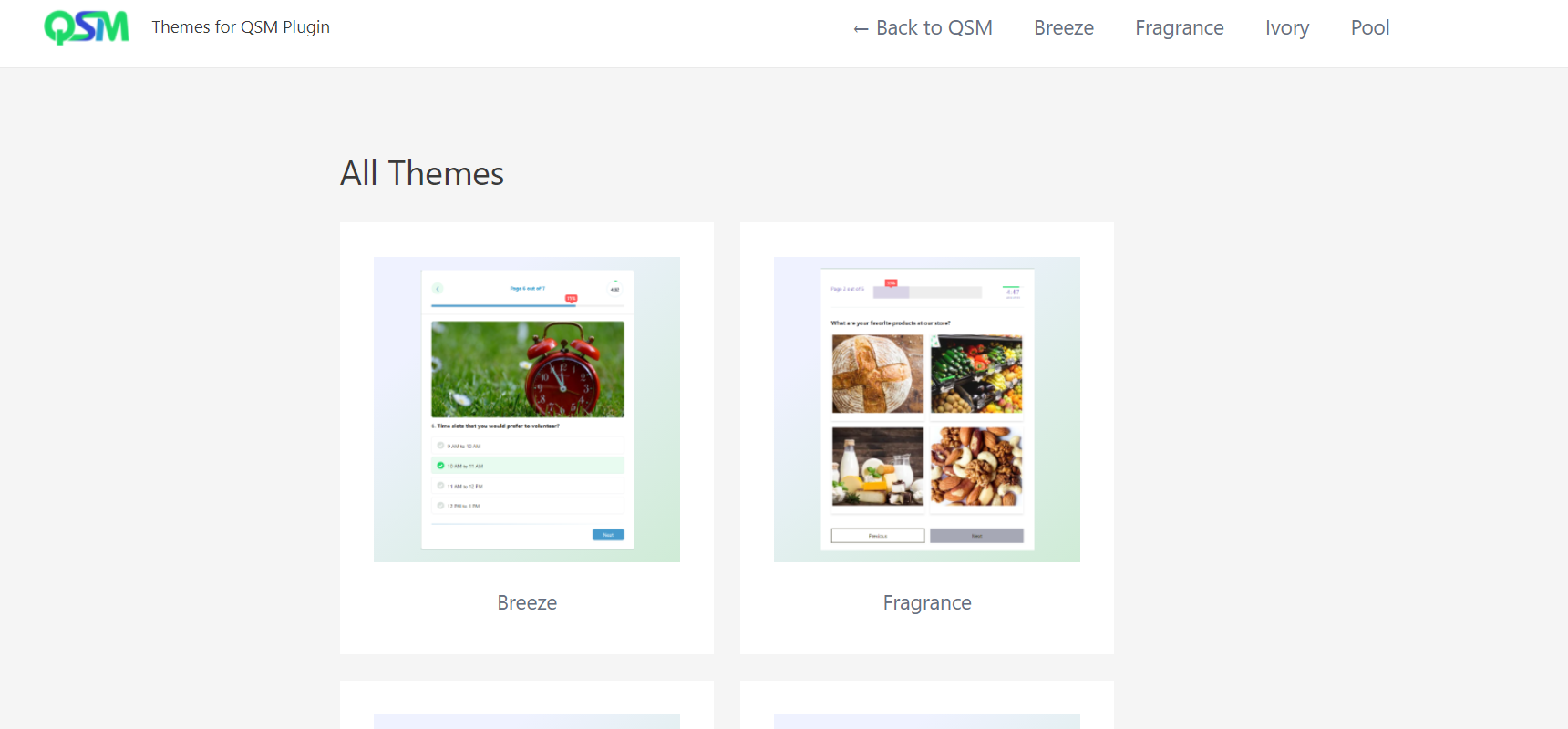 Step 5: Appreciation- Showing Results and Sending Emails
Once your users take the quiz, you need to appreciate them by sending them emails and presenting them with results pages.
In the "Emails" tab, you can create different emails for the individual. For that, first, you need to select when the particular email should be sent to the user in the "Add Additional Conditions". Next, there are some allowed template variables, using which you can personalize your email subject and body. Likewise, add various conditions and customize the email accordingly.
In the "Results" tab, you can handle which result page to show which user. In "Add Additional Conditions" you can control when to show the particular result page to the user. In this also, there are various allowed variables, to customize your results page body. One way to make a viral quiz is to create amazing results pages, that your users can share.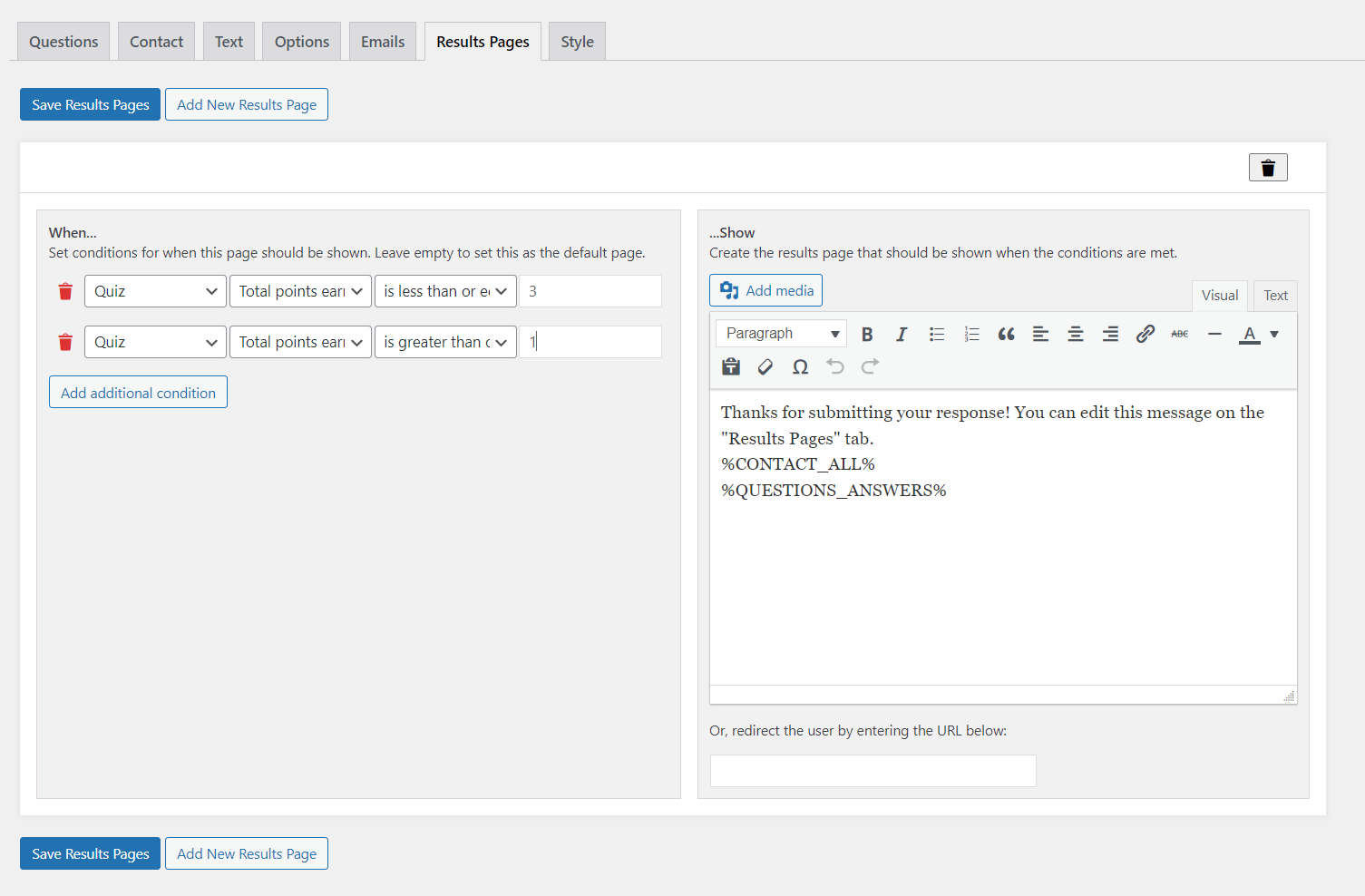 Step 6: Add the Quiz to Your Website
Once you save your quiz to your WordPress site, you will find a shortcode. You can simply copy-paste it to your website where the quiz is supported. Click on the "Shortcode" and then simply copy embed shortcode or link shortcode to the website or blog. And there your quiz will be live on your website.
How do I make a quiz viral?
You can make any quiz go viral using some of these basic techniques:
1) Choosing a click-worthy title
2) Keeping quizzes short and entertaining
3) Creating interactive landing and results pages
What is viral marketing quiz?
A viral marketing quiz helps in identifying brands among the masses with the use of a simple yet interactive questionnaire
What is quiz plugin?
A quiz plugin is a kind of WordPress extension that helps in creating quizzes and surveys. There are many quiz plugins on the internet, however, the QSM plugin is the best quiz plugin for WordPress.
Conclusion
Now that you know how easy it is to make a viral quiz, go and make one for your website. Create a short and sweet quiz that engages your users and also markets your business.
Quiz and Survey Master is a great WordPress quiz plugin, which makes it very simple for its user to create viral quizzes. Try your hands on one and if you feel comfortable, try QSM Pro Bundle. It has various useful addons, that optimize your quizzes and make them even more interesting.
Other blogs you may find helpful
Try Quiz and Survey Master
QSM is a free plugin that allows you to create and publish unlimited Quizzes & Surveys with no cap on questions or answers, helping you to take control of your website's interactive elements.
Download Now