Want to make a test for your WordPress site and don't know which plugin to use? Don't worry! We have got your back. In this blog, we will tell you about the most powerful and advanced WordPress test plugins. Using it you can make fantastic quizzes and tests for your website.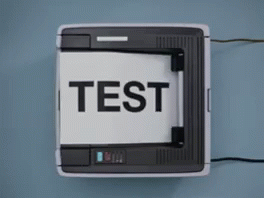 Quiz and Survey Master is an amazing WordPress test plugin. It can help you create quizzes, tests, polls, and surveys by which you can get more user engagement on your website.
Read this blog to know about the top 10+ quiz plugins for WordPress.
1. Quiz and Survey Master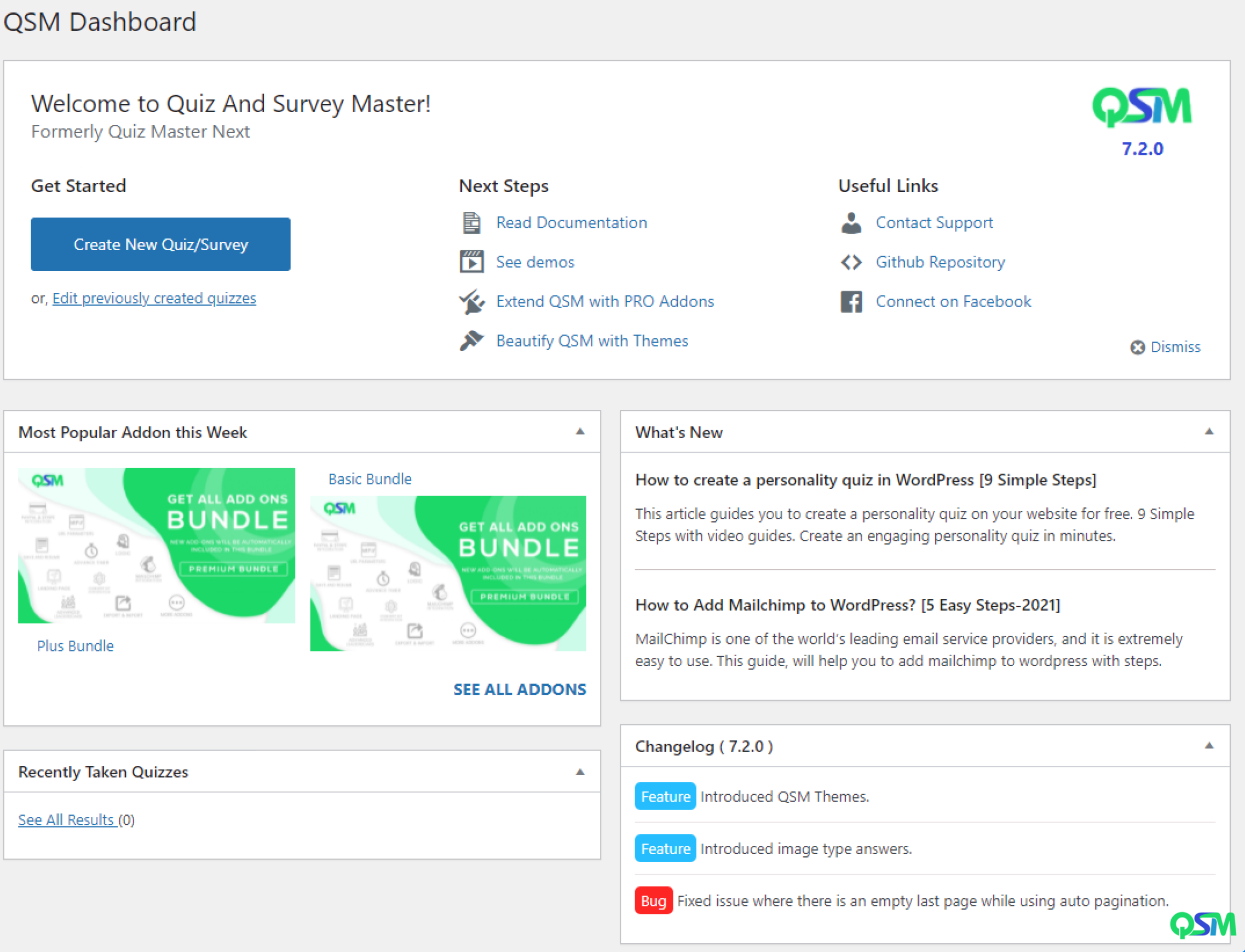 Quiz and Survey Master is the most advanced WordPress test plugin that lets you create quizzes and surveys for your website. It has pretty impressive features with numerous customizable options. You can choose from various question types available like file upload, fill-in-the-blanks, multiple-choice, and many others. With its easy-to-use interface, you can also create polls and surveys for your website.
It also has various addons in the "QSM Pro bundle" that comes with advanced features like a flashcard plugin, leaderboard plugins, and many others.
Key features:
Various questions and answers type
Numerous customizable options
Various template variables for personalization
QSM Premium themes for amazing themes
Addon's to make your work, even more, easier and simpler
User-friendly interface
Responsive
2. Formidable Forms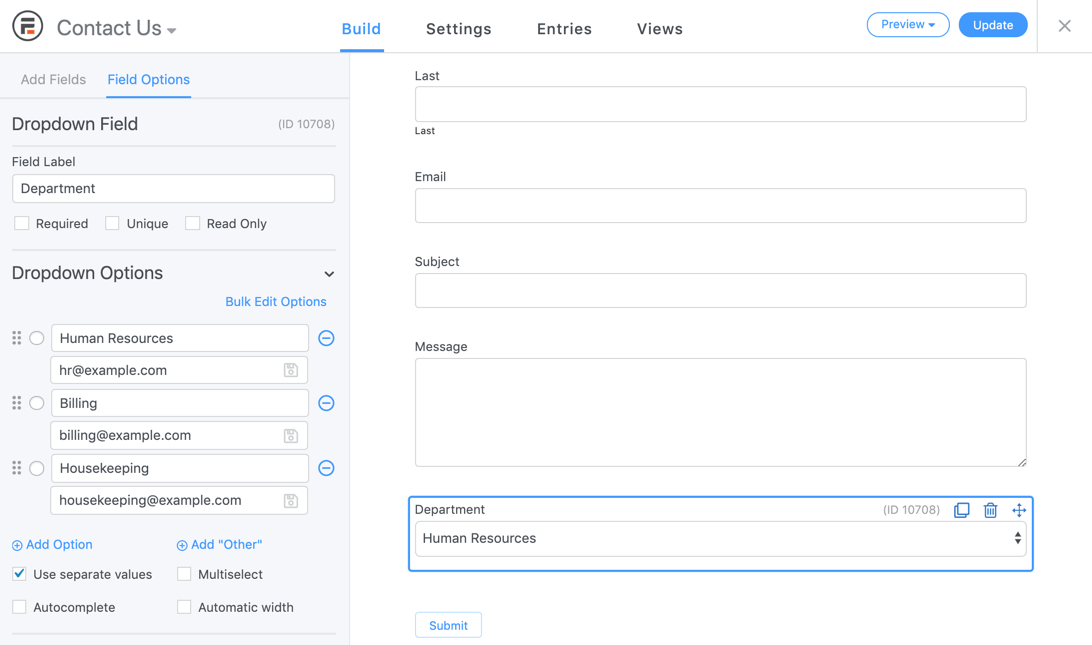 The formidable form is another amazing WordPress test plugin. You can create a test with its simple yet powerful drag and drop feature. It doesn't take much time to figure out how the plugin works.it has a flexible interface and various form templates you can start with or you can build your test from scratch.
This WordPress test plugin also allows you to see all the quizzes and surveys entries right from the dashboard. It also helps you to export your leads to an external service like Mailchimp.
Key Feature
Drag and drop form builder
Export leads to CSV
Data-driven web application
Powerful calculators
Multistep forms with progress bars
3. Quiz Maker

Quiz Maker is a WordPress exam plugin that lets you create advanced quizzes and tests easily and quickly. The basic Quiz Maker has 7 different question types from which you can choose one that fits your needs and can create a viral quiz. It allows you to edit your quiz easily and effortlessly. Its easy-to-use and user-friendly interface makes it even more popular among quiz makers.
With the 6 themes available, they can be customized with 40+ options (colors, backgrounds, borders). The pro version includes certain advanced features like quiz certificates, email service integration, payment integrations, and many more.
Key features:
Various question types
Shortcode available
Timer for quiz
Results page on the front-end
Social sharing options
4. HD Quiz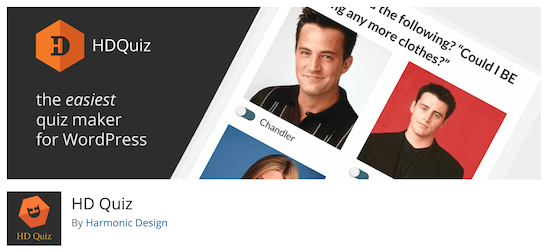 HD quiz is another knowledge test plugin that has easy ways of creating amazing quizzes. It lets you create responsive quizzes. Each question has its featured image. It also has various customization options to edit your quiz according to your requirement.
You can add a timer to your quiz and can divide your quiz into various pages. You can personalize and select when a particular page should be displayed to a particular user.
Key features:
Responsive design
Multiple questions and answers type
Link and images to the results page
Animated gifs as featured image
Social sharing
Randomize questions
5. WP quiz

WP quiz is another powerful WordPress test plugin. It is the easiest way to create viral quizzes. To give users the flexibility of screens, it has responsive designs. With the feature to automatically scroll to the next question after completing the first, it gives users a very easy and responsive interface to use.
It is a WordPress test plugin that also has an option to break your quiz questions into various pages or you can show them all on one page. A greek mythology quiz or a science quiz can be easily made from a WP quiz.
Key features:
Responsive design
Various quiz types
One-click demo import
Shortcode support
Customization up to a certain limit.
6. Quiz Cat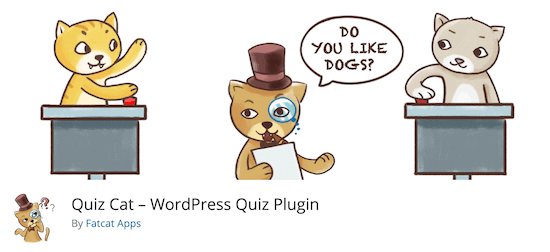 Quiz Cat is a hassle-free WordPress test plugin. It has a variety of options to make an amazing quiz that can go viral.it has an easy drag-and-drop editor which helps you create tests even faster. Using Quiz Cat, you can create quizzes of various types like trivia quizzes or double-barrelled quizzes.
It can help you stand out with amazing-looking quizzes which are easy to access for users. You can add images to quiz questions and answers. It also allows various integration like Zapier integration.
Key feature:
Email after quiz completion
Enable/disable the answer's description
Quiz analytics
Export results
Social sharing buttons
7. WP Poll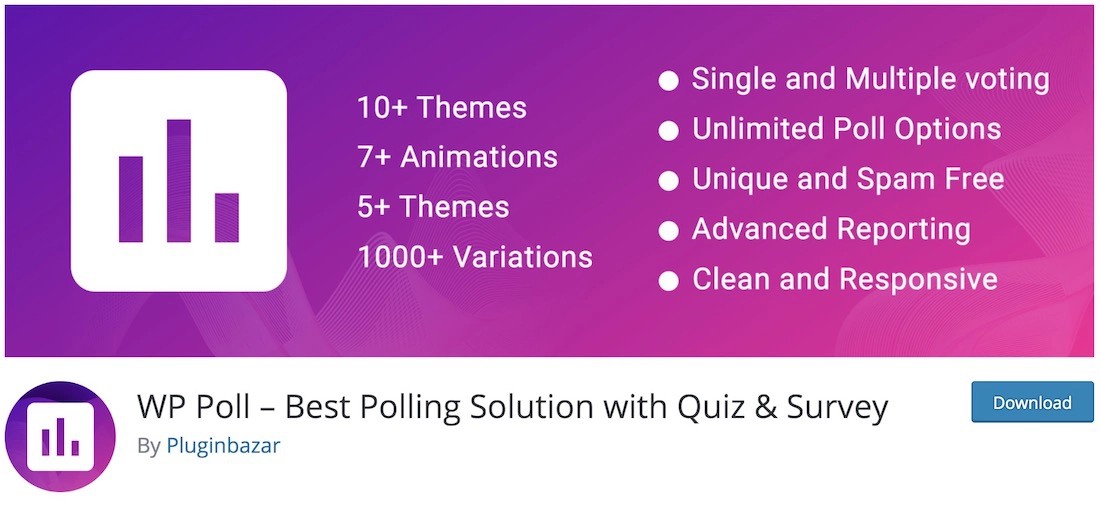 WP poll with its 10+ themes serves you with amazing quizzes. With amazing customization capabilities, WP poll is another WordPress test plugin. If you are looking to spice things on your website with an engaging poll, a WP poll can help you.
Cool, clean and smart design leads this plugin to one of the most advanced WordPress test plugins. It can generate 1000+ variations in styles and can export results as CSV.
Key features:
10+ themes
5+ timer styles
Export results as CSV
Shortcode support
Various animation styles
8. Opinion stage

Opinion Stage is a SaaS quiz builder that you can easily integrate with your WordPress site. An interactive poll, survey, and quiz can be made using this quiz builder. This helps you create powerful-looking quizzes and tests.
You can customize the look and feel of the quiz by changing color, fonts, and background. It has an advanced analytics dashboard for your quizzes/surveys results. It has a responsive design that detects the screen used by a user and optimizes display accordingly.
Key features:
Marketing campaign integration
Integrate images and videos to the quiz
Display in real-time
Amazing CTAs
Responsive design
9. Chained quiz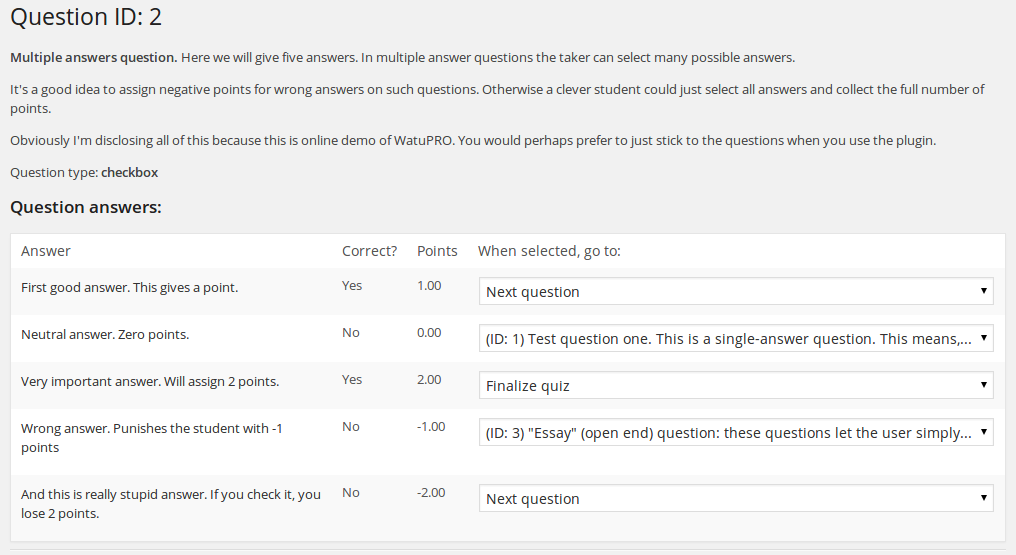 Chained quiz is a WordPress test plugin that lets you create better lead generation quizzes for your WordPress website. It has an amazing conditional logic feature, where the next question of the quiz depends on the answer to the previous question. It is also integrated into several mailing list management services like MailChimp and Arigato.
While using the Chained quiz, it is important to publish the conditional logic quiz before it becomes accessible. Publishing can be done by copy-pasting shortcodes to a post and saving it by selecting "Automatically Publish".
Key features:
Various question-types support
Results based on points
Conditional logic questions
Integrated plugins and services
10. Advisor Quiz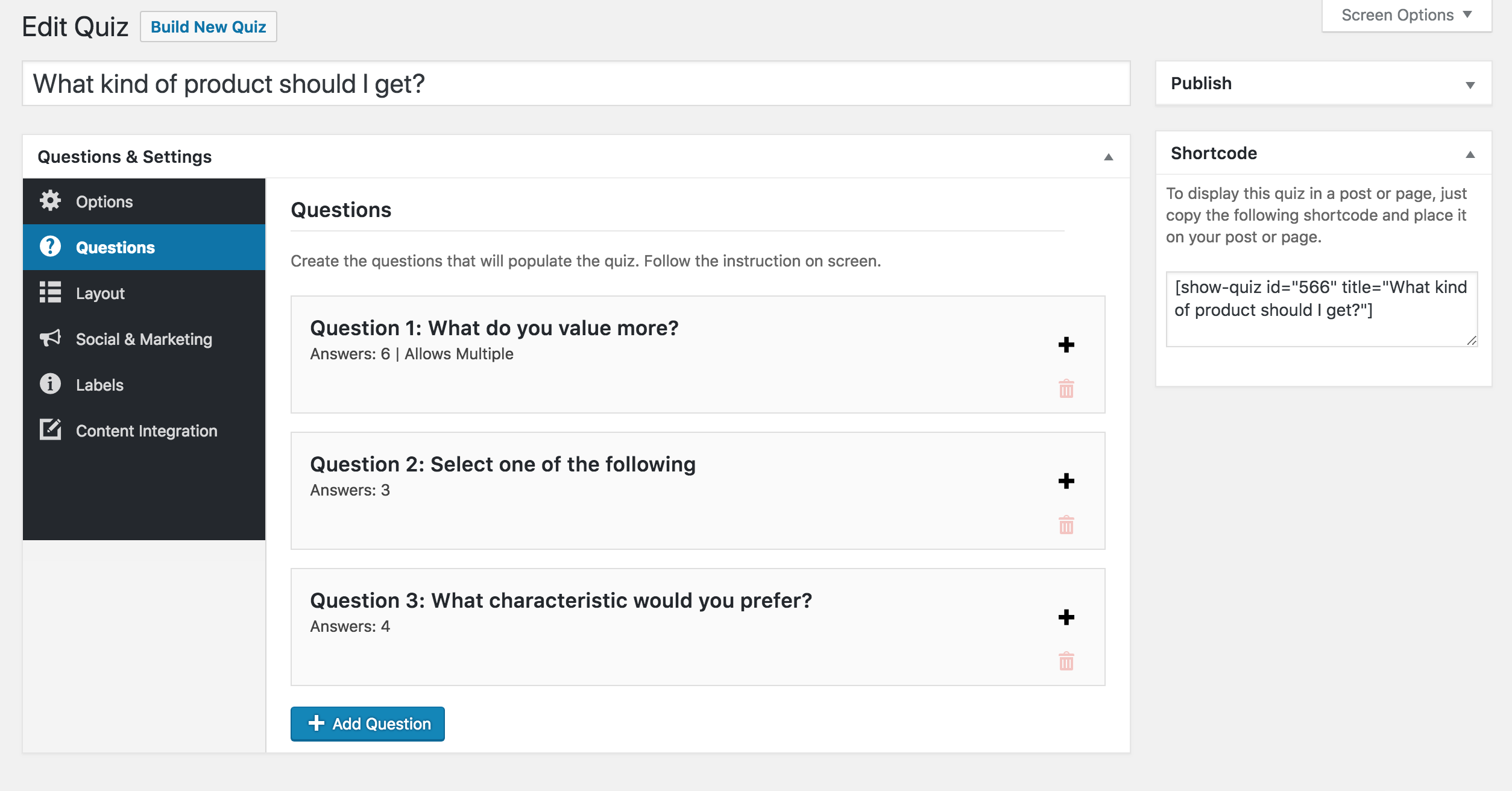 Advisor quiz, apart from being easy to use, is a highly customizable WordPress test plugin. From this plugin, you can create 4 types of quiz namely, trivia quiz, personality quiz, and content filter. This plugin unlocks a whole new specter for you to create fantastic tests and quizzes.
This WordPress test plugin has some powerful analytics tool that helps you analyze the number of visits, referrals, and results of your users. It also has integration with various marketing campaigns like for email marketing it has Mailchimp. Advisor quiz also provides you with content integration before and after the results.
Key features:
4 quiz types
3 layouts
Powerful analytics
Social sharing and email capture
Responsive design
12. OnionBuzz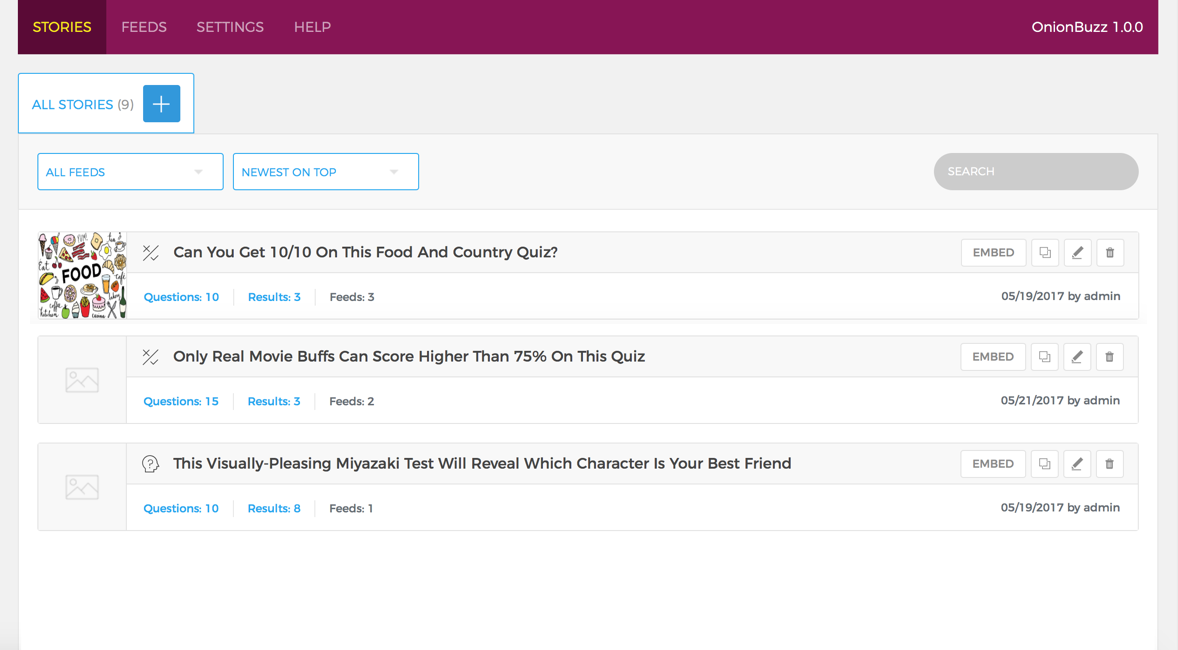 OnionBuzz is another WordPress test plugin with amazing features. Since quizzes are a fun way to interact with people, OnionBuzz will help you create quizzes that deliver a lot of benefits to your website. You can create quizzes on various topics like geography, science, or any language.
It has a shortcode using which you can embed your test in any blog post or website.
Key features:
Various questions and answer types
Sharing buttons
Leaderboard
Quiz analytics
WordPress widgets
Which is the Best WordPress Test Plugin?
After reading about so many WordPress test plugins, you will get a better idea about which plugin goes with your needs. We would recommend you to use Quiz and Survey Master, Chained quiz, and Opinion Stage.
The interface of Quiz and Survey Master is easy to use and it has various features which can be customized easily. With the Chained quiz, you can add conditions for which question should be presented to a user depending on the answer to the previous question. If you are looking to make an interactive quiz with advanced analytics options, Opinion Stage is something you should try.
Using these amazing plugins, you can create engaging quizzes and tests for your website. With them, you can create quizzes, be they simple or detailed, to be placed on your website. And the best is you don't even have to know a single line of code, which works like a cherry on top.
Other blogs you may find helpful
Try Quiz and Survey Master
QSM is a free plugin that allows you to create and publish unlimited Quizzes & Surveys with no cap on questions or answers, helping you to take control of your website's interactive elements.
Download Now