Are you a Pokemon fanatic, looking for a Pokemon Quiz go-to place? Then you are at the right place! If you happen to be from the 90s, you must understand the magnitude of popularity pokemon gained in that era. And honestly, we are all here for it! It is very shocking to know but Pokemon is one of the first animes that was globally accepted by all age groups.
Running in full-fledged mode since 1996, the Pokemon series is one of the top-grossing longest anime series as well. But why do we all love pokemon so much? Why do you see children these days becoming instantly attracted to something so fictitious and still get the fun out of it? Interesting right?
In this blog, we will curb your curiosities related to your beloved Pokemon series. We would learn about the series, something about the characters and the creators and we will also learn how can we make different types of Pokemon quizzes using the WordPress quiz plugin, QSM! But if you are wondering which pokemon are you? Take this quiz pokemon quiz to find out!
---
---
What is a Pokemon Quiz?
Understanding the pokemon quiz is not at all difficult if you understand the Pokemon series. Otherwise, the quizzes would make absolutely no sense to you. In fact, the extremists still frown upon the whole idea of a "ball-emerging-creature" when the series just aims to add a little fun while explaining to the kids the important lessons of life.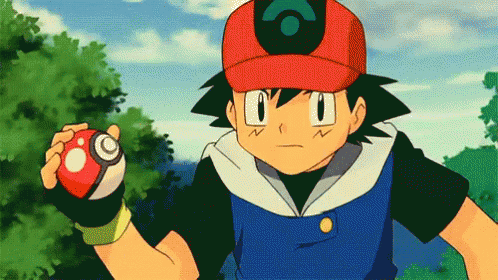 I enjoyed watching Team Ash and Team rocket in different arguments every time but anyways the good side always won and in fact, they helped each other in case of danger.
Pokemon is more than just a game about beautiful animals fighting. This provides it some initial appeal, but it earns a final appeal by providing an intricate rule set that is both easy enough for youngsters to understand and obscure enough to perplex parents. Pokémon allows a child to immerse themselves entirely in a world of esoteric thoughts.
For many children, this is one of the first opportunities they get to feel like a true authority on a subject, which is an important milestone in their development as adults. You must believe that you have the ability to learn something that even your parents are unable to comprehend.
Why do people love Pokemon and Pokemon Quizzes?
If you think the times are gone when people were falling in love with fictional characters, then my friend, you are absolutely wrong! It might be a little bit of a surprise to know that people especially the 90s babies, who were pokemon fans in childhood are still being served with it. And let's face it, who does not want to see their favorite childhood binge-worthy shows when they are growing old?
There are many reasons for the pokemon series to be such a big success even after two decades down the line. We have deduced some of the most appropriate reasons for its success.
The portrayal of Characters:
The way in which each character has a back story along with their personal and impersonal issues is extremely simple and poetic. Not only small children but adults could relate to them in their own way.
Use of animation:
Any lesson could be better learned when it is explained through video and audio. The animation version of different deeds and problems almost makes it ready to grasp.
Questionnaire for Pokemon Quiz
The first and foremost step to creating any quiz is to establish the questionnaire. Similarly, in the Pokemon quiz, you are in need of really simple and easy-to-understand questions, which can be comprehended easily by all types of age groups.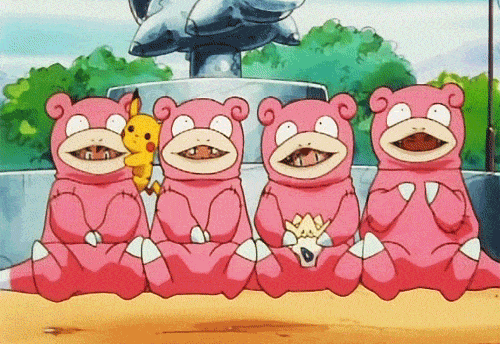 The questionnaires largely depend upon what quiz you are creating. Are you are wondering what can be different types in a Pokemon quiz? Well, it is only natural to go for a Which Pokemon Are you Quiz type, but you can also create a Pokemon Cry quiz.
Questionnaire for Pokemon Trivia Quiz:
What is your favorite element among the following?
What is your favorite pokemon?
Which is your favorite Pokemon Mentor?
Which Pokemon mobile game was released in 2016?
What is the number of Pokemon as stated in Pokedex?
In its highest evolved form, how many heads will Diglett have?
Which Pokemon is able to copy the techniques of others?
What does a critical hit in the Pokemon game?
Which of the following attacks can be effective against Squirtle?
Where does the skull of Cubone come from?
Which Pokemon would devolve into its previous version?
What is the only Pokemon that could change its gender?
Which Pokemon will Puputar evolve into?
How to make a Pokemon Quiz?
Now that you know what all questions are to be there in your Pokemon test quiz, let us start the quiz-making process! We will go for a step-by-step process so that it becomes easy peasy for you.
Step 1: Installing the QSM Plugin
You will need to download the QSM WordPress Quiz Plugin to create an intriguing Pokemon character quiz. It is the best quiz and survey-making plugin and it can help you create amazing quizzes even if you do not know much about coding.
The Quiz and Survey master website, as well as the WordPress official website, have the plugin. As a result, you have two options for downloading the QSM plugin:
Option 1: Download from your WordPress dashboard
Go to your plugins menu in the WordPress dashboard
Search for "QSM" or "Quiz and Survey Master" in the search bar
Spot the QSM plugin
Click on Install and then activate
Your plugin is ready to use
Option 2: Download from WordPress's official website
On the WordPress website, go to the plugins menu
Search for "QSM" or "Quiz and Survey Master" in the search bar
Download the setup to install the plugin
After downloading, the .zip file, toggle to your WordPress website
Go to the Plugins menu
Click on "upload plugin"
Drop your .zip file into the dialog box
Click install and activate
Your plugin is ready to use.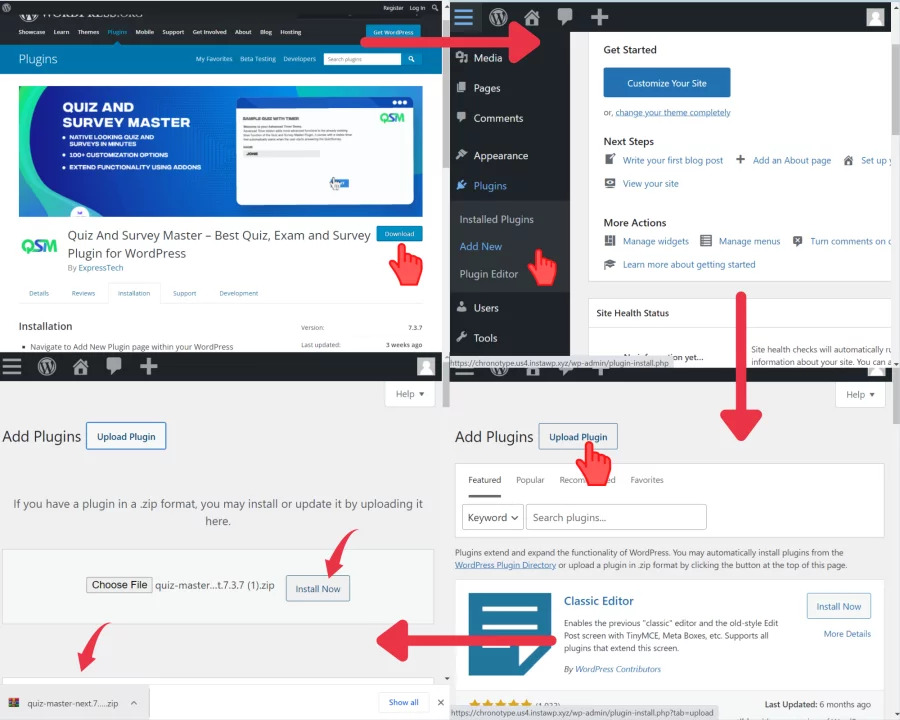 Step 2: Creating the Quiz
You will need your questionnaire and the choices of answers in accordance with the types of pokemon to make a Pokemon Test quiz.
Now that we have all the questions written, we need to add them to our QSM quiz. To get started, go to the drop-down menu and choose "Create new Quiz/Survey." We are making a "Which pokemon are you Quiz" But you can go for a Pokemon Cry Quiz or Pokemon Element Quiz and likewise.
You will see that QSM offers a variety of themes to pick from. The next step is to add the Quiz name and grading system, after which you may further customize your quiz with several QSM add-ons.
The QSM plugin has several types of questions. There are multiple-choice questions that we are using now, but there are also fill-in-the-blanks and multiple-response answers.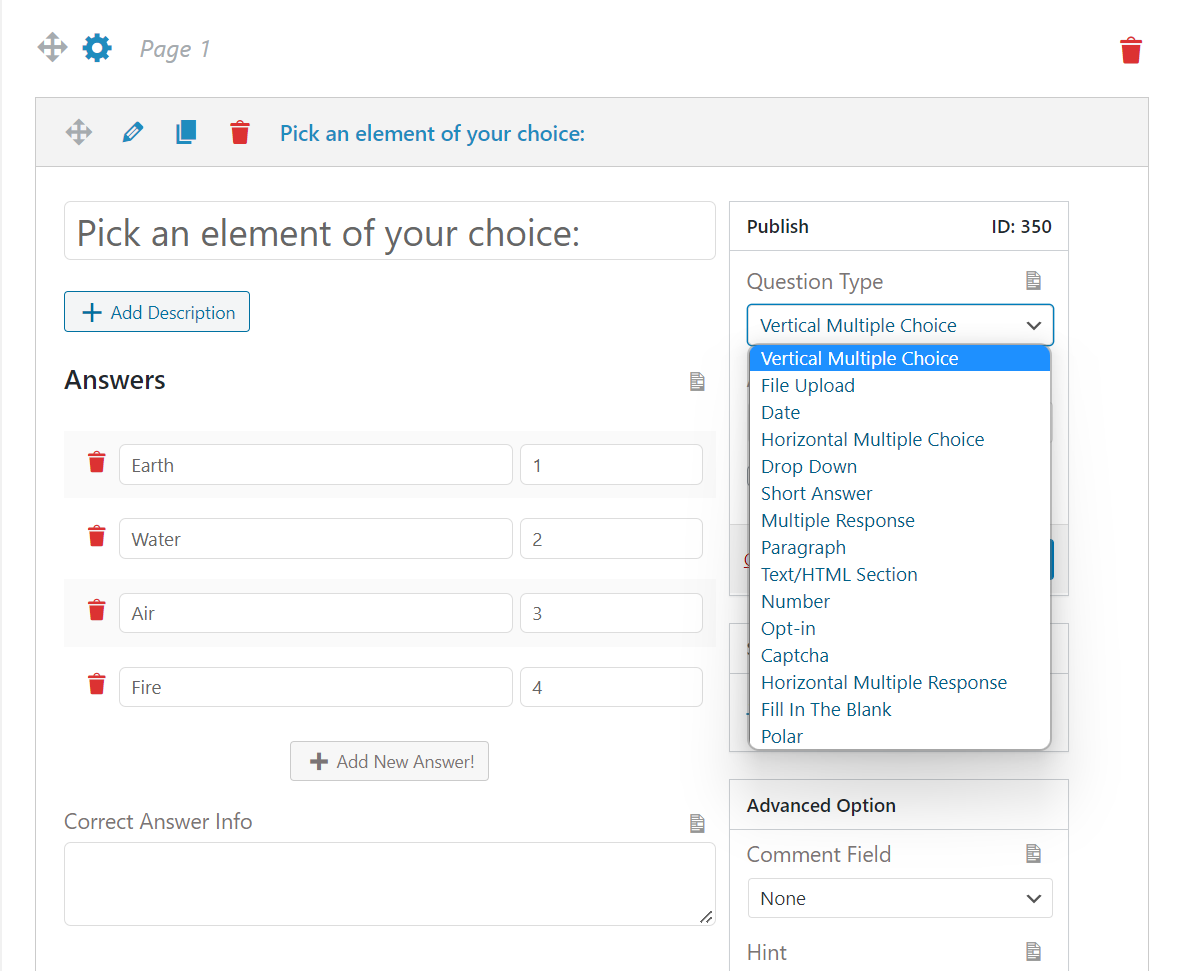 After completing the first step, you are required to personalize the different tabs offered by QSM. Step-by-step customization is possible using these QSM tabs. The Contacts Tab, for example, can create a contact collecting form, the Options tab can adjust the look and feel of your quiz, and the Text Tab can add different messages to be shown at different times during your quiz.
The QSM tabs allow you to utilize most of the WordPress quiz plugins and therefore create quizzes that are user-friendly and generate great sales funnel for your blog or business.
Step 3: Creating Results Page
The following step is to make result pages. Template variables and conditional formatting can help you improve your results pages. The most important stage in a Pokemon-type quiz is to optimize the results pages as it would ensure correct results and therefore obtain more and more engagement on the quiz and the blog or website.
You can preview your quiz when you have set up the results pages and finished the optimization using different tabs. Looking at the preview could help you understand what are the errors and you could fix them. You can also embed the quiz, in any of your articles or blog.
Related: How to embed quiz/survey in your WordPress post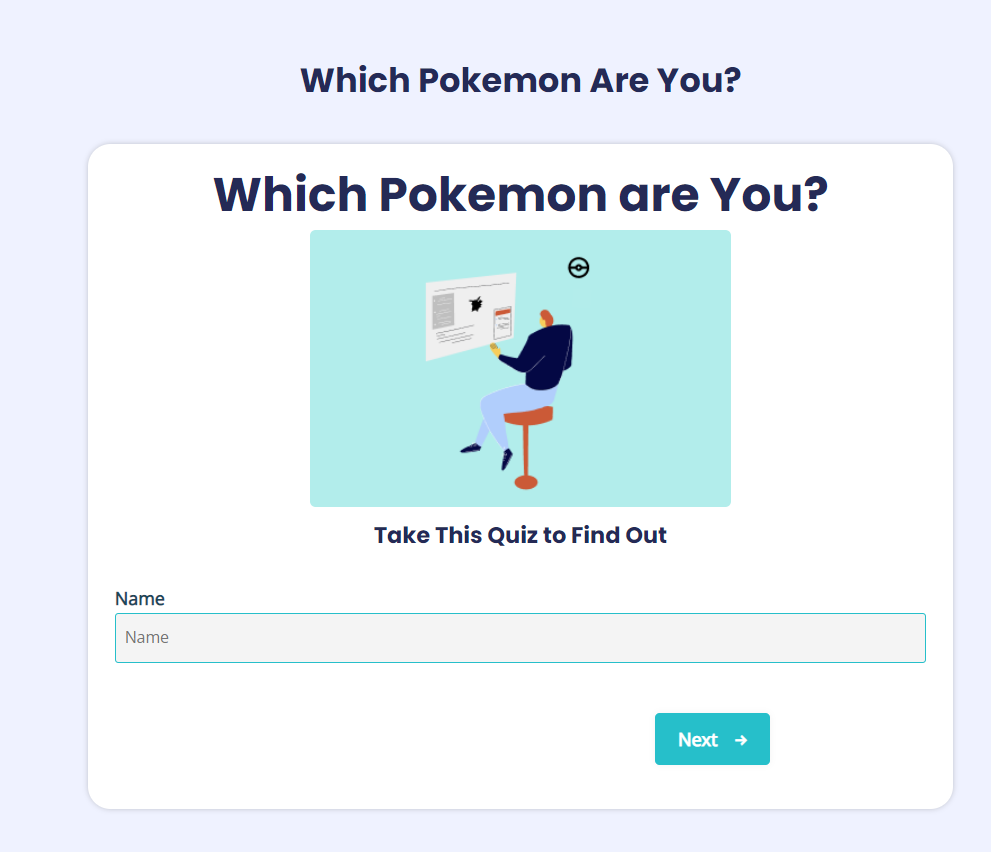 FAQs
How to create a pokemon quiz?
You can create a pokemon quiz using the Quiz and Survey Master plugin on WordPress. This plugin is best when it comes to creating fun as well as educational quizzes. You can follow the given steps to create a pokemon quiz:
Step 1: Choosing a Pokemon Quiz type
Step 2: Creating the questionnaire
Step 3: Installing the QSM plugin
Step 4: Adding questions
Step 5: Customizing QSM tabs
Step 6: Preview and Publish
What is quiz plugin?
A quiz plugin is used to create quizzes on WordPress. With the help of a quiz plugin, you can host any type of quiz on your WordPress website. The Quiz and Survey Master plugin is best to create such WordPress quizzes.
Final Thoughts
In this blog, we learned how we can create pokemon quizzes using the QSM plugin. The highlights of the QSM plugin are its add-ons that let you make the most of the plugin, themes that beautify your quizzes and surveys, tabs of QSM that allow a differentiated process of optimizing your quizzes, and the template variables that allows you to work on your results pages in a detailed manner.
The pokemon type quizzes and the series itself are still loved by everyone alike, whether it be a 20-year-old or a 5-year-old. This is sole because it provides the knowledge the kids require in a cryptic way with the animation and the colors. Not only that, the manner of the portrayal of issues is very simple so that all age groups could relate to it.
If you found this article intriguing, you might also be interested in how to make a Patronus quiz and how to make a Euphoria quiz.
What's New: QSM Pro Bundle
New features are constantly being added to the Quiz and Survey Master plugin in order to improve your quiz-making experience. In the year 2022, when the renewal period begins, we offer the QSM Pro Bundle of Add-ons for you.
All of the functionality you will ever need is included in the Pro bundle of add-ons. This bundle includes 30+ plugin add-ons as well as access to 10 sites! Yes, you read that right: the Pro bundle provides you simultaneous access to ten sites, including all add-ons.
The following are some of the key elements to look for in the bundle:
Use QSM in ten different sites.
Add-on for Reporting and Analysis
Add-on for exporting and importing
Integrations with Email Marketing
Advanced Timer Export Results with Zapier Integration
Connector for Google Sheets
Save and resume your work
Other blogs you may find helpful
Try Quiz and Survey Master
QSM is a free plugin that allows you to create and publish unlimited Quizzes & Surveys with no cap on questions or answers, helping you to take control of your website's interactive elements.
Download Now