Ever heard of Fursona? If you are wondering what on earth is this alien word, I felt the same, when I heard it the first time. But a Fursona quiz helped me understand what it is and why is it breaking the internet in recent times.
A Fursona species quiz or a fursona animal quiz is what we are dealing with in this blog. We would talk about everything Fursona, what it means, the origin, and how can YOU make an amazing viral quiz using the Fursona Trend.
And it is only obvious to use the best in town WordPress quiz plugin to make your perfect website even better. The Quiz and Survey Master plugin is a whole package in itself when it comes to making quizzes, surveys, or forms. Let us dive into the world of fursona and create a "What is My Fursona Quiz?"
---
---
What is Fursona?
Fursona the word itself originates from parent words, namely: fur and persona. Here fur means furry beings or animals, like foxes, dogs, etc. while on the other hand, we have the word persona, which is frequently used in reference to personality or characteristics.
Fursona quiz sees its origin from as early as the 1990s (yes it was 30 years ago!) The furry fandom has always been traced along with the history, however only shortly after the discovery of the World Wide Web and the internet people were actually able to enchant and enhance their love for the furries.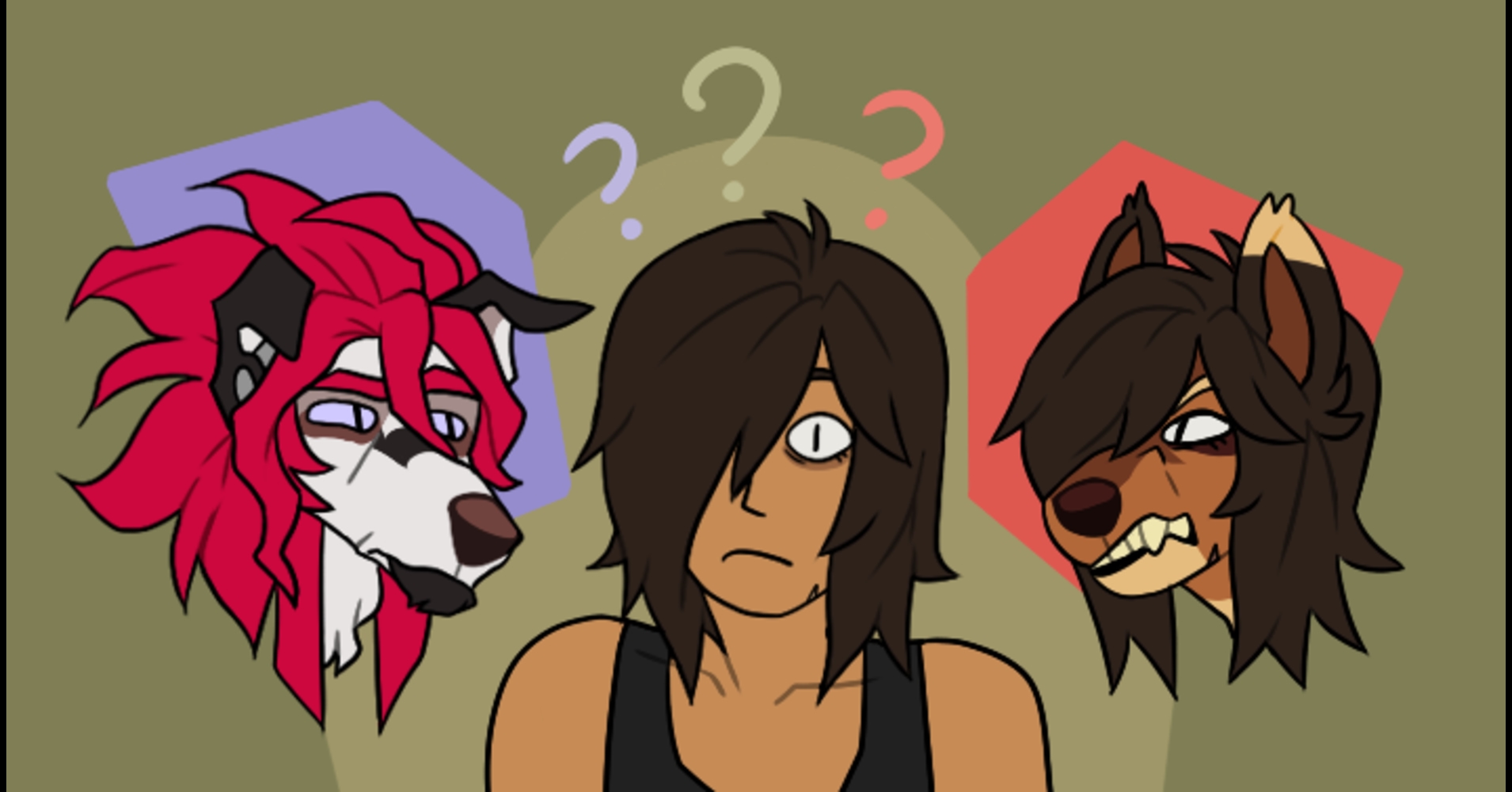 What distinguishes the furry community from those other fan-based communities (such as those in the graphic or sci-fi industries) is that furries generally develop personalized animal characters known as fursonas (a portmanteau of the words furry and persona).
A furry's fursona is inspired by animals from nature or mythology who exhibit characteristics that they personally identify with, and they project their personalized fursonas in social interactions within the furry community in a variety of ways, including costume design, interactive role-play artwork, and creative writing.
The wolf, fox, cat, dog, tiger, lion, rabbit, and horse are all common fursona species, and hybrid combinations are also acceptable.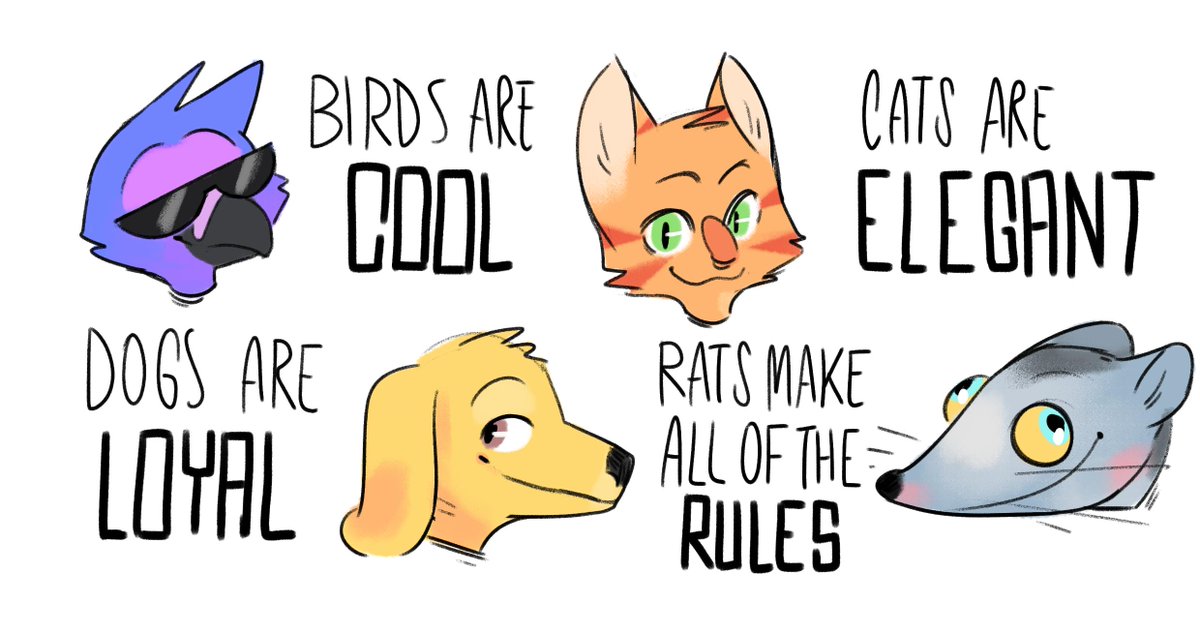 How to make a Fursona Quiz?
Now the question arises, how do you make a fursona test quiz? Well if you are not a newbie to the internet and its trends, you must know how great the wonders marketing works when it is done through quizzes. Similarly, fursona maker quizzes, fursona test quizzes, and "how do I find my fursona quiz?" are really hitting the highs in this league.
Let us begin to make the fursona quiz step by step.
Step 1: Creating Fursona Trivia Questionnaire
To create a successful fursona quiz you are required to understand the personality traits of each furry animal you are regarding in your quiz. For example, if you are taking a dog as furry in your quiz, then to ground your judgment with a person's answers you need to align some fixed characteristics. These could be loyalty, kindness, strength, and likewise.
We have listed for you some of the furry animals and their character traits which you can take into account while building your quiz.
| | |
| --- | --- |
| Dog | Loyalty, kindness, mindfulness, friendships, strength |
| Wolf | Strength, seduction, loyalty, reliability, toughness |
| Fox | Sly, playfulness, seductiveness, sexuality, smartness |
| Big cats | Predator, goal-oriented, ambitious, loner |
| Otter | Fun, coolness, pleasure, keenness |
| Rabbits | Cuteness, sexually attractive, clever, lovely, elegant |
| Cats | Attention-seeking, lazy, self-centered, fun, classy |
Animals and their Core Personality traits
Now that you are aware of the basic personality traits of the furries, you can weave your questionnaire around it. For sample, we have listed a few fursona questions, to give you a head start:
What is your biggest strength?
If you are in the jungle would you rather be ______?
What is your fear?
What makes you extremely angry or frustrated?
If you could choose one of the following animals which would it be?
What makes you laugh the most?
This or that: chill near a pond in the countryside or hike in the hills?
What is your favorite food?
What would you name your pet?
Do you like being surprised to rather surprise others?
Step 2: Installing the QSM Plugin
To make an interesting and likable fursona quiz, you would require a wonderful WordPress Quiz plugin as well. QSM plugin does the job! It is the best WordPress quiz plugin to make completely optimized quizzes to fit your needs. To download the Quiz and survey master plugin, you can go for two options.
Option 1: To download from your WordPress dashboard
Go to your plugins menu in the WordPress dashboard
Search for "QSM" or "Quiz and Survey Master" in the search bar
Spot the QSM plugin
Click on Install and then activate
Your plugin is ready to use
Option 2: To download from WordPress official website
On the WordPress website, go to the plugins menu
Search for "QSM" or "Quiz and Survey Master" in the search bar
Download the setup to install the plugin
After the .zip file has been downloaded, toggle to your WordPress website
Go to the Plugins menu
Click on "upload plugin"
Drop your .zip file on the dialog box
Click install and activate
Your plugin is ready to use.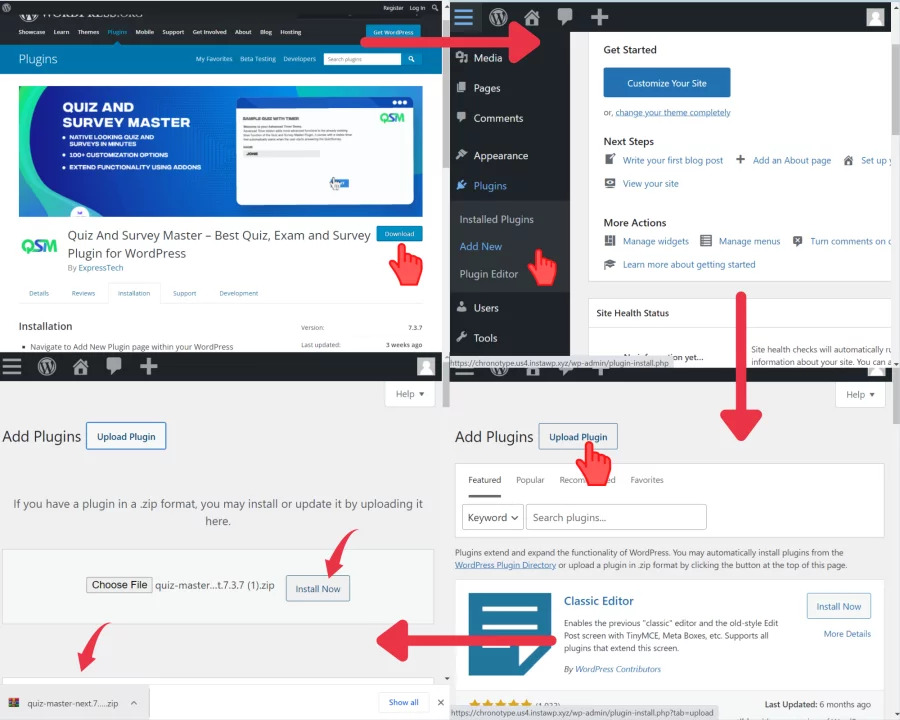 Step 3: Creating the Quiz
To create a fursona quiz, you should have your questionnaire ready along with the inter-relationships of numbers with the furry tally of characteristics.
Related: How to make a Euphoria Quiz
Further, we need to add the questions to our QSM quiz now that we have them all prepared. To begin, select "Create new Quiz/Survey" from the drop-down menu. The first steps of your quiz are marked in a dialogue box.
You'll notice that QSM has several different themes from which to choose. The next step is to add the Quiz name and grade system, and then you can choose from a variety of QSM add-ons to further customize your quiz.
There are various types of questions that the QSM plugin has to offer. For example, there are multiple-choice answers, which we are currently using, but you can also go for fill in the blanks and the multiple response answers.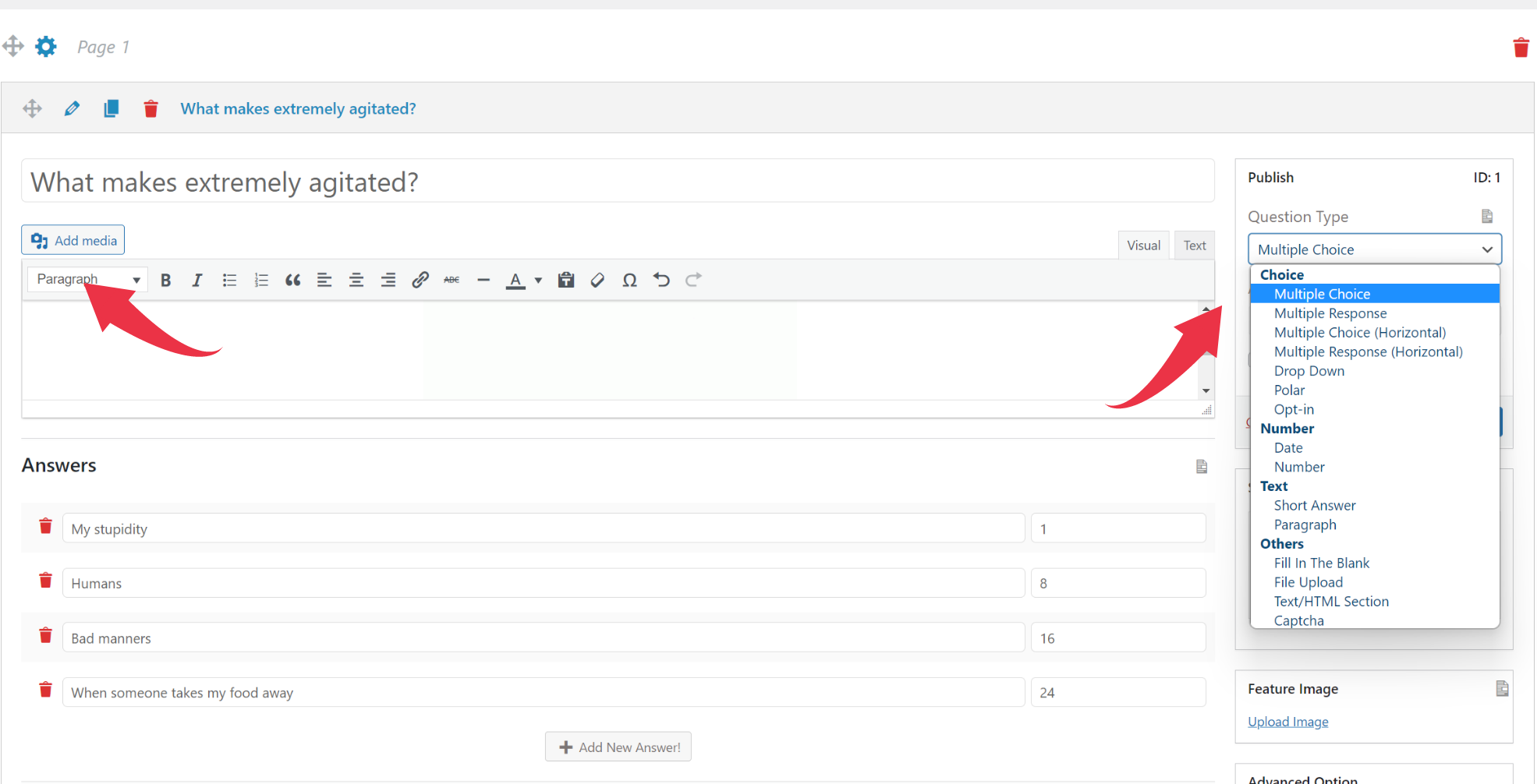 Related: Explore Types of questions in QSM
After the first stage is completed, you must personalize the quiz's many tabs. Tabs in the QSM allow for step-by-step customization. For example, the Contacts Tab may be used to construct a contact collection form, the Options tab can be used to change the appearance and haptics of your quiz, and the Text Tab can be used to add different messages to be presented at different times during your quiz.
The next step is to create result pages. You can optimize them using template variables and conditional formatting. In the above image, you can see that the username template variable is used along with numeric conditional formatting that decides a range for the particular result page. Optimization of results pages is the most crucial step for a fursona quiz.
Learn more about template variables.
Step 4: Publishing the Quiz
After the results pages are set up and optimization is complete, you could preview your quiz to check for any issues. Further, you could publish your quiz.
Related: Embedding Quiz/Survey in a Post in QSM plugin
FAQS
What is my fursona quiz?
Fursona quiz sees its origin from as early as the 1990s (yes it was 30 years ago!) The furry fandom has always been traced along with the history, however only shortly after the discovery of the World Wide Web and the internet people were actually able to enchant and enhance their love for the furries.
What is the least common fursona species?
The least common type of fursona species is the Dragon or mythical creature species!
What is the most popular fursona?
The most popular fursona species are cats, wolfs, dogs, and rabbits.
Final Thoughts
Fursona quiz is a newer and trendier type of quiz which can be made easily by simple logical knowledge gems. Mainly you are required to know about different animals and their personality traits to make a quiz like a fursona species quiz. The QSM Plugin steers the flow as soon as your information is ready.
Using different customizing options for contact details and results pages brings out the better part of the quiz-making market. This is mostly helpful in marketing strategies or making marketing funnels. Through the QSM plugin's add-ons, you can deeply optimize to make the best use of your quizzes.
If you liked this article you might also be interested in how to make a personality quiz and how to make a Patronus quiz.
What's new: QSM Pro Bundle of Add-ons
Upgrade to the Pro Bundle of Add-ons to get the most out of the quiz and survey master plugin! Unlike the others, the Pro bundle includes over 30 add-ons, such as Zapier connectivity, email marketing optimization, Google Sheets integration, and so on. Check out the Pro Bundle, which costs only $179 per year.
We have listed a few of the features that you would be eligible to use for your WordPress website, after purchasing the Pro Bundle of add-ons:
Avail QSM on 10 sites
Reporting and Analysis addon
Export and Import addon
Email Marketing Integrations
Zapier Integration
Advanced Timer
Export Results
Google Sheet Connector
Save and Resume