Welcome, to the new Quiz and Survey Master that brings a lot more clarity and is up to the point for running the Quizzes/Surveys.
The QSM also comes with a revamped dashboard that now features useful and important sections The new dashboard has got a unique design and some very handy links all packed into a single page.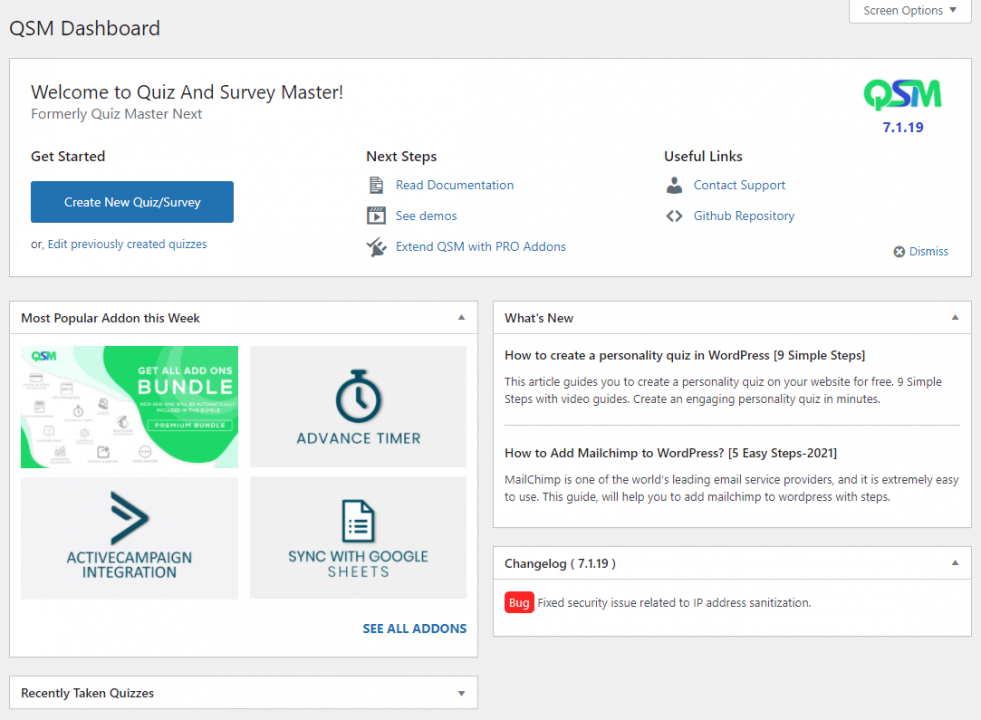 The dashboard is divided into 5 sections, the first section has the Getting Started steps, it has the Create New Quiz/Survey button and a link to view previously created quizzes.
Getting Started
It has links to Documentation for easy query resolution, link to Quiz demos, and the QSM Pro Addons. You can easily access the Support Forum for raising a support ticket or for pre-sales information. You can also access the Github Repo for contribution and support.
Most Popular Addon this Week
In the Second Section, you can view some of the popular addons of the week and can learn more about their functioning and usage.
What's New
In the third section, you will get to know more about this awesome Plugin and the latest developments with the Plugin. Also, Tips and Tricks to secure your WordPress site with Direct access to awesome articles and posts so that you can make the utmost use of the plugin.
Recently Taken Quizzes
In the fourth section, you can access the Quiz results with the recently taken quiz at the top. You can view the User Name with the Quiz name and the points/scores earned with the time taken on a particular date. You can access more results by clicking on the See all Results link.
Changelog
In the fifth and the last section, you can view the changelog. It is the list of all notable changes i.e. the bug fixes and enhancements made to the installed Quiz and Survey Master release.
Also, do note that these sections independently can be dragged and placed accordingly and can be hidden/closed just by clicking on the Title.