Wanting to learn how to create an interior design style quiz for your audience could be a hassle in a competitive world like ours. But we have got your back mate! Today, in this blog, you can learn the A-Z of how to create any kind of interior design quiz, design style quiz, decoration style quiz, visual style quiz and the list very well goes on…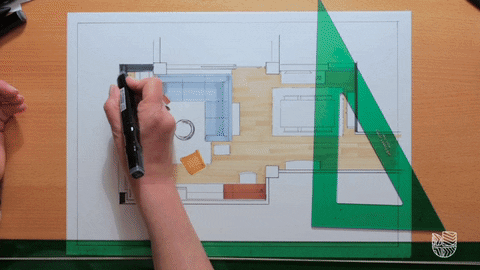 But you might be wondering how would that be possible. Well, the Quiz and Survey Master plugin is the best plugin for a quiz for your WordPress website and we would not brag about it as you could see for yourself, why choose QSM for creating the interior design style quiz?
Key highlights of the blog:
What is an Interior design style quiz?
Why do designers require this quiz?
How can you create an interior design style quiz?
Concluding thoughts
What is an interior design style quiz?
When you are building your homes or reviving your interiors, do you ever wonder if you want to put a vase of lavenders in your living room or porch area or if you should go for a tiger skin carpet or a black matte fur rug?
If you had these questions in your mind, then you have got your answer to what is an interior design quiz. In the most straightforward terms, it is the quiz that allows you to uncover or discover your true sense of interior design application and your perspective on your place of being.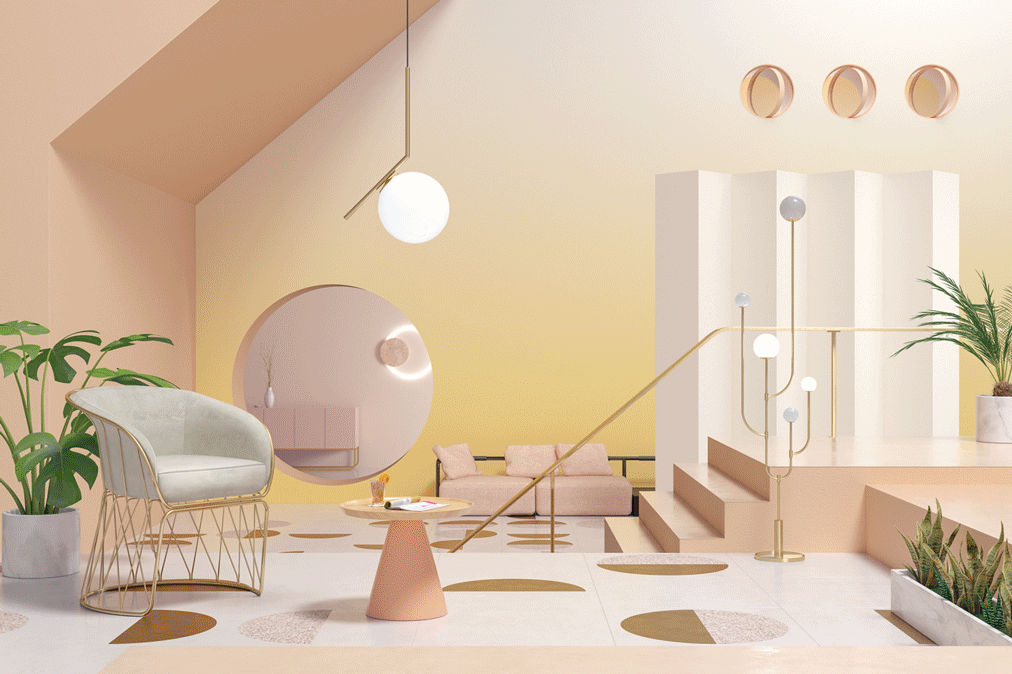 Unlike the designers, common people like you and me could be unaware of a certain centerpiece that would go with their personality or the house type they live in. For such occasions, a quiz could be a lifesaver.
And if you are a designer or deal with interior designing you might understand the importance of knowing the style of your design. It is only natural to feel confused when you have ample choices. Similar is the case of the clients (if you are an interior designer) They could not understand whether or not would a certain style justify the personality and the behavior of the person as a whole.
The interior design style quiz could be created easily using the quiz and survey master plugin in just a few simple steps. Let's see how!
Why do designers require this quiz?
Before we jump on to creating the quizzes using the quiz and master plugin, you should understand the reason why this quiz is famous or the reason why designers prefer their clients to take this quiz before making decisions for their interiors. We have listed the following reasons:-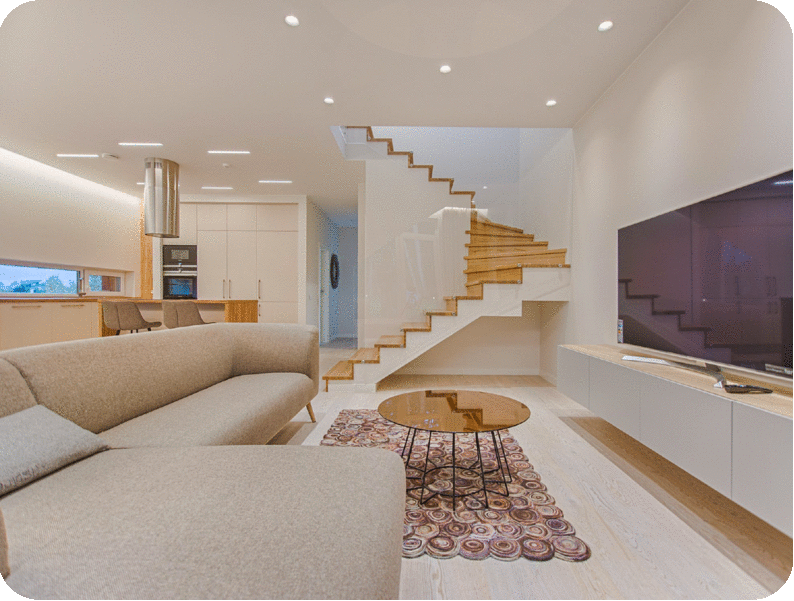 To clear your head from clutter
To engage in one definitive direction of design
To procure a better understanding of self
How can you create an interior design style quiz?
There are a few simple procedures for making an interior design quiz, which we will go over in this section of the blog. If you thoroughly explore the plugin, you can receive the best results for a quiz.
Step 1: Installing the QSM Plugin
To begin, we must first obtain the QSM Plugin. The quiz and survey master websites, as well as the WordPress official website, have the plugin. As a result, you have two options for downloading the QSM plugin:
Option 1: To download from your WordPress dashboard
Go to your plugins menu in the WordPress dashboard
Search for "QSM" or "Quiz and Survey Master" in the search bar
Spot the QSM plugin
Click on Install and then activate
Your plugin is ready to use
Option 2: To download from WordPress's official website
On the WordPress website, go to the plugins menu
Search for "QSM" or "Quiz and Survey Master" in the search bar
Download the setup to install the plugin
After the .zip file has been downloaded, toggle to your WordPress website
Go to the Plugins menu
Click on "upload plugin"
Drop your .zip file into the dialog box
Click install and activate
Your plugin is ready to use.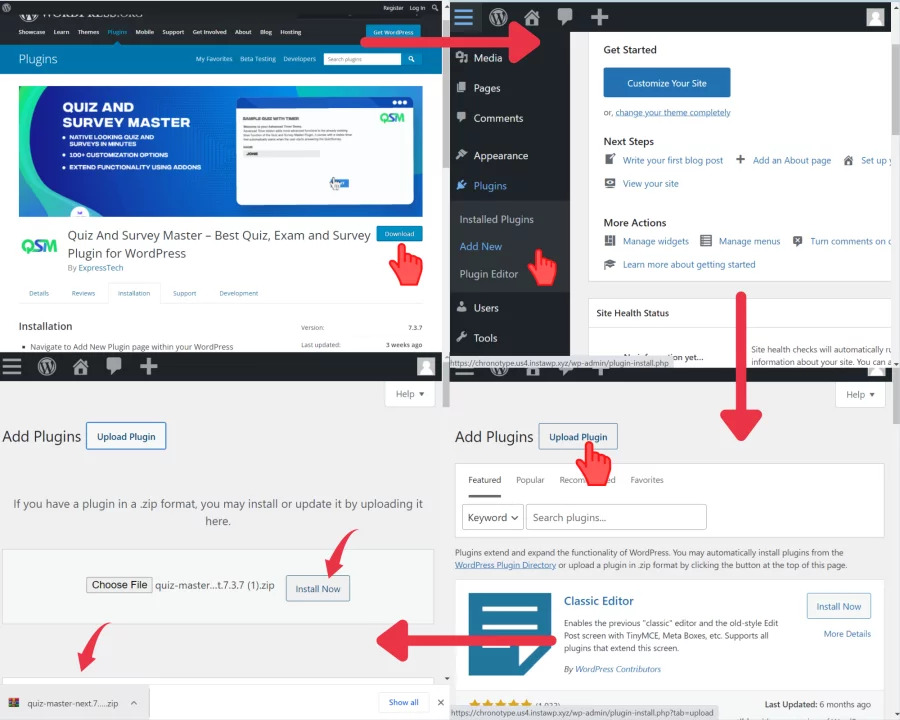 Step 2: Creating the Quiz
For creating the Interior design style quiz, you will need some questions as well. For any quiz, questions are the most important part, therefore we have listed a few questions to give you a head start with the interior design questionnaire-
What does your ideal room look like?
What type of furniture do you gravitate towards?
Where do you prefer living?
What is your favorite style?
Which room is your favorite?
What type of art do you like?
What accessory would you want in your space?
Which chair/furniture piece is your favorite?
Which materials do you like the most?
Which lamp is your favorite?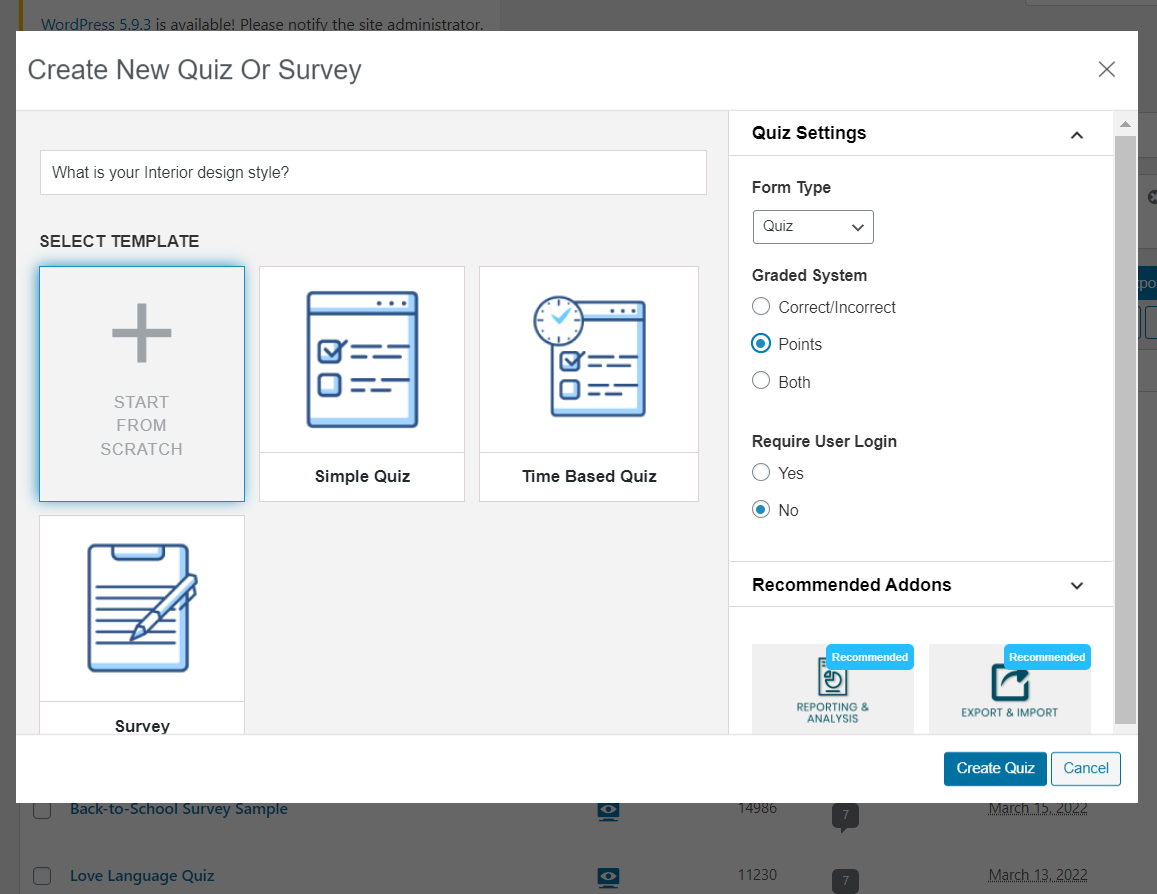 You can begin by creating a new quiz or survey when you have downloaded the QSM Plugin and the questions are available. To do so, go to the QSM dashboard and select the Quizzes/Survey option.
Related: Getting started with QSM
When you click the "Create Quiz/Survey" button, a dialogue box will appear. There are three stages to this dialogue window.
The first is the theme selection; QSM themes are all simple but effective in creating a statement quiz. The second stage is to select the grading system and name the quiz; you can also set timer limitations and allow users to log in. The third and last step is to decide whether to purchase the QSM add-ons in bundles or individually.
You can always add a variety of questions to your quizzes using the quiz and survey master plugin. For a quiz like this, we will go for multiple choice answers in a points grading system. This is because no answer is right or wrong, all we need is input from the user.
Related: Types of Questions in QSM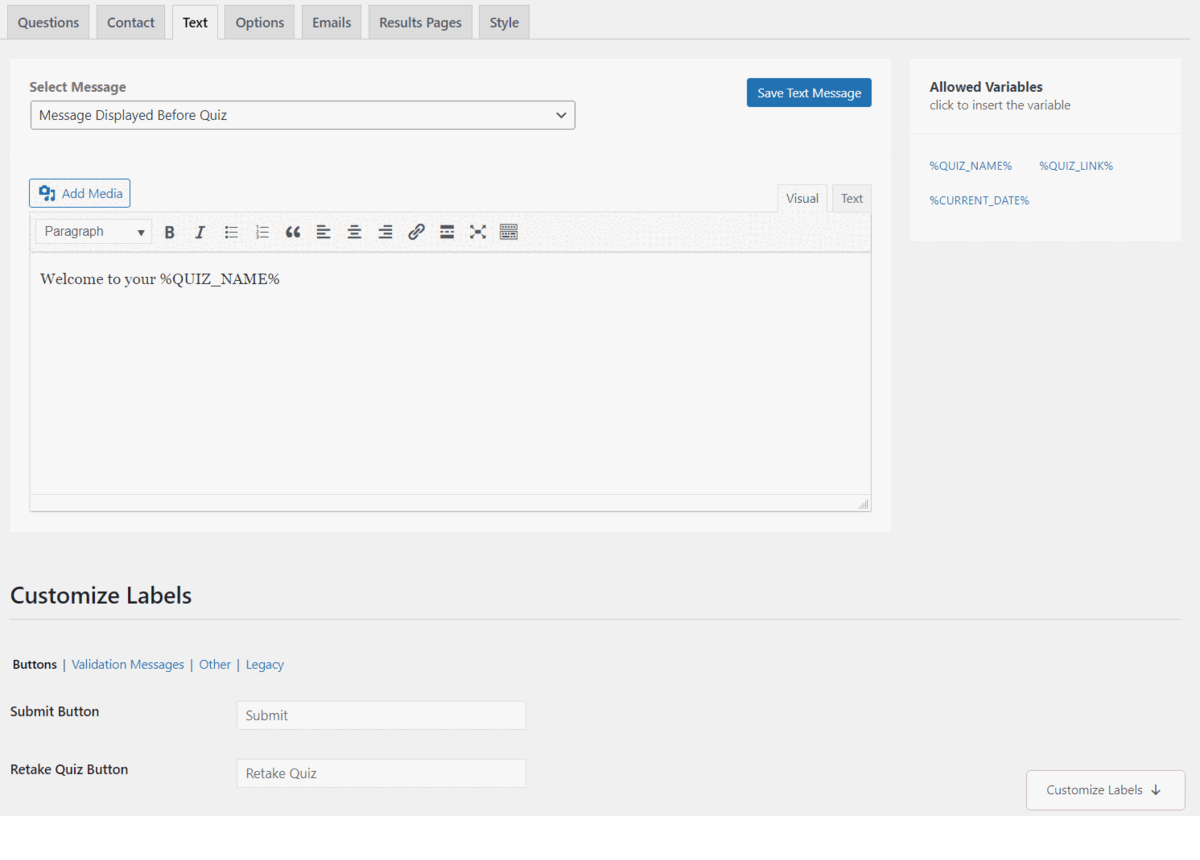 You will notice that there are several components called QSM tabs. These tabs are used to make the quiz details more efficient. The Questions tab, for example, allows you to input questions and answers, as well as grades. There are also additional tabs. The Contacts tab is used to capture the user's contact information, which can then be used on the results pages. Further, there are the options tab and text tab that is frequently updated.
Step 3: Optimizing Results Page
Once you are through with optimizing your questions and contacts tab, the next and one of the final steps is to create interactive results pages. This step is really crucial, as it can make or break your quiz.
Using the template variables along with conditional formatting can make you go a long way in creating successful and completely optimized results pages.
Related: How to beautify results pages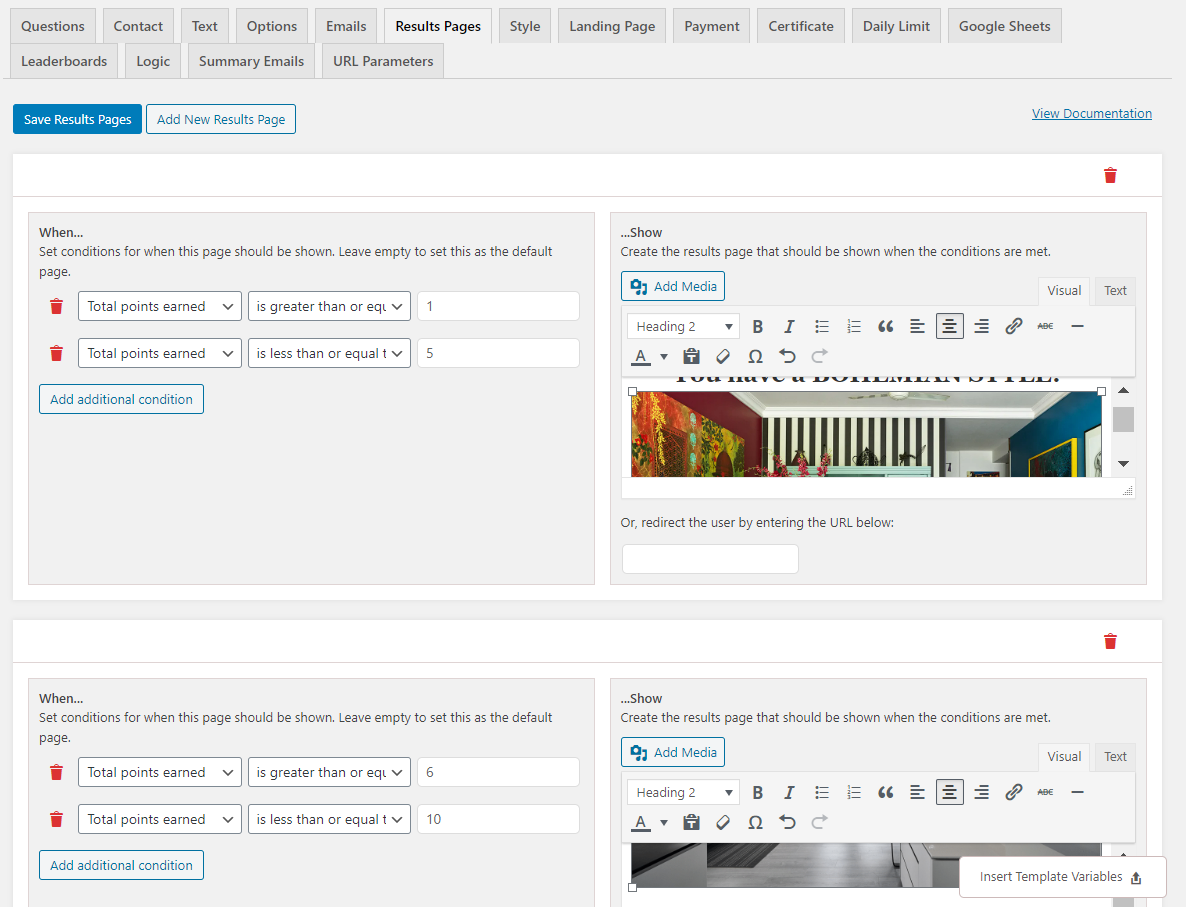 Step 4: Publishing the Quiz
It is now time to take your quiz. However, because you would not be publishing it right away, you can preview it and make changes as needed. Look for mistakes and flaws that you can close.
You may then post the quiz on your WordPress website once the optimization is complete. If you wish to embed the quiz within a blog post, QSM can do that as well.
Related: Learn how to embed quizzes into posts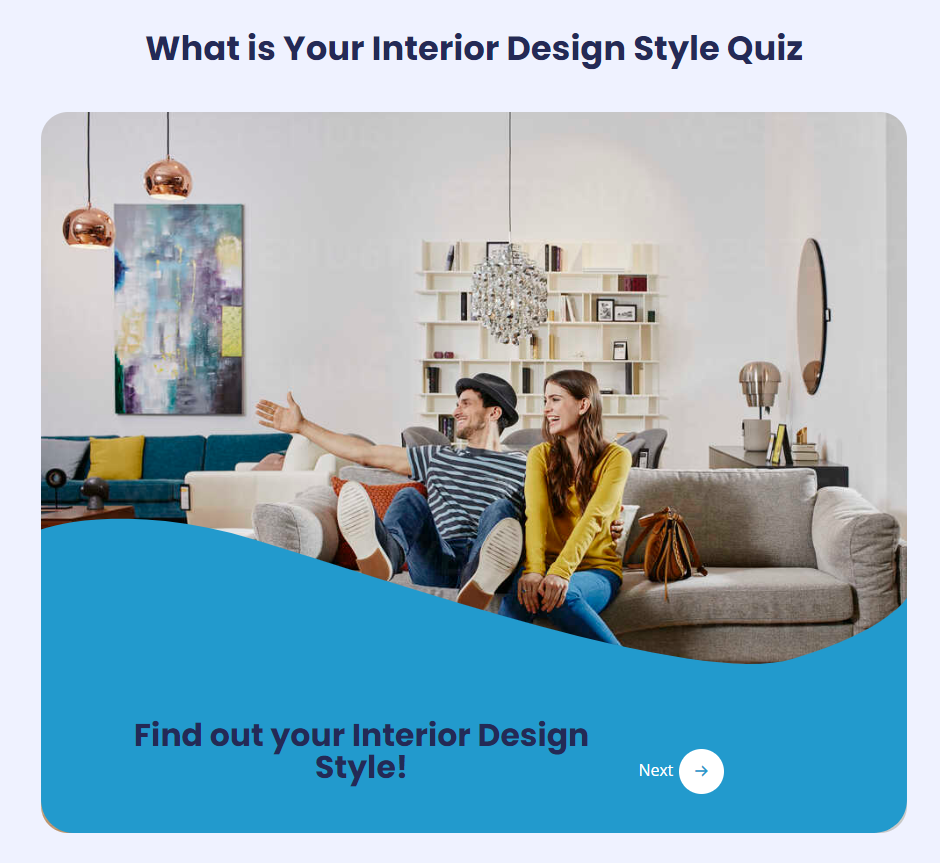 FAQs
How do you make a design quiz?
You can make a design quiz using the Quiz and Survey Master plugin. To make an efficient design quiz you will require to create a questionnaire that is curated especially to question the design intellect of the user.
How do I know my decorating style?
Start with an interior design quiz and take a good look at your space to understand the style that you perceive currently. Get inspired from home interior designs and try and reuse items that you already have. You can also try to focus on mixing rather than matching which brings out the creativity in your sense.
What are the four steps in the interior design process?
Steps in the interior design process are:
Step 1: The Gathering (Excitement and Exploration, Programming)
Step 2: The Task (Space Plans, Materials, Design Boards, and Decisions)
Step 3: In Waiting (Quotes, Proposals, Orders, Deliveries)
Step 4: The Rush (Installation, The Reveal)
Concluding thoughts
To conclude the blog we can note down some pointers which are to be kept in mind when you create an interior design quiz. The Quiz and Survey Master plugin allows you to manage and create a quiz with details and documentation.
You can use the QSM add-ons to bring the best out of the plugin and optimize your quiz with some special features. Other than that the results pages can be perfectly optimized using the results tab from the QSM plugin.
If you enjoyed reading this blog you might also be interested in how to create a personality quiz and how to create a dosha quiz.
What's New: QSM Pro Bundle
Are you looking for the Bundle of Add-ons which gives all the QSM addon features at once? Yes, it is here! The QSM Pro Bundle of add-ons is the talk of the hour as we descend into a world where quizzes are loved and shared by every person.
This bundle is the have-it-all for your quizzical needs. QSM has aligned the best add-ons and integrations for your quizzes in the Pro bundle at just $199 per annum! Grab the offer while it lasts.
We have listed some key features of the QSM Pro Bundle for you:
User dashboards
Advanced Timer
Google sheets connector
Save and resume feature
Email Marketing Integration
Landing Page
Paypal and Stripe Integration
Summary emails
Other blogs you may find helpful
Try Quiz and Survey Master
QSM is a free plugin that allows you to create and publish unlimited Quizzes & Surveys with no cap on questions or answers, helping you to take control of your website's interactive elements.
Download Now