Ayurveda and ayurvedic medications are still one of the most prominent in modern times to recover and practice core healing. Dosha quizzes are used to find out which dosha lies in your body that is hindering your and your body's progress.
Ayurveda focuses on whole-body healing, combining physical, psychological, and spiritual health, and claims that a person's dosha, or type of bodily disposition, affects their personality and health.
Despite the fact that Ayurveda means "science of life" in English, many health professionals doubt the existence of personal doshas due to a lack of scientific evidence. Meanwhile, Ayurveda proponents argue that following dosha-specific health practices leads to balance and happiness as written in the ancient scriptures.
But the fact to be noted is all of the methods to cure doshas or the doshas themselves seem to be very common allopathically treated diseases. Ayurveda proves that those diseases or dysfunctions of the body and body parts are acknowledged by nature. Therefore, the forces of nature rewarded us with cures for the same.
In this blog, we will talk about what the Dosha quiz is, How can you make a dosha imbalance quiz, and find our dosha types. If you are wanting to add a little bit of spice to your WordPress website, do follow the steps to make a dosha quiz using the Quiz and Survey Master plugin.
---
[qsm quiz=74]
---
What is Dosha?
The concept of ayurvedic medicine is that the world is made up of five elements: Aakash (space), Jala (water), Prithvi (earth), Teja (fire), and Vayu (air).
Vata, Kapha, and Pitta are the three conditions (or doshas) that result from the combination of each element. These doshas are thought to be in charge of a person's physical, mental, and emotional well-being.
Every person is considered to have a unique dosha ratio, with one dosha sticking out more than the others. For instance, one person may be predominantly pitta, whereas another is predominantly Vata. Your dosha can be determined with the help of an Ayurvedic practitioner.
Dosha Types
There are three broad categories into which doshas have been divided to understand their characteristics and functions. The three types of dosha are:
Vata Dosha
Vata is made up primarily of the elements air and space (also known as ether), and it is cool, light, dry, rough, flowing, and vast. Autumn is associated with Vata because of its cold, crisp days.
The Vata dosha is associated with being slender, energetic, and creative. They are noted for their ability to think beyond the box, but they are easily sidetracked. Furthermore, their mood is strongly influenced by the weather, the people around them, and the foods they consume.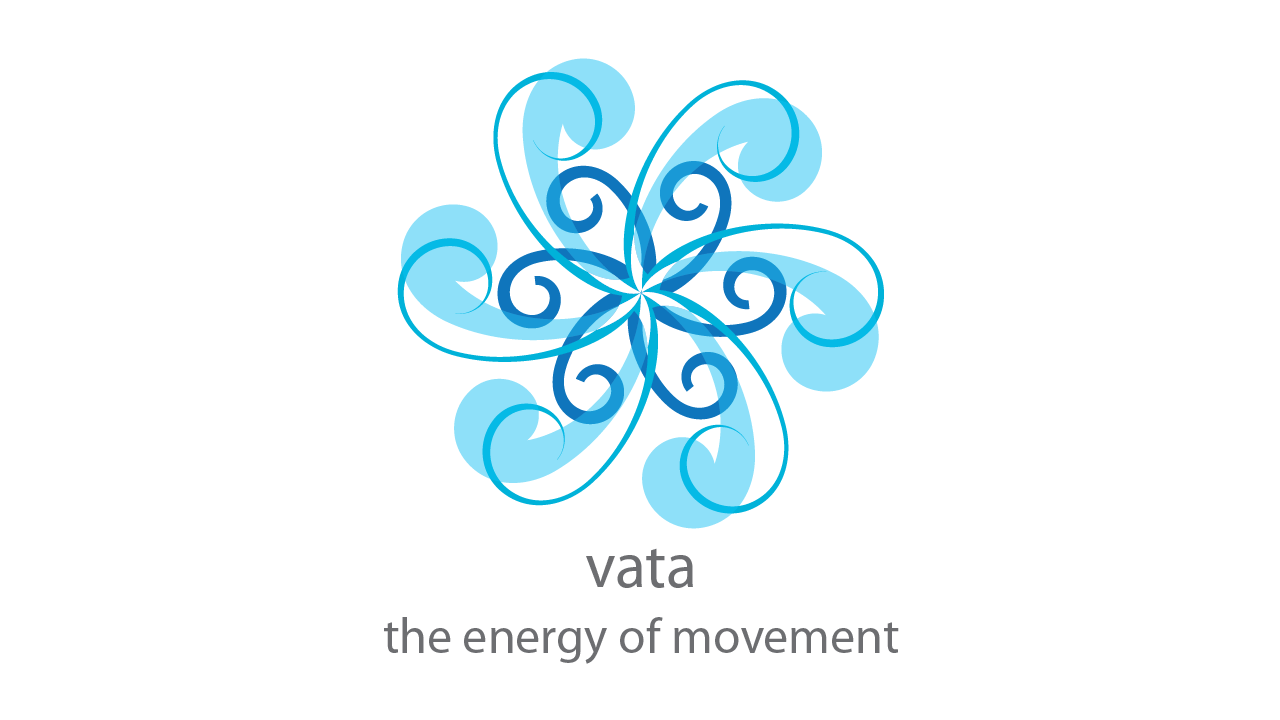 Kapha Dosha
Earth and water are the foundations of Kapha (pronounced "kuffa"). It has a steady, stable, hefty, sluggish, cold, and velvety feel to it. As many parts of the earth slowly emerge from hibernation, spring is known as Kapha season.
Strong, thick-boned, and caring are traits associated with this dosha. They are recognized for keeping things in order and serving as a source of encouragement to others. Kapha-dominant people are rarely agitated, think before acting, and move slowly and deliberately through life.
Pitta Dosha
The Pitta dosha is centered on fire and water and is associated with a stubborn mentality. It is hot, light, sharp, oily, liquid, and mobile, to name a few characteristics. Summer is known as the Pitta season because of its hot, sunny days.
Pitta people are known to have muscular bodies, be extremely athletic, and be powerful leaders. They are competitive, goal-oriented, and highly motivated. However, some others find their aggressive and stubborn character off-putting, which can lead to confrontation.
How to make a Dosha Quiz?
Creating a dosha quiz would be a cakewalk if you use the QSM Plugin. Let us see how can you make a dosha imbalance or what is your dosha quiz in these four simple steps!
Step 1: Installing the QSM Plugin
To make a wonderful quiz, we need a wonderful WordPress Quiz plugin as well. To download the Quiz and survey master plugin, you can go for two options.
Option 1: To download from your WordPress dashboard
Go to your plugins menu in the WordPress dashboard
Search for "QSM" or "Quiz and Survey Master" in the search bar
Spot the QSM plugin
Click on Install and then activate
Your plugin is ready to use
Option 2: To download from WordPress's official website
On the WordPress website, go to the plugins menu
Search for "QSM" or "Quiz and Survey Master" in the search bar
Download the setup to install the plugin
After the .zip file has been downloaded, toggle to your WordPress website
Go to the Plugins menu
Click on "upload plugin"
Drop your .zip file on the dialog box
Click install and activate
Your plugin is ready to use.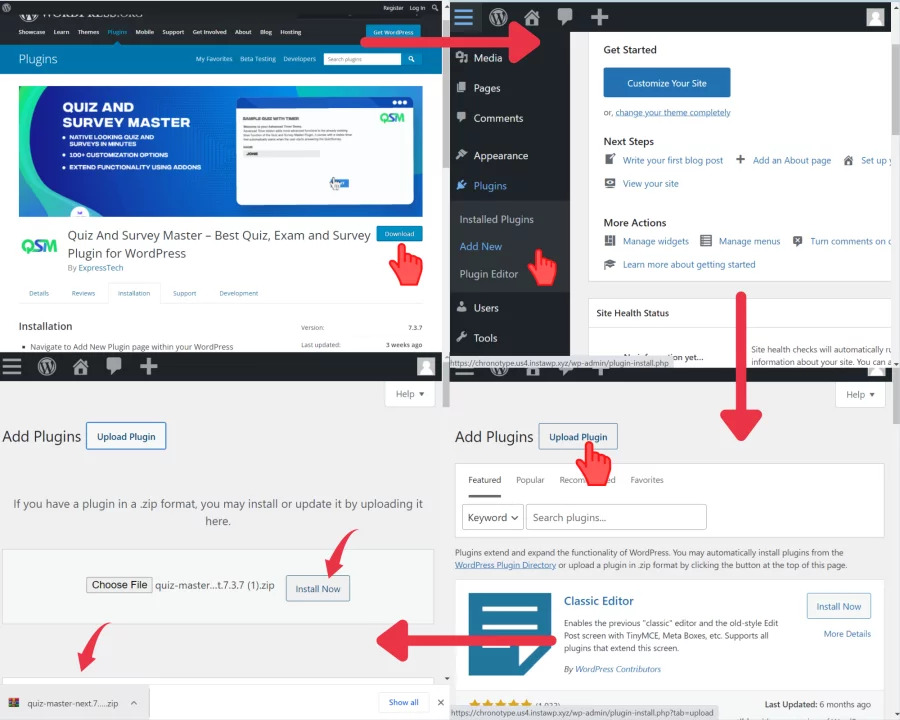 Step 2: Dosha Quiz questionnaire
Some of the famous dosha quiz questions that you can add to your quiz are:
The skin on my face is?
The temperature of my skin is?
My body frame is?
Without chemical treatments, the texture of my hair is?
My digestion is _______________?
My sleep pattern is ________________?
Emotionally i am ______?
Intellectually i am ______?
Describing my nails in one word I would say _____?
Describing my eyes in one word I would say _____?
Step 3: Creating Dosha Quiz
Now that we have all the questions ready, we need to add them up in our QSM quiz. Let us start by clicking the "Create new Quiz/Survey" button. A dialog box appears that marks the initial steps of your quiz.
You would observe that there are different themes of QSM from which you could choose. In the next step, you have to add the Quiz name and grading system and lastly, you can choose from QSM add-ons that could customize your quiz very well.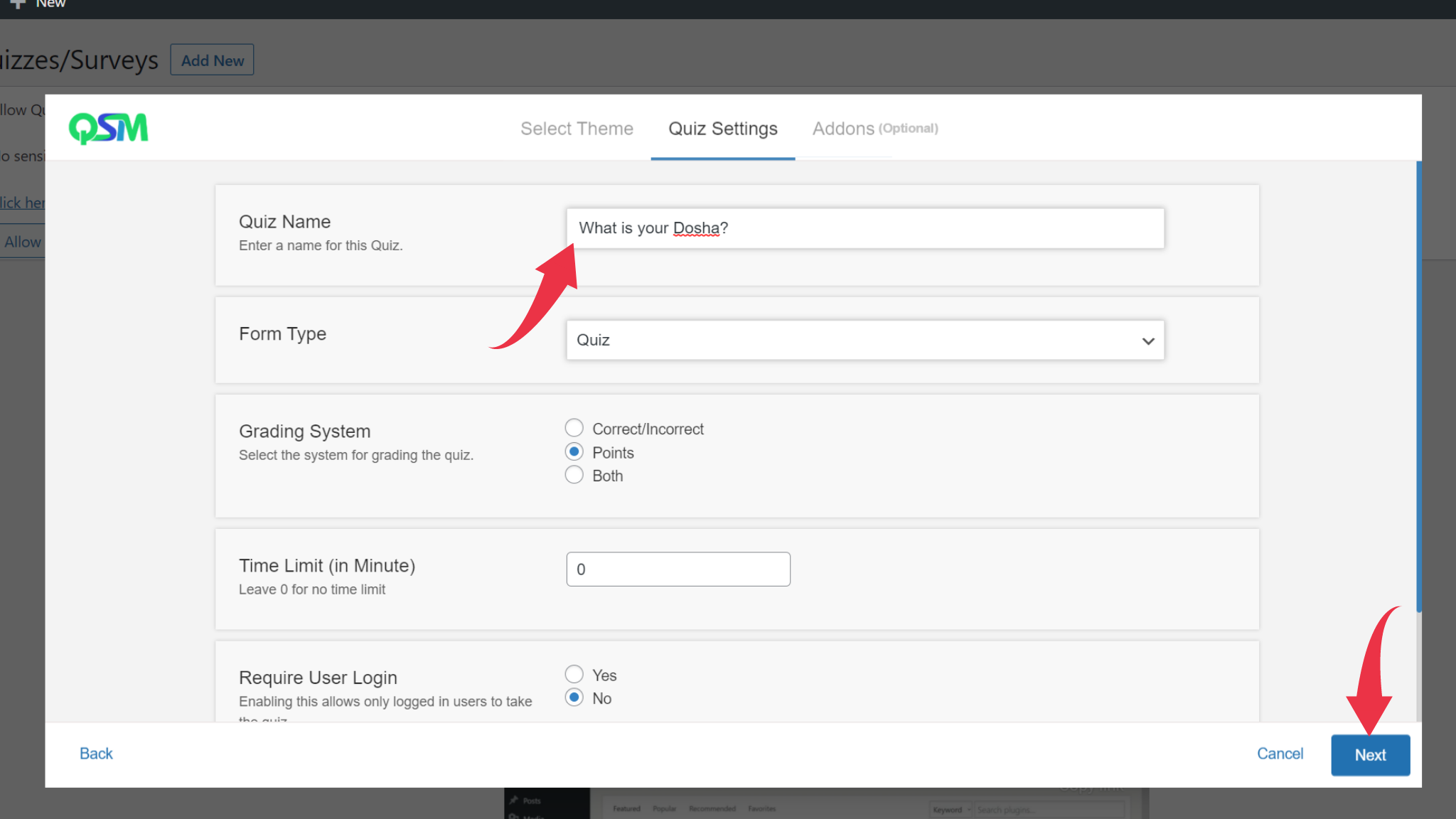 Once the first stage is over, you are required to customize different tabs of the quiz. The QSM offers step-by-step customization in the form of tabs. For example, you can create a contact collection form in the Contacts Tab, you can change the appearance and haptics of your quiz in the Options tab and you can add different messages to be displayed at various times of your quiz using the Text Tab.
Likewise, you are required to add questions in the questions tab. Here, every question could have different modifications like you can choose the image-answers or text answers. The rich answer types also allow you to add gifs to your quiz and make it more fun.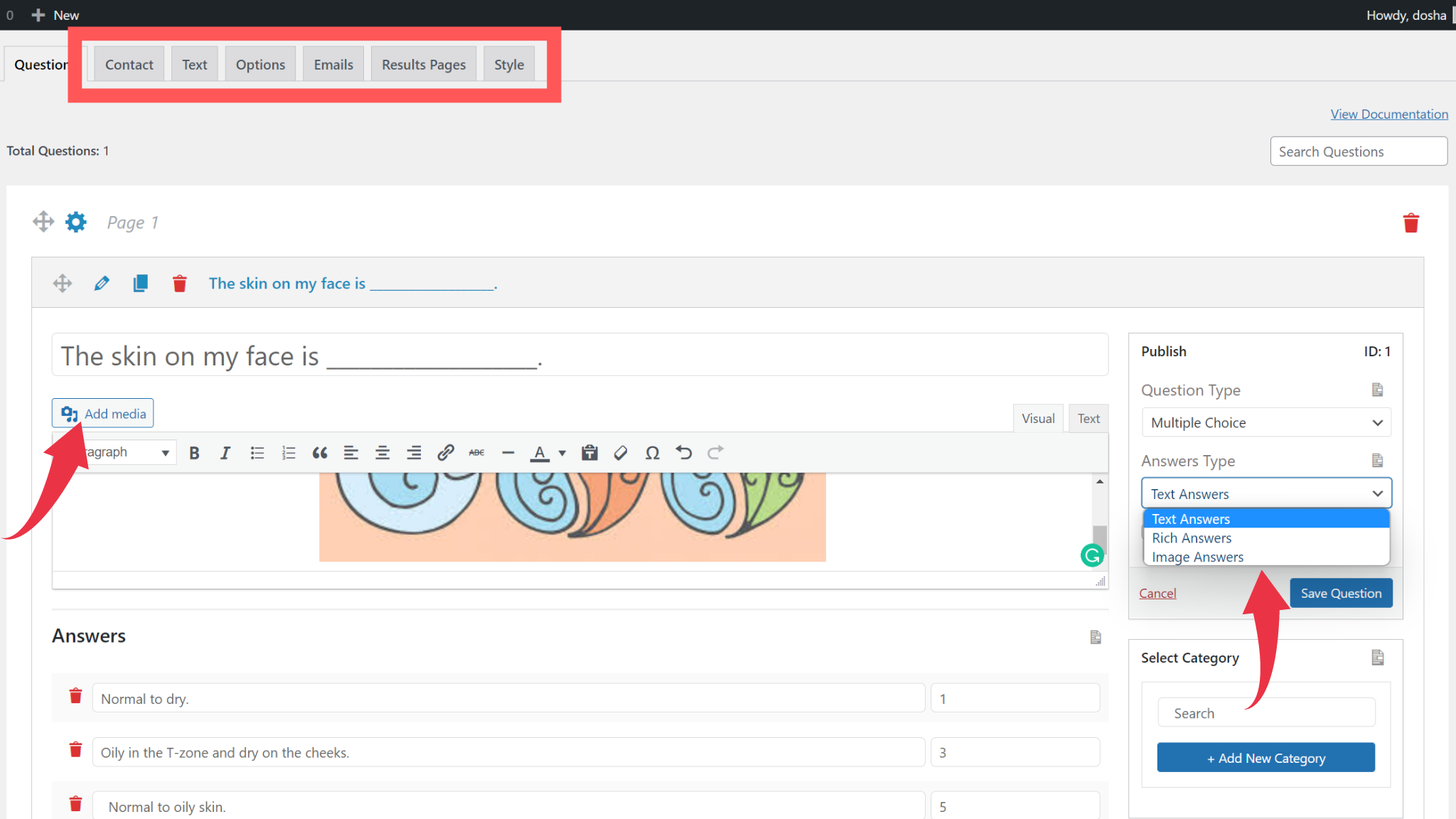 Further when all questions have been put up. You can run them as a preview to see whether or not they are working properly. The next step should be the optimization of the results page.
The results page has two very essential extensions which make the task easier for you: 1) Conditional Formatting 2) Template Variables
With both of these, you can optimize almost any of the results pages within minutes. For example in the results page shown below, we are using different template variables and conditional formatting, limiting to a particular range of scores.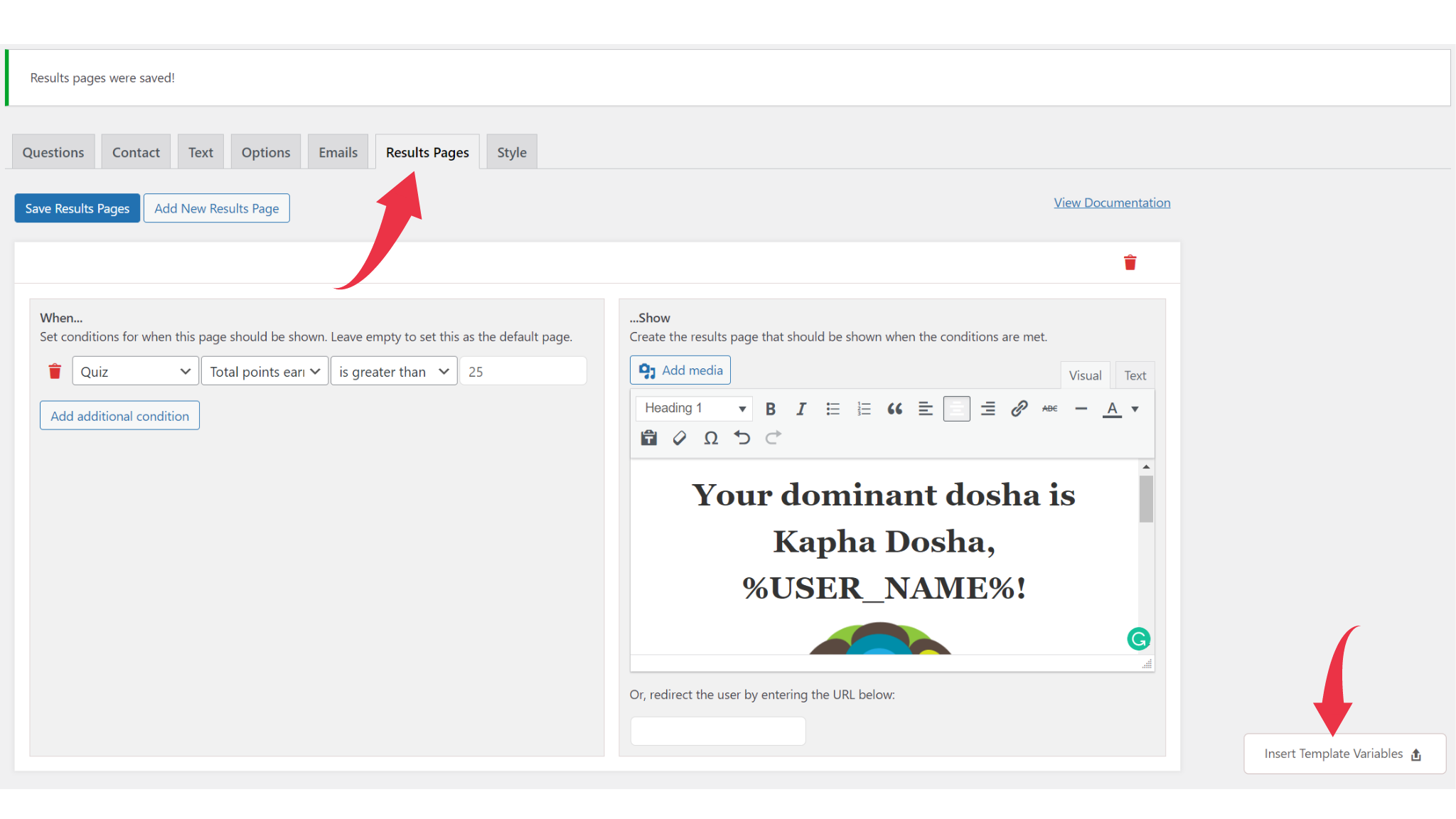 Step 4: Publishing the Quiz
After you are through with results page optimization, you can preview your quiz and run it for any problems or dysfunctions. After fixing the issues, you could publish your quiz or just embed the quiz into a post to make it more accessible to your readers.
Related: Embedding Quiz/Survey in a Post in QSM plugin
FAQs
How do I know which dosha I am?
You can know your Dosha by taking a simple
Dosha Quiz
created by Quiz and Survey Master.
Which is best dosha?
There is no research or claim that one of the Doshas is better than the other. However, people with Kapha Dosha are said to be more balanced in many ways.
Do doshas change with age?
Doshas do not change with age or in your lifetime. You can manifest or repurpose your personality and approach it according to different circumstances in your life.
What is the most common dosha?
The most common Dosha is said to be the Vatta Dosha but there is no research or detailed documentation to support the fact.
Final Thoughts
QSM and Dosha Quiz were a success. Not only we were able to create an amazing Dosha Quiz but also the optimization helps in creating an interactive platform for the users on the result page. There are various options to choose from while working on the optimization of the results page and the game changer is the template variables.
Other than that, the dosha quiz in itself is an admired and in-demand quiz. The lockdown has seen a tremendous increase in people finding interest in the Dosha imbalance quizzes, and banyan botanical dosha quizzes, what is my dosha quiz? and the list goes on.
Therefore, if you are a professional but could not find a good way to take your business to another level, creating a dosha quiz using the QSM plugin would help you to market and create funnels that convert.
If you liked this article, also read about the best appointment-booking plugins to make your appointment-making process smoother and how to create a wellness quiz to add to your WordPress quizlets!
Lead your way into the year with the best bunch of add-ons. Yes, you guessed it right. The QSM Pro Bundle of Add-ons is now live for sale. You can get all the add-ons plus the benefits and make the best use of the QSM plugin.
You would say, it is going to cost a ton? Well, fear not, it is on SALE but just for a limited period of time. It costs currently $199 for a yearly subscription. You could also upgrade it to a lifetime subscription as per will. We have listed for you some of the highlights of this QSM Pro Bundle:
10 running sites at a time
Reporting and Analysis
Landing Page
Paypal and Stripe Integration
Summary emails
User dashboards
Advanced Timer
Google sheets connector
Save and resume feature
Email Marketing Integration
Other blogs you may find helpful
Try Quiz and Survey Master
QSM is a free plugin that allows you to create and publish unlimited Quizzes & Surveys with no cap on questions or answers, helping you to take control of your website's interactive elements.
Download Now