In this blog, we are going to look into the 7 best landing page builders for WordPress which work like magic. Let us not linger on the excitement and list down. Here are the best landing page builders for WordPress:
Don't worry, we are not going to leave the list so empty for you. We will be discussing all of the above in detail, about their features and pricing. But before going into the details, let's understand what a landing page builder for WordPress even means.
What is a Landing Page Builder?
A stunning website with flawless operation is possible. But that doesn't imply your website is automatically set up to convert visitors into paying consumers.
You require a straightforward page with just a few components if you're conducting performance marketing campaigns (namely Facebook or Google Ads). This page must be designed so that a user takes action, such as clicking, signing up, downloading a PDF, or doing something else entirely.
This page gives your visitors the impression is built through WordPress landing page builders. Now you must wonder, WordPress is the easiest way to produce websites, why need a WordPress landing page builder?
Even some of the user-friendly website builders, such as WordPress, are not entirely adaptable and customizable. A drag-and-drop page builder enables marketers to design experiences that nudge visitors and turn them into leads.
More than that, the best landing page builders offer a huge selection of themes and templates so you never have to create your website from scratch and still can stand out among others.

Related: How to create a landing page for quizzes
Best Landing Page Builders- Compared
These are the best landing page builder for WordPress:
1. Tatsu Builder (Best for beginners and Professionals)
Tatsu is a form builder plugin with an interactive user experience that offers visual editing capabilities from header to footer. The plugin offers more than 50 modules for quickly and beautifully developing websites. The modules provide you with more control over the site and make it easier to quickly create stunning forms. It has quick controls, keyboard shortcuts, and a facility for undoing and redoing actions.
The templates can be downloaded or saved for use throughout the website. The integration of our themes Oshine, Exponent, and Spyro is included with the plugins. You can, however, also purchase it individually and make the most of this WordPress landing page free builder.
The 700+ built-in designer icons can be used to create gorgeous forms. You can construct forms more quickly and add them to your website right away using the drag and drop capability. It includes all of the essential features, such as widgets and built-in templates.
Key features of Tatsu WordPress Landing Page builder:
Drag and drop page builder makes Tatsu the easiest to work with. You can easily create templates using this feature and customize your website on your own terms.
Retina support. This feature is not found in many of the WordPress landing page builders, but Tatsu has complete Retina support. You can access retina images at any time relevant to your website.
Infinite layouts. You can create as many layouts for your WordPress using Tatsu builder and save or customize them as templates.
It has both free and paid plans, which makes it accessible to everyone. Tatsu's free version has all the essential equipment that you need to create an interactive website.
If you want to build a website from scratch, Tatsu is perfect for you. Whether you are a web developer or not, it is user-friendly and makes site design a comfortable experience for everyone.
Tatsu Builder Pricing: Free plans and starter plan at $49/year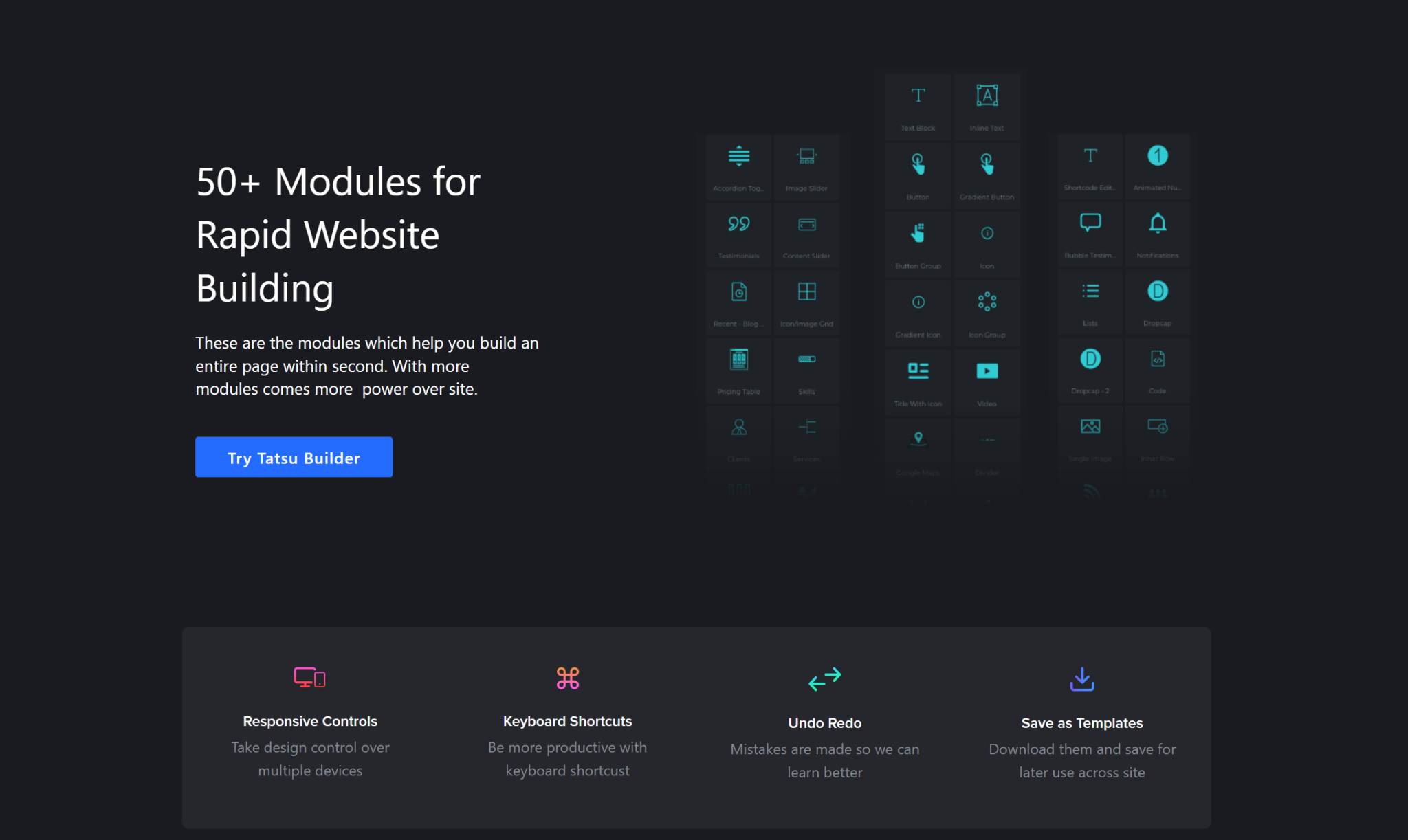 2. Elementor (Best for Professionals)
One of the most used WordPress plugins is Elementor, which has over 2 million active installations. Because of Elementor's clean code, the plugin has a drag-and-drop builder, a live editor, and quick page loading times.
Additionally, Elementor offers you a variety of customization possibilities; you can choose from over 300 design blocks and over 100 pre-designed layouts. The animations that let you add scrolling effects to various background components on your page are among my favorites.

Elementor Pricing: $49/year
3. BeaverBuilder
Consider checking out Beaver Builder if you're creating multiple websites. You can create as many websites as you want using Beaver Builder if you buy just one license. Therefore, you can create various websites or versions of a single website without having to purchase additional licenses.
Beaver Builder is responsive, SEO-friendly, and user-friendly like the other solutions on this list. It gives users access to a drag-and-drop builder and includes a number of pre-built templates.
From the global settings panel, you can manage overall themes and copy & paste styles between other sites. You may quickly translate your material and interact with various audiences around the world thanks to the translation option as well.
BeaverBuilder Pricing: $99/year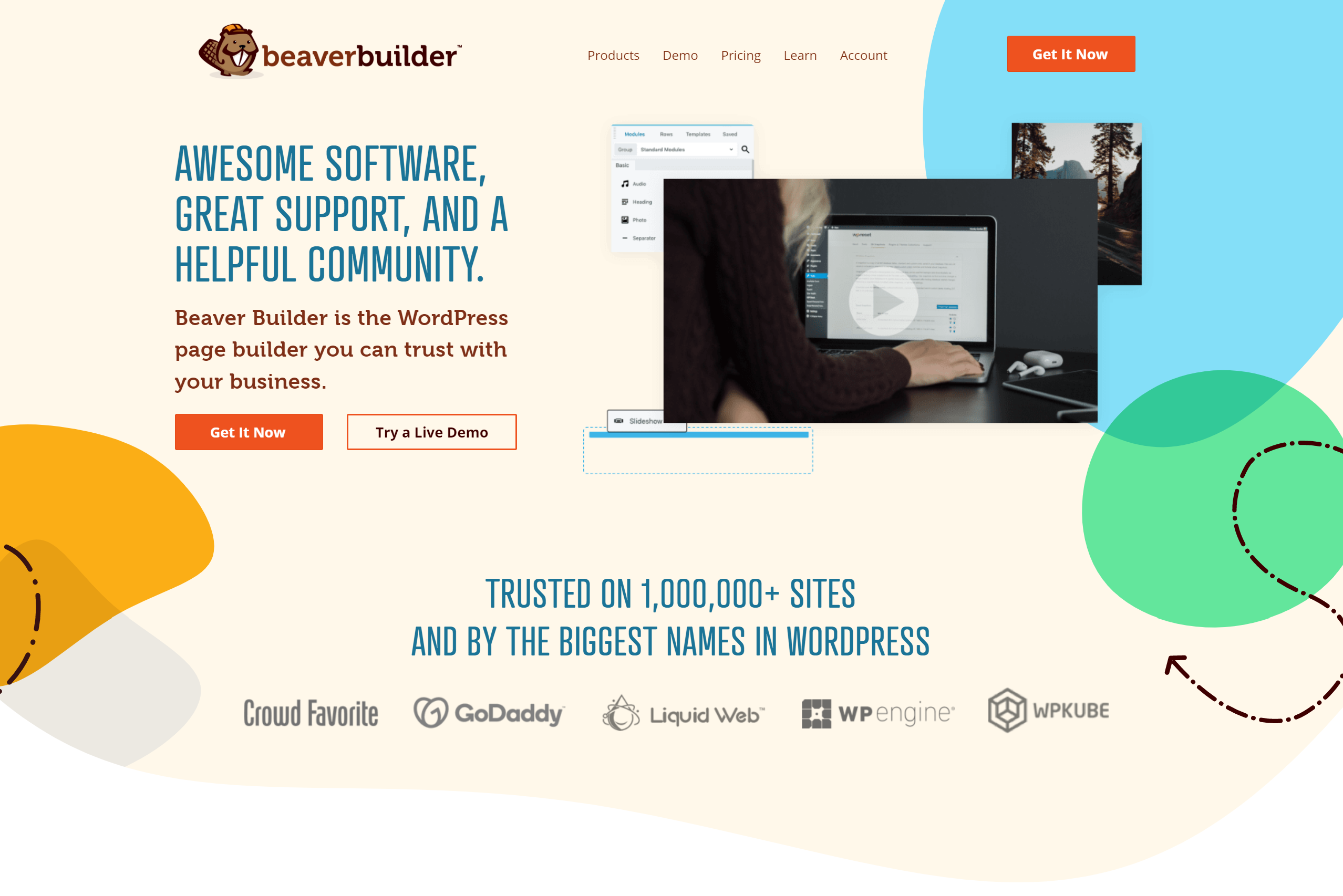 4. SeedProd
One of the best landing page builders for WordPress is SeedProd. Any landing page can be quickly and easily created to increase leads and conversions on your WordPress website. 404 pages, sales pages, squeeze pages, and other types are included in this.
A strong theme builder with a drag-and-drop visual editor is also a feature of SeedProd. That implies that you can make unique WordPress themes without using coding or manually modifying your theme files.

You can create beautiful themes and landing pages quickly in real-time with this best landing page builder Additionally, block templates let you modify page elements without any prior design knowledge.
SeedProd Pricing: Free plans and starter pack $79/year
5. Thrive Architect
Over 250 templates are available in Thrive Architect so you can quickly and easily design a beautiful landing page. The drag-and-drop builder uses a "click to modify" feature that enables quick and easy page customization. Sales pages, opt-in pages, webinars, and other page layouts are among the options.
If you intend to create more than a few landing pages, Thrive Architect is fantastic. This plugin provides all the tools and templates necessary to construct not just landing pages but other web pages needed to run your business if you intend to put your full firm online.
Thrive Architect pricing: $19/month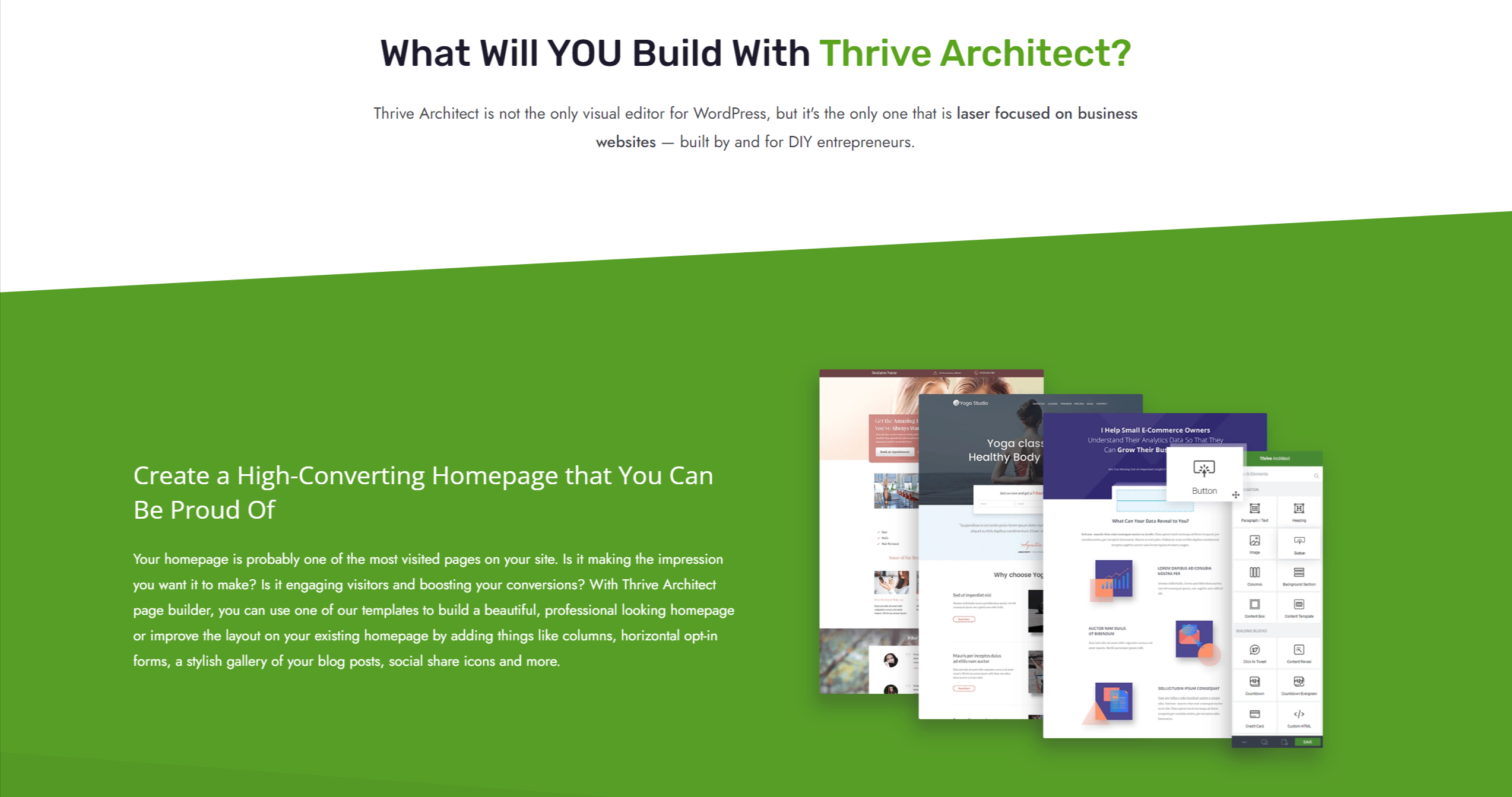 6. Themify Builder
All of the WordPress themes from the well-known theme store Themify have a Themify Builder by default. You can purchase the Themify Page Builder plugin to use with other WordPress themes that aren't Themify.
You can add a number of ready-to-use modules from this straightforward and incredibly intuitive page builder to your pages or posts. You typically need to install different WordPress plugins in order to use many of these modules.
This is one of the best landing page builders that comes with more than 40 pre-designed layouts for a variety of businesses, including online stores, gyms, restaurants, portfolios, music, and photography. You can edit your pages using Themify Builder both from the admin area and the live site. You can see precisely how your changes will appear on the website when you use live editing.
7. Visual Composer
An easy-to-use WordPress website editor called Visual Composer Website Builder makes it quick and easy to design unique website layouts. It includes a straightforward drag-and-drop website builder, pre-built content components, expert templates, and a variety of strong features.
It offers true frontend editing experience for constructing a website, just like Tatsu builder and Beaver Builder. But you can accomplish a lot more with this plugin. The only other plugin that enables you to alter every component of your landing page, including the logo, menus, headers, footers, and sidebars, is Tatsu builder. Visual Composer is the only other plugin that does this.
Visual Composer Pricing: $59 per site per license
What to look for in a Landing Page Builder for WordPress?
So, you must have heard of the popular WordPress landing page plugins and how good they are, right? But question yourself, are they good for your WordPress website too? You can never be so sure about a suggestion till the time you actually start working with any drag-and-drop builder.
We have done that work for you. We have listed for you some features that you should look for in the best landing page builder for WordPress:
1. User-friendly Interface
This is the most crucial feature to search for in a WordPress landing page plugin, depending on how comfortable you are creating web pages. If you don't have any prior web development knowledge, you should pick a plugin that is simple to use and intuitive. Something with a drag-and-drop builder and quick support is generally what you want in case you run into trouble.
2. Features, Features, and Features
The best landing page plugins provide you access to a wide range of components and features that you may incorporate into your website. If you don't have much coding knowledge and need a quick fix rather than learning how to construct various web parts, these can be incredibly helpful.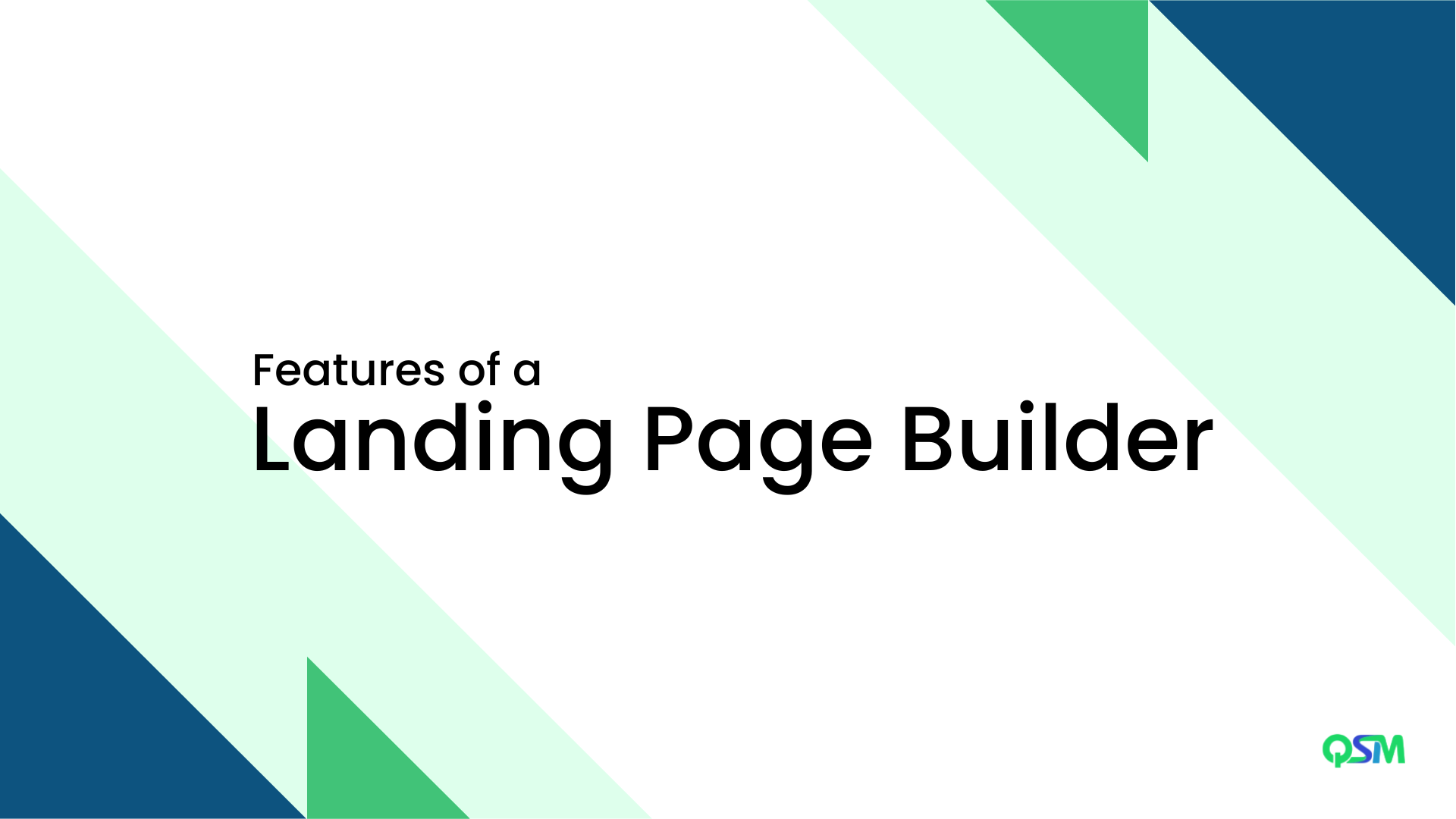 3. SEO Compatibility
If search engines cannot discover your landing page, it is all in vain. For this reason, an SEO-friendly WordPress plugin is what you need. These plug-ins optimize your content for search so that users who are searching for your brand online can quickly find your website.
4. Customizable and Interactive
As we previously noted, there are countless options available when creating a landing page. The only restrictions are your level of expertise and the capabilities of the plugin you're using, which is why we say "almost."

Make sure the plugin you use is flexible so you can alter templates, add features as you see fit, and produce a landing page that completely matches your vision.
5. Email integration
Data collection is necessary for conversions and leads in order to market to those consumers later. You create your email list in this manner. Therefore, connections with email marketing providers like MailChimp and CampaignMonitor are offered by the top WordPress landing page plugins.
FAQs
What are landing page builders?
With the use of landing pages, you can increase sales, get new leads, and grow your online audience. The finest landing page builders also provide you with cutting-edge features like a custom domain name, heatmaps to monitor engagement, webinar software integrations, and tools for mass lead generation.
What is a good landing page?
A good landing page should impress visitors and should be self-explanatory. It should tell the visitor what is your offer and how would they benefit from using your product or services. A good landing page should be concise and should give all the necessary details that are important for the user.
How much does it cost to hire someone to build a landing page?
Approximately it costs anywhere between $300 to $3000. However, you can build your own landing page for free! You can use free landing page builders like Tatsu to create your own landing page on your own terms!
Which is the best for your WordPress Website?
Without a doubt, Tatsu seems to be the best among the best landing page builders for WordPress. You can customize, save, scrap, and repeat endlessly using the Tatsu builder and not get tired of it, because of its beautiful and user-friendly interface.
It is safe to say that most of the WordPress landing page builder plugins are doing their jobs right, however, besides Tatsu, most of the plugins are falling short on one or the other criteria of finding the best landing page builder.
To conclude, we can say that all of the plugins on this list fulfill the said and it all comes down to you and your compatibility with the landing page builder. One can love Tatsu builder and hate Instabuilder and, as a matter of fact, vice-versa is also true. So choose wisely, when you choose your landing page builder for WordPress.
If you enjoyed reading this article, you might also like Best Typeform Alternatives for WordPress and Best Online Quiz tools.
Other blogs you may find helpful
Try Quiz and Survey Master
QSM is a free plugin that allows you to create and publish unlimited Quizzes & Surveys with no cap on questions or answers, helping you to take control of your website's interactive elements.
Download Now