Now it's your turn to create a quiz for students, online! A quiz about school or any type of academic quiz creation can take a toll on you if you create them manually. These days, many schools are opting to create quizzes for students and their education quizzes online. This involves creating the quiz using an easy quiz maker online and then publishing the quiz.
In this blog, we would learn about the process to create quiz for students and how to propagate it or share it among them and the people on the web.
Key highlights of the blog:
1. How to create quiz for students?
2. How to limit access to education quizzes?
3. Tips to create Education quizzes online
Before beginning the process to create quiz for students, take this education quiz created using QSM, the WordPress quiz plugin.
How to Create Quiz for students?
A quick yet efficient method of assessing students' understanding is through an education quiz. You can simplify the assessment process by making them available online. It's no longer necessary to print worksheets for each participant, collect all of your pupils in one space, and manually grade each test.
Follow the given steps to create quiz for students or any type of education quiz:
Step 1: Creating the Quiz Questionnaire
To create quiz for students, you would definitely require a solid and straightforward questionnaire. Well, the questions could be twisted but they should be clear in what they demand. To create an education quiz questionnaire, you could take the help of a professional or if you are a teacher or mentor, you can create this questionnaire easily.
The education quiz questionnaire could have as many questions, and they should be graded in a specified grading system. Learn about the QSM grading system.
For example, you are creating a science quiz and you want some questions to be graded as MCQ and some to be graded as correctness. You can go and choose the quiz to be graded both ways- incorrect and correct based and as point based too. An easy quiz maker like QSM could be handy even when you are a newbie or a beginner. This is the reason why people from all walks of life can work with this plugin.
Education Quiz Questionnaire can depend upon the type of quiz you are creating. It could be a science quiz, a vocabulary quiz, a history quiz, or even a constitution quiz.
Step 2: Installing the QSM Plugin
To create quiz for students, we need a wonderful WordPress Quiz plugin as well. To download the Quiz and survey master plugin, you can go for two options.
Option 1: To download from your WordPress dashboard
Go to your plugins menu in the WordPress dashboard
Search for "QSM" or "Quiz and Survey Master" in the search bar
Spot the QSM plugin
Click on Install and then activate
Your plugin is ready to use
Option 2: To download from WordPress's official website
On the WordPress website, go to the plugins menu
Search for "QSM" or "Quiz and Survey Master" in the search bar
Download the setup to install the plugin
After the .zip file has been downloaded, toggle to your WordPress website
Go to the Plugins menu
Click on "upload plugin"
Drop your .zip file into the dialog box
Click install and activate
Your plugin is ready to use.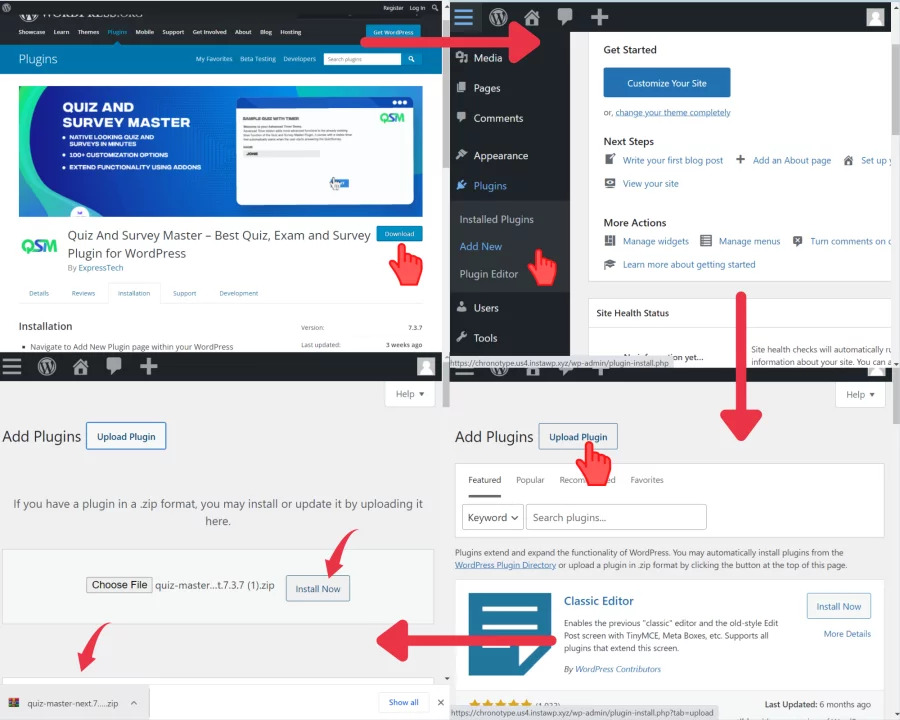 Step 3: Creating a Quiz
Now that we have prepared all of the questions, we will have to add them to our QSM quiz. To begin, select "Create new Quiz/Survey" from the drop-down menu.
We are making a Maths quiz, but based on your WordPress website and target audience, you can use any trivia quiz-question type to create any type of education quiz.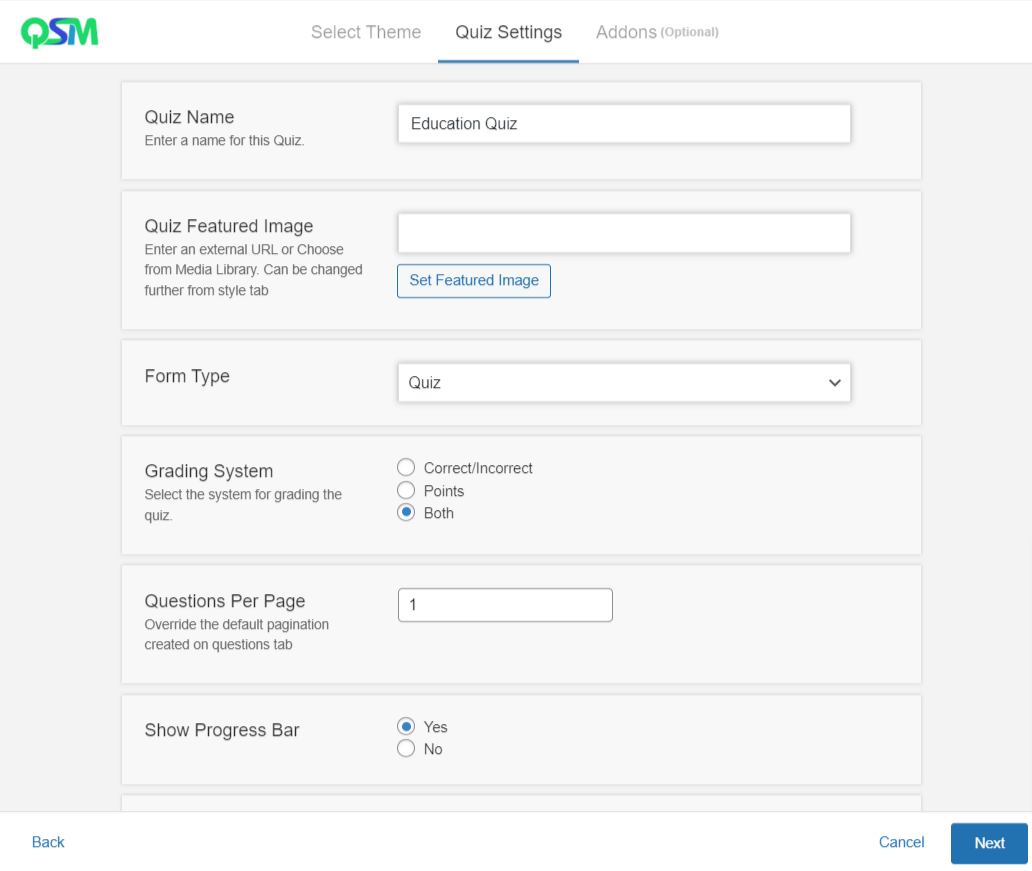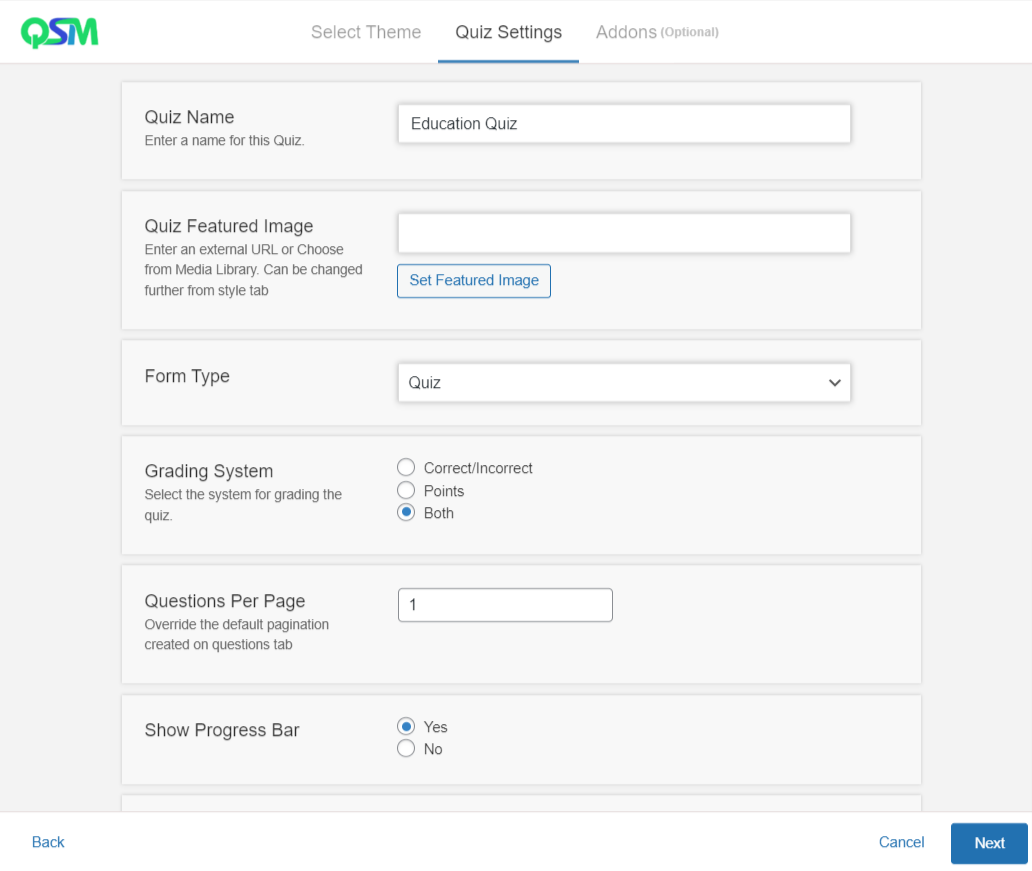 You'll see that QSM offers a wide variety of themes. You can then further customize your quiz by adding the quiz name and grading scheme using a variety of QSM add-ons.
The QSM plugin has a wide variety of question types. We now use multiple-choice questions to create quizzes that are accurate or incorrect, but there are also polar-answer and fill-in-the-blank choices available.

Related: Learn about Question types in QSM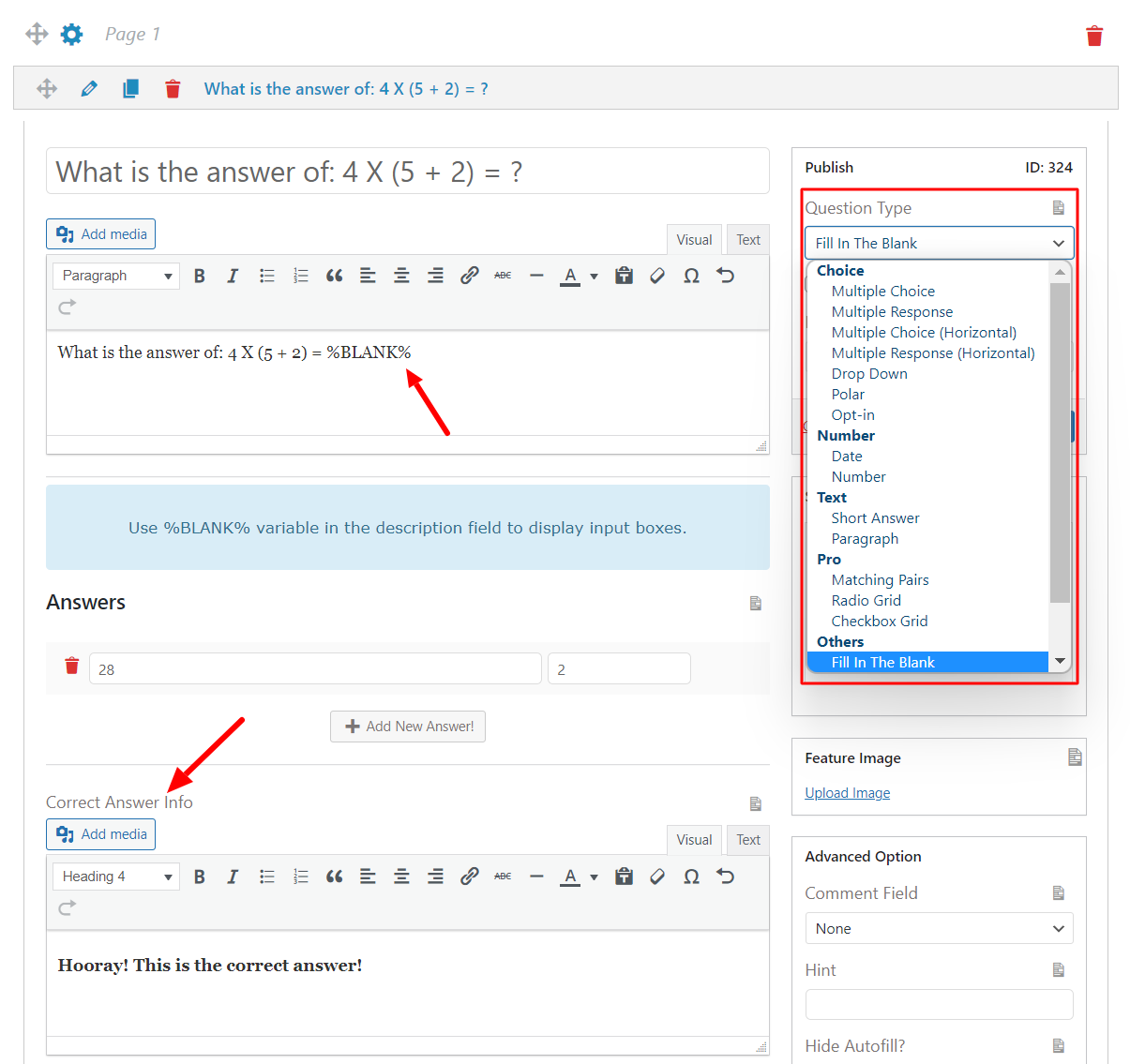 Detailed customization is possible with these QSM tabs. The Contacts Tab, for instance, can be used to construct a contact form. However, removing the Contact tab optimization from the question would increase the number of people that took the test.
Additionally, you can alter the look and feel of your quiz using the Style and Options tabs, and you can add extra messages to be displayed at certain points throughout your exam using the Text tab.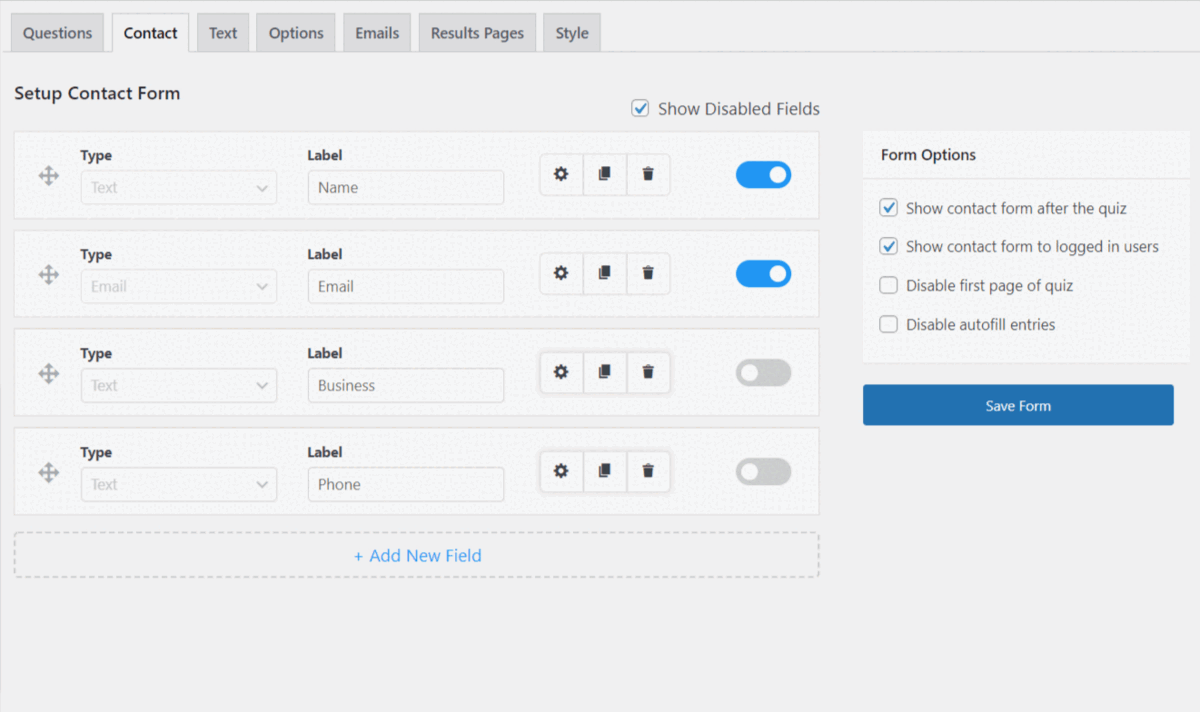 Step 4: Publishing the Quiz
The next step is to create the result pages. You may optimize your results pages by using template variables and conditional formatting. To create a quiz for students that becomes a learning experience for them, result page optimization is required. Because doing so will ensure accurate results and increase interaction on both the quiz and the blog or website.

Related: How to create Quiz results pages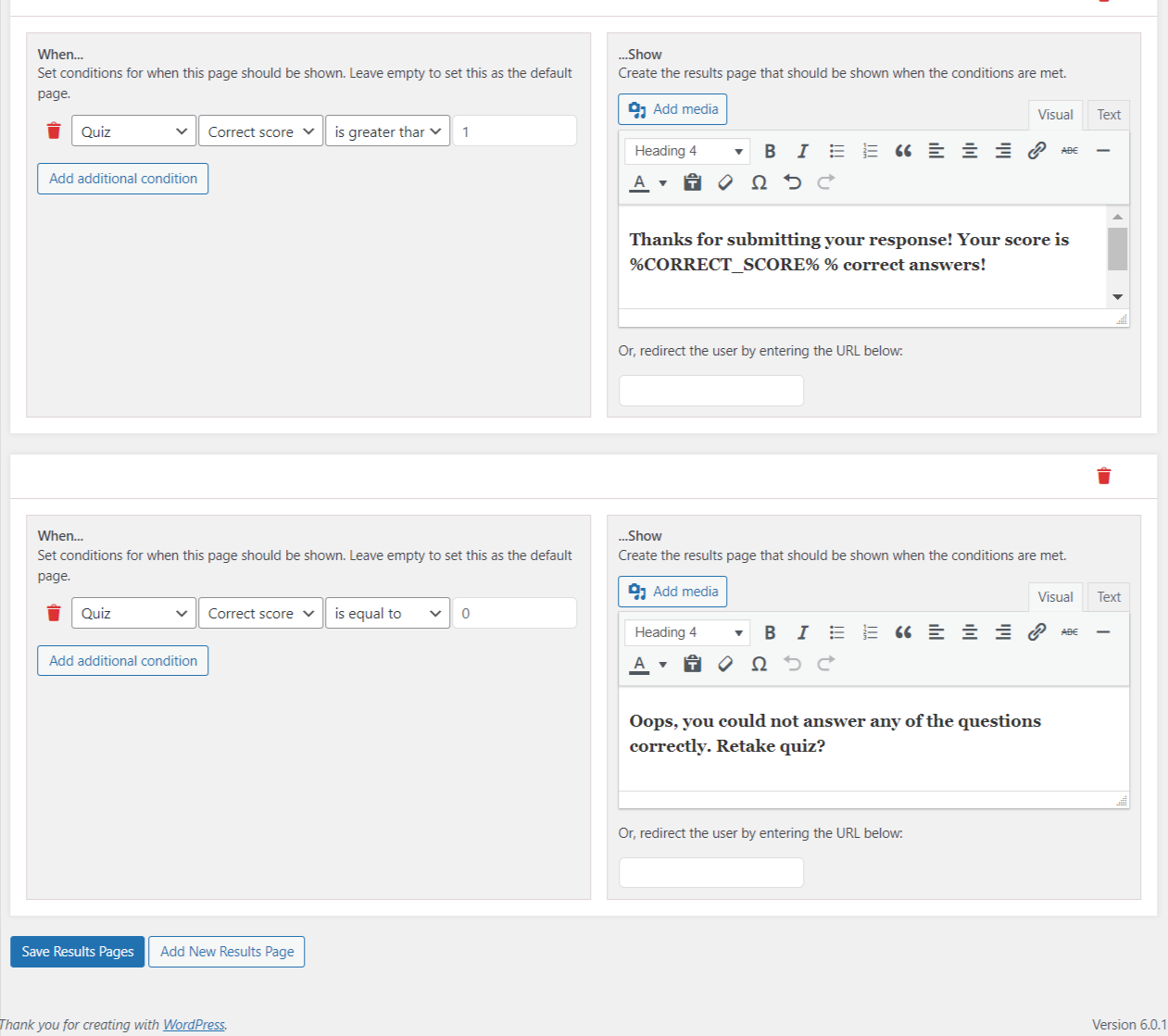 How to limit access to Education Quizzes?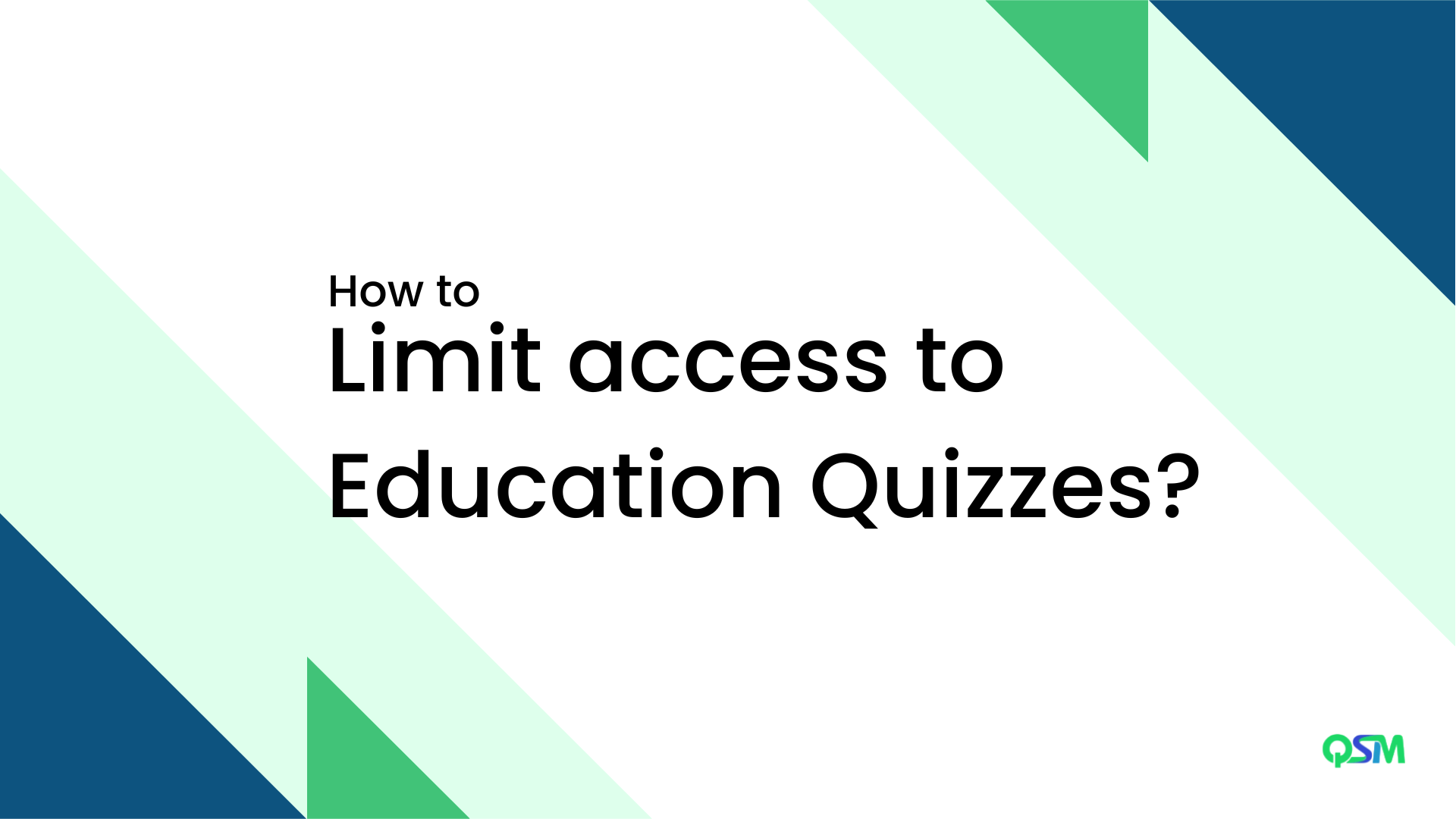 After creating an online education quiz, there could be a dilemma whether you want people other than your students barging in and taking your quizzes.
Well, this dilemma and doubts would not hamper you if you create quizzes using the QSM plugin. This is the best WordPress quiz plugin for a reason.
You can create an online quiz and restrict its admission also! Let us understand how!
After you have created a quiz, it is visible to everyone across the internet. However, you can introduce a wall that filters the people who can actually take the quiz. You can introduce a user login feature to your education quizzes and make them exclusive.
Steps to limit access to education quizzes:
Once the quiz is complete, publish it.
Go to the 'Options' tab
Go to the 'General' category
Search for the option of 'Require Quiz Login'
Select the 'Yes' radio button
And now your quiz is login secured!
Learn how to create a quiz for logged-in users
Tips to Create Education Quizzes Online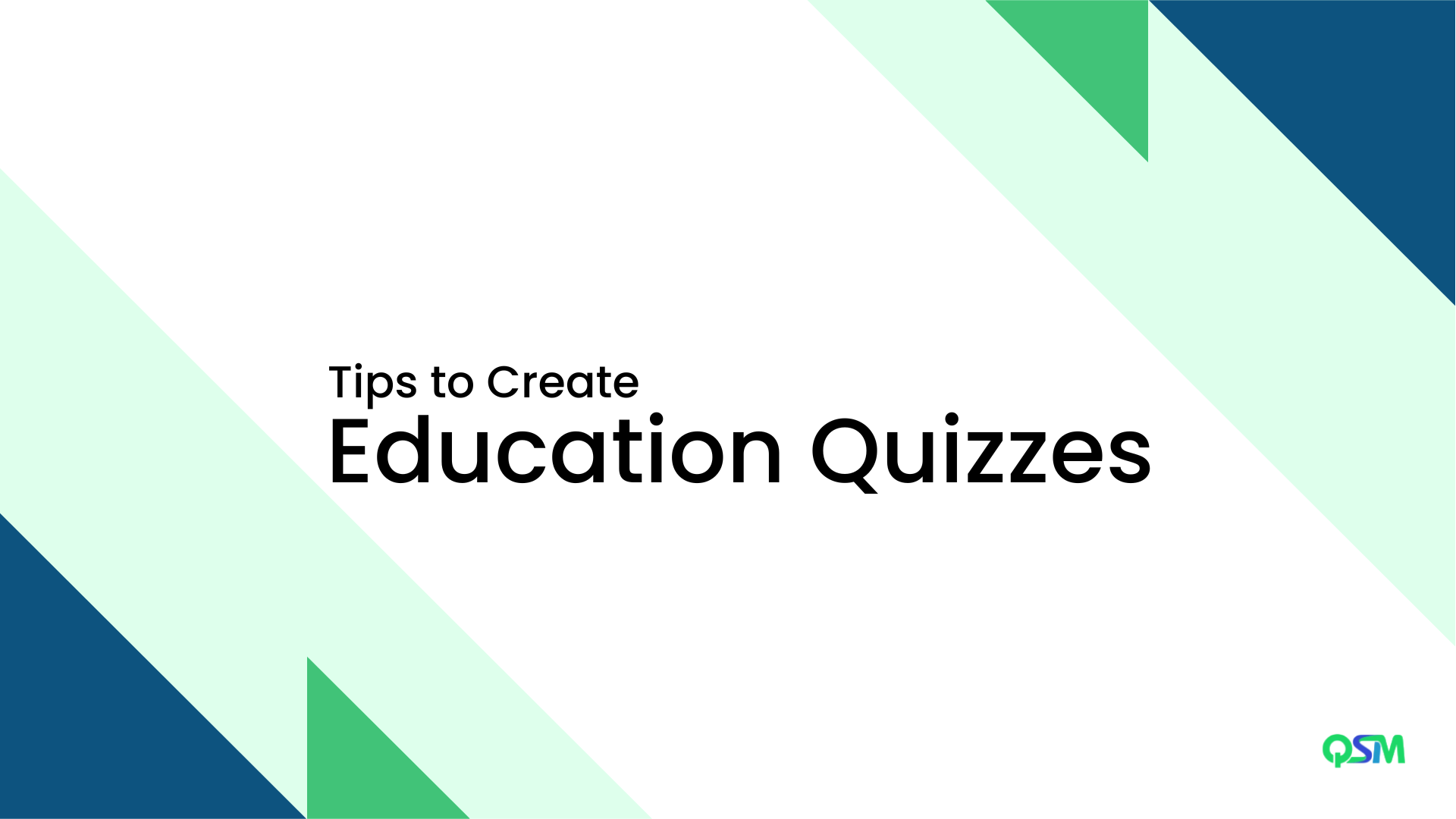 Tip #1: Use Different Question Formats
What kind of quiz question is the most common? There is a 99.9% chance that your prediction will be accurate. Of course, it's a multiple-choice question, requiring the learner to pick the right response from a range of options. This type of question is frequently used by instructors, which is a surefire method to disengage students.
You need variety in your question types to avoid boredom and keep instructional quizzes as demanding as feasible. It will make a quiz more enjoyable and motivating and will strengthen the educational process.

To retain diversity and engage the students use questions like fill in the blanks, multiple response questions, match the following type of questions, and likewise. The good news is you can find these types of questions among more than a dozen choices when you create your education quiz using the Quiz and Survey Master plugin.
Tip #2: Formulate thoughtful options
Your inquiries must make sense. You run the danger of getting unreliable evaluation results if your students choose a response at random since they won't understand the question. Here's how to prevent it:
Keep your inquiries brief and simple. They should be written in plain language that anybody can understand, be free of ambiguity, and be devoid of any extraneous details that would take too much time for students to fully comprehend. There should be no more than 20 words in the query.
Exclude qualifiers that offer hints about the solution. Test-takers can estimate the correct response by using words like "always," "many," "usually," "sometimes," "never," and "every."
Avoid using ambiguous adjectives. Words like "roughly," "at most," and "anything" can quickly perplex a learner and lead them to select the wrong answer.
To prevent confusing your kids, try to avoid using negatives. If necessary, highlight and/or capitalize the negative word to draw attention to it.
Tip #3: Offer Truthful Feedback
Do you recall receiving your schoolwork back with the wrong answers marked out? If the answer was yes, you undoubtedly wanted to know what went wrong. The same is true with online tests; students are constantly seeking out feedback. Use the feedback feature to let your students know whether or not they responded correctly and to explain incorrect responses. Your students will benefit more from the instructional quizzes if you do this.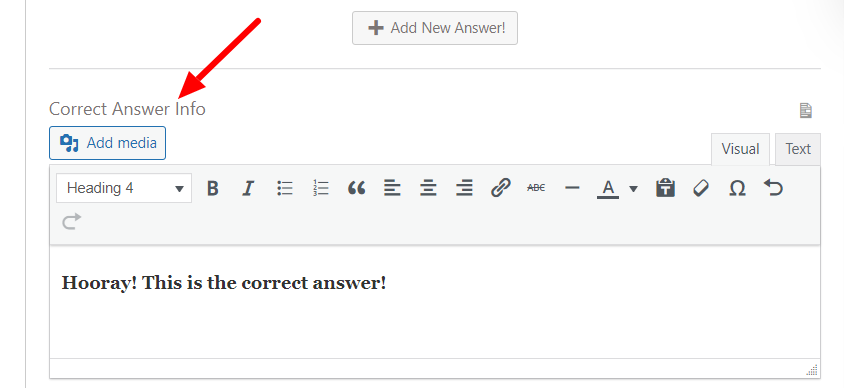 When you create quizzes for students using the QSM plugin, you can give these recommendations or correct answers, in-line! You have to simply add the correct answer information and if the user chooses the right answer, you can give them feedback.
FAQS
How do I create a quiz for students?
You can follow the given steps to create quiz for students using the QSM plugin:
Step 1: Creating the Quiz Questionnaire
Step 2: Installing the QSM Plugin
Step 3: Create a Quiz and Customizing Tabs
Step 4: Publishing the Quiz
What is a student quiz?
A quiz created for students according to their level of experience and expertise is known is as a student quiz. To create quiz for students you may need to know what level of education they have received.
What are some good quizzes?
Final Thoughts
Through this blog, we learned how to create quizzes for students using the best WordPress quiz plugin, QSM. Using the QSM plugin can help you in achieving versatility in your education quizzes, without having to make any effort.
With the QSM plugin, you can create education quizzes online for free. If you happen to feel like you need to upgrade your plugin, you can do that too, either by purchasing the Pro Version of the QSM plugin or by getting your QSM addon bundles.
Other blogs you may find helpful
Try Quiz and Survey Master
QSM is a free plugin that allows you to create and publish unlimited Quizzes & Surveys with no cap on questions or answers, helping you to take control of your website's interactive elements.
Download Now