Wondering which of the Encanto characters matches your personality the most? You are just at the right place. Everyone has at least one of the Ecanto characters which to could relate themselves with. Encanto Quiz is the best way to find it out and in this blog, we will learn how to make an Ecanto quiz using the QSM, WordPress quiz plugin.
Encanto from Walt Disney Animation Studios narrates the story of the Madrigals, a remarkable family who lives in the Colombian mountain in a magnificent house, a bustling town, and a wondrous, enchanted area known as an Encanto.
When Mirabel learns that the Encanto's power is in jeopardy, she realizes that she, the lone ordinary Madrigal, maybe her remarkable family's final hope. The story revolves and develops around this interesting plot.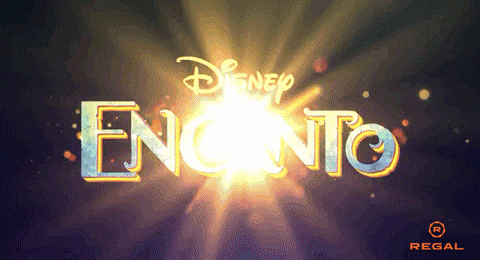 Encanto Quiz!
[qsm quiz=98]
---
Ecanto Characters
The story sees many ups and downs and we do not want to spoil the authenticity of the movie, so we stay shushed about what actually went down. However, while making an Encanto quiz you will discover that it is majorly related to the Encanto personality types and is subtly a personality quiz.
For example, if you are a Disney fan, you must have taken the "Which Disney princess are you?" quiz, and if you recall, we have these questions, asking our favorite colors, one word to describe ourselves, and likewise.
This is what a personality quiz looks like. But there are various types of personality quizzes as well like a clutterbug quiz is very different from the divergent faction quiz but they both are built on the basis of a personality quiz.
Let us learn about some magnificent characters for making Encanto Quiz.
Mirabel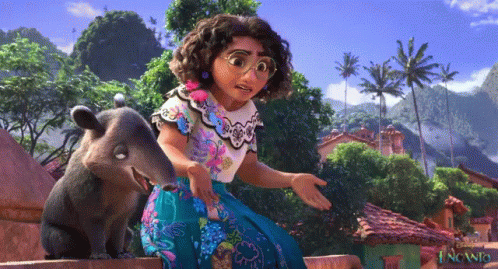 Mirabel is essentially the protagonist therefore she ranks on the top of our list. She is the only member of her amazing family without magical ability. She is on a mission to prove that she belongs, denying to everyone, even herself, that she feels lonely even at home. Even still, there is something special about Mirabel that her family has not quite figured out yet!
Augustin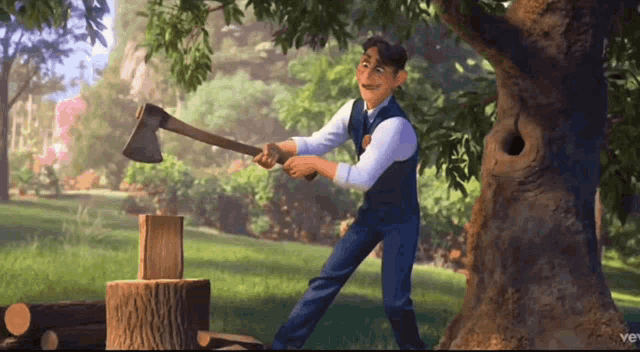 Bruno isn't the only one who recognizes the danger the vision poses to Mirabel. Mirabel's father, Agustin, learns about it and tells her to keep it a secret. He has admitted to feeling like an outcast in the past after marrying into the family.
Despite his clumsiness and proclivity for mishaps, Agustin is aware of Abuela's attitude toward Mirabel and understands how much worse it could grow due to her eyesight. He is as endearing as his wife because of his desire to protect his family at any cost.
Abuela Alma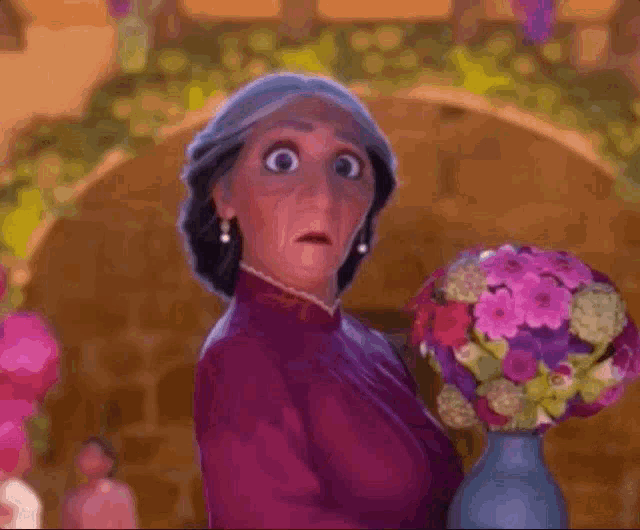 Alma is the Madrigal family's matriarch. Her persistent optimism and unwavering perseverance led her to the enchanted Encanto, where she raised triplets Julieta, Pepa, and Bruno.
Pepa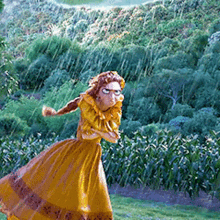 One of Abuela Alma's triplets, Pepa, was given the ability to control the weather through her emotions. Pepa's emotions are wide-ranging and ever-changing, thus the prognosis is often unpredictable.
Bruno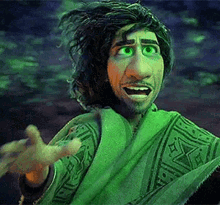 For as long as Mirabel can remember, Bruno, the third of Alma's triplets, has been estranged from the Madrigal family. He was gifted with the power to see into the future, and he gave honest but frequently pessimistic forecasts that irritated Abuela and the rest of the family… so he vanished, becoming the uncle no one remembers.
Antonio
Antonio, the Madrigal clan's youngest member, is a bashful young man with a big heart. He has a particular bond with Mirabel, who he turns to for comfort and courage, especially on significant days like the one when his cousin discovers him fearfully lurking beneath his bed.
Dolores
Dolores is Mirabel's cousin, and she is usually the first to learn about the town's deepest secrets, most gripping drama, and most juicy disclosures. She can't help herself: she was born with exceptional hearing. You can whisper all you want, but Dolores will still hear you!
How to Create an Encanto Quiz?
Let us follow a simple yet extremely fun 5-step tutorial to make an enchanting Encanto quiz using the WordPress quiz plugin, QSM.
Step 1: Installing the QSM Plugin
You will need to download the QSM WordPress Quiz Plugin to create an intriguing Encanto character quiz. It is the best quiz and survey-making plugin in town, and it can help you create amazing quizzes
Related: QSM quick start guide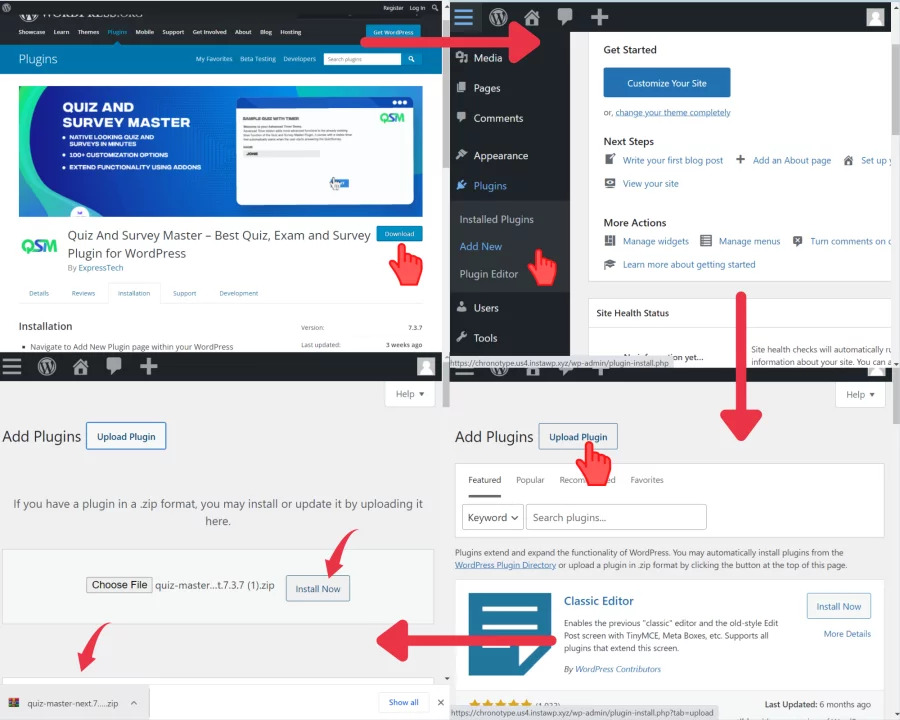 To get the Quiz and Survey Master plugin, go to the WordPress website and look for the QSM plugin in the Plugins Menu. If you want to save time, simply click the provided button to go straight to the QSM Plugin.
You must download the Plugin once you have located it. After you have downloaded it, you will need to install it on your WordPress site. You can activate it at the same time as you install it.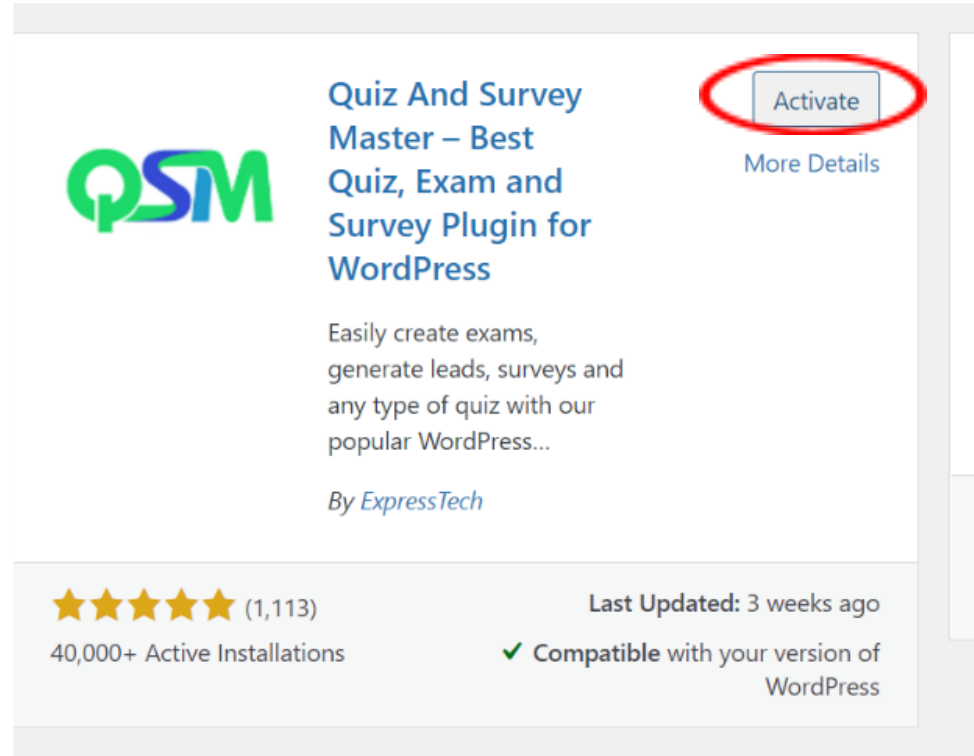 Step 2: Encanto quiz questionnaire
Just like every other character quiz, the Encanto quiz will also have a questionnaire for the users. Since the movie is set in fiction and fantasy the questions could be open-ended and could range into different tones and segments.
You can ask questions regarding movie situations and scenes and even add some creativity to make your quiz more personal for the user. We have listed some Encanto character quiz questions so that you can get a head start while making your own Encanto quiz:
What is a gift you would love to have?
Which is the Encanto song you can not stop listening to?
What is your favorite color?
Would you ever have a pet?
How would you describe yourself?
How would your friends describe you?
What is your greatest strength?
Which magic power do you wish you had?
Which is your favorite Disney motion picture?
Step 3: Creating the Encanto quiz
QSM gives you an upper hand in the quiz-making process. To begin the process, you need to click on the QSM tab on the WordPress dashboard, where you can locate the "create quiz/survey" button. As you click it, you will see a dialog box, asking you to choose from beautiful themes of the QSM plugin.
I would suggest going for a fragrance theme, it will instantly light up your quiz. The next step is to enter the name of the quiz and which grading system you want for your quiz. Further, you can choose from various QSM add-ons that could be purchased, singly or in a bundled form.
Now you can optimize your quiz in different segments. As you can see that there are different tabs, namely the contact tab, emails tab, style tab, and likewise. These tabs will help you add details to the quiz. For example, using the options tab you can limit the number of questions on one page, the grading system of the quiz, the user login information, and so on.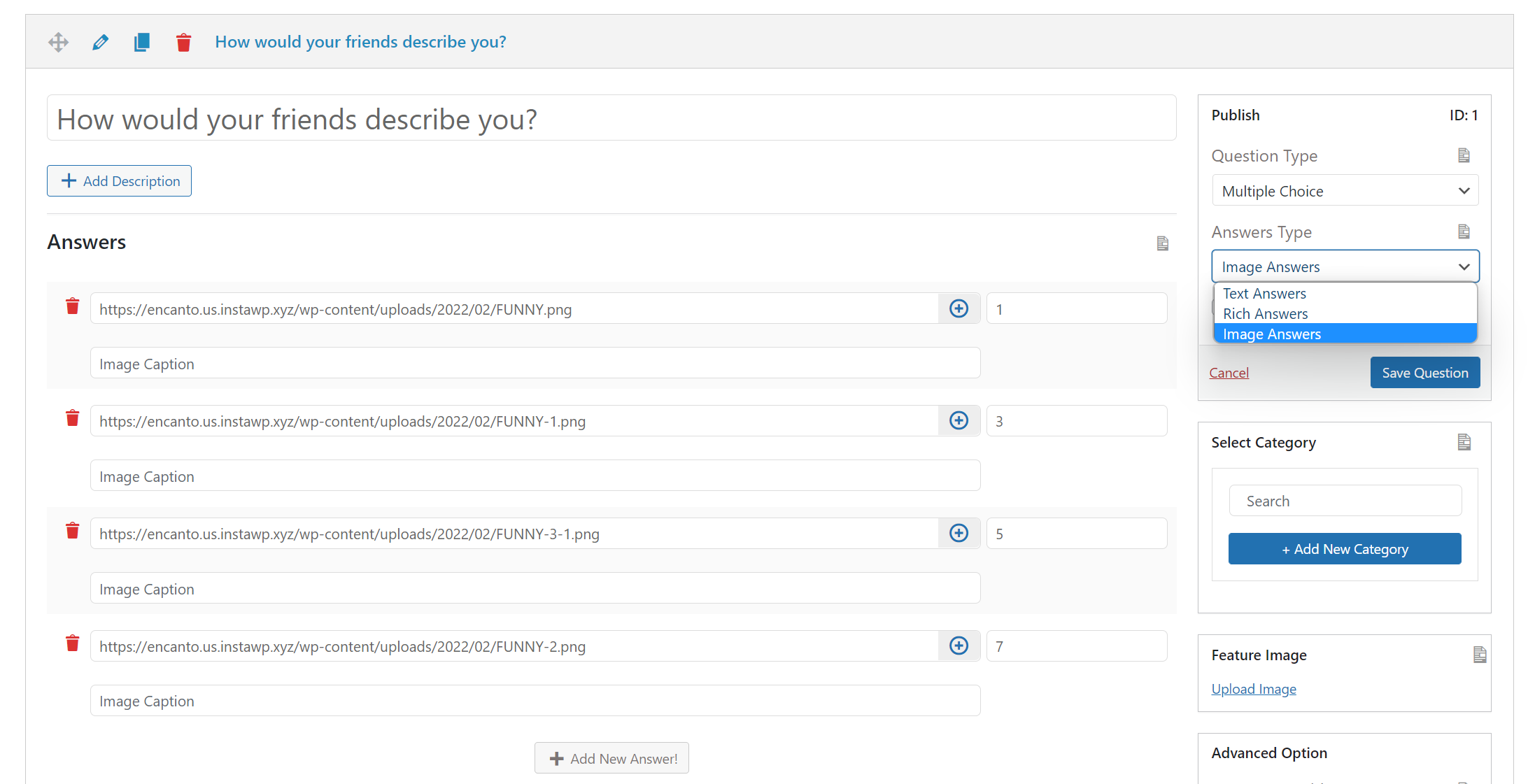 After the initial customizations are made, you can add your questions. We are making a complete image quiz so we will be using image-answer types for all questions.
Further, you are required to set attractive results pages. You can do so by switching to the results page tab. In this, you will be able to set conditions for each results page. You would be able to observe in the given picture that both the results page have different additional conditions.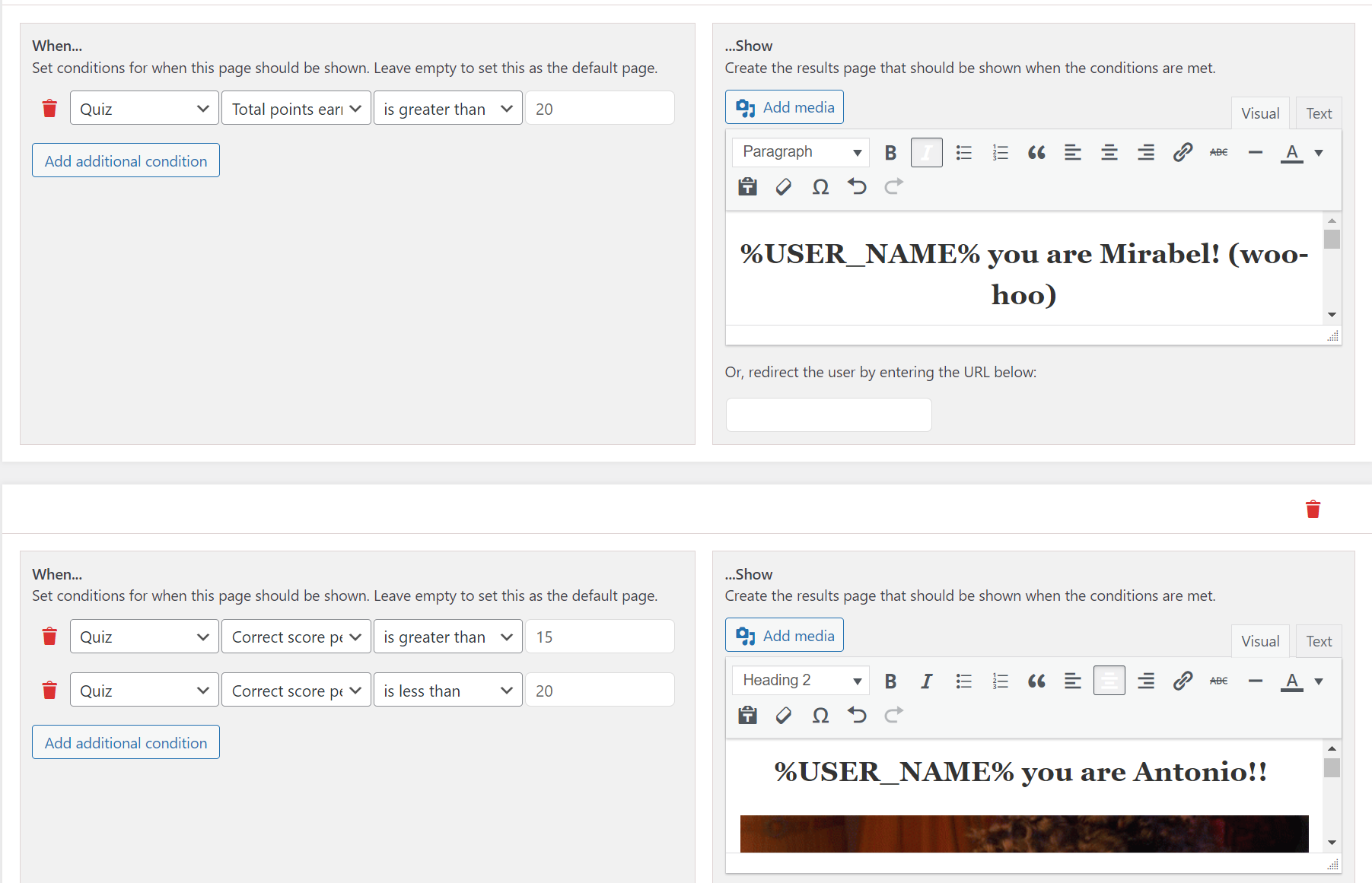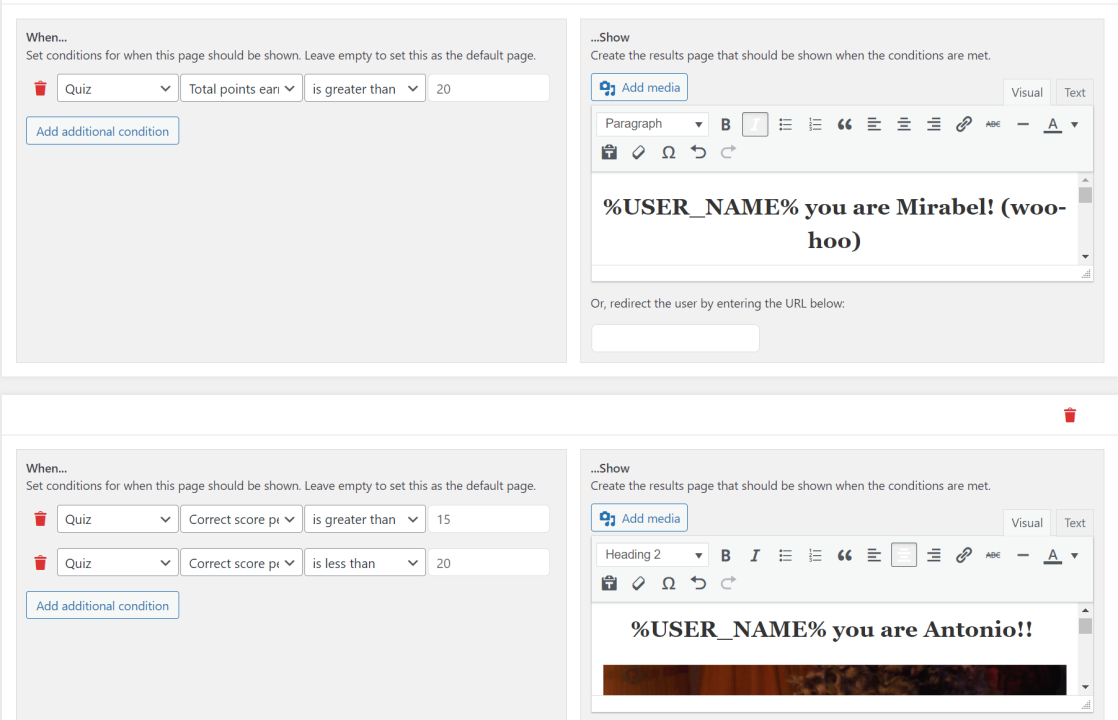 Step 4: Publishing the Quiz
Once you are through with adding questions and other optimizations, you can preview the article to check for errors and bugs. Further, you can publish your quiz.
Related: Embed quiz in a post
FAQs
Which character am I from Encanto?
You can take an Encanto Character Quiz to find out which character you are from Encanto. Such Encanto quizzes help you identify your related Encanto characters.
Who does Bruno represent in Encanto?
A fictional character named Bruno Madrigal appears in the 60th film from the Walt Disney Animation Studios, Encanto (2021). He is an outcast uncle of Mirabel who can predict the future and is voiced by John Leguizamo.
How old is Mirabel in Encanto?
Mirabel is just 15 years old in the movie Encanto!
Final Thoughts
The QSM plugin is the best option to choose from among all others while making an Encanto quiz. This is mostly because of the reason that you can create an amazing Disney-like picture quiz or add gifs in your quiz to make it seem more effortless and fun. A good quiz is made with good optimization of both the results page and follow-up marketing coupled with an intriguing questionnaire and the QSM plugin promises such experience.
You can easily create and conquer using the Quiz and Survey Master plugin and even boost marketing sales by incorporating quizzes like these into your blogs and a little bit of fun to your WordPress website.
If you enjoyed reading this blog you might also be interested in how to create a euphoria quiz and what are different types of quizzes are.
What's New: QSM Pro Bundle
Every year brings with it new joys and opportunities for improvement. Redesign your WordPress websites with the best in town this year! You guessed it: the QSM Pro Bundle of Add-ons is now available!
And, perhaps most unbelievable, the Pro Bundle includes all 34 add-ons! The QSM Pro Bundle is available for $199 a year! Take advantage of the deal while it lasts. It includes everything you will need to make your quizzes stand out from the crowd, including:
Zapier Integration
Email Marketing Integrations
Save and Resume Features
Export results feature
Advanced Timer
Google sheets connector
Advanced Leaderboards
User Dashboards
Other blogs you may find helpful
Try Quiz and Survey Master
QSM is a free plugin that allows you to create and publish unlimited Quizzes & Surveys with no cap on questions or answers, helping you to take control of your website's interactive elements.
Download Now