Snapchat is a comparatively newer generation of social media. The Snapchat quiz is one of the most trending quizzes of the decade. This type of quiz has been talked about and over from time to time because we just cannot get enough of it.
A Snapchat quiz can be developed easily, in simple algorithms using the QSM. If you looking to learn how to make Snapchat quizzes, you are just a few scrolls away!
Let's go through the haptics of how these quizzes work and how did they get their name and fame through Snapchat.
What is Snapchat?
Snapchat is an online messaging application. It is a social media platform through which we can send photos in the form of snaps and chat with them simultaneously in the same interface. There are other essential features like the messages or snaps disappearing after viewing and cannot be viewed again.
The latest feature allows you to replay a snap or even save it in chat for the future. If you wish to save any chats you can do so by just simply tapping on them. It automatically saves the message and that message is highlighted.
It is one of the most popular social platforms in current times. The fact that there are 61% of female users makes it even more special. It hosts plenty of filters that beautify and style your pictures.
How to ask questions on Snapchat?
A quiz on Snapchat can be made in various ways however, there are three certified fool-proof ways in which you can ask questions on Snapchat. Let's see through them one by one and then learn how to make a Snapchat quiz.
Use Direct message
The simplest way to put yourself forth is directly messaging someone. There is no way you cannot reach out to someone when you message them directly. You can do this by tapping on the name or the chat of the person and then just sending the message by typing it to them.
For example, you want to text Tom, so when you see the name on your screen just click on the tab or slide it towards the right to open the chat, and then you can send the message.
Further, when Tom replies back, you get two notifications saying- " Tom is typing…" and then "From Tom"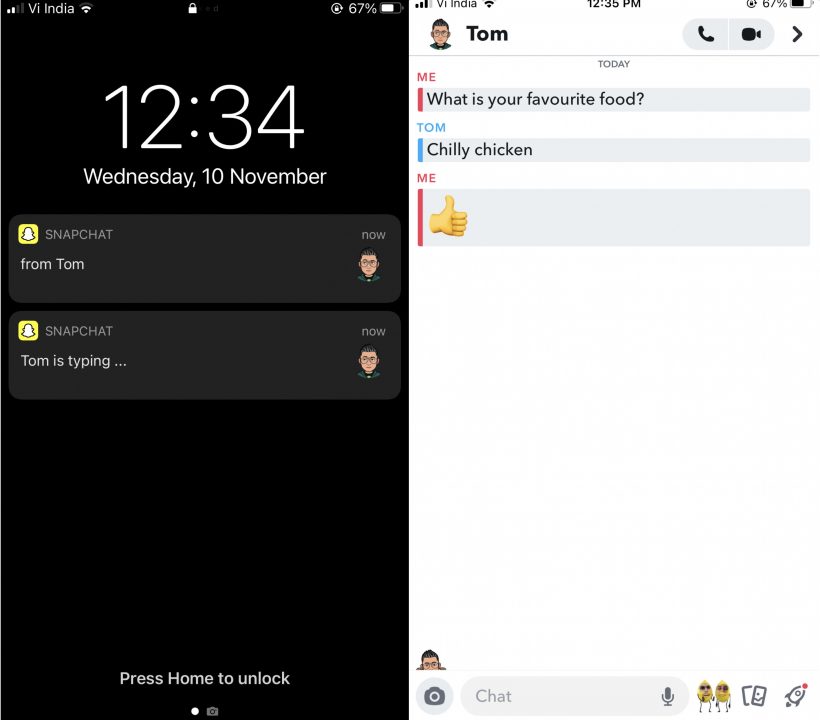 Post Questions on your Story
Snapchat questions can be asked by posting the questions on the story. In this you just simply have to click a snap or any picture, that may or may not be related to the question. Then you are required to type a question and allow others to see your story and answer it.
For example, a story has been posted regarding the map (left image). People can see the story and answer accordingly, and you can judge whether the answer is right or wrong. You can share the snap on the story (right image)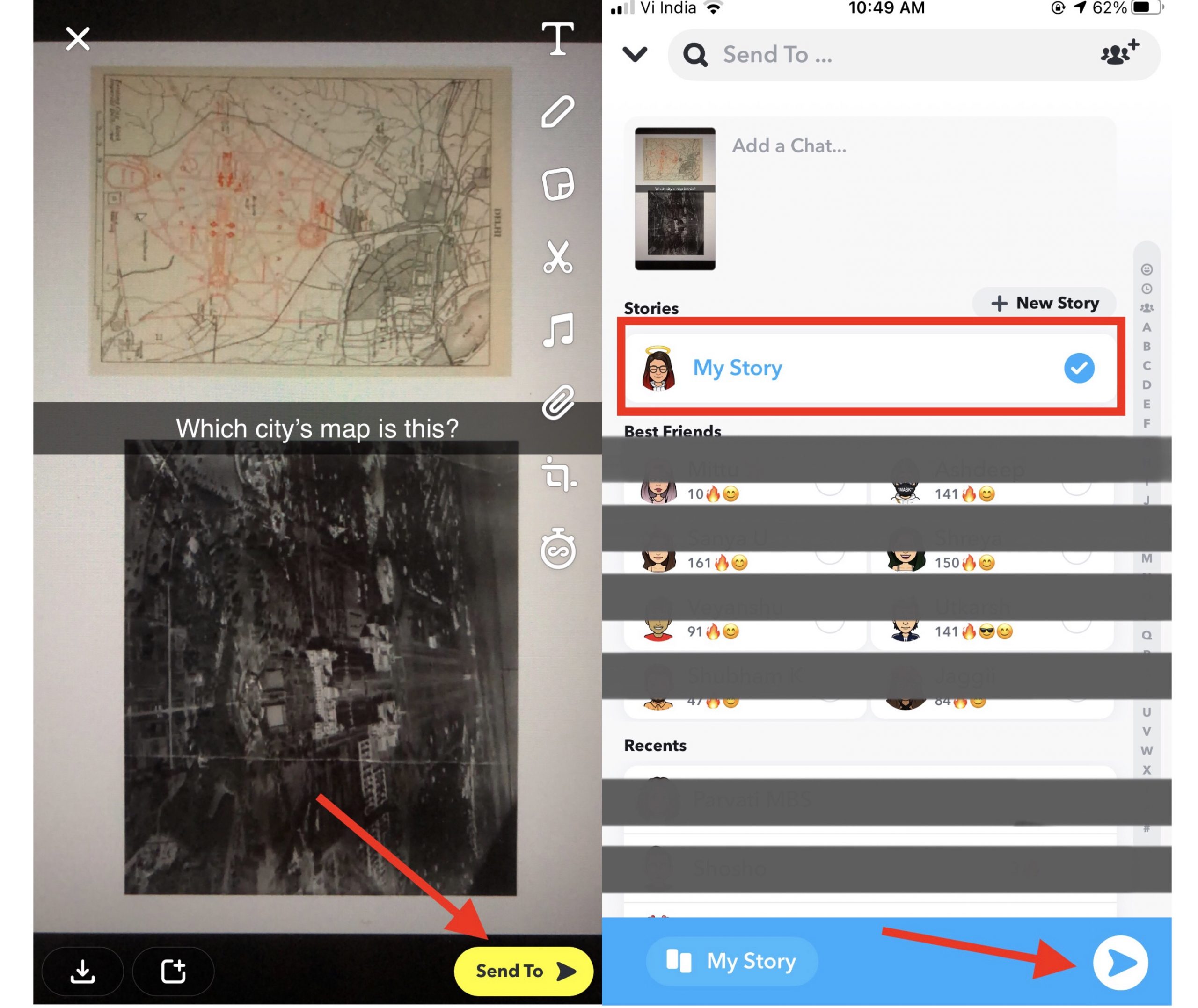 A quiz on friends is liked by everyone, so why not try making one yourself? Let's see how you can make a Snapchat quiz on friends using the QSM plugin.
How to create a Snapchat Quiz using QSM plugin?
As we know there are varieties of quizzes that we can find and create on the internet. Some famous types of quizzes can be Trivia Quiz, Personality Quiz, etc.
But if you are wondering how to post the Snapchat Quiz and keep track of the responses easily, we have the solution for you. Creating a Snapchat quiz on WordPress using the QSM plugin can make your life easier. Yes, it is true and tested. let us learn how to make a Snapchat quiz using the QSM plugin.
Step 1: Installation and Activation of the QSM plugin
To access the QSM plug-in on your WordPress, you have to go to the plug-in menu in WordPress. As shown in the picture, you have to click the 'add new' option.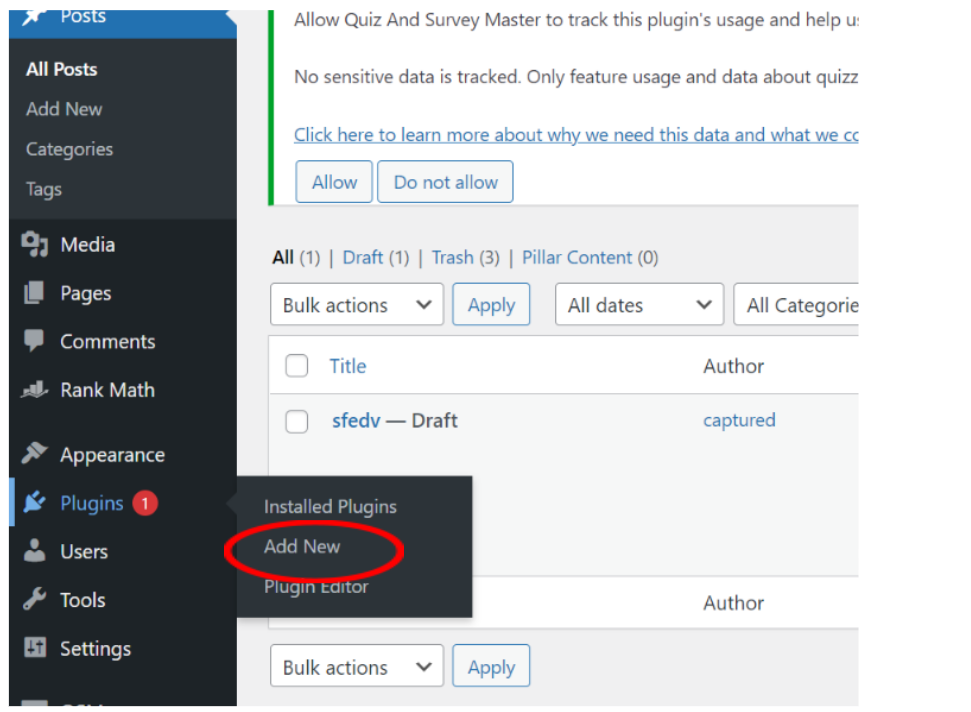 Then search for the Quiz and Survey Master plug-in in the search bar. And 'install' the plugin and then click the 'activate' option to make it available on WordPress.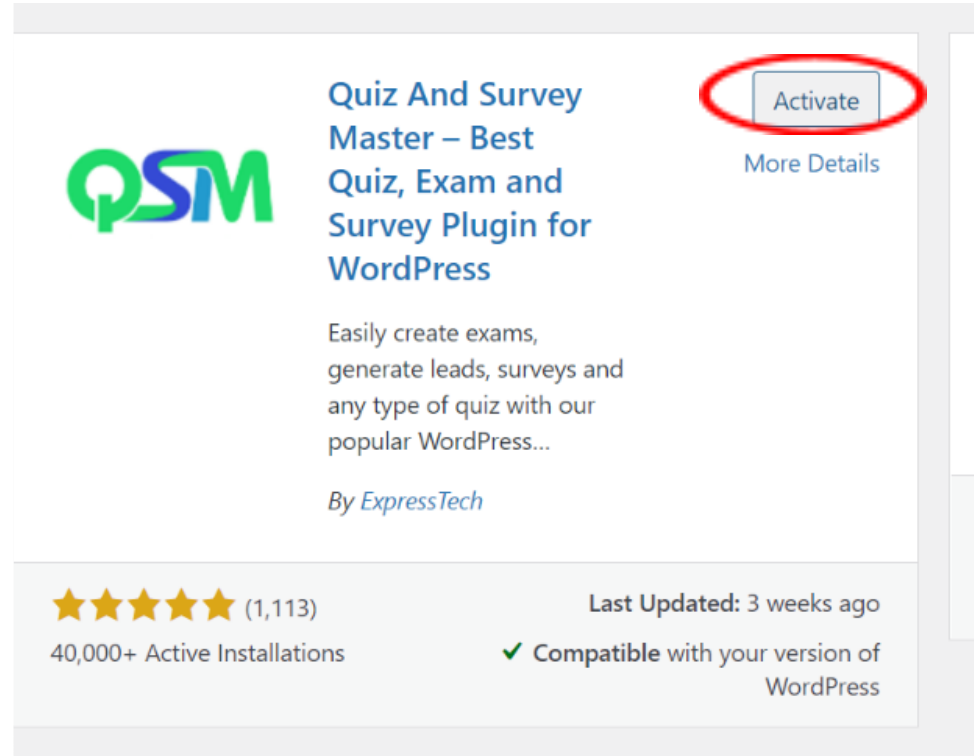 If you are unable to find the QSM plugin from the wp.org website, you can download it easily with one click from the Quiz and Survey Master Website.
Step 2- Create a quiz
We are going to make a sample Snapchat quiz using the QSM plugin. In this quiz, you can have any number of questions you want and set the answers and other configurations. This step decides the types of questions and answers you want to have in your Snapchat quiz.
After activation, a QSM adoption will appear on the taskbar on the left side. Click the 'Quizzes/Survey' option.
Then click either the 'Add new' option or 'Create New quiz/Survey'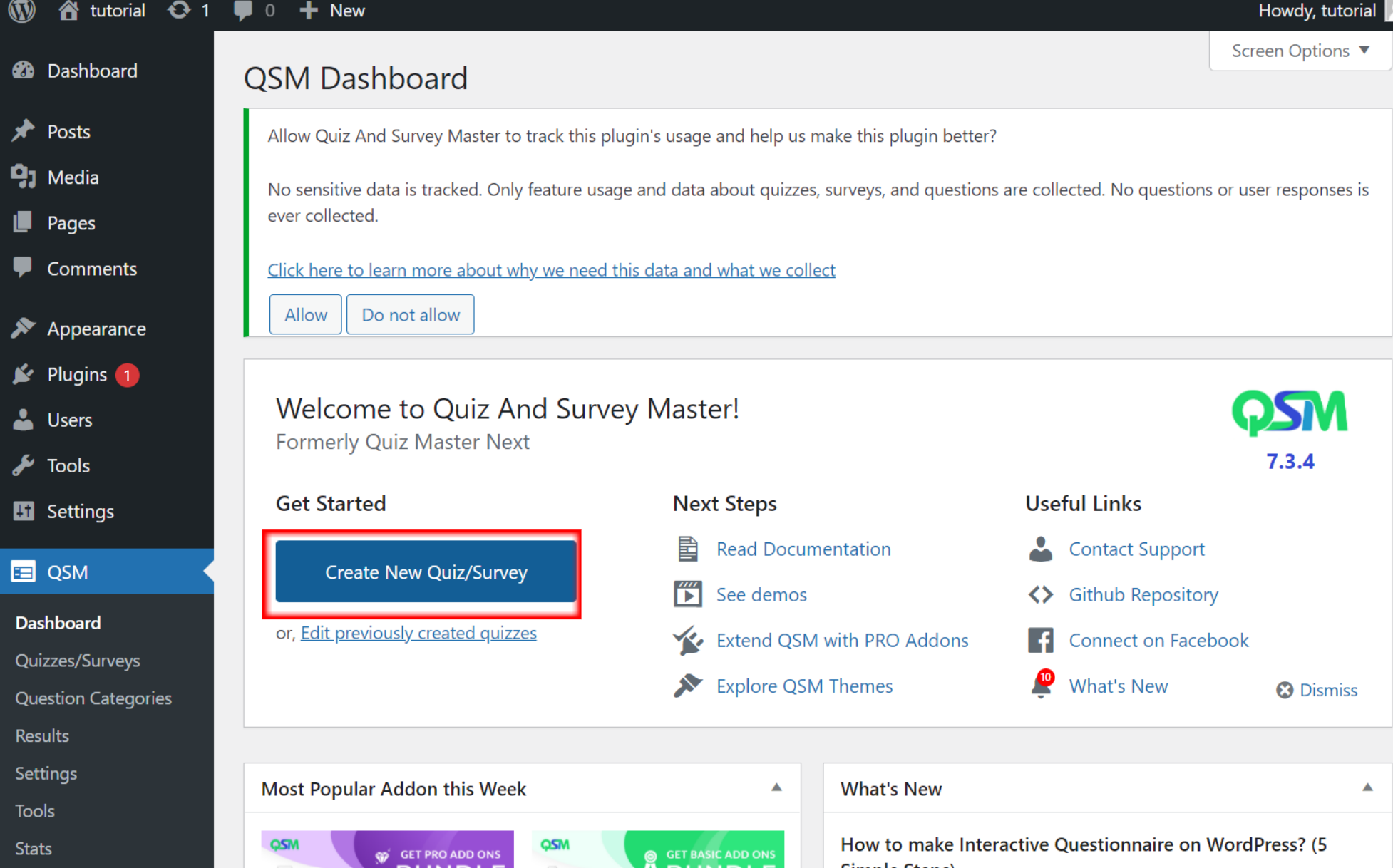 Step 3: Deciding on the type of Quiz
Before getting onto how to publish and publicize the quiz, you should know that what type of quiz you want to make. You can add Snapchat Quiz on your WordPress and use it as a template. Most trendy Snapchat quizzes include:
Who knows me better quiz
The who knows me better questions are quite famous. This type of quiz is the most popular quiz among Snapchat users around the world. You can add questions to test your friends and known ones. Some questions may be:
What is my favorite color?
What do I prefer to do on a Weekend?
Do I like having coffee or tea?
Best Friend Quiz
The best friend quiz is also very famous among young adults. This quiz is specially created for close friends and to test how well do they get along and how much do they know you. It is more like an extended version of the Who Knows me Better quiz. Some questions to include can be:
Who is your best friend's favorite actor/actress?
Are you their best friend?
What would your best friend choose- beaches or mountains?
Mind-Bending Quiz
This type of quiz hosts questions that make you ponder about your life. Not literally though. It is a mental challenge for you to think and answer. Some questions can be:
What is your brain age?
When do you actually grow up?
What makes you happy?
Would you rather be with friends or family?
Personality quiz
Personality quizzes are loved by everyone alike. We all are excited to know who we put up with, don't we? This type of quiz apparently, creates various categories and assigns a category to the person on the basis of the answer. Some questions may be:
Which Harry Potter character are you?
What type of food you are?
Which is your soul animal?
Knowledge Test
The oldest kind of quiz still hits the top charts. This type of quiz challenges your friends' aptitude and knowledge. It can be topic-based or just a random quiz. Some questions can be:
Step 4: Share the quiz on Snapchat
After the quiz has been created, you can share the link on Snapchat. You can follow the steps shown below: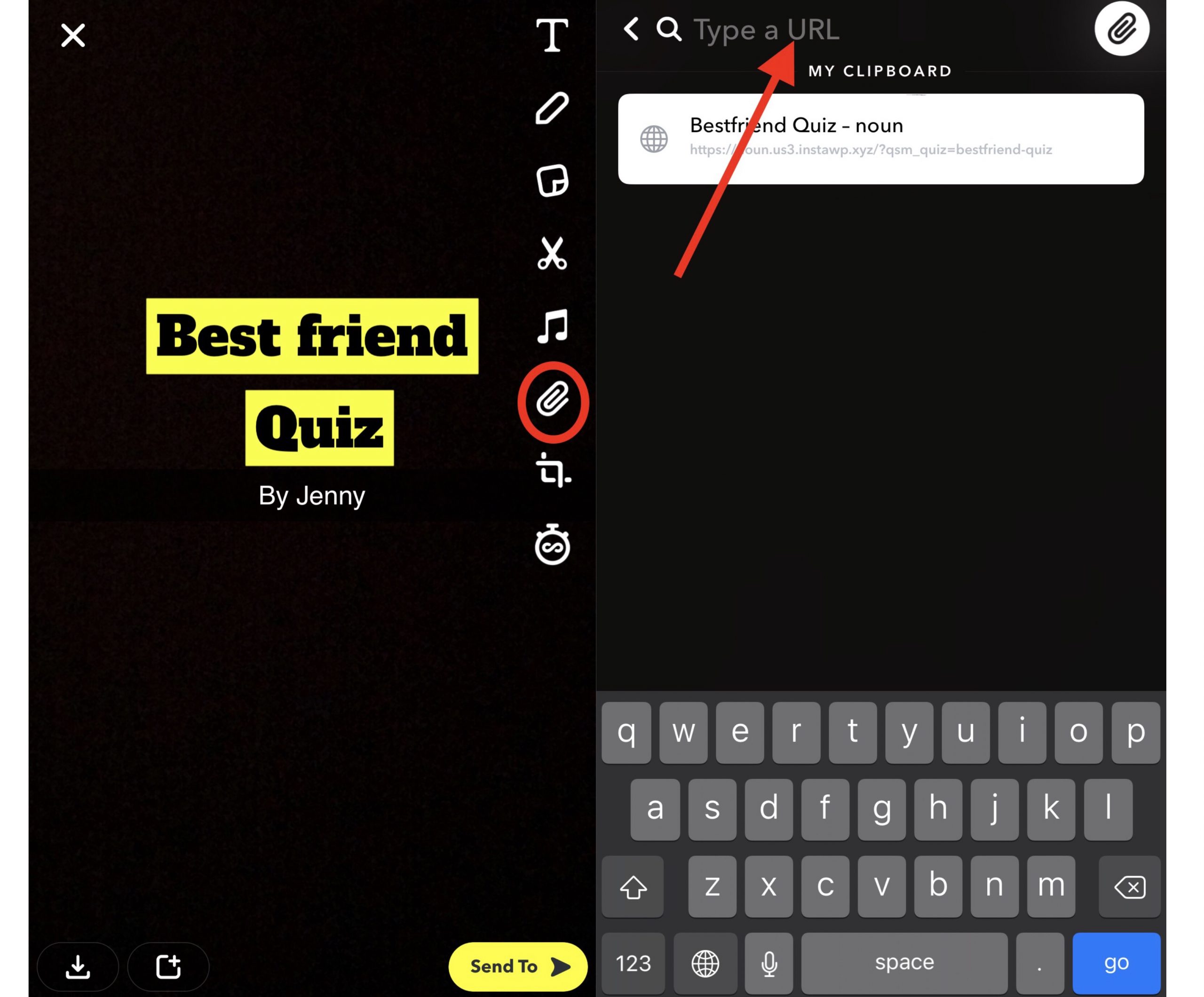 Firstly, click a Snap and find the pin-like emoji (left image) on the right-hand side of the screen. Once you tap on it, you are shown a screen with the space to type a URL. Here, you can paste the URL of the quiz directly (left image).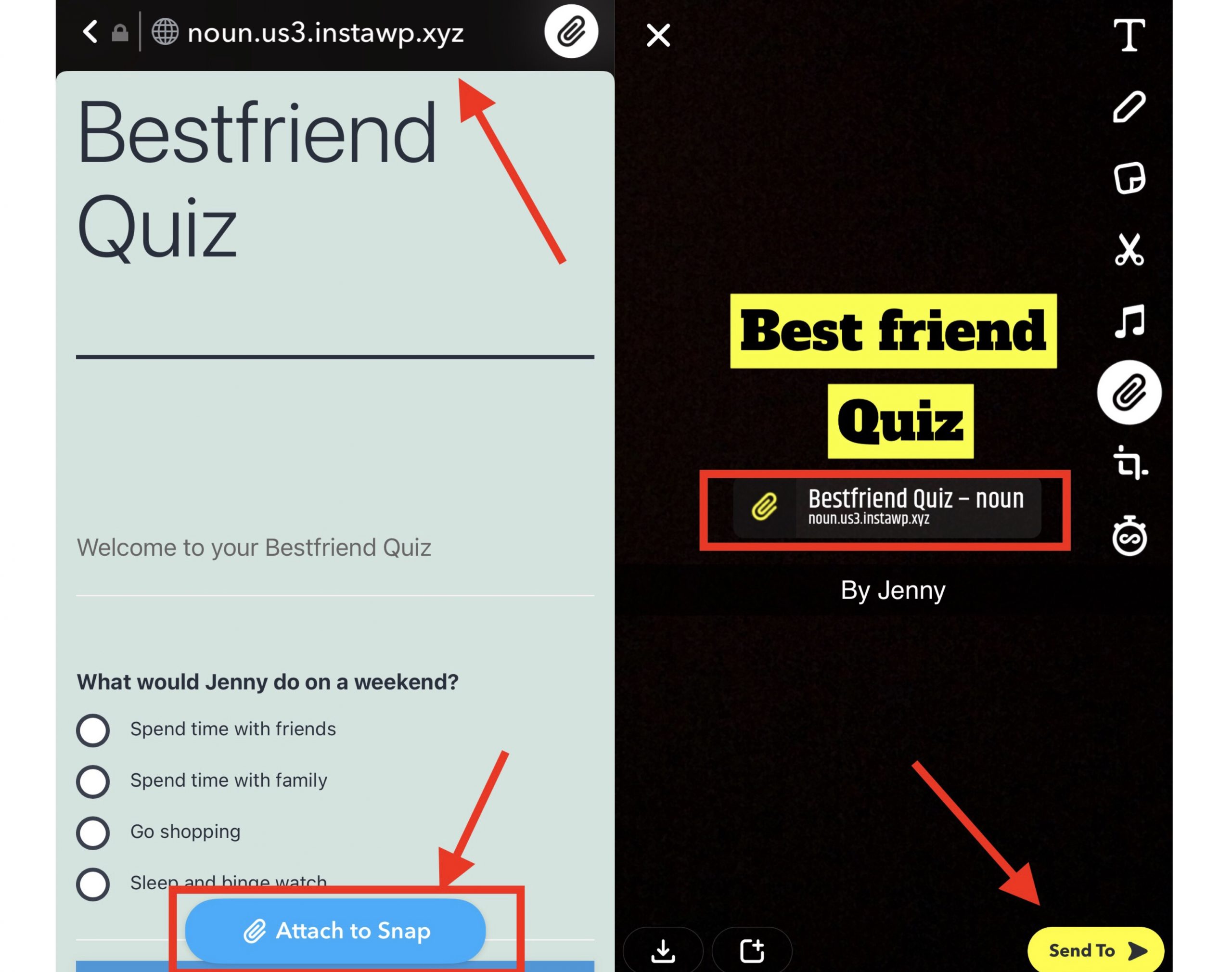 Once the URL is attached, the interface of the URL, that is a glimpse of your quiz is visible on the screen (left image) with a small tab on the bottom, Attach to Snap. By tapping on that button, your quiz is linked to the Snap. There is a separate linked tab shown on the screen (right image) and you can share the snap with anybody by using the "Send to" button.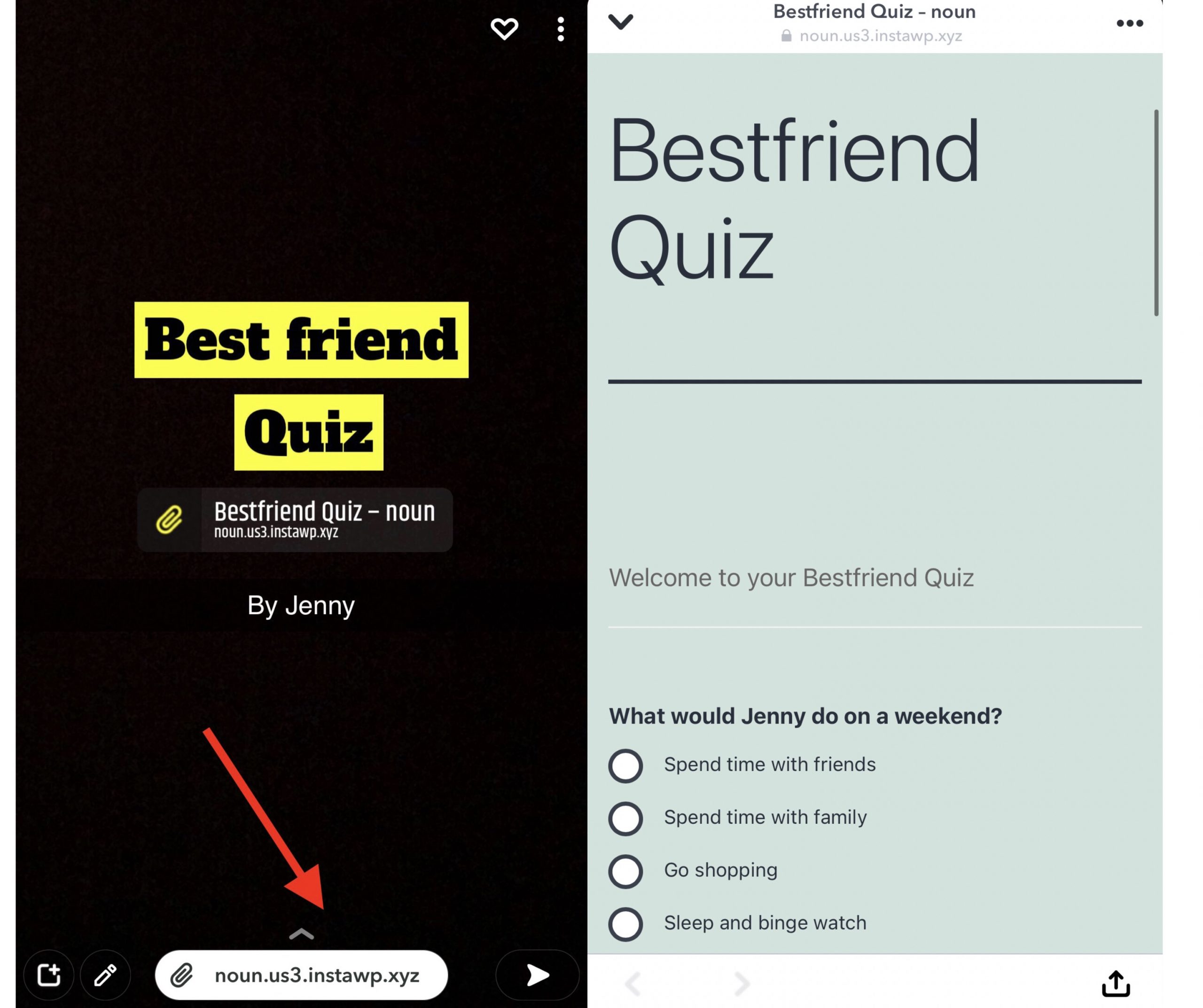 After the link is complete, your snap would look like the one on the right-hand side. We can see that the link is visible on the snap itself with an arrow pointing upwards. So when you swipe up, the Best friend quiz is visible and your friends can solve it quickly.
FAQS
How do you make a Snapchat Friendship Quiz?
You can create a Snapchat friendship quiz using the QSM plugin. All you need to do is create a quiz for your Website using the QSM plugin and publish or link the quizzes to your story on Snapchat.
Who knows me better questions for Snapchat?
Who knows me better questions for Snapchat are-
Who is my favorite actor?
What's my favorite color?
When is my birthday?
Where did I grow up?
What's my zodiac sign?
Which one do I like to eat more?
Make your own Snapchat Quiz
After learning about how to make a Snapchat quiz hassle-free, we can feel that you are excited to make your own. Go for it and make a customized quiz for your friends and friends of friends. Share your views in the comments and tell us if you found this article helpful.
Before scrolling off, give pause because the Pro Add-ons for the QSM plugin are now live! This festive season we have brought a bundle of joy as this bundle of add-ons gives you 30+ add-ons. You can get amazing benefits including access to ten sites, an advanced timer, a google sheets connector, over 30 addons, email marketing, and more! Grab your Pro Bundle of Add-ons now!
Other blogs you may find helpful
Try Quiz and Survey Master
QSM is a free plugin that allows you to create and publish unlimited Quizzes & Surveys with no cap on questions or answers, helping you to take control of your website's interactive elements.
Download Now