Today we will learn about how to make a LinkedIn quiz and how can we generate leads and traffic for your businesses and services using the quiz. To build a quiz on LinkedIn we will have to learn about what is LinkedIn and how it functions. 
What is LinkedIn?
LinkedIn is the world's largest professional social networking site. LinkedIn can assist you in finding the perfect job or internship, developing and deepening professional relationships, and learning the skills you need to progress your career.
A full LinkedIn profile can help you connect with prospects by displaying your unique professional experience through expertise, abilities, and education. LinkedIn may also be used to organize offline events, join groups, write articles, exchange photos, and videos, and do a lot more.
Why make a LinkedIn quiz?
Making a LinkedIn quiz for your organization or company can turn out fruitful in many aspects. One of the greatest advantages is the organically driven traffic increment. It might sound very vague as I say it, but take your own example, would you rather click on a quiz that is challenging you about your business orientation or an essay that is doing the same?
If you choose the quiz, you already know what is going on here. LinkedIn is a very famous social platform so why not broadcast your questionnaire skills in form of a LinkedIn quiz and drive some traffic towards yourself?
Linkedin has gradually evolved from a simple digital directory to one of the largest global content producers and social networks. I can think of a few organizations whose entire growth plan depends on Linkedin, and they do an incredible job of generating new business through it.
This post will show you how to use a Linkedin quiz to generate traffic and leads for your business.
How to use Quizzes for LinkedIn?
You can follow the given steps to make your know LinkedIn quiz and drive traffic and generate leads for your business.
Step 1: Build a quiz on LinkedIn
Before publishing the quiz, you need to make one. You can create a quiz that relates to your business. At the same time, the quiz should be able to solve the purpose of promoting your product or service. LinkedIn quiz questions have to be very specific and precise.
You can build a WordPress quiz using the Quiz and Survey Master plugin. The QSM plugin is easy to use and the documentation of results can be done very easily.
If you are not able to install the QSM plugin directly from wp.org, you can download it for free here.
For instance, you are making a quiz promoting your business of career counseling. So you can make a career quiz for others to connect with the agenda of your business.
Learn how to make a career quiz
Learn how to make a quiz using the QSM plugin
Step 2: LinkedIn quiz Questions
Picking out questions for a quiz could be a task in itself. Here are some ways to pick/make good and engaging questions for your LinkedIn Quiz: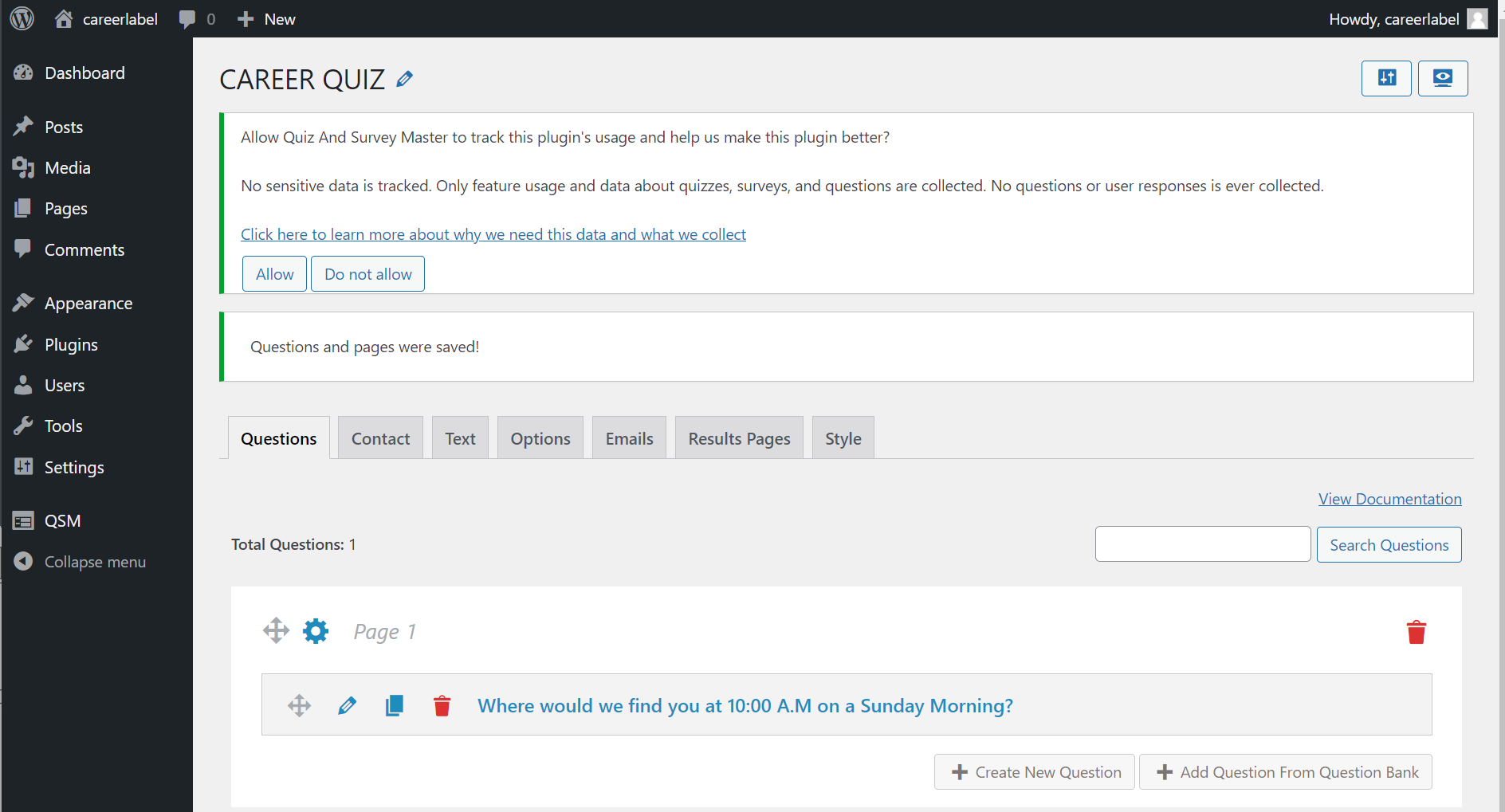 Add professional Humor
The inside humor or industry-specific humor could skyrocket your engagement. It categorizes the jokes that probably are not humorous to most people, but are hilarious to people belonging to a particular community of work, for example, doctors, architects, writers, and likewise. Inside jokes and name-dropping can go a long way toward making your quiz personable and connecting with the quiz taker, giving them the impression that you truly understand who they are.
Fewer questions more quality
It is only natural to make lengthy assessments on Linkedin in an attempt to be significant and correct. The only problem is that individuals don't want to spend 15 minutes answering questions the first time they come into contact with your company. If you have more to say, use the quiz results to connect to more resources. Do not forget to mention your social links including contact details.
Linkedin trivia questions for your LinkedIn quiz can be:
When was LinkedIn established?
How frequently does an average user connect with LinkedIn?
How do you approach a company through LinkedIn?
What can you post on your LinkedIn profile?
Can you learn with LinkedIn?
How many free courses does LinkedIn offer?
What is LinkedIn primarily used for?
Linkedin Career quiz example questions can be:
Which sounds most awesome for a weekend?
Where would we find you at 10:00 A.M on a Saturday Morning?
Future College expectations?
What was the best present you ever received?
The worst thing that changed you?
The best thing that shaped you?
Is taking up this quiz boring you?
What age do you want to get your first job?
What inclination do you have? 
Step 3: Collecting Leads
You can use Linkedin's built-in lead generation forms, however, there's a problem with them.
The difficulty is that lead generation forms can't provide much context because the copy on the form only has one or two phrases to describe why it's worthwhile to opt in.
In contrast, with a quiz, you have the entire back-and-forth interaction in the questions, allowing you to establish a connection with the quiz taker before even asking for an opt-in.
Using the QSM plugin for the LinkedIn quiz would be fruitful here. The extensive documentation of the generated leads helps in monitoring them and therefore the follow-up process takes up easily. Other than that, you can keep the track of the number of people who take up your quiz, with just a click.
Also Read: 10 Cool WordPress Tips and Tricks
Step 4: Set up the LinkedIn post
Once the quiz is ready, you can add a post to the profile that includes the link to the quiz with a one or two-liner description. For instance, we put up our career quiz as a LinkedIn quiz post.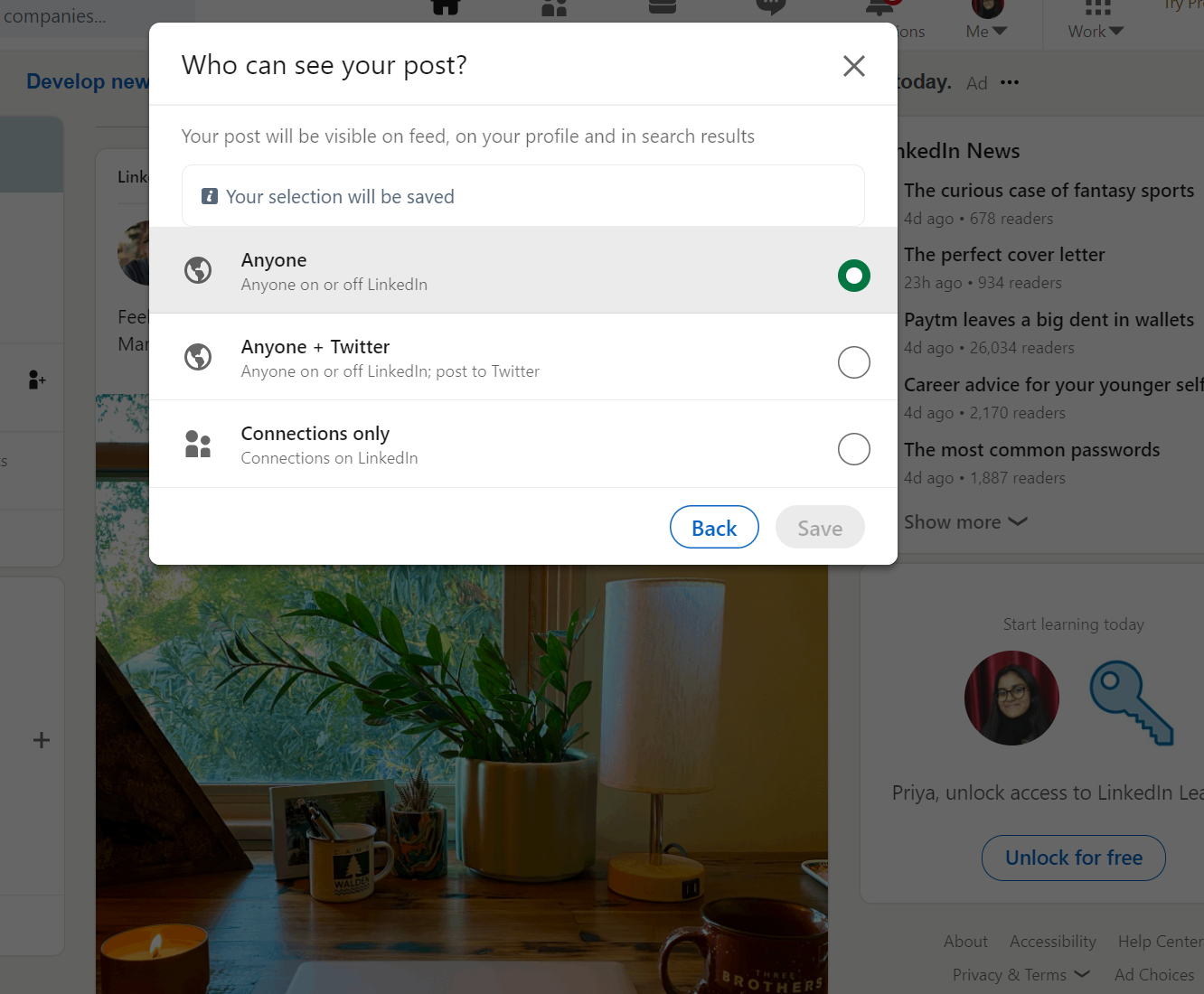 Always keep your quiz open to all, that is, this setting of visibility should be set to 'Anyone' so that your quiz could reach more and more people and generate traffic.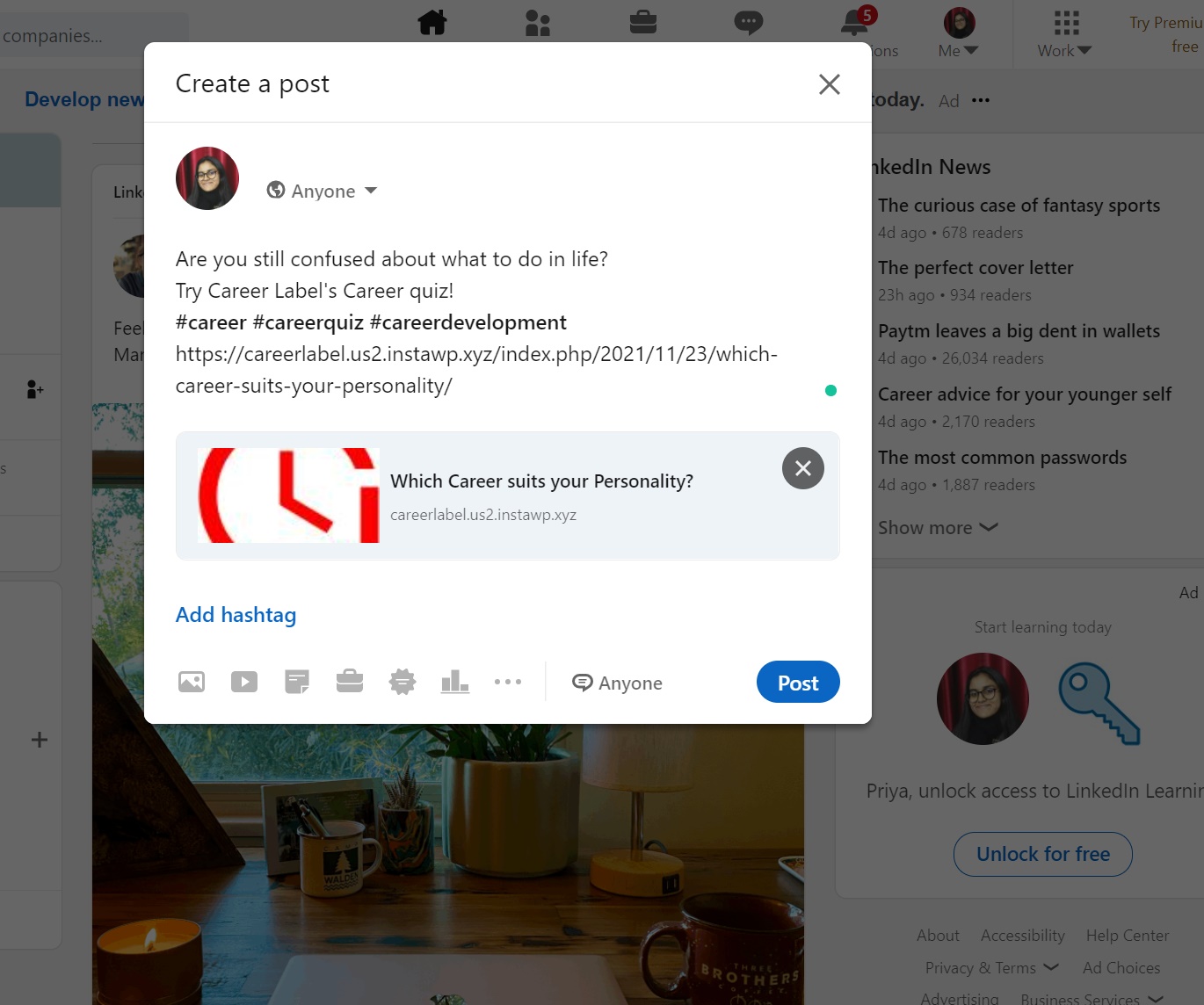 When posting the quiz add hashtags related to your quiz, so as to bring interested people to the post. Those who follow the hashtags would be able to see your post and might just take the quiz if it is well-written.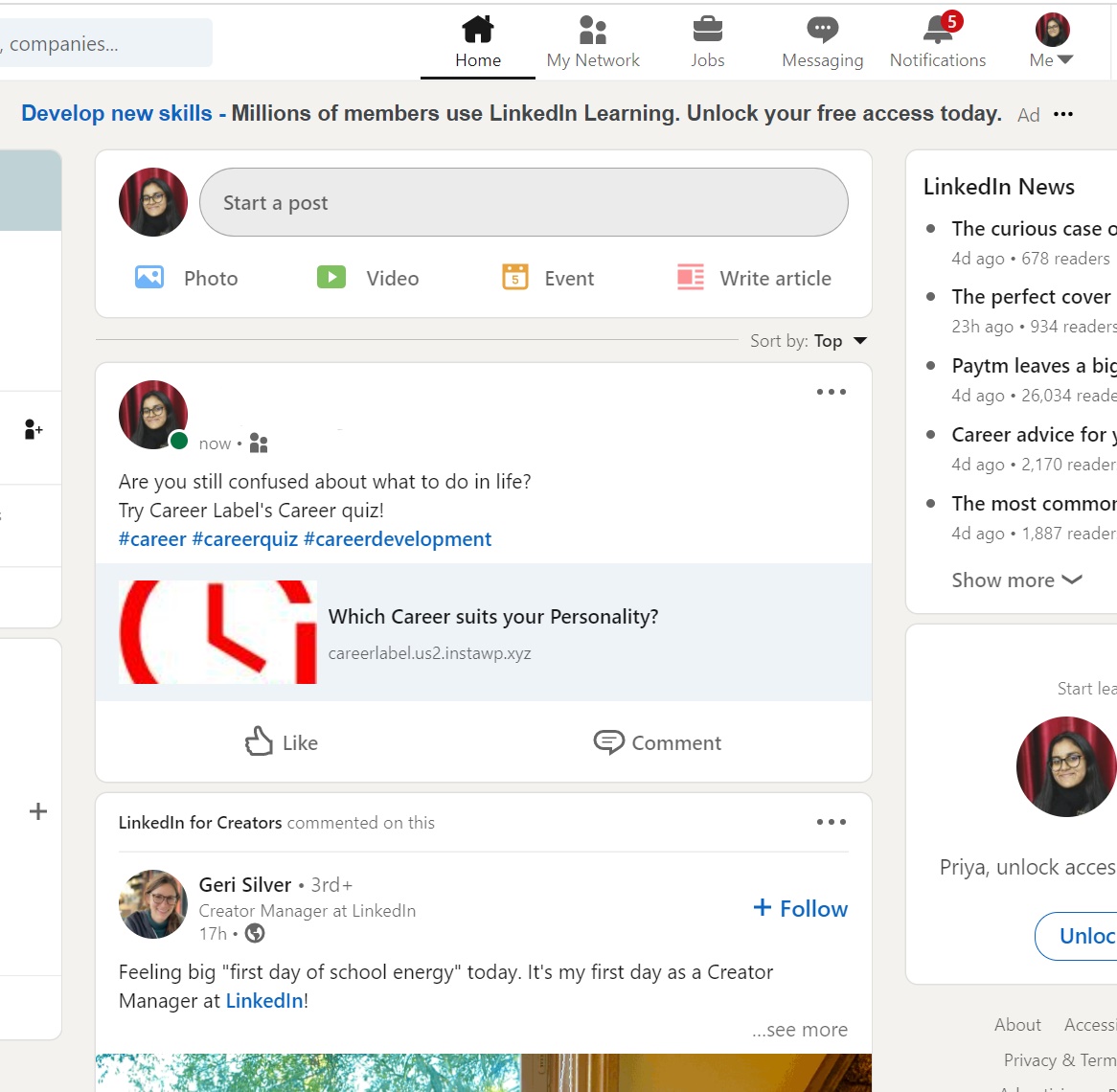 Step 5: Results Page Customization
This step is crucial from a marketing point of view. If your quiz is set to deliver some services or sell a product, you should customize your results page. By doing so, you can advertise your product in the most natural way and it might turn into leads that matter.
Display the user's outcome
You want to deliver on the promise made at the outset of the quiz, which is why the individual took it in the first place (to see what their outcome is). The resulting title, image, and description are all included in this section. In general, you want to phrase these outcomes in a positive light because positive results are more likely to be shared.
Include a link to learn more or purchase right now
This is where you can deliver an offer in a creative manner, such as recommending a product or service based on a quiz score. Using your quiz to sell products or services online and especially through LinkedIn can be made easy.
How do you create a quiz on LinkedIn?
Follow these steps to
create a quiz on LinkedIn
:
Step 1: Build a quiz on LinkedIn.
Step 2: LinkedIn quiz Questions.
Step 3: Collecting Leads.
Step 4: Set up the LinkedIn post.
Step 5: Results Page Customization.
How do I make my own online quiz?
You can make your own online quiz using the Quiz and Survey Master plugin. The QSM plugin is a free WordPress quiz and survey maker plugin. Even if you are a beginner with online quizzes, it is easy for you to build quizzes using the QSM plugin.
What is the best quiz maker app?
The best quiz maker app is the Quiz and Survey Master plugin for WordPress. With its extensive documentation guides, addons, themes and extension, any one can create online quizzes for free using the Quiz and Survey Master plugin.
Conclusion
LinkedIn is a place to showcase your skills and services. By adding quizzes to your LinkedIn feed, you allow other users to reach out to you and avail of your services. Now it's time for you to publish your very own LinkedIn quiz.
What's New: QSM Pro Bundle
The add-ons for the QSM plugin have always been handy. To make those offers even more appealing, we have just released the Pro Bundle of Add-ons! With this bundle, you will get ten sites, an advanced timer, a Google Sheets connector, and more than 30 addons! So what are you waiting for? The add-ons for the Pro Bundle are now available!
Other blogs you may find helpful
Try Quiz and Survey Master
QSM is a free plugin that allows you to create and publish unlimited Quizzes & Surveys with no cap on questions or answers, helping you to take control of your website's interactive elements.
Download Now