The GetResponse addon for Quiz and Survey Master allows you to add users who take your quiz to your lists in Get Response.
INSTALLATION/SETUP
Once you have purchased the addon, you will have access to download the addon. To install, upload the addon as a normal WordPress plugin. To do so, go to the Plugins page and click Add New. Then, click Upload.
From there, upload the zip file that you downloaded when downloading the addon. Once the addon has uploaded, you should now have the plugin QSM – Get Response Integration listed in your list of plugins. Activate that plugin. Once activated, the addon will add a new tab in the Addon Settings labeled "Get Response".
SETTINGS/CONFIGURE
Before you can use the Get Response Integration addon, you must first enter in the Addon license key that you must have received while purchasing the addon.
You also need to add the Get Response API Key to integrate the Addon with Get Response. For that follow the below-mentioned steps
Log in to your Get Response account. Then go to extras. Then go to the menu at the top left corner and click Integrations and API.
Move to the tab after Integrations tab called "API"
Give it any name and Copy your API Key and paste it in the text field of the Addon and then click Save Settings
After you complete this step, you will see a new Get Response Integration tab when editing your quizzes. This is where you will enter in which list to add the users.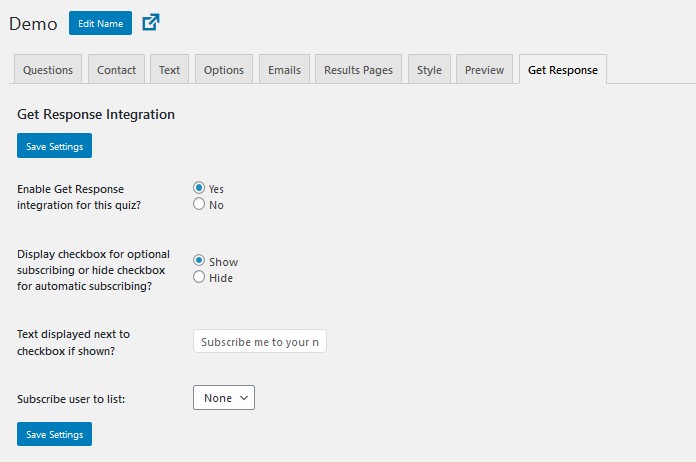 First, if you want this quiz or survey to be integrated with Get Response, then set the "Enable Get Response Integration for this quiz" to "Yes".
Next, you can allow the user to choose to subscribe by checking a checkbox or you can have the user automatically subscribed. To allow the user to choose, set the "Display checkbox for optional subscribing or hide checkbox for automatic subscribing" option to "Show" and then fill in the "Text displayed next to checkbox if shown". If you want the user to be automatically subscribed, simply set the previous option to "Hide".
Lastly, you need to select which list that you want the user to be subscribed to when the user submits the quiz or survey. These will be the lists you have created in Get Response as seen below.