Once you are done publishing the quiz you would now want to display the newly created quiz/survey on a page/post on your website.
Note: Avoid using the same Quiz/Survey Shortcode twice on a single page on your website it will cause issues. QSM doesn't support displaying two quizzes with the same id on a single page. However, If you want to display multiple quizzes with different Quiz IDs on the same page then it will work.
There are 3 ways of displaying a quiz/survey on your website after you successfully publish it.
Method 1 – Paste Shortcode on Page/Post
In order to display the quiz/survey you first need to copy its shortcode. Navigate to QSM > Quizzes/Surveys > Shortcode and copy the Embed Shortcode or the Link Shortcode and paste the copied code to a page/post on your website.
When users go to that page or post, the shortcode will be replaced with your quiz if you have used the Embed Shortcode or the users will see a "Click Here" link if you have added the Link Shortcode.
Method 2 – Display the Quiz as a Widget on your website
To display a quiz/survey on your website with the help of a widget, from the WordPress menu navigate to Appearances > Widget. Drag a "Text" widget to the required location example. Footer or Sidebar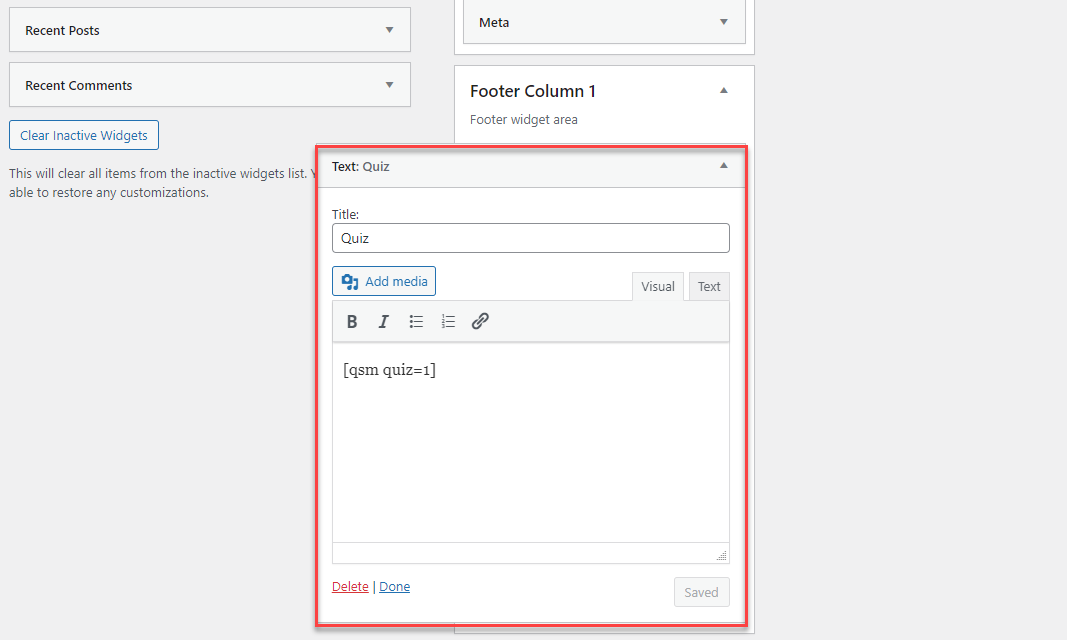 Give the widget a Title and Paste the Quiz Shortcode on the Blank Area, as seen above. And hit the save button, the widget will now be live and your users can attempt the quiz/survey directly from the location of your placed widget.
Method 3 – Displaying Quiz/Survey using Gutenberg Block
After publishing the Quiz/Survey you can insert the quiz/survey on a page/post using Gutenberg Block.
Click on Add Block > Search "qsm" > Click on "QSM Block"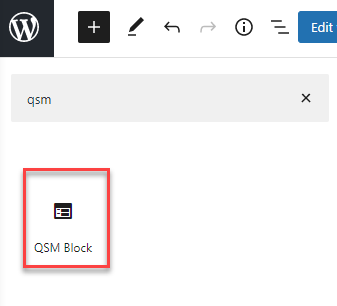 Click on "Block Settings" and select the Quiz/Survey ID from the Drop Down.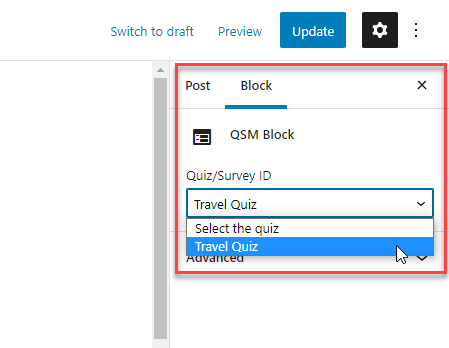 Hit the "Update" Button once you are done and the quiz/survey will be added to the page/post.