Looking for the Best WordPress Survey Plugin? Want to add a Survey to your WordPress site? Then make sure it is the best in class. Stay tuned we will discuss some of the best free Plugins.
Surveys are the best way to engage with your audience and collect valuable information about them. With Surveys, you get to know your audience better and get genuine feedback about your services. This helps to grow your business and focus on making more sales.
So, we have done the work for you and come up with the Top 5 WordPress Survey Plugins. But before that, get a brief explanation of what exactly are WordPress plugins and how can they help us in creating a survey.
How to find the Best WordPress Survey Plugin for your website?
In WordPress, we have Plugins that help to add functionality to the WordPress Site. There are Plugins for everything you can think of in WordPress. Similarly, we also have many Survey Plugins that help us in making surveys.
It is a proven fact that adding surveys to your site boosts users' engagement and helps grab their feedback. Also, you can promote your site easily by knowing their likes and interests.
There are various things that you should look for in a survey plugin, an ideal survey plugin is the one that has the following:
Survey Design Features – The best survey plugin will help you get as many customer responses as possible. It must have Advanced Features like Multiple Page Forms, Conditional Logic, Leaderboard, and Timer functions.
User Engagement – It should engage the user by making sure they complete the whole survey. By using the Progress bar, Points Allotment, Correct/Incorrect Answer, and Social Media Share Buttons.
Ease of Use – The survey navigation should be simple. It must be useful to everyone be it young or old.
Data Visualisation – The users should be able to view their results. Graphical representation of the results will be an added advantage.
Exportable – The collected data should be easily saved, exported, or represented when required by the Survey Admin.
Top 6 Best WordPress Survey Plugins
1. Quiz and Survey Master
Let's start with the best WordPress Survey Plugin in the market, Quiz and Survey Master is the first on the list because it incorporates all required survey features that help to create an awesome WordPress Survey for free.
It has an array of Question Types like Multiple Choice(radio buttons, True False), Fill in the Blanks, Slider, Drops Down lists, Checkboxes, File Upload, Multiple Responses, etc.
You can create a pre-survey form to collect the Name, email, phone number, and business of the user, Multiple Survey pages, set up a timer for time-based surveys, display a progress bar, add hints to the questions, and send the user their results via. email, show the correct/incorrect answers, store the user results in the database, display leaderboard graphs, provide survey completion certificates, and much more.
Features:
There is an integration with MailChimp, which is useful for email marketing.
You can export quiz results for analysis in Excel, for example.
It has an interesting "hints" feature that provides users with hints to the solution.
You can make the quiz require users to be logged in, resulting in a logged-in quiz.
Price:
The Base Plugin is Free. You can also buy Premium Addons like Advanced Leaderboard, MailChimp Integration, PayPal and Stripe Integration, Advanced Timer, etc. at varying prices.
2. WPForms

WPForms is considered one of the best WordPress Forms plugins. It comes with a drag-and-drop form builder that lets you create beautiful contact forms for your website.
Also, can use its surveys and polls addon to create engaging survey forms for your business. Like QSM Plugin it also has some pre-defined templated to start with.
You can create an exciting form with various form fields including text fields, checkboxes, radio buttons, ratings, Likert scale, NPS score field, and more. WPForms surveys are mobile-responsive, with multiple pages, you can use conditional logic, and you also get built-in spam protection.
Features:
drag-and-drop form builder
It has third-party polls addon to create an engaging survey
It has completely customizable templates
Price:
Being a powerful WordPress Form Plugin coming to the price, its basic plan starts at around $39.50 a year with limited features.
3. BuddyPress Polls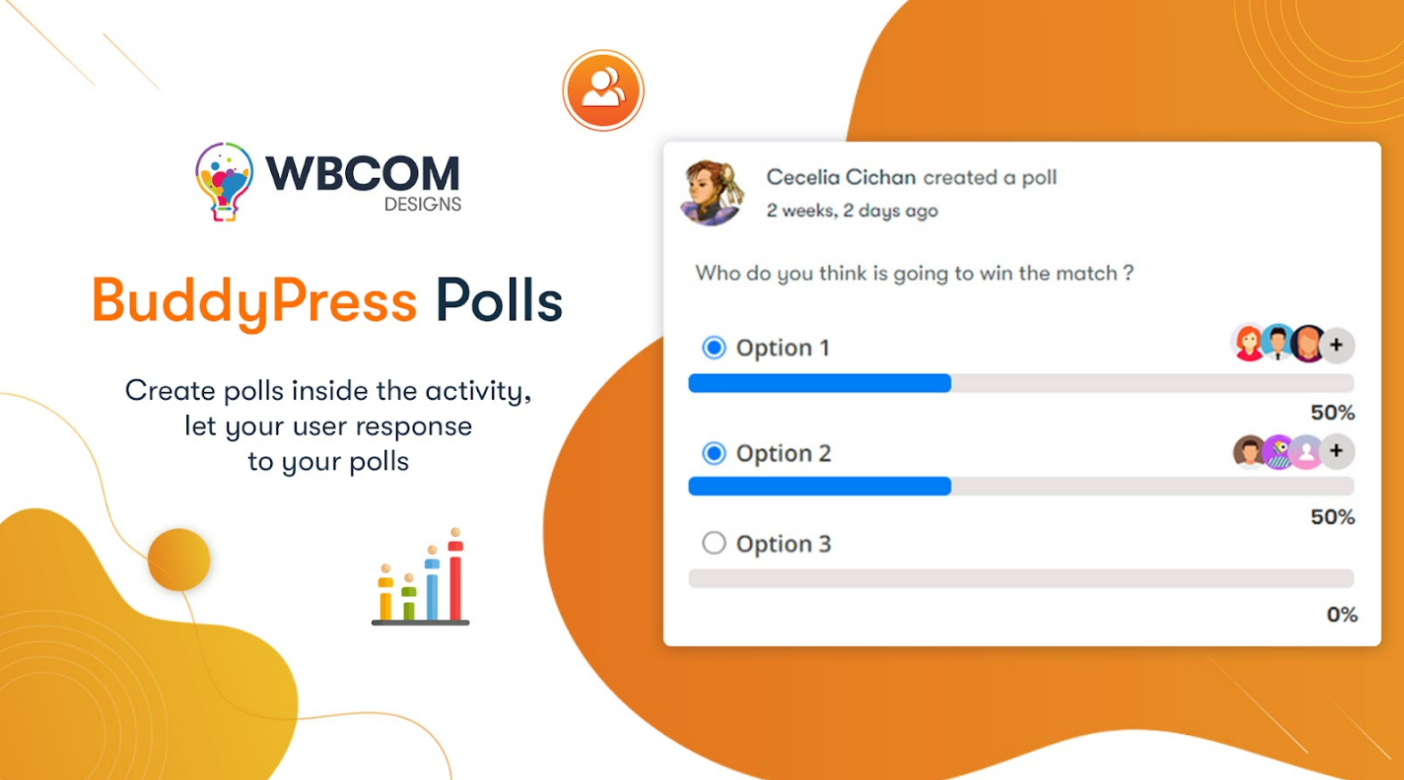 BuddyPress Polls is an intuitive plugin designed to create a poll activity like any other BuddyPress activity. In addition, it offers simple yet advanced functionalities to create and manage poll activities. It is a WordPress survey plugin that helps you create customizable surveys in a simple way.
Features:
It allows your audience to participate in a simple yet organized way.
Allows complete control over each poll option's limit and closing date and time.
An excellent way to re-engage members using an old post to boost more views.
Manage color schemes and add related images with poll descriptions.
Enables you to ask questions with your community members and get responses.
Enable community members to view voter names and poll results.
Price:
BuddyPress polls retail at a price of $39 per year for the basic setup and go up to $99 per year for the advanced setup.
4. Crowdsignal
Crowdsignal [formerly Polldaddy] is another Best WordPress Survey Plugin. Being a WordPress.com product, in order to use it, you'll need to create a WordPress.com account to get the plugin API.
Like others, it also comes with some pre-built templates so that you can start creating a Survey Easily. As mentioned on their website it is a simple tool yet powerful.
You get the option to customize your survey or choose one of their pre-made themes or build one from scratch. You can share the surveys on social media or share them with them via. email. Check out all its features here.
Features:
Completely customizable survey themes.
Easy sharing options for social media or emails.
CrowdSignal provides versatile pre-built templates
It is comparatively cheaper.
Price:
It has a free version but to gain more control over the survey you need to buy their premium versions starting at around $15 a month.
5. Formidable Forms
Formidable Forms is an advanced WordPress Survey plugin that offers robust survey and poll features.
You can Build complex WordPress forms easily in a beautiful and user-friendly form builder. Create survey forms with dynamic fields such as Likert fields, radio buttons, checkboxes, hooks to customize your forms, and, much more.
It also has some Advanced Addons with added functionality, It has various integrations like Aweber, Stripe, Active Campaign, Zapier, Twilio, etc. much like what QSM Plugin offers.
Features:
Formidable forms have a beautiful interface.
It has third-party integrations to enhance your surveys.
It also provides dynamic fields
It has a drag-and-drop interface for the ease of the users.
Price:
It is a paid plugin and its Basic Plan starts at around $99.38 per year with some awesome features.
6. Gravity Forms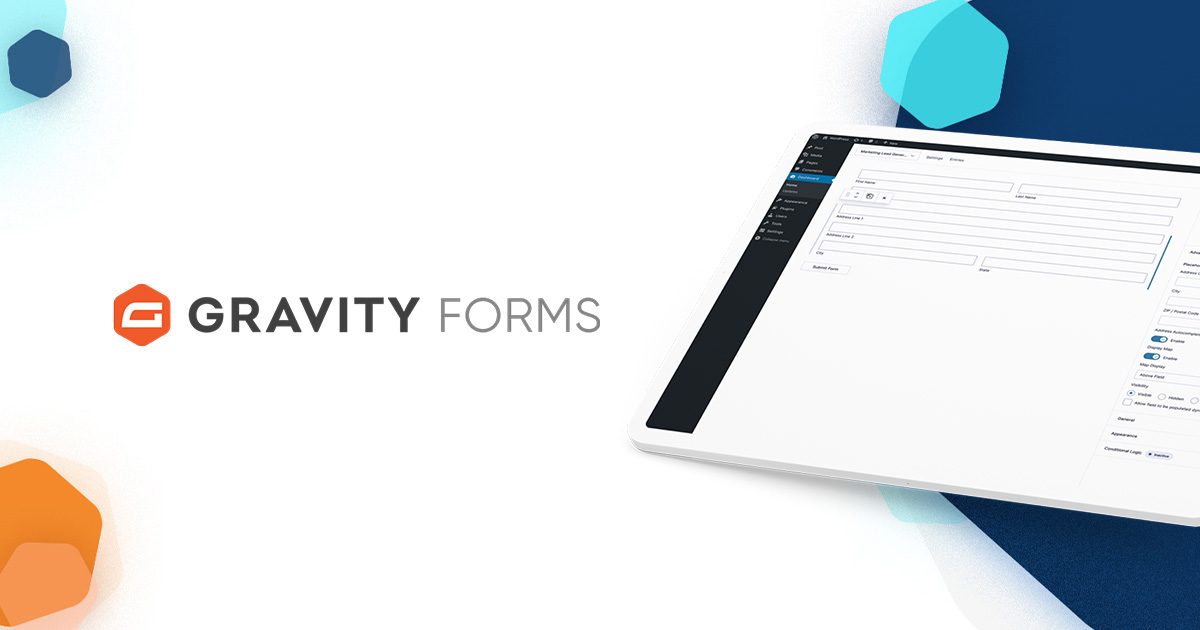 Gravity Forms is yet another WordPress Survey Plugin. It has some really awesome advanced features to build complex forms.
In Gravity Forms Select your fields, also configure your options, and easily embed forms on your WordPress-powered site using the built-in tools. It has various built-in form fields and you also can apply Conditional Logic to your Survey Forms.
Gravity Forms supports ratings and radio buttons to make your form appear more appealing and you can also add the Likert field for quick answering.
It has various Addons and Integrations like ActiveCampaign, Aweber, GetResponse, EmailOctopus, etc.
Features:
Makes embedded surveys easy for your WordPress website.
Supports rating and radio buttons for an interactable interface.
It has advanced question types like the Likert field.
It also supports integrations like ActiveCampaign, Aweber, and Getresponse.
Price:
Gravity Form's basic license starts at around $59 per year with some essential add-ons.
How do I create an online survey on WordPress?
To
create an online survey
on wordpress you can follow the given steps:
Step 1: Installing the WordPress Survey Plugin
Step 2: Configuring the survey
Step 3: Creating Survey Questionnaire
Step 4: Assessing Target Audience
Step 5: Creating the Survey
Step 6: Publish and Share
How do I embed a survey on WordPress?
You can
embed a survey
created using QSM WordPress survey plugin in six different ways:
Method 1: By Linking the survey Page
Method 2: By Adding survey to the Post
Method 3: By Linking through shortcode
Method 4: By adding a PopUp
Method 5: Display Widget on Your Website
Method 6: Using the Gutenberg block
How do I create a free survey on WordPress?
You can create a free survey on WordPress using the Quiz and Survey Master plugin. It is a free online quiz and survey maker for WordPress which has features like themes, addons and extensions that bring the best in your surveys and quizzes.
Conclusion
And, that's a wrap! Hope this post helped you find the best WordPress survey plugin that suits your website's needs and helps you succeed at growing your business online. You may also want to see our take on How to Find out What WordPress Theme a Site Is Using?
If you liked this article then do comment down below and share your thoughts. Stay connected for more.