Aweber is making a major change to their API which goes into effect January 16, 2017. In order for your Aweber addon to continue to work after that date, you must be updated to 1.2.0 or newer. If you are updating from an older version, please follow the following steps to update your addon:
Download 1.2.0
Due to the changes in this update, you cannot automatically update from within WordPress. You must log into your account and download your Aweber addon from there. Be sure to keep the page open or copy your license key as well.
Deactivate and delete older version
Next, go to the "Plugins" page in your WordPress admin and Deactivate and delete the QMN AWeber plugin.
DO NOT DEACTIVATE OR DELETE QUIZ AND SURVEY MASTER!
Install Updated version

Now that the old version is deleted, click the "Add New" button to upload the updated version and then activate the plugin. For a more in-depth guide to installing addons, check out our How To Install Addons Documentation.
Authorizing Your Aweber Account
Now that the addon is installed, go to the "Addon Settings" page in the "Quizzes/Surveys" menu. Go to the "Aweber Integration" tab. Click on the link to authorize Aweber.
Log into your Aweber account to authorize this addon to access your list and subscribe users to that list.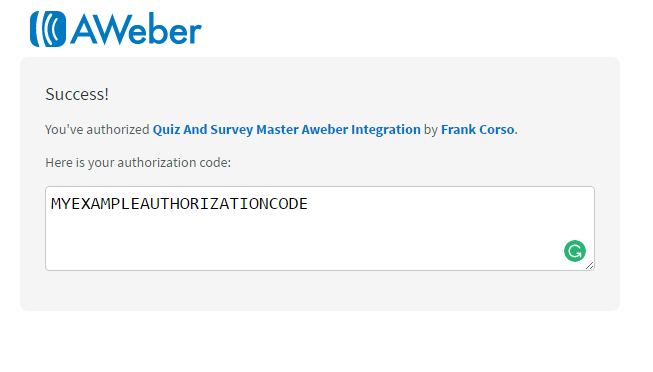 After logging in, Aweber will show you a page like in the image above that contains your authorization code. Copy that code.

Paste the code in the Addon Settings in the field labeled "Authorization Code". While you are here, enter your license key for the addon from your account. Then, click "Save Changes".

Once the settings are saved, you will see a success message. Your addon has been authorized. We just have one last step.
Importing quiz settings from older versions
Due to the nature of the change, we have to save extra data from the Aweber API to continue working on each quiz or survey. All you have to do is go to the "Aweber Integration" tab on any quiz or survey that uses the Aweber addon.
Once the page loads, you will see a success message at the top saying your settings have been imported.
You are all done!
Reauthorization
On January 16th, Aweber will require all apps to reauthorize. All you have to do is click the "Reset Aweber Authorization" button and then re-sign into Aweber like we did above.
Other blogs you may find helpful
Try Quiz and Survey Master
QSM is a free plugin that allows you to create and publish unlimited Quizzes & Surveys with no cap on questions or answers, helping you to take control of your website's interactive elements.
Download Now