Managing your bookings and appointments on your website might be tough at times. We have brought to you the best WordPress booking plugins. It is critical to choose a program with a straightforward, well-organized interface when scheduling meetings, reserving your services, or making event planning.
You will get an automatic online booking and scheduling process interface if you use booking WordPress plugins, where you will be notified of all schedules, be able to specify scheduling conditions, and use a variety of other tools to make it easier to manage your appointments.
You will greatly benefit from using WordPress booking plugins whether you own a hotel, resort, spa, travel agency, a consultancy firm, rental store, marketing agency, or any other business that allows prospects to book services or schedule appointments.
What is WordPress Booking Plugins?
For instance, if you are running a hotel and you want every type of bedroom available to have a different set of booking procedures, then you might want to ease your work by defining a proper algorithm for the customers. This would not only make the documentation and tally-keeping easy but also will help your customers to reach you out hassle-free in an organized manner.
This is exactly what the WordPress booking plugins will do for you. It will create a pre-set interface for your customers to directly avail your services. along with that, your bookings will get a schedule also, depending upon the nature of the requirement as well as the type of plugin.
Some important points you should look at while choosing from the WordPress booking plugins for your website:
It must host a calendar that can be customized and posted anywhere on your website.
Users should be able to make appointments online. Making a reservation or booking should also be handy.
Online as well as Cash payment options should be available.
Multiple service providers should be taken into account. For instance, a proper tally and tablature should be kept in record files as well.
Customers should be able to view and amend their reservations online.
A searchable booking management module should be there on the backend of your WordPress website.
Features that allow you to customize your schedule, such as the ability to remove holidays and plan some free time in between appointments.
Both the admins and the users should be recipients of email confirmations and reminders.
Fields that can be customized and drop-down menus for when you have a lot of different services or unique offerings.
Best WordPress Booking Plugins
Since there is plenty of fish in the sea, we have devised a list of some best appointment booking WordPress plugins for you to choose from and associate with on your website.
1. Booking Ultra Pro- Appointment Booking Plugin
The list begins with the best booking and appointment plugin that is Booking Ultra Pro. The name does justice to its innumerable features that are not usually seen in open-source software for bookings.
It helps you manage your appointments 24/7 at your convenience. You get a 4-step booking process, which makes it easier for the users to understand and follow. Unlike other booking plugins, it has a great user interface and could go well with your WordPress website in the very first go.

Some Key features of Booking Ultra Pro are:
It comes with PayPal integration
Client Appointment and Admin Appointments could be placed.
Admin calendar feature and staff working (in hours/days) is also available from the Booking Ultra Pro plugin
Adjustable time slots and appointment rescheduling could also be done.
It supports different languages like Italian, French, and German.
2. WP Hotel Booking
WP Hotel Booking is the most popular WordPress reservation plugin. This is one of those WordPress booking plugins that make room management, coupon management, booking management, client management, and other tasks a breeze. This is one of the few best WordPress booking plugins free of cost.
Additional packages and administrative options for integrating extra hotel services like WiFi, parking, and cab service are included. Multi-currency and special date features are supported by the plugin.
This plugin also comes with a few useful free add-ons:
Payment Authorization for Stripe and PayPal
Block Room availability is there
Booking Report is received.
Coupons
Stripe Payment
Compatible with WooCommerce
Support for WPML
This plugin is available for free.
3. 10to8 Online WP Booking System
10to8 Booking System is a fantastic WordPress appointment plugin. You can use it for scheduling and appointments. It is apparently a system that is designed just for professionals and their requirements.
You will be able to schedule your service so that others can book it. Prospects can also request adjustments by SMS, Slack, email, or Facebook using a two-way chat feature. It is one of the most used of all WordPress booking plugins.
Key Features of 10to8 Booking System:
iCal, Google, and Outlook calendars are all synced in real-time.
Over 500 apps are integrated.
Both you and your prospect will receive an automated reminder about a new booking or an approaching appointment.
Paypal, Stripe, and SagePay are the wide range of online payment options for the customers
Organize a large number of people, calendars, rooms, and places.
Keep track of modifications, history, and payments, as well as restrict access to your employees.
The plugin is free to use
Includes two employee logins as well as an SMS notification option, making it suitable for small enterprises.
4. Bookly Plugin
Bookly is the most modern-looking plugin of all the WordPress booking plugins on this list in terms of appearance. You get a clean design on both the backend and frontend, which is rare in WordPress booking plugins. You can even customize many aspects of the booking forms even if you don't have a coder's knowledge.
The Bookly plugin is available in both free and premium versions. You will have to pay $89 once to upgrade to the premium edition (unless you want to keep paying for customer support).
Key features of Bookly plugin:
It's a complete booking package and can be used without being a pro-coder
It allows hosting numerous service providers (employees) in the booking schedules and calendars.
Sends out automated email notifications and has a built-in SMS system as well.
Calendars from google are also handy as it supports multiple calendars from all of your workers.
Several add-ons are also sold. Example- for coupons and for adding extras to your services.
You can add and categorize an unlimited number of services to your booking page.
Payment and booking flexibility is available to make your schedules easier for everyone to relate and claim.
It has paid and free versions
5. Booked Plugin
The Booked plugin is only available on CodeCanyon. You can purchase it for $49 only. Reservations, bookings, and anything else connected are some of the things you may perform with this plugin.
Time slots are shown in a calendar or list format, that is you can choose dates directly from the calendar view. You can choose multi-lingual options, that suit you best. Other than that, you can assign calendars to a specific person that it concerns.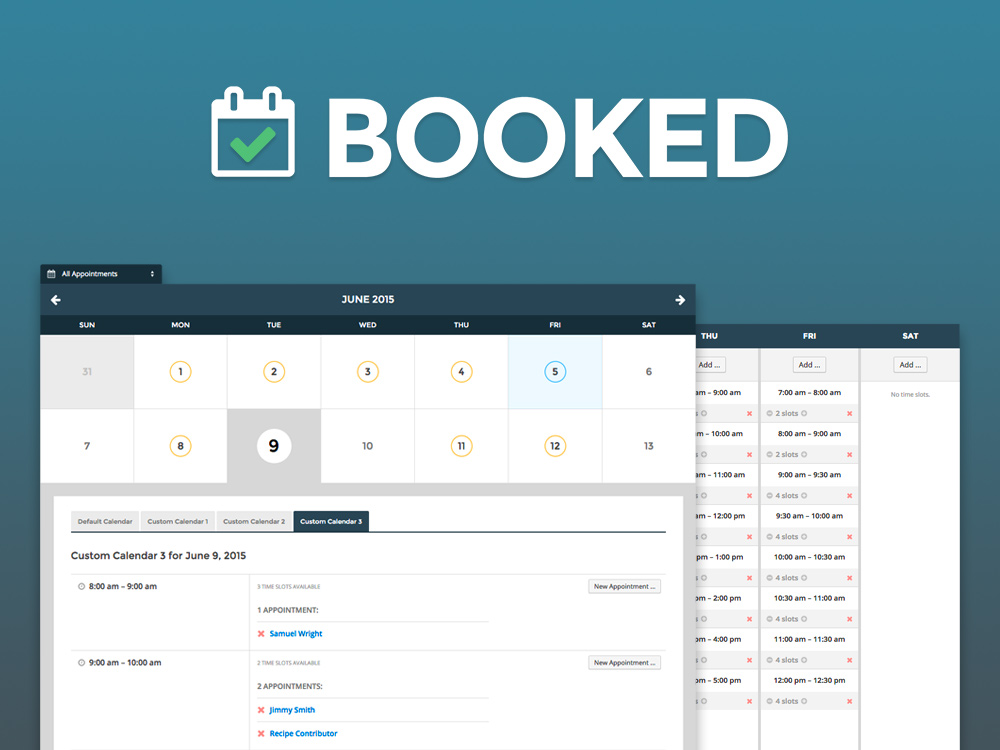 Key Features of Booked Plugin:
The plugin can be used right after it is installed and activated, with no buffer time.
The user interface is beautiful, and you are not obligated to use any proprietary coding.
It's a one-time price that is far less than other booking plugins.
Multiple employee calendars are supported by the plugin. You can alter the colors of the calendar.
A person can book guest rooms without needing to log in, which is not found in most of the WordPress booking plugins
Some types of custom time slots can be used to enhance the adaptability of users.
You will get some handy shortcodes so you can put a booking calendar pretty much anywhere on your website.
6. Booking & Appointment Plugin For WooCommerce
One of the best WordPress booking plugins is WooCommerce Appointment Plugins. It has one of the best ways to turn your WooCommerce website into a powerful booking platform.
On your WooCommerce store, you can enable time or date-based booking. You may use its widgets to make it easier for your users to find and book available dates and times.
It also offers a duration-based booking option, which allows you to define a specific amount of hours for which you are available for booking.
This plugin has received a timezone feature, which displays available time slots to prospects according to their local time, ensuring that no one is confused about the time. For international prospects, this capability is extremely useful.
Key Features of WooCommerce Bookings:
During the check-out procedure, you can see the details of your reservation.
Weekday, time-slot, and special-date discounts are available.
Bookings are automatically exported to Google Calendar.
Bookings from an iCal feed are imported to websites.
7. Booking Calendar Plugin
Booking Calendar is one among the oldest WordPress booking plugins. The core plugin is free and includes the bulk of the capabilities that a typical small business requires.
You might find the cost a bit rash. It costs around sixty dollars for the first large commercial upgrade and it just gets graver after that. So, if you want a plugin for local use, I would not recommend the booking calendar plugin.

Key features of Booking calendar plugin:
This plugin supports synchronizing with third-party sites such as Airbnb, TripAdvisor, and Booking.com in addition to Google Calendar.
It is a widget-based plugin
Customers can make use of variety of languages.
Shutting out specific times and dates throughout the year, for example, is one approach to show your distinct availability.
Although some color tweaking is possible, the best styling options are available when you apply your own CSS.
8. Booking Calendar – Appointment Booking Plugin
This is not the same or any ally of the Booking Calendar Plugin listed as on number 6. This is one of the most loved WordPress booking plugins. It is free and comes with a lot of functionality to get you started.
It offers an unlimited number of booking forms and widgets for reservation calendars. Customizations are broad, with choices for modifying date formatting, adjusting reservation data, etc.
Editable reservations, discount tools, options for minimum and maximum days reserved, and additional features are included in the subscription edition.
Key features of Booking Calendar- Appointment System:
The frontend interface is spacious and easy to navigate, and the booking calendar is simple to set up.
Many firms that do not require payment processing can get what they need for free, despite the fact that there are numerous price limits for flexibility.
The pricing options are extremely cost-effective. An infinite number of booking calendars are included with every subscription.
With a simple upgrade, you may obtain editable reservations, a payment system, and discount choices.
Without investing additional dollars on a payment mechanism, you can still improve your complete feature set.
9. Team Booking
One of the reasons we appreciate the Team Booking plugin is the fact that is minimal in cost with maximum benefits of all the WordPress booking plugins. It costs only $28 and allows you to connect with PayPal or Stripe to accept payments.
The calendars have a modern appearance, and the form builder makes it simple to add extra fields and capture customer information. You might also incorporate maps that pop up when a customer requests a time slot.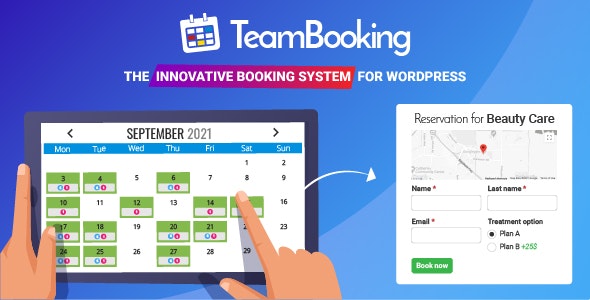 Key features of Team Booking:
When you need to send people to a certain location, maps are integrated into the forms.
The forms are modern and inviting, with minimal steps and large fields.
You can schedule an event, make an appointment, or make a last-minute appointment.
The price is one of the most affordable for a premium booking plugin.
The Team Booking plugin is linked to your Google Calendar. Your schedules can be divided according on the amount of employees or service providers you have.
For example, a customer support team may work on a range of schedules.
You can accept payments with Stripe in addition to PayPal.
10. CM Booking Calendar Plugin
Booking Calendar Plugin from CM stands for CreativeMinds, and this booking calendar plugin lives up to its name.
The CreativeMinds Booking Calendar plugin allows users to schedule or book or reserve an appointments directly from their website. The admin user can create many calendars with different time slots, determine the number of seats for each event, change booking forms, and moderate requests, among other things.
The plugin costs $39 and includes lifetime access as well as one year of support and updates.
Key Features of CM Booking Calendar:
It is possible to establish multiple calendars, each with its own appointment form, moderator, session length, and availability time.
When a device with a small screen is detected, the plugin changes the calendar display to enable the best visibility.
All of the plugin's labels and texts are editable and can be altered to fit any language or demand.
Add-ons for the plugin include payments, group events, and iCal Sync.
11. Simply Schedule Appointments Plugin
Simply Schedule Appointments was intended to make incorporating and managing online appointment scheduling on WordPress websites simple.
This is reflected in their interactive setup wizard, which guides you through the process of generating a booking form and integrating it on your website in less than five minutes.
They offer a free version of their plugin as well as three commercial editions with more features and integrations. The $99 Plus Edition offers features like Google Calendar integration, configurable fields in your booking form, Mailchimp integration, and the ability to schedule classes and group events.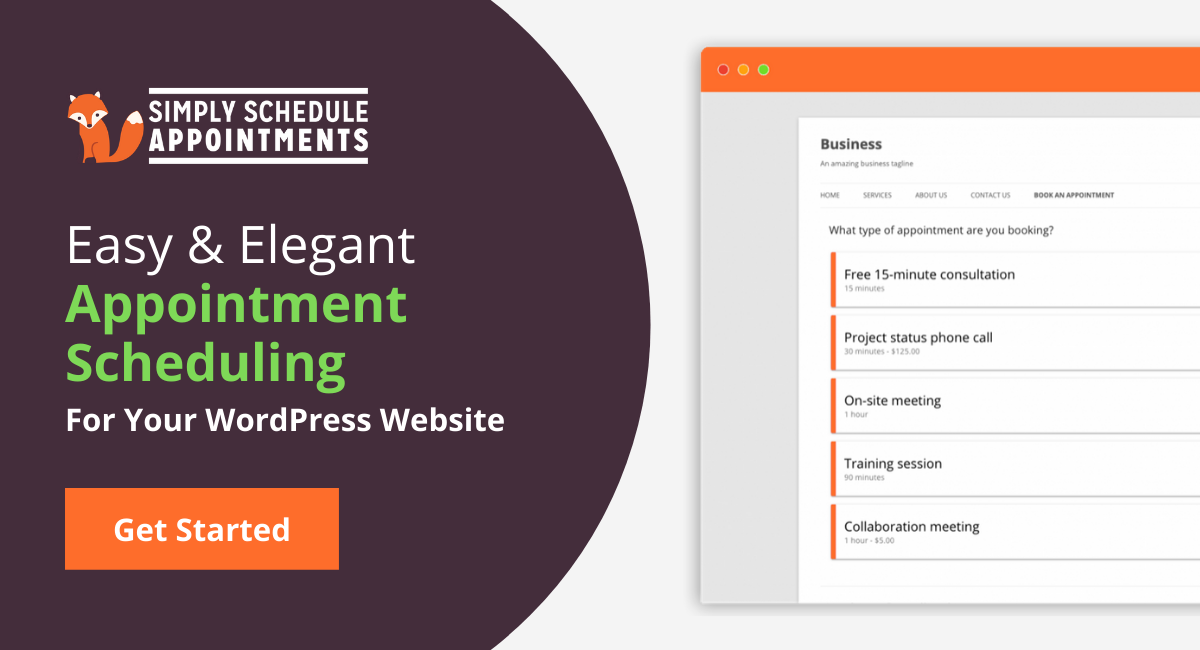 Key Features of Simply Scheduled Plugin:
This plugin has a completely free version that allows you to schedule an unlimited number of appointments, personalize or create a booking form that matches your website and drag-and-drop it onto the pages of your site using common page builders.
Premium editions let you to accept payments via PayPal and Stripe, making it easy to get paid in advance for your appointments or bookings.
They use a variety of software, including Gravity Forms, LifterLMS, and others.
Their customer care team is always ready to jump on live Zoom calls to troubleshoot problems and responds swiftly.
12. Amelia Plugin
Amelia is a fantastic WordPress online appointment and event scheduling system designed specifically for professionals and small businesses.
On your WordPress website, you may create a fully-featured automatic booking system, specifying the employees' working hours and special days, the duration of your appointments/events, and the booking form to best suit your business. You may also leverage Zoom integration and enable SMS or Email notifications to make your services available online.
It has a simple and contemporary design on the back-end and the front-end. Its look is customizable, so it blends in as if it were an inherent part of your website, and it can be added with a simple shortcode.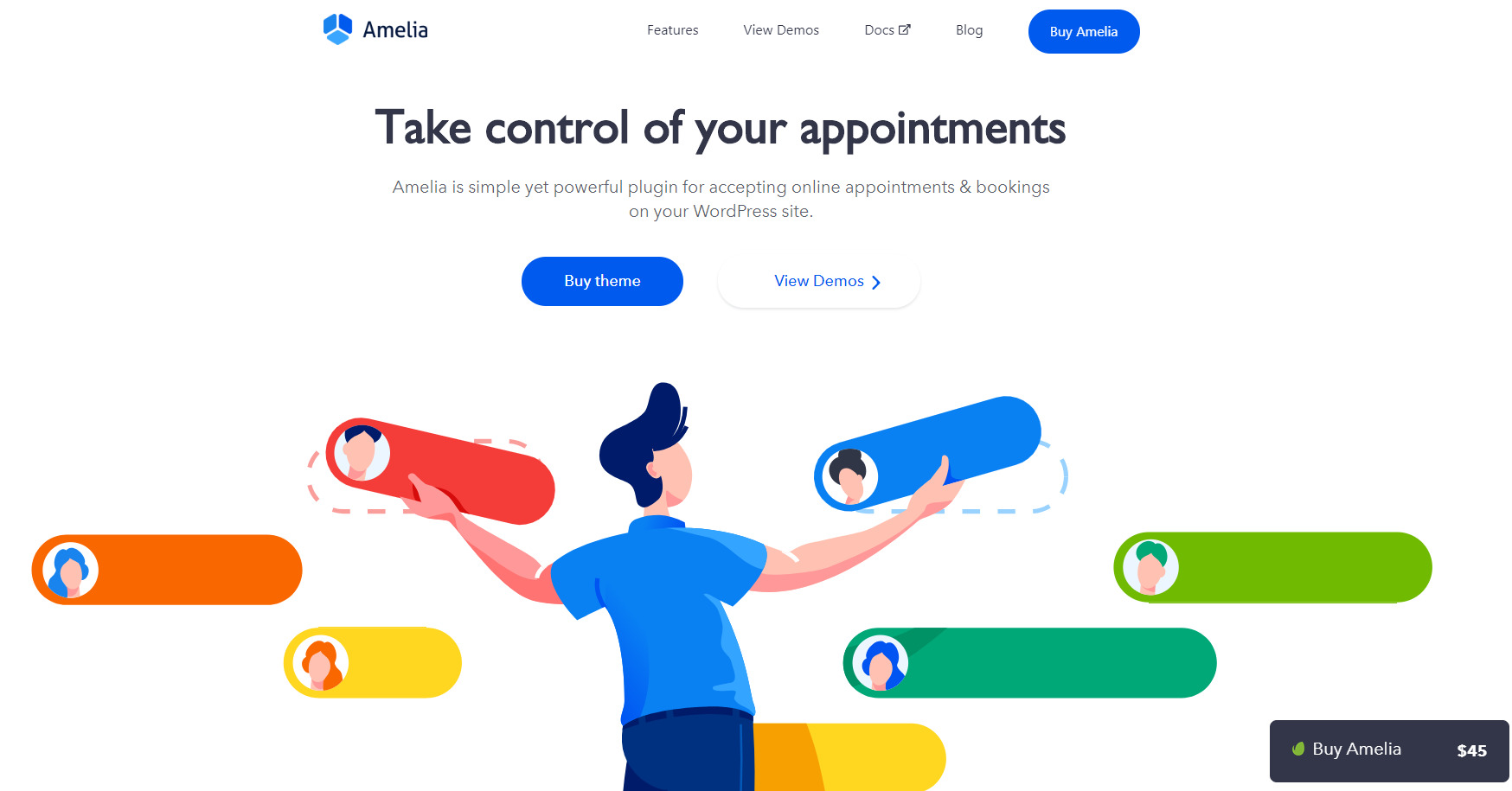 Key Features of WP Amelia plugin:
Google and Outlook calendars are synced in real-time.
Zoom integration is available.
Notifications by SMS and email
Fields that are unique to you.
There is a variety of booking form designs to choose from.
Appointments that repeat themselves.
Front-end panel for employees and customers.
Paypal, Stripe, and WooCommerce are all online payment options for your customers.
Dashboard and reporting are quite informative.
This booking plugin currently has a 4.2-star rating on the WordPress repository, with over 20000+ active users.
13. Salon Booking System
The Salon Booking System is the most famous salon-based plugin from the millions of WordPress booking plugins. It is a solution developed to meet the demands of salon owners, barbershops, hairdressers, beauty centers, nail salons, and other similar businesses on a regular basis.
Such WordPress booking plugins could be a fantastic solution for professionals who provide services on a reservation basis. It has a good and crisp set of email and messaging notifications as well as reminders.
Key Features of Salon Booking System:
It is quite simple to set up and maintain.
The number of booking criteria that can be utilised to simulate a real salon calendar is limitless.
Both ways of Google Calendar synchronisation is also available
. You can accept full and partial online payments using PayPal and Stripe.
You can use a range of alternative payment channels by purchasing a specific add-on.
The style and feel of the booking form are completely under your control.
The book has been translated into more than 20 languages. It includes a plethora of APIs.
It has the ability to collect feedback from clients.
There is also personal account page for customers.
Conclusion
In this article, we learned about all the famous WordPress booking plugins. Some are readily available at wp.org while others are hosted exclusively. As a matter of fact, all the WordPress booking plugins come with different qualities and vibes. You should always be keen on choosing the best. WordPress bookings plugins are increasing regularly, however, some stay at the top of the charts, till now. Choosing a good plugin is the task for you now, we hope you find the right match for your website.
What's New: Pro Bundle of Add-ons
After knowing about the best WordPress booking plugins you might want to skip this part. But do not miss this opportunity of getting everything all at once. The Pro bundle of Add-ons for your Quiz and Survey Master Plugin is live and up for purchase. Get an advanced timer, all the 30+ add-ons, an integrated google sheets connector, email marketing, and Zapier integration all at once. Seal the deal right away with just one tap!
Other blogs you may find helpful
Try Quiz and Survey Master
QSM is a free plugin that allows you to create and publish unlimited Quizzes & Surveys with no cap on questions or answers, helping you to take control of your website's interactive elements.
Download Now